To emerge as market leaders in this multibillion-dollar micromobility industry, companies must adopt Design Thinking principles to understand their customers' challenges and desires, map holistic user journeys that blend physical and digital touchpoints, and create exceptional riding experiences that earn brand loyalty.
Obviously a global crisis that forced people to stay indoors didn't bode well for the transportation industry, including micromobility. Prior to the pandemic, McKinsey was predicting the micromobility industry - which encompasses lightweight vehicles such as bicycles, electric scooters and mopeds - would reach $300 to $500 billion by 2030. But since March 2020, kilometers traveled by passengers have declined 50 to 60 percent worldwide. In the height of the Covid-19 crisis, some shared mobility services shut down entirely and were perceived as health risks. When they reopened, they were met with low demand: between the rise of remote working and the decline in travel, dining out, and really, any form of exploration, people didn't have anywhere to go.   
The good news is micromobility solutions are well-positioned to make a resounding recovery. They are more eco-friendly and energy efficient than gas cars, and perhaps more hygienic than traditional forms of public transportation. Cities and governments around the world are incentivized to invest in micromobility infrastructure, like bike lanes, as a means to reduce traffic and carbon emissions. Plus, open-air travel is just plain fun! It lets people enjoy the journey here to there; and therein lies the key to micromobility service providers' continued success. They must understand what customers expect from the rider experience and micromobility vehicles, as well as what's preventing them from using last-mile travel options more often. 
A recent analysis by Star explored top micromobility companies' technologies, services, and rider experiences. Trends emerged, as did opportunities for differentiation. How can companies stand out in a competitive space and secure a place in micromobility's bright future? The key is understanding, preserving and enhancing a holistic micromobility user journey, which is best done by adopting Design Thinking principles.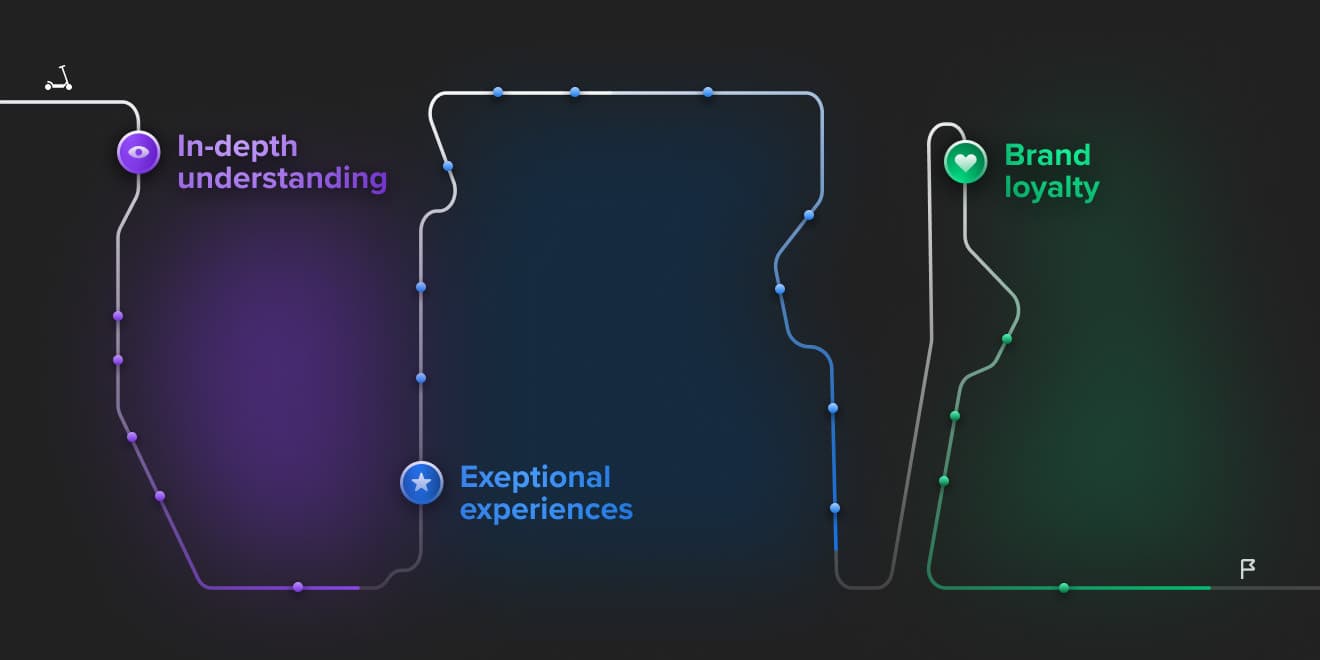 Be sure to check out our "cheat sheet" for mapping micromobility customer touchpoints using Design Thinking principles.
Think like a cartographer and map your user journey
Customer journey mapping is a massive challenge for the entire automotive and mobility space, not just micromobility solutions. It starts with understanding how customers are discovering you in the first place. Then, you must consider every touchpoint a person has with your business. For micromobility companies, common touchpoints include company websites, social media platforms, loyalty programs, the bike or electric scooter-connected dashboard and the consumer mobile app. 
Once you have defined every touchpoint, you can create an Experience Vision - a big-picture plan for holistic user experience design that seamlessly blends physical and digital touchpoints (phy-gital CX). Creating a customer journey map will also allow you to evolve from a business, to a Digital Ecosystem - an interconnected network of products and services that deliver an integrated user experience. 
What are the benefits of a Digital Ecosystem?
Six of the world's seven biggest companies, including Apple, Amazon and Microsoft, use Digital Ecosystem strategies, which should tell you something about the value of the approach. These systems facilitate cross-sector data sharing and holistic user experience design. For micromobility companies, building a Digital Ecosystem in which all products and services are interconnected will allow you to offer cohesive and, frankly, superior experiences designed around user needs and preferences. Creating a Digital Ecosystem will also establish your brand as innovative, which is important with younger generations. As the very nature of last-mile travel is forward-thinking, your experience design needs to be, too. 
Furthermore, connecting user touchpoints creates access to more data to unlock better insights. These insights pave the way for user-centered design, smarter products and services, more effective marketing, and stronger loyalty programs. You will also uncover logical ways to expand your business, for example, by offering a related service to address a user need.
Applying Design Thinking to create an unforgettable rider experience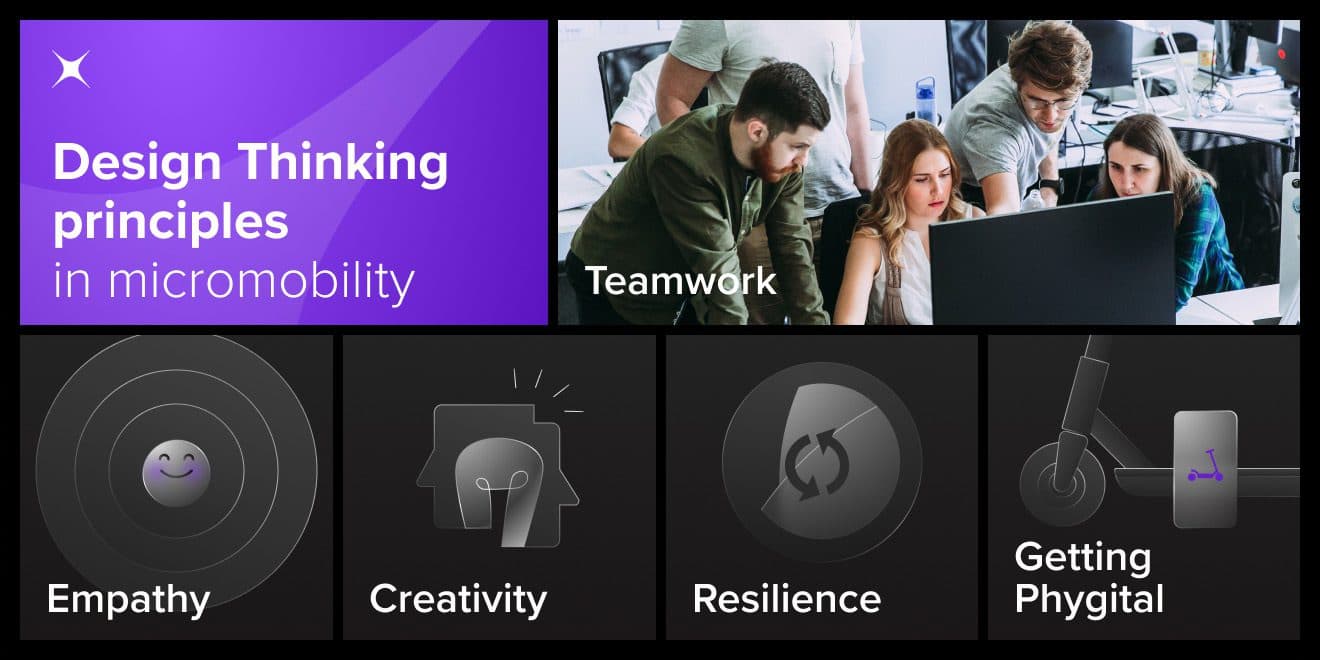 What else do market leaders have in common, besides Digital Ecosystems? They use Design Thinking principles to map the customer journey. Design Thinking is a user-centric approach to designing products, services and experiences. Teams not only come together to define every customer touchpoint, they consider the needs of users every step of the way. They also set a goal for each interaction: how should customers feel after this touchpoint, and how will the organization measure success? 
Design Thinking in micromobility requires:
Teamwork: departments must come together to map a complete customer journey.
Empathy: putting yourself in the user's shoes enables deeper customer understanding, therefore leading to better, human-centered design.
Creativity: challenge assumptions and hypotheses. Approach old problems in new ways. 
Resilience: a key component of Design Thinking is experimentation. You will test, iterate, measure, and repeat, until you discover the optimal way to solve customer challenges while living up to your Experience Vision. 
Getting Phygital: phygital design bridges online and offline worlds using interactive experiences. For micromobility companies, that means considering things like how the physical experience of unlocking or parking a bike leverages digital technology and reflects the brand's online presence.
The future of holistic user journeys in micromobility
After a bumpy year or so, the micromobility industry is on track for fast growth. While the fundamental value proposition of each service provider is often the same - i.e. sustainability, cost-effective travel, and fun – micromobility companies can create market differentiation by delivering seamless user experiences, on- and offline. To do so, they must build Digital Ecosystems and use Design Thinking principles to craft every customer touchpoint. 
Frankly, embracing these strategies will soon be non-negotiable. Covid-19 accelerated digital transformation for companies and customers, who now expect nothing short of seamless, interconnected experiences. The micromobility solutions that emerge as category leaders will be the ones that deliver an exceptional, end-to-end customer journey that reflects deep understanding of their riders.
Let's get in touch!
Reach out to Star's mobility experts and we will work together to turn your micromobility challenges into opportunities.
Contact us