It is hard to imagine our world without aviation. Air travel drives economic, social and cultural development worldwide, and it has completely changed how we travel, vacation, and do business. 
But the aviation industry is under increased scrutiny for its impact on the environment. Global air traffic accounts for 2.4 percent of the world's total CO2 emissions. If nothing changes, that figure will increase, as air travel is projected to double in the next 20 years. 
Customers care about global warming, and a company's carbon footprint can influence consumers' purchasing decisions. Many aviation companies are dedicated to reducing emissions. Most have already made progress. A flight today produces half the CO2 it did in 1990, and industry groups have vowed to cut emissions even further. That said, companies struggle to find cost-effective ways to reduce their environmental impact, and they need their sustainability investments to benefit their business. 
Let's take a look at a few key aviation trends that are driving the sustainability movement based on Star's recent research report. 
Pressure from government
Governments and policy-makers around the world are joining the fight against climate change, rolling out new taxes and legislation to curb air-transport pollution. These efforts align with initiatives proposed by several international institutions, including the International Civil Aviation Organization (CORSIA), the European Green Deal, and the UN's Sustainable Development Goals.
"Flight-shaming" — tension around air travel
Travelers are also joining the fight, with many lobbying for greener travel options as part of a growing "flight shaming" movement. Some customers will reduce travel, look for direct flights, and/or choose the most sustainable airlines possible. Others are vowing to boycott air travel all together.
COVID-19's impact on aviation trends
The coronavirus (COVID-19) obviously disrupted the aviation industry and further exposed travel's impact on climate change. Around the world, countries marveled at the dramatic reduction in noise and air pollution during the lockdown. Many people, including political leaders, are inspired to preserve these positive changes. This, coupled with people adjusting to life without business or faraway holidays, could lead to long-lasting changes in consumer behavior. On the other hand, people might be eager to explore the world after months of sequestering at home, so the pandemic's full effect on the Travel industry remains to be seen.
Offsetting carbon
Many airlines are creating carbon offset initiatives designed to make up for the emissions their flights produce. These efforts include planting trees and investing in sustainable energy research. Carbon offset programs have critics, though, and the jury is still out on how well they work.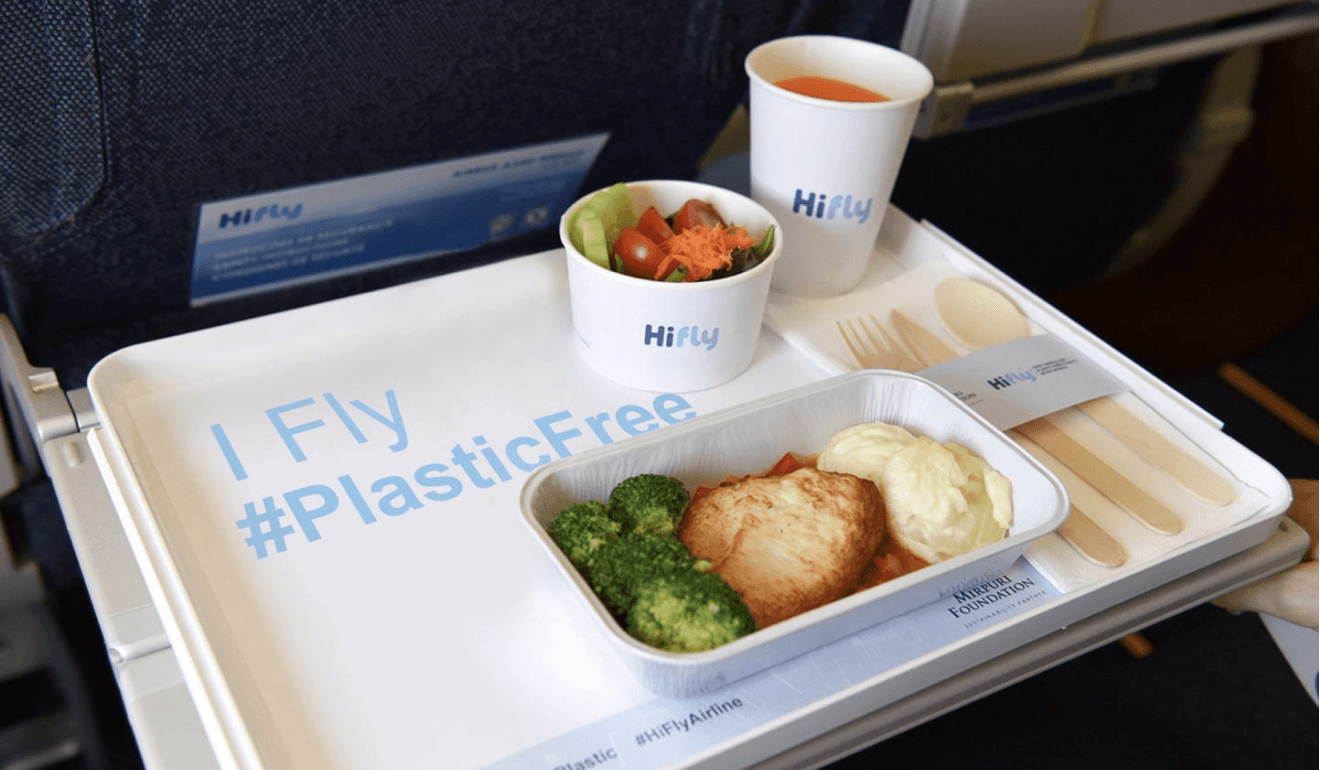 Less waste, more sustainable materials
More than 100,000 flights take off yearly, generating over six tons of cabin waste. Numerous airlines are working to reduce this number, for example by recycling single-use items or washing and reusing them, or by using less single-use plastic and more sustainable materials. 
The aviation industry is also exploring sustainable fuel options, such as Biofuel, Hydrogen, and Power to Liquid (PtL). Using biofuels reduces CO2 emissions by up to 80 percent, so wider adoption would have a prodigious impact on airlines' collective carbon footprint. Cost could be a barrier, though, as sustainable fuel alternatives are often 3-4 times more expensive than conventional jet fuel.
The future of flight
The race is on to offer the first commercial electric "passenger drone" — an electric "air-taxi" that shuttle passengers short distances to augment ground transportation. Airports will look different in the future, too. International travel hubs are working to reduce air pollution and noise pollution and use more sustainable building materials.
Star + Lufthansa: co-creating a new travel experience
Sustainability is an increasingly important component of customer experience (CX). The Star team partners with airlines on CX innovation projects. To learn how Star helped Lufthansa improve passenger experience design, check out this case study.
Responsible tourism
Another emerging aviation trend is the responsible tourism movement — the idea that tourism should enhance quality of life for the people who live there, not negatively affect the "locals."  In short, travelers want to have a positive impact on the places they visit, and this could impact how and where they travel. 
Aviation sustainability as a competitive advantage
Aviation companies have no time to waste. The repercussions of climate change are mounting, and airlines have a societal obligation to do their part. Moreover, an increasing number of customers will make purchasing decisions based on a company's sustainability approach.
With the pandemic shining a light on the impact of global warming — and industry's potential to make a difference — now is the time for businesses to invest in a sustainability approach that contributes to a cutting-edge customer experience and a distinct competitive advantage.