Digital therapeutics (DTx) are a priority across the healthcare industry as more companies seek to leverage their engagement and adherence-driving qualities. The DTx industry is quickly maturing. Already, we've seen their effective application for chronic condition management, substance use and mental and behavioral health.   
For DTx products to overcome stumbling blocks and reach their potential, we need to focus on one of today's most significant problems facing the global healthcare system – adherence and enduring patient engagement. 
Each year, medication non-adherence contributes to 125,000 preventable deaths, 25% of all hospitalizations and 50% of treatment failures in the US alone. How do we use digital therapeutics to encourage long-term engagement beyond when the novelty of a new technology wears off? How do you build digital therapeutics that enable long-term health tracking and behavioral modification?
Chris Scales, Director of Strategy & Insight at Star, shares how in this webinar focused on boosting adherence through essential design strategies for creating patient-centric DTx. Watch now. 
Key topics: 
How digital therapeutics fill gaps left by traditional interventions 
Analysis of the current DTx market 
10 DTx experience design principles for driving patient engagement and adherence
How to capture and deliver on the promise of DTx for personalized healthcare 
Why you should be focused on your DTx strategy now 
Not long ago, the idea of a prescription video game used to treat health conditions sounded highly dubious. But with digital therapeutics companies like Akili going public and raising $163M last month, it's clear the market is starting to reach maturity. 
While DTx offers vast potential for healthcare businesses to increase revenue, enter new markets and build stronger customer relationships, navigating the road ahead is challenging. Despite overall growth, we have seen a few high-profile setbacks in the DTx.
With every new technology and modality, there will be winners and losers, so it is critical to focus on the usability and experience of your solution to ensure you have everything in place to drive adoption.
Capture DTx's potential to expand your growth and deliver improved health outcomes 
Digitalization in healthcare delivers better health outcomes, lowers costs and boosts engagement. Though DTx is still in its early days, robust product design is already a mainstay. 
The key to all these gains is design. It transforms a medical intervention into a valuable, seamless and even joyful part of life for patients. Watch the webinar and read the companion report to explore essential principles for adherence-driving DTx.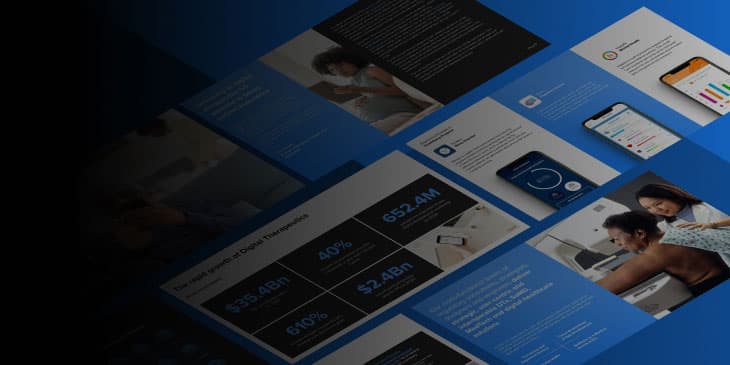 Dig deeper into DTx principles for building loyalty, trust and adherence.