Going somewhere? In the not-so-distant future, you just might find yourself traveling by electric scooter, and not just because it is fun. 
Despite a temporary setback due to the pandemic, consumer adoption of lightweight vehicles, including scooters, bikes and mopeds, is increasing in cities around the world. For people, micromobility options represent an exciting, eco-friendly and affordable travel alternative. For cities, they are a way to decrease congestion and air pollution, create more green space and improve quality of life. But what about the automotive industry and mobility space? What do automotive & mobility companies need to know about this fast-growing opportunity area, and what trends are shaping its bright future? 
For starters, micromobility trends should not be overlooked or underestimated. Since 2015, stakeholders have invested more than $5.7 billion in micromobility startups, according to recent analysis. Scooters are already a popular travel mode in many European and Asian cities. And not just any scooters. Over the last five years, micromobility companies across the globe have progressed significantly. 
Today's vehicles of choice reflect the same trends that are driving automotive transformation, including the electrification of vehicles (EVs); connected and autonomous driving technologies; and Mobility‑as‑a‑Service (MaaS), which enables consumers to use digital channels to plan, book and pay for transportation modes, and perhaps forgo personal car ownership all together. Taken independently, each trend would significantly disrupt the ecosystem; but in tandem, they have inspired – and should continue to inspire – unprecedented growth and change. Here's what you need to know about the new generation of micromobility solutions and their potentially transformative impact on transportation, cities and society.
How did the pandemic affect micromobility, and what does growth look like in the short- and long-term?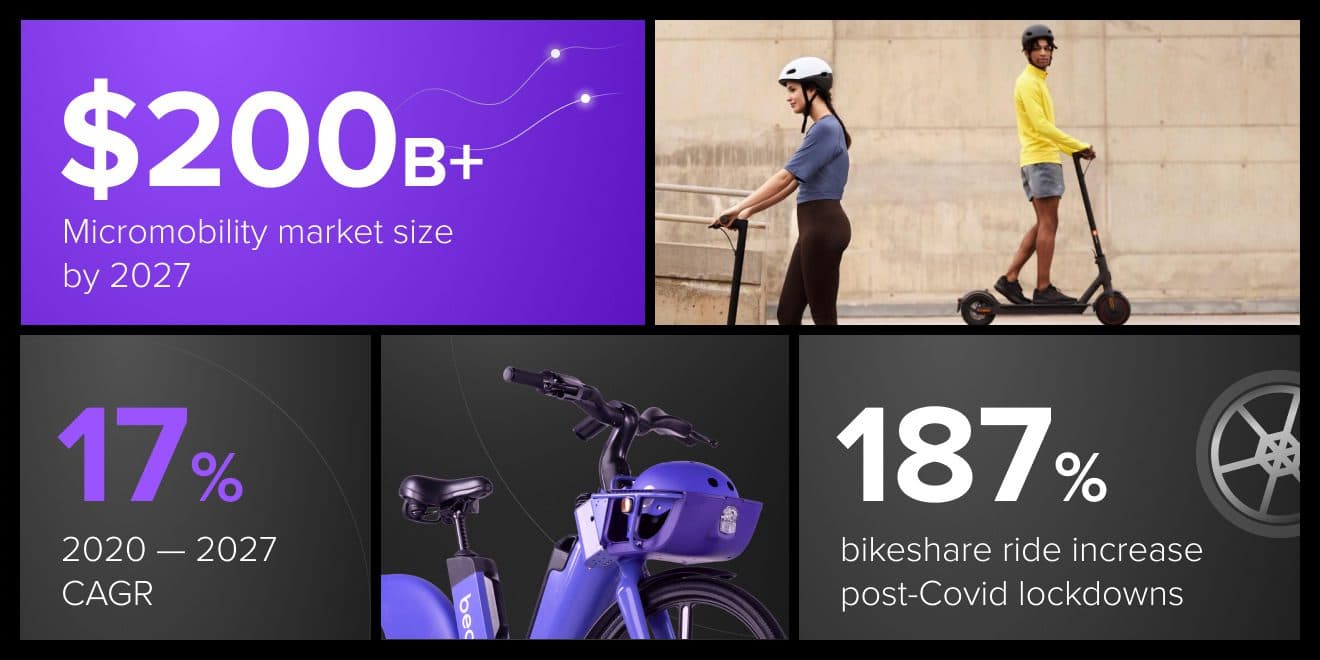 For the past decade, travel has increased steadily, even during times of crisis until the Covid-19 pandemic, when every mode of transportation came to a near screeching halt, including micromobilty. 
But, the space has rebounded very quickly. Many consumers who aren't ready to jump back on a plane are leaning into local travel and often perceive micromobility options as less risky than a crowded train or subway. Overall automotive customer satisfaction is declining in some places, while consumer interest in reducing their carbon footprint continues to rise. Furthermore, Covid-19 stirred new interest in bike lanes, with cities such as Milan, Paris, Montreal and Seattle announcing plans to transition roadways to pedestrian and bicycle paths.   
In Beijing, bikeshare rides increased by 187% when the government lifted COVID-19 travel restrictions. Around the world, the long-term outlook for micromobility growth may be just as bright. 
Market Research Future (MRFR) predicts the global micromobility market will top USD 200 billion at a CAGR of 17% from 2020 to 2027. Consumer research suggests that people will become more comfortable using lightweight vehicles more often, and for longer distances. Consumer interest in less noisy, more eco-friendly options should only increase as the global movement to protect the earth and combat climate change gains steam, and as car ownership becomes less desirable due to higher taxes, parking fees and tolls, in some cases intentionally designed by cities to discourage automotive use.
The way forward: micromobility solutions experiment with mobility service design models to drive consumer adoption
As comfort and familiarity with open-air travel increases, micromobility solutions will be free to focus on user experience design: designing the service that best meets consumer needs and stands out in what is proving a competitive space. Micromobility companies should experiment with different mobility service design models to drive adoption, as well as profitability, such as offering consumers choice between personal vehicle ownership and shared mobility services. 
After the onset of Covid-19, the general value of vehicle ownership increased, since a personal vehicle is more hygienic than ridesharing or public transport. But there is no denying shared mobility is transforming the automotive space. The shared mobility market across China, the U.S. and Europe is currently valued at $60 billion, with  20% year-over-year growth projected through 2030. And, according to a study from a Stanford University economist, personal car ownership in the U.S could drop by as much as 80% over the next nine years.
How will multimodal transport affect the micromobility industry's growth and shape customer experience design?
Consumer expectation for flexible transportation options is creating a new mobility ecosystem. Mobility companies, as well as cities, must acknowledge this shift and create solutions and infrastructure to support new options, of which the lion's share will be electric. As micromobility vehicles typically operate at low speeds for relatively small distances, commuters will need to integrate these solutions with other transportation modes to meet all of their travel needs and may blend MaaS with public transport or vehicle ownership, i.e., jumping on their e-scooter to ride to the bus station or pick up a rental vehicle obtained through a shared mobility provider. 
The way forward: more MaaS integration and partnerships to facilitate urban intermobility 
A growing number of micromobility providers allow users to choose between multiple vehicle types for rent using a single app, including TIER, which now offers e-mopeds and e-scooters in Berlin, Cologne, Munich and Hamburg.
In January 2021, Lime announced it, too, will offer electric mopeds in addition to e-bikes and e-scooters. Lyft and Bolt have also entered multimodal transport territory. Providing more transport options allows companies to create new revenue streams, deepen customer relationships, and emerge as one-stop shops for micromobility transportation needs. But if the micromobility industry is to reach its potential, it must integrate transport modes and invest in user research to understand the customer journey. When, where and why are people using e-scooters, e-bikes, mopeds, etc.? What are the pain points associated with each customer interaction? And, how can these touchpoints and travel modes interlock to create the most seamless journey possible? 
Want to know what else is trending in the micromobility space? Click here to download our micromobility trend report.
How does micromobility solve some of the toughest problems plaguing cities, and what infrastructure is needed to support micromobility solutions?
A hush fell over cities as the pandemic reached its height. While the silence was scary, it also shone a light on what life could be like if things were a little quieter, less crowded, and less polluted. Many regions are already wrestling with overcrowdedness. By 2050, a projected two-thirds of the world's population will live in cities. Urban areas need solutions now for supporting growing populations, reducing carbon footprints and lessening congestion to improve quality of life and ensure sustainable mobility. One of the appeals of jumping on, say, a moped, is that you can zip in and out of traffic, even as four-wheel vehicles are at a standstill. Lightweight vehicles also take up less space than automobiles and are often quieter and more eco-friendly.
The way forward: invest in infrastructure to maximize the potential of micromobility
Forward-thinking cities are designing ways to support the adoption of lightweight, eco-friendly travel and incorporate it into the big-picture of mobility service design.
Necessary measures include installing battery charging stations, adding more bike lanes, and creating electric grids that support all electric vehicles, including lightweight ones. Providing simple, secure parking solutions for micromobility vehicles near public transport will also be essential for supporting multimodal transport patterns.
What do customers really want, and how can micromobiltiy companies continually improve the rider experience? 
Considering the needs of cities is not enough. You must understand your customer. Micromobility businesses should map the customer journey, seeking to improve every individual customer touchpoint, as well as weave them together to create holistic experiences. Star research found that many micromobility companies are currently offering similar safety features, rider experiences and loyalty reward programs. The solution providers that come out ahead will be those that invest in user research and master user-centric design.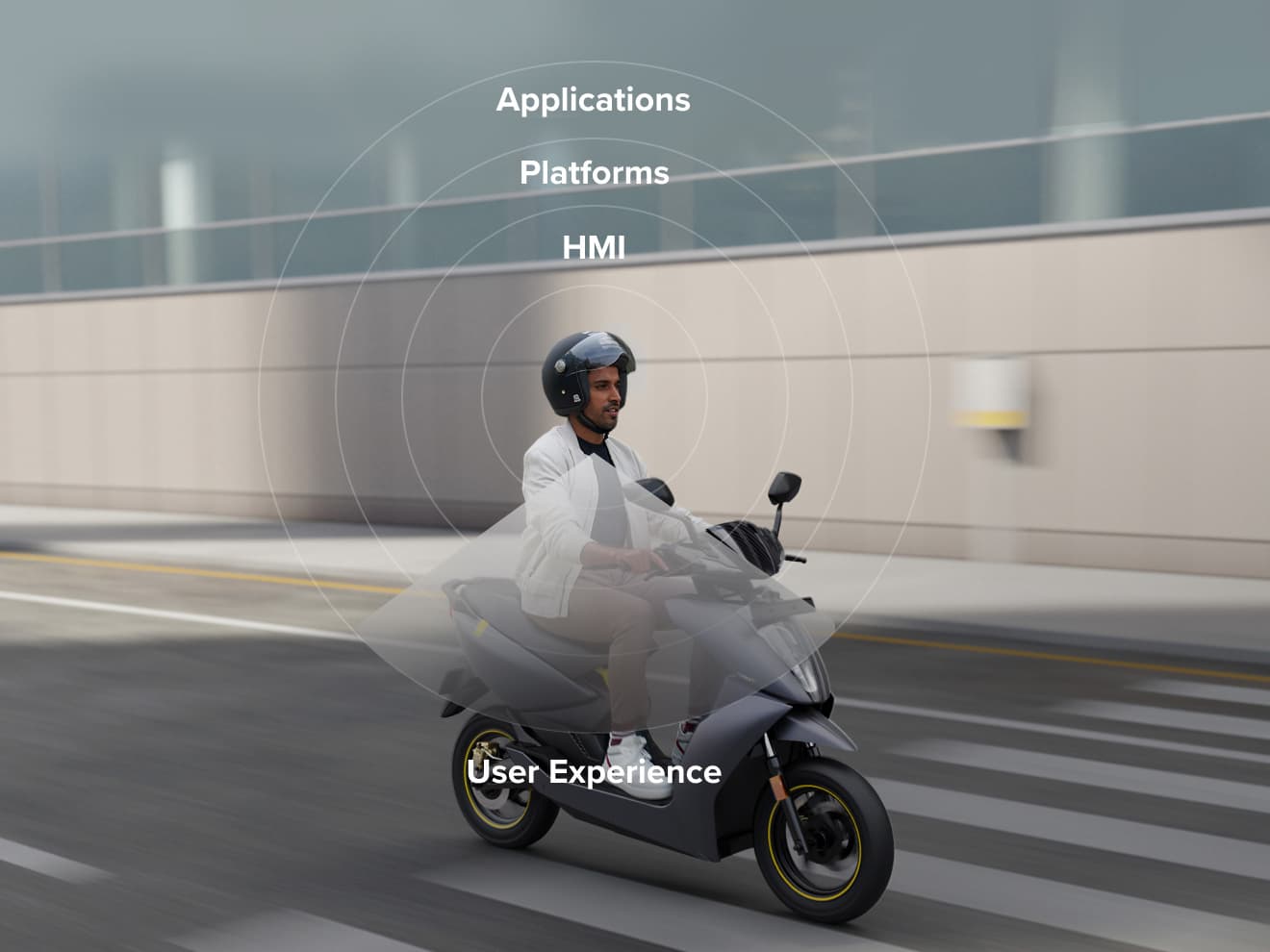 The way forward: embrace customer journey maps and user-centered design to improve the rider experience  
Micromobility innovators should adopt a customer-centric approach to design and use design thinking principles to create a holistic customer journey. This requires companies to put themselves in the shoes of the rider, share data across teams and departments, challenge preconceived notions and test and experiment tirelessly. 
Innovation opportunity areas include: 
The vehicles themselves: how can you use technology and intuitive user interface design to make sure your scooter, bike or moped delivers a superior ride?
Contactless payment solutions: Covid accelerated the shift to mobile payment options as companies looked to reduce the risks associated with handling cash. How can you meet customer expectations for these contactless payment options and ensure they are integrated across multimodal transport modes?
Sustainable mobility benefits: how can you continually find ways to reduce your micromobility company's environmental footprint and empower customers with data on how their transportation choices make a difference?
Real-time data: how can you use real-time data to improve the rider experience, for example, by enhancing vehicle safety and facilitating predictive maintenance?
The micromobility market should also invest in user research to understand not only micromobility trends, but automotive customer satisfaction. They just may discover customer pain points their solutions can address. They may also uncover visual design inspiration and find ways to improve or differentiate customer interactions. 
The Star way: rise above the sea of sameness to create the new driver experience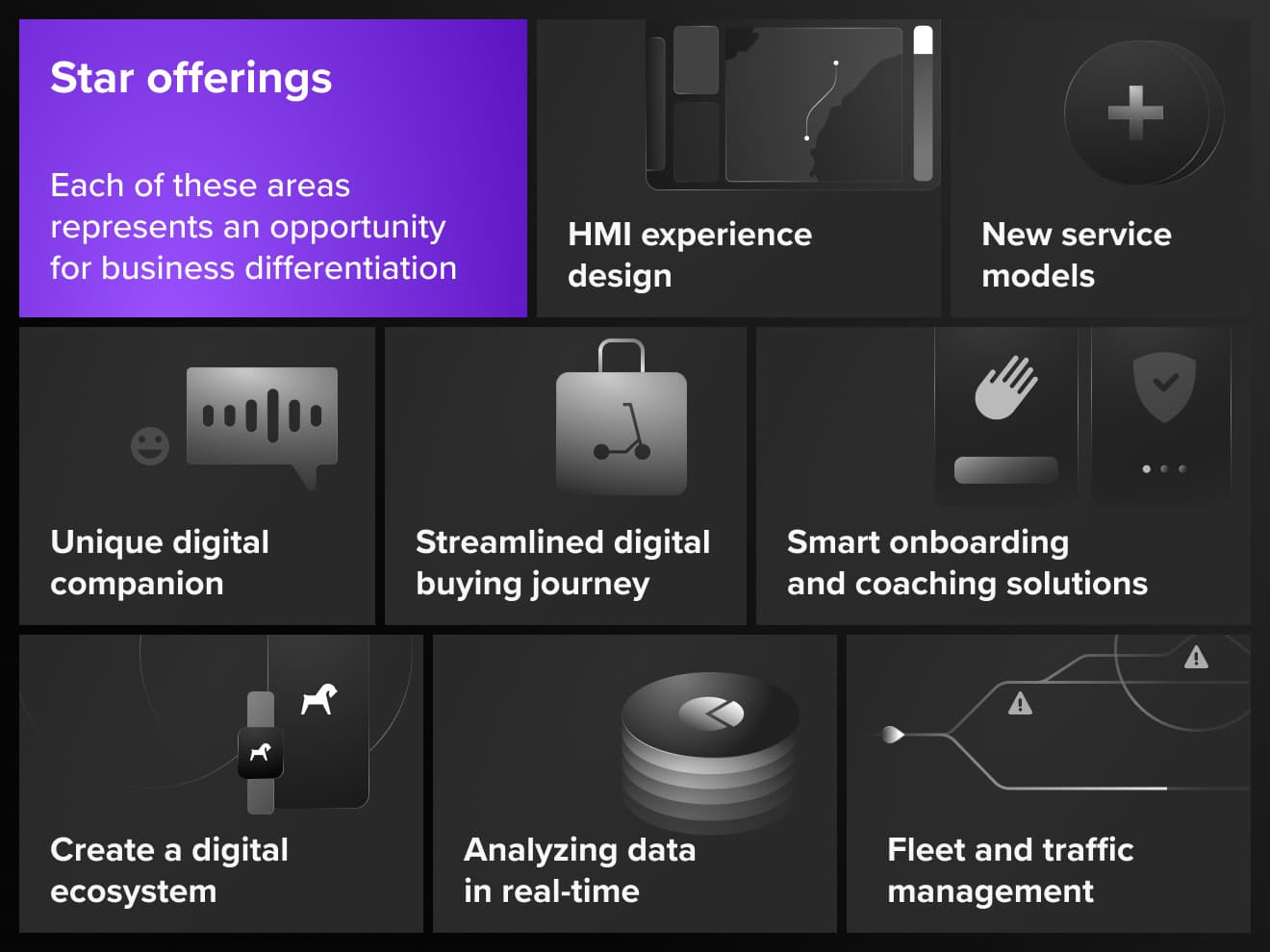 A number of market factors could create a perfect storm for micromobility's widespread adoption. But it is on micromobility solution providers to ensure they get a few things right. Currently, much of the micromobiltiy industry is swimming in a sea of sameness. Star's mobility and user experience design experts have identified a number of areas for potential differentiation, including:
HMI experience design that keeps riders engaged and increasingly leverages connected and autonomous features
New service models to provide customers choice and support multimodal travel
Digital companions, or Cobots, that add true value to the user experience and strengthen customer relationships  
A streamlined digital buying journey that removes barrier to purchase to increase sales 
Smart training and coaching solutions to improve safety and driver comfort
The creation of a digital ecosystem by connecting products and services so the whole is greater than the sum of its parts
Integrated systems and processes for harnessing and analyzing data in real-time to improve the riding experience, as well as business decision-making 
Innovative approaches to fleet and traffic management to support micromobility transport as demand grows
Let's get in touch!
Reach out to Star's team of micromobility experts today and we will work together to map your customer journey, improve user interface design and discover innovative ways to shape the new driver experience. 
Get in touch