By solving these internal and external challenges, OEMs and dealers will win market share now and secure their place in an increasingly digital-first future
After decades of relatively little change, automotive retail is ready for a shake-up. Over the next five years, OEMs and dealers must challenge and change the way cars are bought and sold, or risk losing out to category newcomers. 
Some OEMs have already begun expanding their digital capabilities, reimagining the role of the dealer, and integrating online and offline customer data to create a seamless, cross-channel experience. These transformations were in the works before COVID, but the pandemic fast-forwarded adoption. Brands had no choice but to offer contact-free solutions for browsing, customization, test-driving, and delivery. Should a consumer need to set foot in a physical location, they expect the experience to add value, or perhaps even deliver a memorable moment. 
Customer expectations have changed, whether they are buying sneakers or an SUV. But it is not just external pressures that make automotive retail ripe for disruption. Historically, the car buying process is complicated and time-consuming. As customer frustration mounts, dealer margins shrink, and OEM risk losing market share. Let's take a look at the biggest challenges OEMs and dealers face, and consider how overcoming them will shape the future of automotive retail. 
The 5 challenges driving automotive retail innovation
Only one in three consumers are "very satisfied" with the current dealership model, according to recent research by Cox Automotive. The time-consuming and sometimes off putting process of meeting with a car salesperson is in stark contrast to the seamless, self-service experiences people have come to expect from shopping online.
Consumers aren't the only ones disappointed in automotive retail. From 2015 to the first half of 2018, the average dealership operating profits dropped from 8.9 percent, to 1.7 percent. Gross profits fell from 3.3 percent to 2.4 percent over the same period, according to McKinsey research.
The decline is due to a number of factors, including pressure from OEMs to keep prices down, and more pricing transparency. Today, customers arrive at a dealership armed with data from third-party digital resources, such as TrueCar and AutoTrader. Transparency is good for consumers, but it makes it harder for dealers to raise prices and margins. Some shoppers are even circumventing dealers all together, purchasing vehicles from sites such as Carvana or Shift, or trying out car sharing services. 
OEMs and dealers' most pressing challenges can be grouped into five areas: consumer dissatisfaction with the dealer experience; new digital buying expectations; the need to integrate online and offline data to map and influence the customer journey; operational challenges; and diminishing brand loyalty. But rather than focus solely on the challenges, let's also explore solutions. Brands that can navigate these issues will establish themselves as automotive innovators. They will retain customers, and win over new ones, and they will help to shape the future of automotive retail.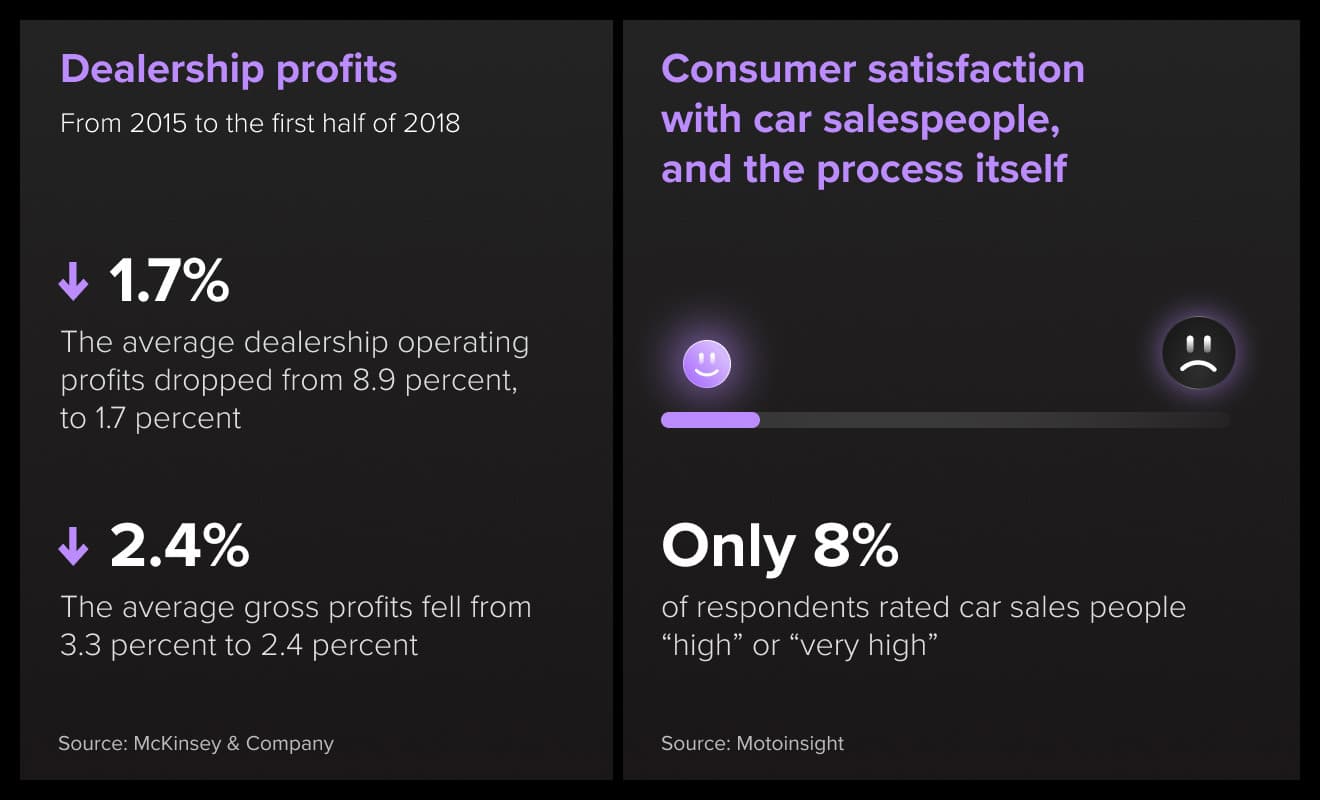 Consumer dissatisfaction with the car buying experience
The typical car buying process is not cutting-edge. It requires patience and paperwork, and customers don't always leave with the keys in hand. 
People are dissatisfied with car salespeople, and the process itself. When Gallup asked people to rate various professions on perceived honesty, only 8 percent of responders rated car salespeople "high" or "very high."
Turnover rate is high at dealers, making it hard for customers to form long-term relationships. This can reflect poorly on OEMs, as sales teams are human extensions of their brands.
The average in-person car buying experience also takes too long. According to J.D. Power, most consumers believe buying a new vehicle should take no longer than two hours. Yet, industry data shows the medium time it takes is four hours.
Now, this doesn't mean people want to avoid dealerships all together. A car is a big-ticket item, and people want guidance. They also want to explore features and customization options in-person, especially as OEMs roll out more digital and autonomous features and electric models. These innovations aren't as self-explanatory as leather seats or a backup camera.
Maximizing the revenue automotive makers can gain from investing in innovative connectivity features requires representatives who can speak to their benefits. In fact, developing the skills and expertise to properly sell a connected car is one of the top challenges dealers face, according to global research conducted by Autovista Intelligence.
The way forward: a new automotive retail customer experience
The goal of the modern dealership should be to enhance the car buying experience and to reduce prospective buyer attrition. Paying a visit to a dealership shows buyer intent, but the buyer may be visiting other automotive dealers, too. Turning off consumers with a pushy salesperson or long wait time could cost a dealership a sale, and an OEM a customer. 
Some brands, particularly newer ones, have already begun retail innovation.  They are taking steps to improve the automotive retail customer experience by transforming their physical locations into sleek modern spaces and rolling out premium services, from free childcare to high-end restaurants. 
Brand centers, not sales machines
Some forward-thinking OEMs are building "brand experience centers," places where people can learn more about the brand and vehicles, without being subjected to a pushy salesperson. Seven in 10 consumers find the "Brand Experience Center" concept appealing, according to Cox Automotive.
Automotive digital retail
OEMs must also consider how the in-person experience complements the online customer journey. If a brand is positioning itself as an innovator, its retail locations must reflect that. For example, some brands are adopting VR/AR tools in their stores so people can test drive vehicles and explore car features.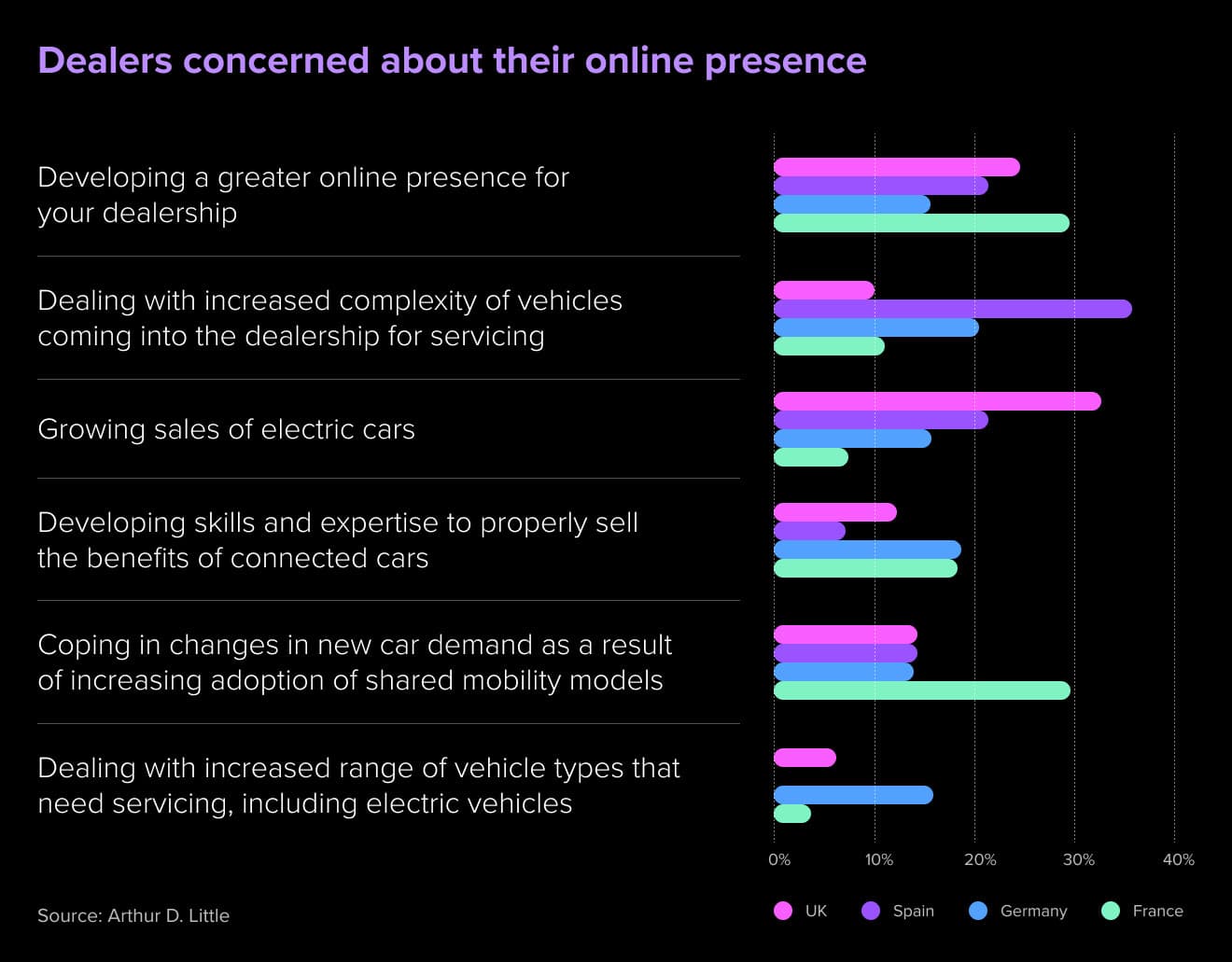 Consumer digital buying expectations
Consumers are increasingly comfortable buying big-ticket items, such as mattresses and furniture, online. The majority of consumers begin their vehicle shopping experience online, too. They are comparing car makers, models, and prices, or perhaps asking for advice on social media. A growing percentage of shoppers conduct at least some of this research on mobile. According to the Internet Advertising Bureau, 84 percent of consumers in the UK use their mobile to research a car.
According to 2018 research conducted by Autovista Intelligence, 19 percent of dealers across four countries (France, Germany, Spain and the UK) identified the need to increase their online presence as the most important challenge they were facing in the next three to five years.
While the bulk of shoppers expect to visit a physical location when buying a car, some consumers want the entire shopping experience to be digital. In Capgemini's Cars Online 2017 study, 42 percent of consumers said they were "likely" or "very likely" to buy a car entirely online in the future, as compared to 35 percent in 2015.
That figure is even higher today. The majority of consumers are now interested in purchasing cars online, according to the 2019 Deloitte Global Auto Consumer Study. But most carmakers aren't prepared to support that. Arthur D. Little's Future of Automotive Mobility study compared the German websites of Toyota, VW, BMW, Mercedes-Benz and Audi to assess online readiness. Only Mercedes Benz offered the possibility to purchase cars online.
The way forward: seamless, digitally-enabled automotive buying experiences
Customers expect automotive e-commerce platforms to be easy-to-navigate and comprehensive–something more than an online catalog. In addition to creating holistic, on-brand consumer digital experiences, auto manufacturers must also reflect digital innovation in the in-store experience.
Cutting-edge automotive e-commerce platforms
While not every OEM is ready to sell vehicles entirely online, all brands should evaluate their online presence and consider ways to improve usability, to connect with prospects and customers, and to reinforce their brand image. 
Complementary automotive in-store digital experiences
Retail locations must also be augmented with technology to create a next-level in-store digital experience that extends a brand's online footprint and keeps up with customer expectations.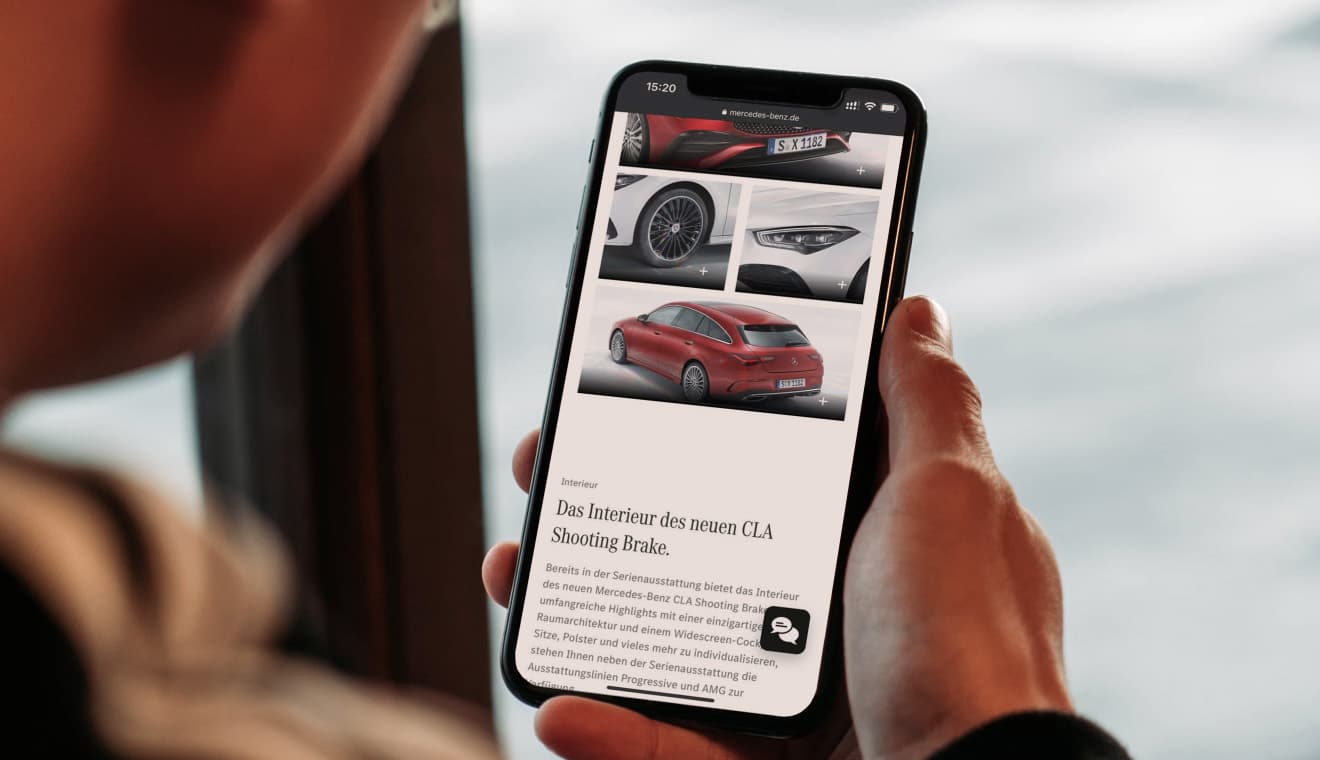 The customer journey: integrating the online and offline automotive customer experience
Finding prospective customers in today's fragmented media landscape is challenging. At any moment, a brand's target audience could be watching Hulu or Netflix, perusing a social media app, or working from their desktop. 
Finding a target audience is hard enough. Automotive companies must also persuade consumers to consider their makes and models. Doing so requires an omnichannel approach reflective of the automotive retail consumer path to purchase. OEMs need tools and tactics for mapping a user's identity across devices and digital channels, and for matching this data with offline behaviors, such as trips to the brand's retail locations, or visits to competitors. 
Retailers across verticals struggle to marry real-world behavior with digital action, but online-offline integration in automotive is particularly hard. Most OEMs don't have the infrastructure in place to collect and marry online and offline data. Measuring behaviors on owned channels is one thing. But many meaningful digital activities take place on walled gardens, such as Facebook and Google, making it hard for OEMs to obtain the data they need. The good news is OEM innovators have an opportunity to paint a complete picture of their users, and to integrate online and offline behaviors in a meaningful and privacy-complaint way.
The way forward: mastering digital marketing and data integration
OEMS must create seamless and cohesive experiences for all digital touchpoints across customer journey that reinforce their brand image. This requires online-offline cohesion, dealer communication, and omnichannel marketing. 
Online-offline cohesion and dealer communication 
OEMs won't be able to paint a clearer picture of customers and prospects without cooperation from dealers, as they control valuable data on in-person behaviors. OEMS should communicate the benefits of sharing customer information with dealers and integrate this data with online profiles.
A simple concept, although challenging in its execution, is to assign each customer an ID. Salespeople, or brand reps, in retail stores should be enabled with a tablet and ask customers for this number when they interact.  
Omnichannel marketing and communication
To advertise effectively, OEMs and dealers need omnichannel marketing strategies and an in-depth customer understanding. They also need to create an omnichannel retail experience that incorporates digital technologies, such as AR/VR and digital signage, and, of course, free Wi-Fi, while strengthening a customer's relationship with the brand.
Download Star's trend report
It is time to reimagine the way cars are bought and sold. These trends are shaping the future of automotive retail.
Download now
Operational challenges and dealers' changing role
In an age when direct-to-consumer models are thriving, the vehicle buying process is punctuated with middlemen–the importer, the retailer, and often, a finance provider. These layers add costs, and sometimes headaches, for consumers and jeopardize profits for OEMs. 
OEM/dealer relationships are complicated and strained. As OEMS urge dealers to offer the most competitive prices possible, dealers lose margin. Many dealers worry the entire dealership model is in jeopardy. The fear is understandable. 72% of customer interactions about vehicle purchasing now occur online. This includes 78% of used car buyers who report very high satisfaction with the shift to digital channels. Innovative auto brands, including Tesla and Byton, already operate their own stores and showrooms and sell directly to the end customer. This allows them to control their sales channels, safeguard the customer experience, and own all the data associated with the customer relationship.
The way forward: exploring new models and improving collaboration
Many OEMs and dealers are not aligned on a future distribution model. OEMs feel the pressure to invest in improving their digital shopping capabilities, and they worry that a dissatisfactory dealer experience will jeopardize customer relationships. But they don't have the infrastructure, staff, or legal expertise to sell directly to consumers, in most cases. 
An agent model
Some brands wonder if the future of automotive digital retail is an agent model, in which dealers act as agents on behalf of the OEM. While this would allow OEMs to control sales channels and resulting data, most OEMs are not set up to make this switch just yet. Integrating online/offline data and improving dealer communication would be an important first step.
Innovation and alignment between OEMs and dealers
Despite challenges, automotive retail is brimming with opportunities. OEMs and dealers can find ways to work together to improve the customer experience, as well as profit margins. Even the rise of mobility sharing solutions could be an opportunity for innovative auto brands. Some OEMs, including Audi and Porsche, already offer their own car subscription programs as an alternative to buying or leasing a car.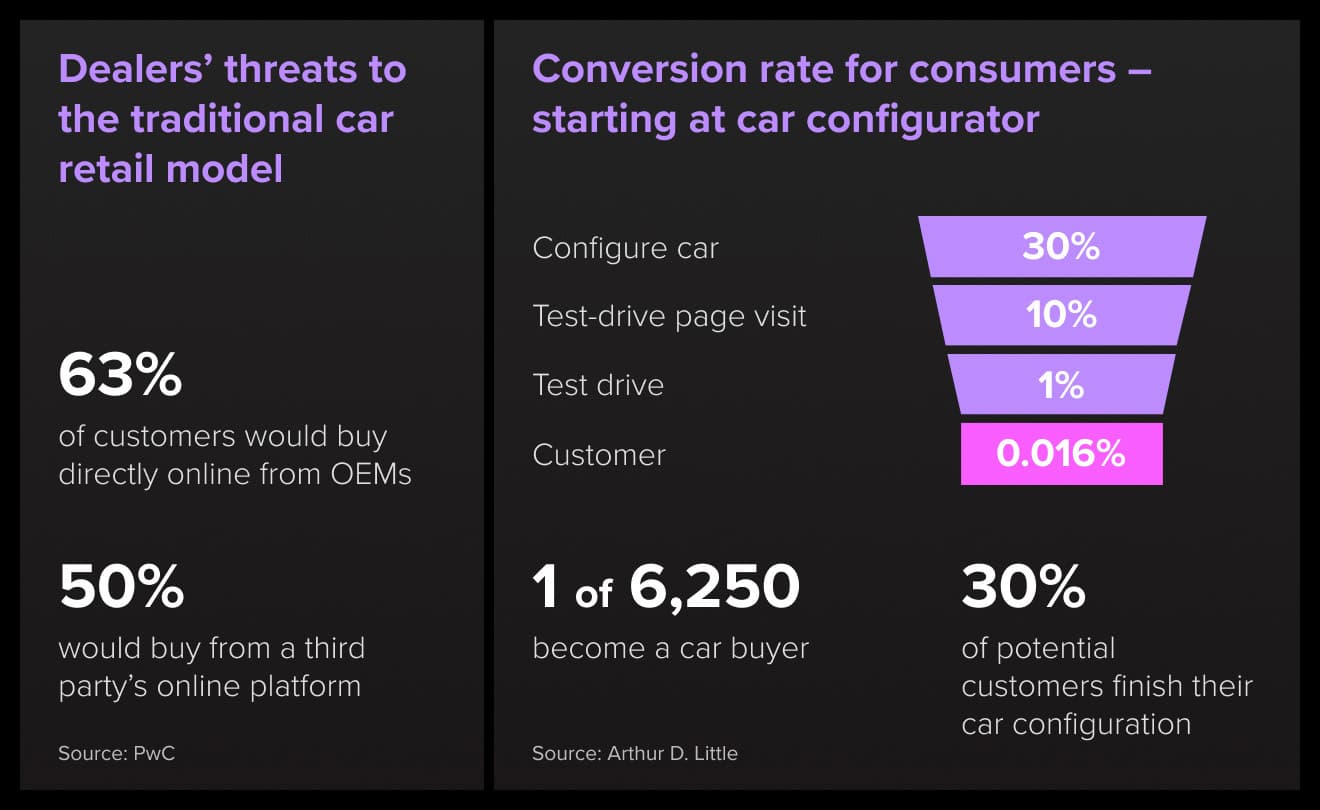 Faltering brand loyalty in the automotive industry
Across industries, consumer shopping behaviors are challenging and changing the notion of brand loyalty. With new direct-to-consumer, digital-first brands entering the market each day, it is harder for legacy companies to retain their market share. Many customers are willing to test out new trends and brands, and social media and influencer marketing plays a growing role in influencing purchasing decisions. 
According to a PwC study in Germany, 50 percent of dealers see decreasing brand loyalty as the biggest challenge they face as they consider the future of automotive retail. The same study found that 46 percent of new car customers consider three to four brands before buying a car.
The growing popularity of car-sharing and subscription services is also changing brand loyalty in the automotive industry. According to the Cox Automotive 2019 "Evolution of Mobility" study, nearly 4 in 10 consumers agree that transportation is necessary, but owning a vehicle is not. This figure will likely increase as car sharing options and auto subscription models become more widely available, and brand awareness increases.  
The way forward: building brand recognition and trust and creating a new brand experience vision
OEMs can't fight or change global cultural trends. Instead, they must adapt to them. This means strengthening every single brand touchpoint and rolling out innovative services that reflect customers' changing relationships with cars. 
Building trust and recognition 
The rise of digital media creates more touchpoints for brands, and more opportunities to strengthen and build the customer relationship. In a sense, a brand is only as good as the customer's last experience with it. So, OEMs must master the customer journey and find ways to increase brand recognition and build trust every step of the way. 
New brand visions
OEMs should create thoughtful brand experience visions that feel true to their ethos, but also, ahead of their time. Perhaps these include offering their own versions of car sharing and vehicle subscription services so they can keep up with customer expectations and position themselves as OEM innovators.
Star – the road ahead
These are times of change, not just challenges, for OEMs and dealers. By creating online and offline customer experiences that reflect consumer expectations, as well as their changing relationships with car ownership, OEMs will establish themselves as category innovators, retain clients, and win over new ones. 
It is not easy, though. At Star, we have partnered with more than 20+ OEMs, Tier 1s, and startups to "future-proof" their businesses. Our strategists, designers, and product managers have deep expertise in automotive and mobility and a uniquely cross-market and global perspective that help our clients build viable strategies and products that create competitive advantages. Contact us!
Image source: zerolight.com