Between the rise of micromobility sharing services and consumers' growing interest in two-wheeled electric vehicle ownership, cities everywhere can expect to see more of them on their streets. But what do people want from these affordable and convenient transit alternatives? 
E-mopeds are among the fastest-growing two-wheeled electric vehicle market segments and are expected to grow from USD 53.59 billion in 2021 to $623.59 billion in 2029. Consumers are flocking to e-mopeds because they are eco-friendly and, unlike e-bikes, are faster and require no physical exertion. 
To attract riders, micromobility companies must understand the features, technologies and user needs that matter most and find new ways to create personalized experiences, emotional connection and a sense of community. 
In this report, we pinpoint prevailing trends and opportunity areas for mobility companies in the e-moped market to grow their business and deliver experiences that stand above the pack.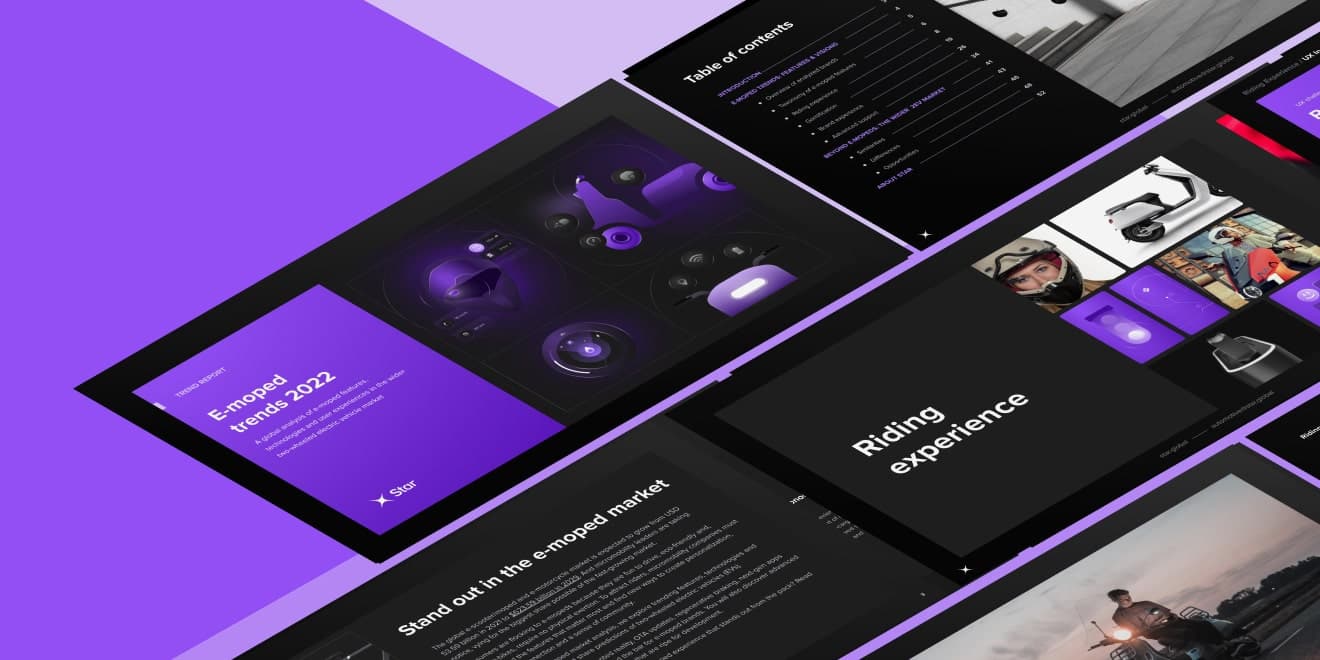 Download the e-moped market analysis and discover trends, predictions and opportunities
Top e-moped brands keep users at the center
Dive into key micromobility trends. We've analyzed the diverse capabilities and technologies characterizing the e-moped landscape, including:
Companion apps with customizable navigation capabilities and interactive riding statistics 
Distinct driving modes to match each rider's preference 
AR helmets enhancing safety and convenience  
Regenerative braking that improves efficiency and range
Suite of mobility solutions designed to improve the allay range anxiety, battery and charging process.
While features vary, leading e-moped companies — like all successful e-mobility solutions — keep users at the heart of every design decision.
Two-wheeler market future vision: a smarter e-moped
As the electric two-wheeler market grows, mobility companies will continue to invest in two-wheeled electric vehicles and focus on improving the riding experience and increasing consumer demand. The e-moped of the future includes over-the-air (OTA) updates to improve safety and simplify maintenance and augmented sensing, which uses IoT, Advanced Driver Assistance Systems (ADAS) and location- and camera-based technologies to sense driver behavior and the surroundings and make changes accordingly, such as adjusting torque based on the weather.
Future e-mopeds will also include gamification elements beyond in-app rewards and badges, such as collectible tokens created in partnership with local businesses. Furthermore, brand experiences will extend into the metaverse, from virtual product demos to XR-enabled customer touchpoints that surprise and delight.
New EV opportunities for the two-wheeler market
E-mopeds aren't the only EV industry segment growing fast. E-bikes and e-scooters are taking off, too. While each two-wheeled electric vehicle type is different, they share similarities across four areas: electrification, digitalization, "car-ification" and fleet sharing systems. 
Despite ample progress, there is still an opportunity to enhance the overall user experience to improve e-mopeds as well as other micromobility options, thereby improving urban mobility. Opportunity areas in the electric vehicle industry include greater use of AR and connecting disparate mobility modes to create a seamless customer journey.  
The benefits of partnering with an electric two-wheeler market expert 
Navigating the changing world of automotive and mobility, including the electric vehicle market, is challenging. Leading companies around the world, including OEMs, tier 1 suppliers and micromobility startups are partnering with Star to understand electric two-wheeler market trends, speed up the innovation process, maximize resources and identify opportunities they might otherwise miss. 
Star uses a collaborative, human-centered design process to create innovative digital products that reflect electric vehicle trends while differentiating your brand. 
To learn more about our offerings, which include HMI experience design, connected products, fleet management, platform solution architecture, digital buying journeys and more, contact us today.