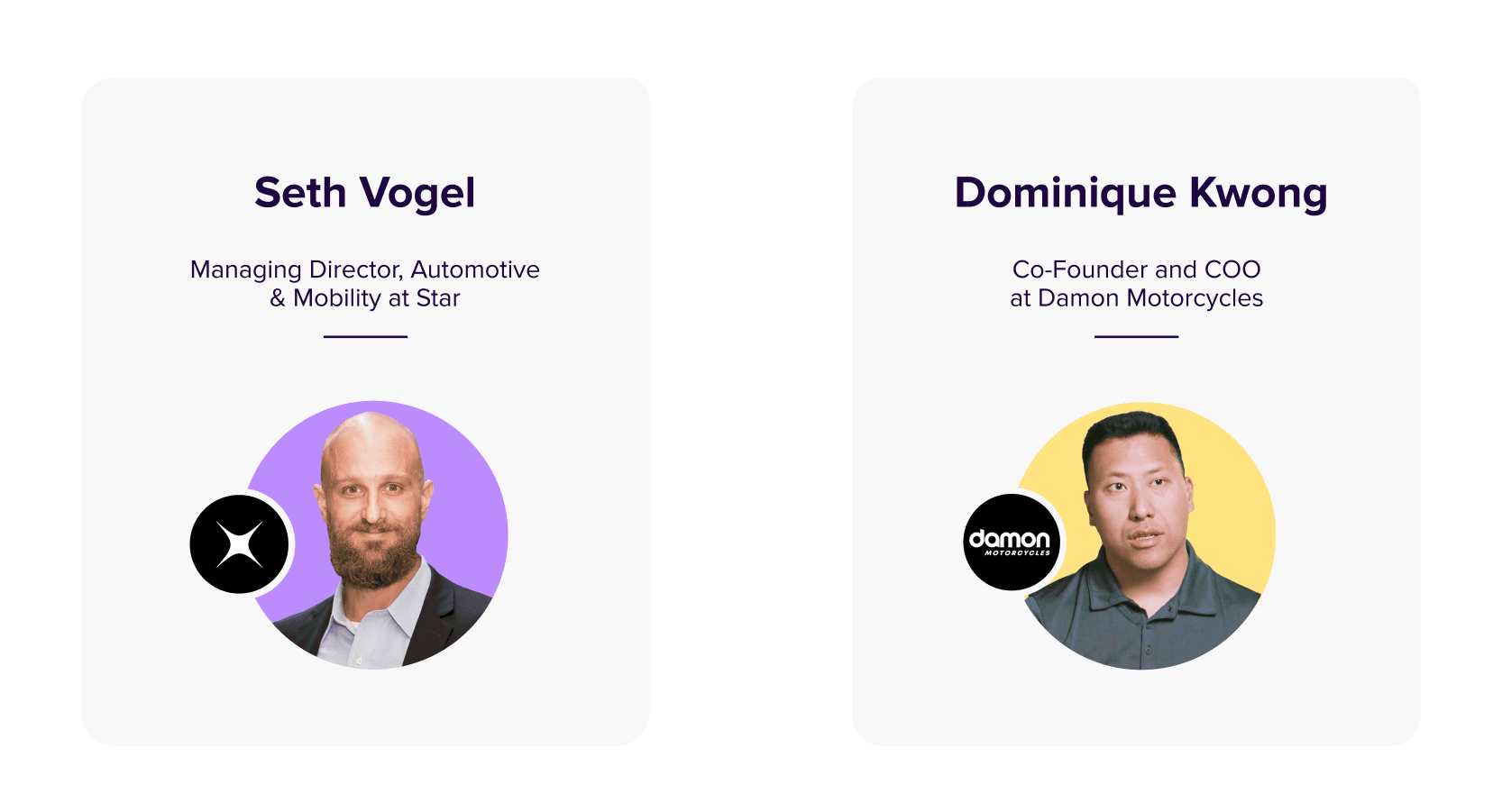 The second season of Star's podcast series "Shine" is here. This time, we are focusing on a quintessential question – "why?". Why can't we challenge preconceived notions and knock down the status-quo? Why are certain technologies and concepts transforming the world, and what do they mean for industries, businesses and people? And how can innovators stay end game-focused and work to not only understand the customer experience but improve it? 
In season two's kick-off episode, host Tom Hunt returns to lead a discussion with Dominique Kwong, Co-Founder and COO at Damon Motorcycles, and Seth Vogel, Managing Director of Automotive & Mobility at Star. The guests explore why four-wheel mobility gets so much more attention than two-wheel mobility, particularly in North America, despite the exponential growth of e-bikes and motorcycles. They also discuss the benefits of two-wheel mobility and the factors shaping its bright, burgeoning future. 
Subscribe on Apple Podcast   |   Subscribe on Spotify
Here are a few insights about two-wheel electric vehicles and global mobility the experts shared in their discussion: 
It is smart to think "small": Two-wheel vehicle adoption continues to increase in parts of the world, including Southeast Asia and Europe, because they are more affordable, environmentally friendly and better at navigating heavy traffic than cars. COVID-19 shined a light on the importance of personal mobility, with e-bikes taking off in some markets as a safer alternative to public transportation. 
North America's love affair with gas-powered cars is over. In the U.S., there is a lot of buzz about electrification, but our experts believe the country would be wise to expand its thinking to include two-wheel options, too. These vehicles have a smaller carbon footprint, improve traffic congestion and are more pedestrian-friendly. 
These aren't your grandpa's motorcycles. Technical advancements have made motorbikes safer and easier to operate than ever before, thereby opening up two-wheel mobility to a broader audience. Dominique Kwong said today's drivers don't have to sacrifice power for sustainability. New electric motorbike models are cleaner, safer and fast and more fun to drive.
Data is the beginning, not the end game. Raw data alone won't transform your business. Certainly, mobility companies can and should collect data from devices, but the real transformation happens when you can analyze and activate that data to improve experiences. Seth Vogel explained that understanding the user experience is really "level one or two." To level up, you must use that data and technology to empower drivers. For example, Damon Motorcycles is working with Star to reimagine its HMI and seamlessly integrate mobile to meet the needs of its millennial audience.
Understanding the two-wheel vehicles of tomorrow
What's driving the next generation of e-bikes and motorcycles? Technology, and these three trends: 
Safety: Eyes forward is the way forward. Vehicle crashes remain the eighth leading cause of death in the world and the leading cause of death for people under age 29. It doesn't need to be that way, Seth Vogel noted. Dominique Kwong asked a poignant question, "Why are automobiles getting safer but motorcycles are not?" He believes we need proactive safety advancements, not just reactive tools. Damon Motorcycles builds technology that makes drivers more aware of their surroundings without taking their eyes off the road. It's part of the company's ambitious plan to achieve zero fatalities on Daymond motorcycles by 2030. 
Electrification: EV's bracing for next-level growth. The global EV market is growing faster than gas. Growth factors include consumer preference and environmental concerns, OEM investment, and government legislation. Widespread adoption depends on battery technology and infrastructure.
User experience: "Creating seamless synergy between technology, the machine, and the person." Seth Vogel noted that the most successful companies in any industry keep users at the center of everything they do and understand each user's unique preferences. Mobility is no exception. You need a holistic understanding of the user journey and a strategy for using technology to improve every touchpoint. 
For Star, the future of micromobility is all about building impactful solutions, for example, ones that can mitigate distractions to reduce crashes and fatalities.