The pulse-racing uprise in the electrification of two-wheelers at the 2021 EICMA Motorcycle Show proved traditionalists might need to reconsider their ways. The Mobility industry is going through a paradigm change that will reshape design, offer alternative charging methods and adapt technology to increase safety.
The 2021 EICMA Motorcycle Show in Milan presented an evolutionary transformation of two-wheel mobility. Long gone are the days of the more cubic centimeters, the better: the established players now share the stage with electric mobility newcomers.
Electrification has gathered enormous momentum. Newcomers to the industry may be rejoicing now, but the establishment also has a vast digital innovation pipeline. New sensory and HMI technology offers intelligent safety solutions for riders. 
E-mobility is here to stay, but will cumbersome recharging efforts keep gas-powered engines revving? As the industry makes a paradigm shift, we've created a visual pathway that recaps the top trends and technologies that stood out at EICMA 2021.
Download now and explore:
How electrification is reshaping design
Why on-the-go recharging offers a new way forward
What sensorial and HMI technology can do for road safety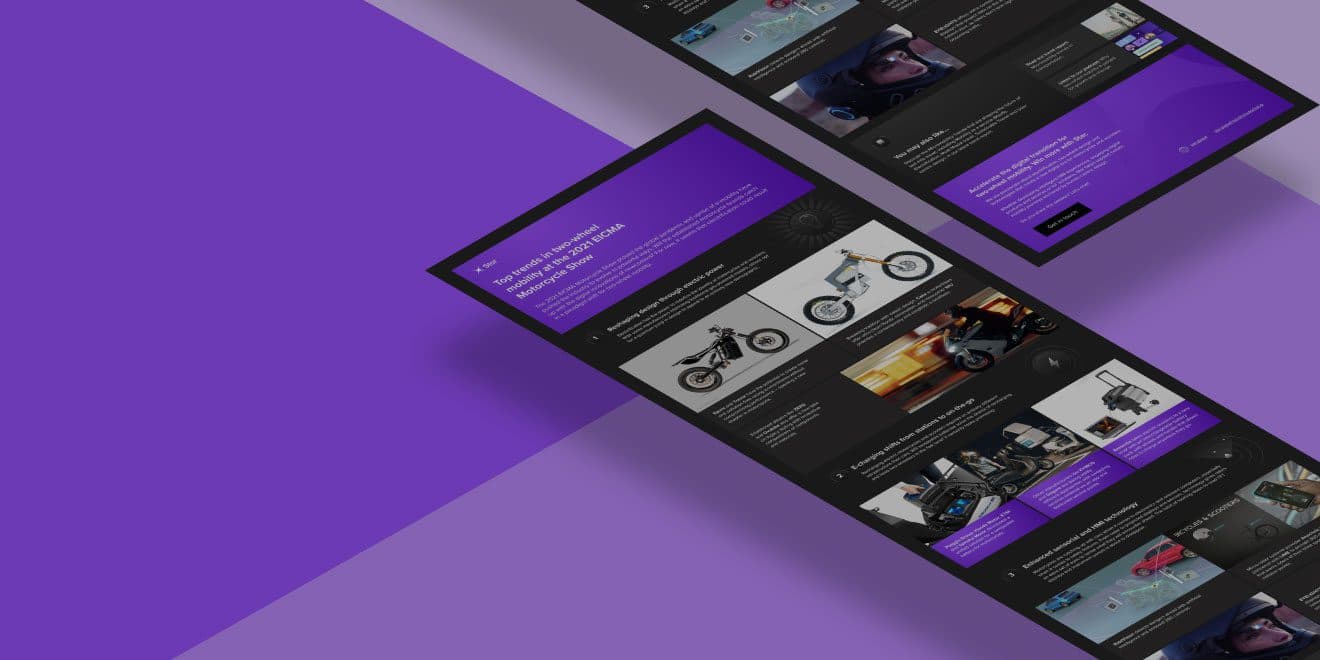 Dive deep into the latest trends in two-wheel mobility.
Get in the driver's seat of digital transformation.
Explore the future of automotive and mobility - from building scalable technology solutions to strategy definition and visionary design. Our team anticipates driver and passenger needs to make your company shine. Want to talk about our vision of two-wheel mobility?