Consumers expect more from their vehicles than ever before. Cars have become mobile offices, entertainment hubs and, essentially, gadgets. Many drivers, particularly younger generations, care more about in-car interfaces than leather stitching or horsepower. They want a vehicle that improves their life and supports the mobile applications they can't live without.
Automotive human-machine interface (HMI) solutions are features and components of car hardware and software applications that allow drivers and passengers to engage with the vehicle, as well as the outside world. These solutions include navigation system touchscreens, voice-enabled vehicle infotainment clusters, the steering wheel, buttons, displays, and driving assistance tools that enable people to understand in-car technology, operate their vehicles safely, and feel comfortable and in-control as self-driving becomes more widely available. In fact, autonomous and electric vehicles cannot achieve mass customer adoption, unless OEMs get HMI development right.
Let's consider some of the major automotive HMI design challenges OEMs are facing, and how they can solve them to delight their customers today, while preparing for automotive's more connected, electric, and autonomous future.
The challenge: what do drivers really want and expect from automotive HMI design?
Audiences have incredibly high expectations, and automotive brands must create HMI that is good enough to compete with mobile devices. The best vehicle HMI is user-centric. You can't create that unless you understand the driver, as well as the passenger. OEM innovation and R&D teams conduct primary research in-field, but it's intended to qualify small tech opportunities before beginning production.
Most OEMs are not doing a good enough job understanding their audience, at scale, when designing HMI. Instead, they rely on sometimes outdated market research and consumer segments they get second-hand from marketing teams. But drivers have expectations and priorities that may actually surprise you. Some care most about streaming their favorite music, connecting seamlessly with productivity applications and voice assistants, or keeping their kids engaged on long trips. Others just want human-machine interaction to be as safe and simple as possible, with no distractions or automation.
The way forward: direct customer connections
To understand different customer journeys and need states, automotive brands have to connect directly with consumers and refine their in-car software product continuously, and quickly. They should conduct qualitative customer research to understand their buyer and establish systems for testing features with real drivers and updating continually based on data and user feedback. Basically, they need to approach testing like a consumer-first software product company. Additionally, they must understand macro trends affecting the vehicle HMI space, such as the rise of shared ownership and the future of voice.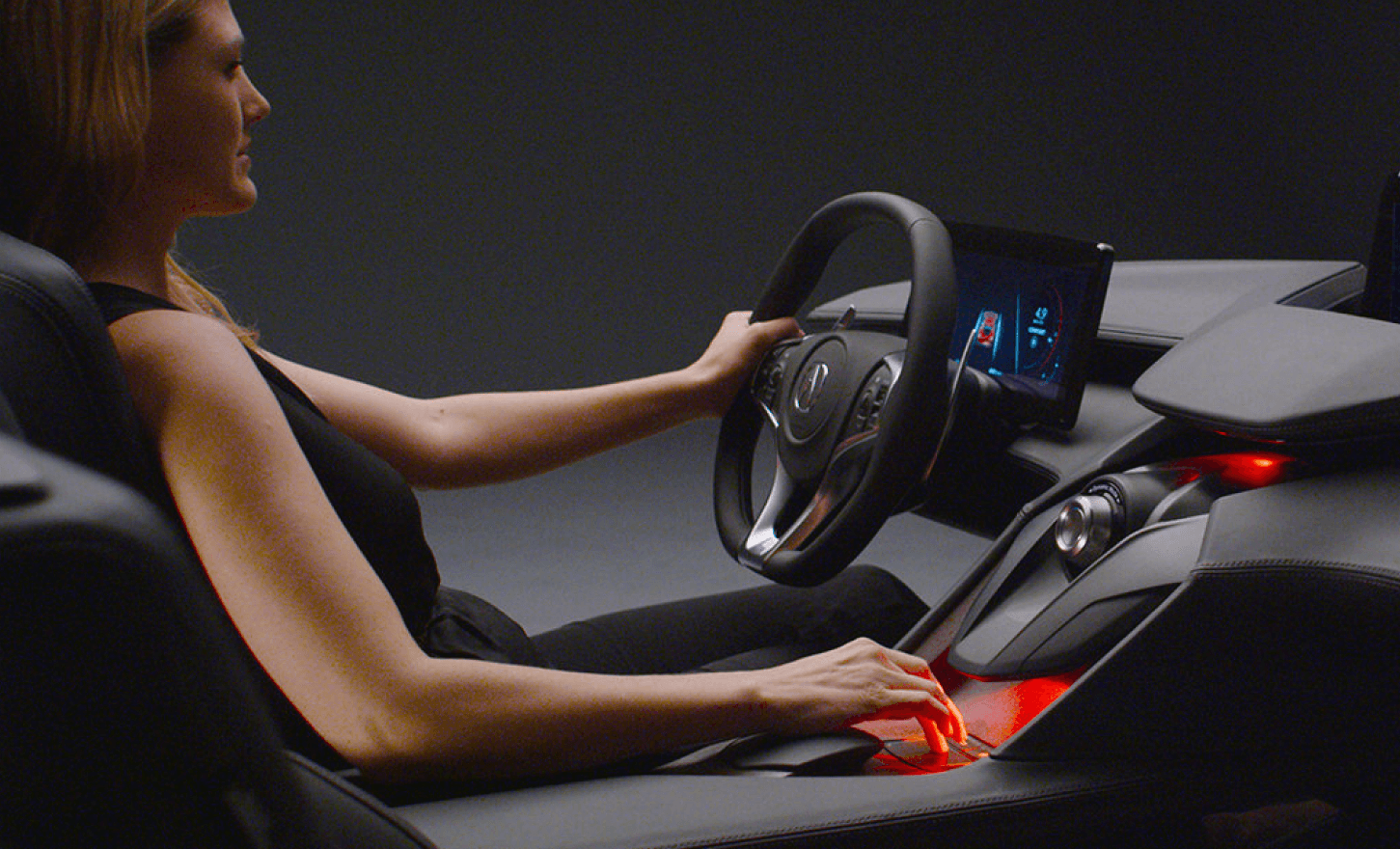 The challenge: how do I design automotive HMI technology that is simple and safe, while supporting myriad features?
Part of what makes HMI development so challenging is the volume of variables that affect human-machine interaction. Increasingly, automotive brands are using artificial intelligence (AI) to build interfaces that can adapt to a variety of factors: the destination, time of day, who is driving, and whether the car is in motion, idling or parked. Increasingly, vehicles use sensors to improve driver and passenger comfort, for example, automatically making adjustments based on body temperature, and to respond to the drivers' perceived level of alertness. Furthermore, as automotive brands roll out more connectivity, apps and features, they must consider how to mitigate distraction to keep drivers focused. 
The way forward: multi-modal human-machine interface design deployed on flexible platforms
Multi-modal HMI user interface design supports various forms of interaction with the car's computing system, including voice, touch, gesture and haptic interfaces. They are intuitive, flexible solutions that allow OEMs to prioritize safety and facilitate user preferences. With partially autonomous vehicles on the roads, multi-modal human-machine interface design is increasingly important because cars must support seamless transition between manual control and automated driving. Vehicle HMI must engage drivers enough that they could control the vehicle if necessary, while still delivering exceptional driving experiences.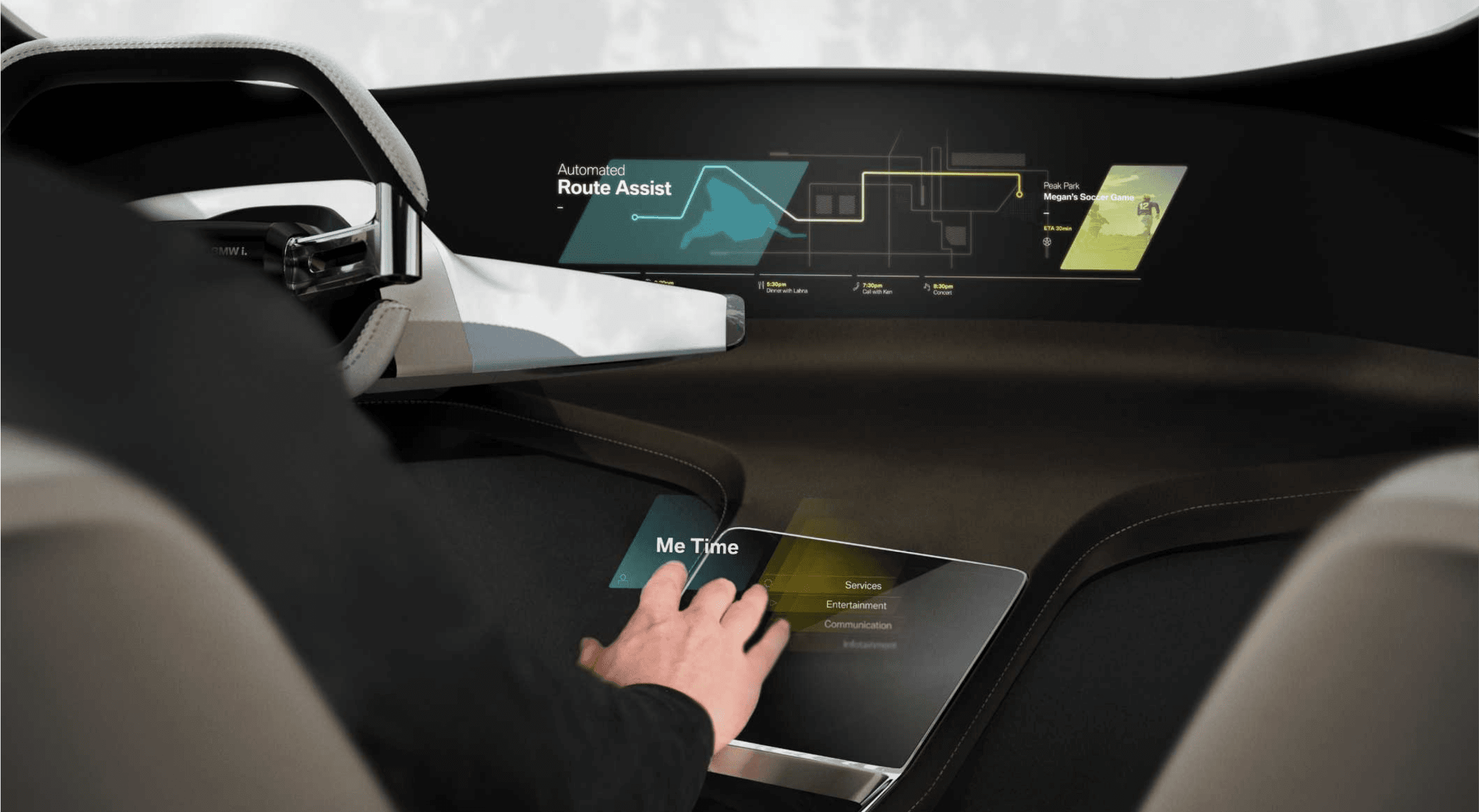 The challenge: how do I roll out new vehicle HMI and HMI updates quickly?
Speed to market is a huge challenge for OEMs accustomed to slower production schedules. Many do not have the time or expertise to tackle automotive human-machine interface design challenges effectively and fast. Consumers also expect software to be updated frequently and seamlessly so products and services continually improve, and the automotive industry is significantly behind in this area.
The way forward: a startup mindset, smart integrations and flexible automotive software
Certainly, you need safety checks and proper user testing, but the go-to-market strategy should take months, not years. This is a mindset shift for many automotive companies. Many OEMs rely on synergies with UI existing frameworks, such as Android Auto and Apple CarPlay, to save time. At Star, we save time by relying on a robust design library of templates that we can customize to meet clients' unique needs. We also suggest companies deploy flexible, connected automotive software platforms that enable OEMs to roll out new features and product updates.
The challenge: how do regional differences affect automotive HMI design?
Understanding regional differences, and creating solutions at scale to meet them, is incredibly hard. OEMs must also factor in differences in legislation, traffic patterns, and driver behavior. A comparative study between UK and Indian HMI user preferences found the majority of automotive HMI design focuses on the preferences of drivers from Western drivers and assumes a one-size-fits-all-model, overlooking how cultural differences impact audience preferences and requirements. While the study is from 2014, the industry still has a ways to go in designing for regional differences. 
The way forward: flexible, regional-specific vehicle HMI
OEMs need to consider regional differences as they expand into new markets. When Star partnered with SAIC Oversea Intelligent Mobility Technology (OIMT), SAIC Motor's automotive software development company, to create HMI design solutions for a new line of electric vehicles targeting millennial drivers in India and Thailand, we embraced technology trends like connectivity, voice, and other digital touchpoints. We knew the target audience would appreciate next-generation features and special effects that might not have mattered as much in other markets.
Get in touch!
Ready to learn more about Star's award-winning design and development solutions?
Let's talk
The challenge: how do I increase adoption and usability of HMI capabilities?
Consumers will only adopt tools that are intuitive and offer an obvious benefit. Overly complex HMI has a very low adoption rate. Some companies are better than others at promoting their in-car interfaces to attract buyers and build relationships with existing drivers. HMI's role in driver education will become increasingly important as vehicles roll out more sophisticated ADAS, so automotive brands need strategies now for communicating updates with their users.
The way forward: act like a tech company and create a software ecosystem
Modern, flexible platforms allow you to convert cars into a fleet of gadgets. Then, you can gather user data, just like Google and Apple, to improve customer understanding and continually update vehicle HMI. Using a connected system, you can also keep drivers informed of new features and updates. It is worth noting some of the most impactful features aren't expensive or high-tech. The lovable in-car companion Star co-designed with Nio was less expensive than many luxury car interior features but fostered emotional connection and helped the brand stand out. 
The challenge: what does personalization mean in HMI development? How much customization do I really need to offer?
Consumers are used to personalization in other areas of their life, thanks to services like Netflix, Hulu and Amazon, and expect the same from their car. But research on exactly how much personalization consumers want is inconclusive. When it comes to the vehicles themselves, companies deploy varying strategies. For example, Tesla offers limited vehicle customization while Lucid allows more personalization. When it comes to the driver experience, many OEMs are struggling to determine how much personalization to offer.
The way forward: focus on facilitation more than prediction
Saving personal preferences for vehicle configurations (seat height, music settings, etc.) is table stakes for a smart car, but may be perceived as personalization by the driver. This is an example of a "basic" in-vehicle UX feature that can make a vehicle seem quite smart and create an emotional attachment to the vehicle – a good thing with car brand loyalty on the decline. If a consumer feels an automotive brand understands their preferences (so, in other words, the OEM has connected user data across applications to create a seamless driving experience), they may be less likely to change brands. 
Certainly, automotive brands need to understand vehicle use cases, design for them, and make it simple for drivers and passengers to adjust their experience (lighting, temperature, music, car display), accordingly. A family headed to Grandma's birthday celebration has different needs than a commuter or a couple out on their first date. But does a car need to anticipate these events before they happen? Probably not.
At a certain point, personalization becomes an assumption. Imagine sitting down at a restaurant and the waiter brings you steak because he thinks you want it, but you are in the mood for fish. OEMs should focus more on facilitating exceptional customer experiences than predicting what those experiences should be. Personalization will become more important, though, as manufacturers roll out more self-driving features, because drivers will have preferences on the balance between automation and human interaction. 
The challenge: what is the relationship between automotive HMI technology and mobile devices?
Consumers are tethered to their devices, but it is obviously not safe to use them while driving. An important component of automotive HMI design is enabling drivers to interact with their mobile device applications, when needed, without distracting them. HMI is the gatekeeper, filtering out non-urgent notifications while presenting important information, like a text from the person the driver is meeting. This balancing act between enriching mobile application experiences and ensuring driver safety is hard to master, but imperative.
The way forward: complement, don't compete
An OEMs' goal shouldn't be to convince drivers to give up their mobile applications for new automotive ones, but rather, to integrate and augment them. Automotive HMI design has the advantage of larger screens and can provide the same functions of some mobile applications in different, safer ways. For example, automotive HMI technology should make it easy for drivers to stream their favorite music service, then enhance the experience by adjusting the interior lighting to match the mood of the song or displaying the album cover art in an interesting way.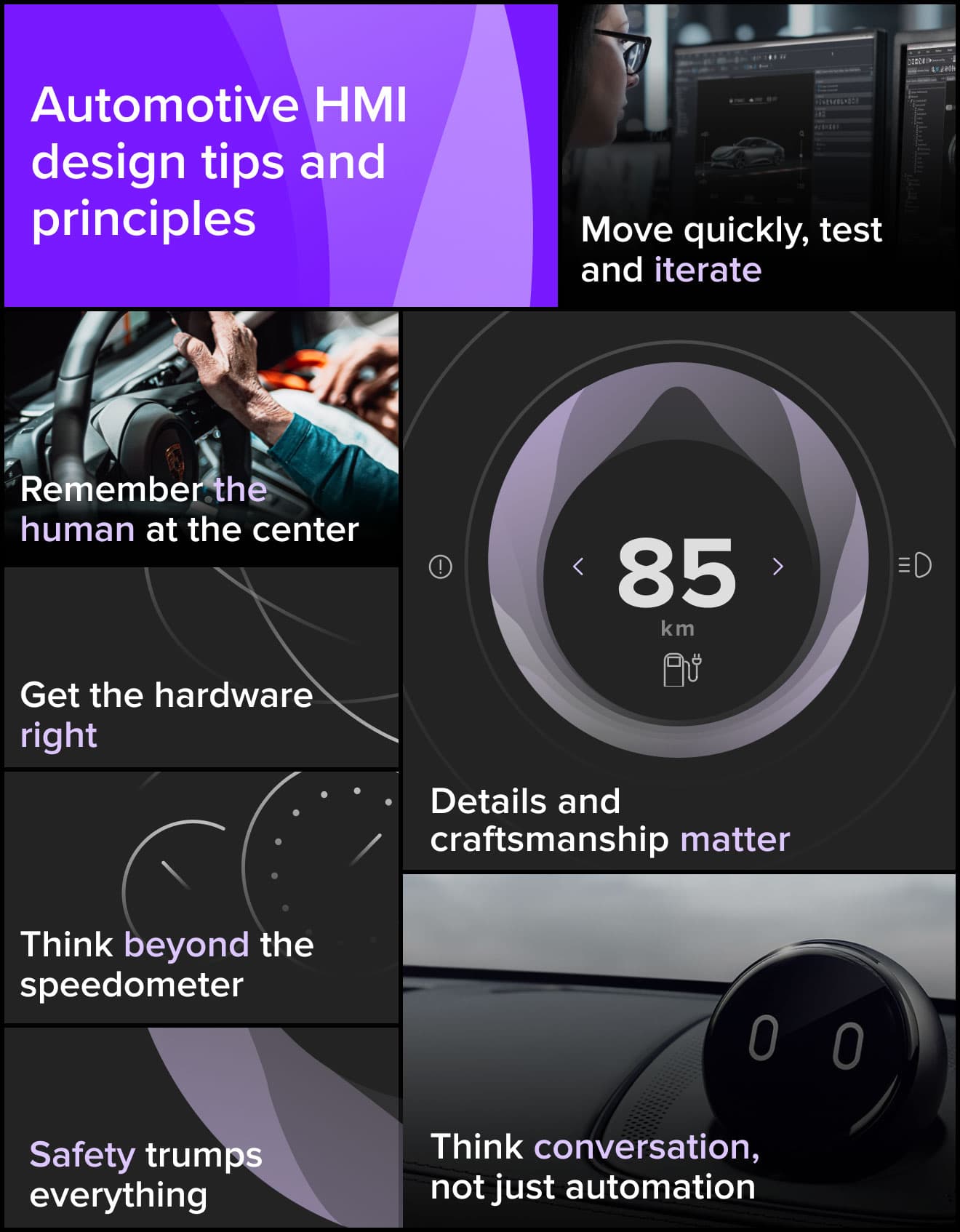 Automotive HMI design tips and principles
Quality HMI can make a car feel nearly magical by using data, technology and intuitive design to create perfectly-timed experiences. It is challenging, but automotive HMI is honestly an interface designer's dream. Every automotive HMI project is different, but here's a look at design principles and trends that guide our work at Star:
Safety trumps everything. Consider safety at every moment of the experience you are designing. Safety best practices for in-vehicle UX include:

Deliver minimal and relevant information to the user at the right moment, because the human brain cannot process too much information at one time. 
Ensure high readability (contrast + dimensions + font) and use pictograms rather than images.

Try new ways of receiving information with senses beyond sight, such as sound and haptic input, which are easier to process in complex situations.

Remember the human at the center. Understand the countless use cases drivers encounter and the customer journeys that go with them. Design HMI to complement different user needs and driving experiences, as well as different contexts and situations. Don't forget vehicle HMI needs to be easy to use and support basic needs, as well as high-tech demands.
Get the hardware right. HMI solutions include heads-up display (HUD), rear-seat entertainment systems, steering-based controls, instrument clusters and voice assistant interfaces. Choosing the right displays, screens, processing power and conductivity lays the groundwork for the software-based use cases you need to build in-vehicle UX that delights drivers.
Move quickly, test and iterate. You'll learn a lot by watching people engage with your interface. Test prototypes early, consult with your technology and development team throughout the process, keep an open mind, and remember the space is dynamic. New features appear daily, creating new possibilities to delight drivers, so the improvement process is really never done. 
Details and craftsmanship matter. OEMs put a lot of work into building a vehicle that feels right. In-car interfaces need to be just as good. This means deploying the appropriate technology to support needed tools and functions, but also designing the HMI in a way that is inspired by the vehicle so in-car interfaces feel organic and the entire driving experience seems holistic.
Think beyond the speedometer. View the collection of screens and sensors as a blank canvas. Resist the temptation to recreate traditional car displays, for example, by creating a digital copy of an old-school speedometer. Innovative brands are thinking bigger, creating experiences that can't be recreated in the physical world using animation and haptic feedback.
Think conversation, not just automation. Consider how consumers interact with Alexa, Google Home, and Siri. They say what they want. Technology answers. Tech doesn't make decisions; it empowers users with tools and information.
The Star way: global experience + startup mindset + fine craftsmanship
Star is uniquely suited to support automotive HMI design. We understand HMI development's unique challenges, and how to creatively solve them. Our collaborative team of strategists, designers, developers and engineers have created HMI experiences for vehicles on the road right now, vehicles in production and vehicles slated to come to market in five years.
Our knowledge of what is possible, and what is coming, allows us to create scalable solutions quickly. So does our fast, agile approach to prototyping, testing, and refining products. Our "startup spirit" is a needed addition for OEMs that aren't used to moving so quickly. That said, speed can't be at the expense of craftsmanship. Details matter, and our meticulous team makes sure every HMI element is "pixel perfect." 
Image sources: Fortune, Core77, verywellfamily, BMW Group