In brief
The explosive growth of the automotive HMI market is due, in part, to C.A.S.E.: Connectivity, Autonomous, Sharing/Subscription and Electrification. These trends create challenges and opportunities for HMI development. To better understand the future of HMI, the Star Automotive & Mobility team spearheaded a global market research project. What we learned will help you keep up with HMI trends while standing out from the crowd.
Key factors shaping automotive HMI
Several factors are causing OEMs to emphasize automotive HMI design more so than ever. For one, automakers are tasked with communicating large amounts of information to drivers without distracting or hindering them. Additionally, they must harness emerging technologies that meet driver expectations for connectivity and seamless communication.
The EV movement is further accelerating the maturation of the landscape, creating new e-mobility trends. Electric vehicle sales reached a record high in 2021 and will account for an estimated 13% of new car sales in 2022, according to research from IEA. By 2030, an estimated 52% of new vehicle sales will be all-electric. Automotive manufacturers must understand the evolving world of EV HMI, including battery charging and route planning best practices. 
At Star, we help partners create scalable, user-centric HMI solutions that reflect car HMI trends, as well as HMI regional differences. Based on our experience in the automotive HMI market, as well as market research, we identified the automotive HMI trends that matter most. No surprise, many of these trends relate to C.A.S.E.
For more on the automotive HMI landscape and its projected evolution, download a copy of the Star HMI design research report.
Next generation cockpit
Today's automotive digital dashboards feature next-level intelligent and multifunctional displays. The result? Dazzling in-car experiences for both the driver and passengers. Automotive HMI trends to watch include augmented and virtual reality, 3D visualizations, and cinema-worthy light and sound. 
For example, the all-electric BMW iX M60 includes a large, curved screen that features animations from the Chinese artist Cao Fei. The vehicle uses lighting and sound to bolster the experience.
The dawn of multimodal communication
Forget the "traditional" way of interacting with vehicle HMI. Knobs, levers, and even touchscreens are making way for new modes of communication in automotive HMI solutions, such as voice, including in-car digital assistants and gestures. And why limit drivers to one option? Increasingly, vehicle HMI supports multiple modes of communication so users have flexibility and choice. 
The Sony Vision-S 02 includes a sensor to monitor lip movement so the car can read lips. Drivers and passengers can use advanced speech recognition technology to control audio and navigation systems, even in noisy environments. Alternatively, they can swipe to a new display screen by making an L-shape gesture with their hands. The DS Aero Sport Lounge, an electric, semi-autonomous concept car, also supports gesture control and haptics so people don't have to bother with touchscreens.
Connected cars drive new HMI solutions
The connected car market is expected to grow from USD 23.6 billion in 2021 to USD 56.3 billion by 2026, according to the recent Connected Car Market report. No surprise, connected technology is influencing automotive HMI trends. Intelligent connectivity technology allows drivers and passengers to engage with the vehicle and the outside world in new ways. For example, Porsche customers can charge their cars using the Porsche app and access charge levels and mileage data. Some HMI solutions even allow consumers to control intelligent home products from the cabin.
The more cars learn, the better they can anticipate user needs and make smart recommendations. That might mean proposing an alternate route based on traffic patterns or suggesting a nearby attraction based on the driver's interest. In fact, Audi drivers benefit from the "knowledge" of their peers with Audi Car-to-X services. These capabilities glean data from more than 100,000 connected Audi vehicles around the world. Possible learnings include updates on road hazards and even parking spaces, meaning cars can alert one another when they have left a spot. The possibilities for additional, data-backed mobility solutions and advanced connected car apps are nearly limitless.
Make way for in-car assistants 
Let's not forget the growth of in-car assistants! Our automotive HMI market trends report shines a light on the new world of in-car companions. Whether it is a cobot like the one Star helped design for NIO, an invisible smart assistant, or a hologram, AI assistants expand car-to-driver and driver-to-car-to-world communication and enhance in-car infotainment experiences. 
While in-car assistants have become table stakes, one frustrating interaction is enough to make a user swear off their voice assistant for good. So, you better get your experience right and reflect HMI solution development best practices in your design. 
The new infotainment era
As car companies say goodbye to analog displays and, in some cases, even wheels, they are taking inspiration from the movies and gaming sector to design next-level displays and functions. Dashboards and backseat experiences work in tandem to create unforgettable moments.  
Epitomizing this Hollywood-inspired automotive HMI market trend is the "IconicSounds Electric" created by the Academy-Award-winning film score composer Hans Zimmer for BMW. This unique library of sounds is featured in the all-electric BMW iX M60 and creates an emotionally-charged driving experience. 
Another fun example of this automotive HMI trend is the Cadillac Lyriq SUV. This vehicle makes mundane tasks like adjusting the temperature feel like a video game using interactive 3D models. Cadillac is one of several OEMs using gamification elements to transform human-machine interfaces in cars.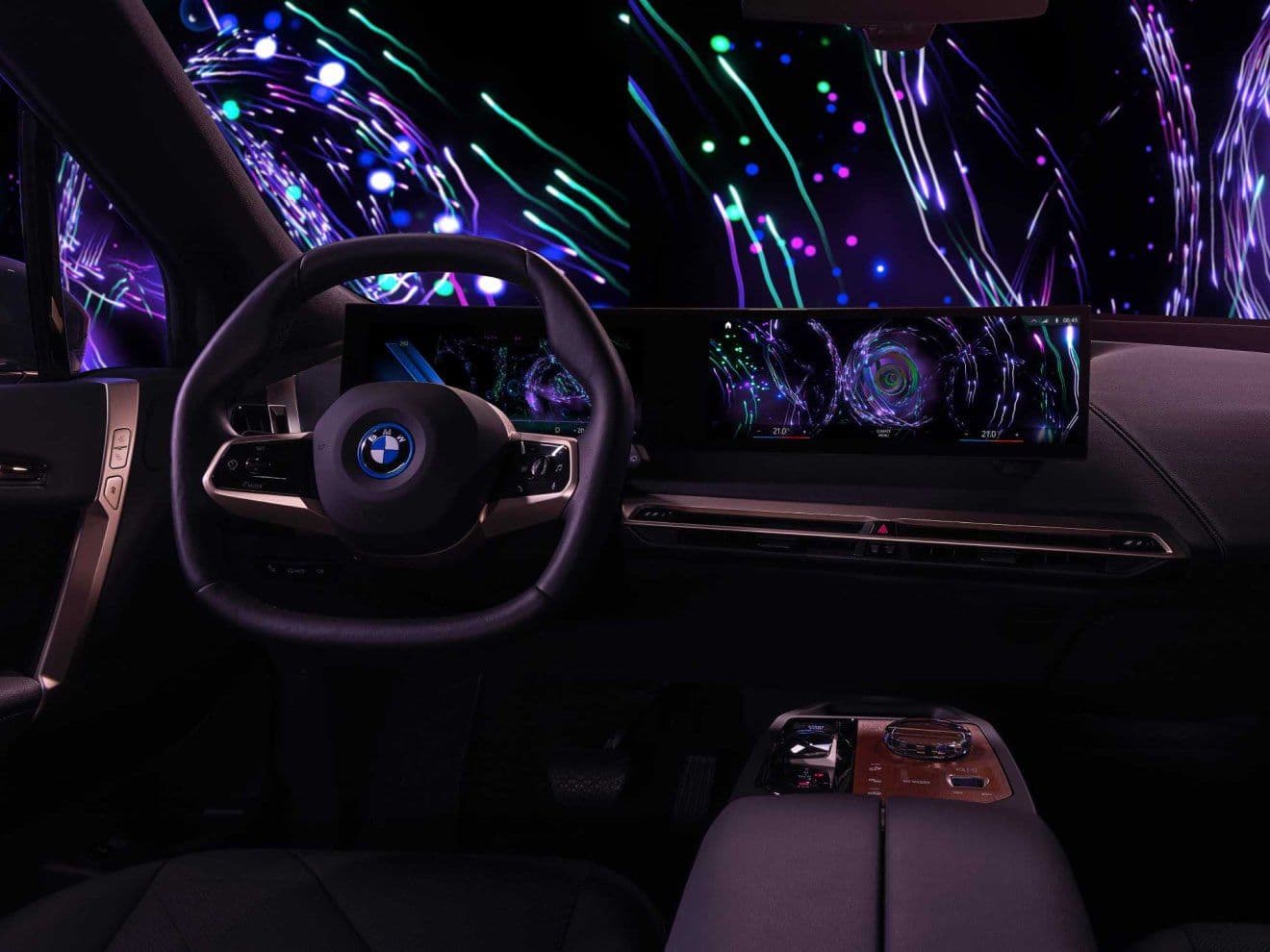 Charging and EV route planning solutions
Despite soaring gas prices, consumers still have hesitations about purchasing an EV, especially in the U.S. According to a 2022 survey by Autolist, 44% of U.S. consumers worry about range. Thirty-six percent say they worry about where to charge their EV. 
No surprise, then, one of the most predominant automotive HMI trends is advancements in charging and EV route planning. The latest crop of HMI provides information on battery health and charging. The Tesla Trip Planner allows users to plan their stops for charges from the car HMI. Since 2021, electric cars using Google's Android Automotive OS (AAOS) with Google Automotive Services (GAS), including the Polestar 2 and Volvo XC40 Recharge, have access to an updated EV route planning feature. The tool allows users to calculate how long they will need to spend at each charging station. They can also search for nearby restaurants and stores to make their charging stop more enjoyable.
Some EV HMI solutions even include tips for driving efficiently to preserve battery life. The VISION EQXX from Mercedes-Benz includes an AI Efficiency assistant that keeps an eye on the electric range of the vehicle based on individual driver behavior. The tool considers external factors that could affect battery life, like the weather. 
There you have it. A high-level look at the automotive HMI trends shaping the market and changing the way people drive. For the full scoop on HMI trends, more examples, and predictions, download the research report today. Facing your own HMI design challenge? We would love to chat! 
Here at Star, we are experts at spotting fresh ideas and bringing them to life. Our proven, human-centric design process enables us to bring game-changing mobility solutions to market, fast, and help clients reimagine vehicle interfaces.