Small electric vehicles like e-bikes use 10-20x less energy than electric cars and far less energy than gas-powered vehicles. But the benefits of trading in four wheels for two extend beyond the environment. A recent wave of e-bike technology is making small personal mobility vehicles safer, more convenient, and more fun to drive than ever before. 
To understand these features and what they could mean for the larger e-mobility solutions industry, Star analyzed leading e-bike brands, comparing vehicles, apps and user experiences to pinpoint trends and support predictions for the future of the space. We divided features across eight categories, including navigation, safety and battery maintenance. For the full taxonomy, as well as examples, UX insights, future visions per category, and predictions about the wider two-wheeled electric vehicle market, you will have to download our research report. But in the meantime, we are happy to share some highlights.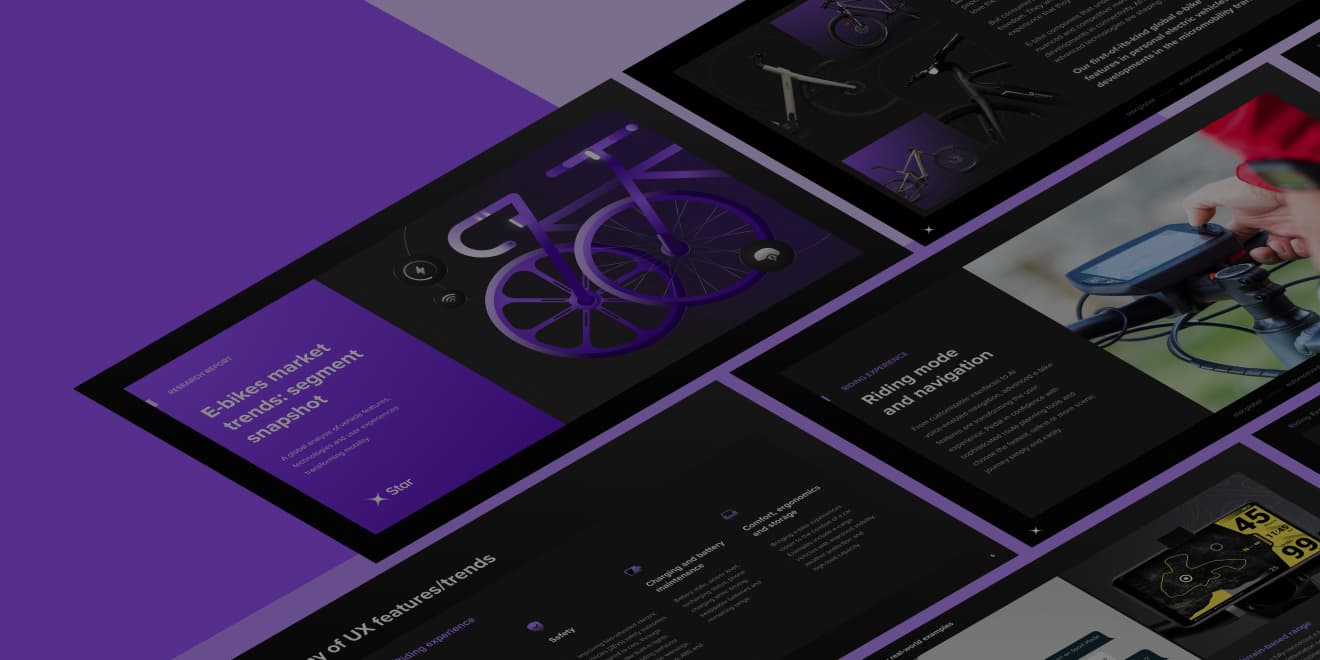 Download our e-bike market trends analysis and understand the future of urban mobility.
Reimagining the rider experience with futuristic e-bike features
If you haven't taken a spin on an e-bike lately, you are missing out. From customizable interfaces to AI voice-enabled capabilities and sophisticated route planning tools, advanced e-bike features are revolutionizing personal mobility. Some e-bike brands let riders choose between the fastest, safest or most scenic routes. The e-mobility solutions company Cowboy even includes a real-time air quality display on its app so riders can breathe in the open air with confidence.
A glance down the road (or bike lane!) ahead: The evolution of smart cities will benefit the e-bike market. Navigation patterns and route suggestions will improve due to data collected by connected vehicles. Those with a need for speed will get their wish, as many cities will likely develop bicycle highways and permit speed limits of 45 km/h.
E-mobility solutions: technology improves safety for cyclists
The safer we can make small electric vehicles, the more likely people are to ride them. From projection lighting to a millimeter wave radar that alerts the rider of incoming vehicles, integrated rear-view video cameras, adaptive suspension and ABS systems, today's e-bikes are equipped with technology that keeps cyclists safe while protecting others on the road. 
A peek at a safer, greener future: Encouraging people to use bicycles instead of cars reduces greenhouse gas emissions. So, expect continued advancements in e-bike design and safety technology, including integrated sensors, AI-powered ADS systems, geofencing and bicycle-to-vehicle (B2V technology).
The heart of e-bike technology: better batteries
E-bike brands are making battery charging faster and easier than ever before, thereby addressing one of the biggest pain points for e-bike riders. Innovations include removable batteries you can charge at home, dual batteries to increase range time, and smartphone charging. These e-bike technology advancements allow riders to enjoy the journey rather than worrying about stopping for a charge. 
Exploring the field of charging: Innovations on the horizon include battery swapping station networks and ecological solar charging stations set in scenic locations so riders can sit back and relax while their mobility vehicle charges. 
E-bike market trends in the greater world of micromobility 
These are just some of the feature categories and e-bike technology examples shaping personal mobility's bright future. In the report, you will also learn about: 
The e-cargo bike, a clever invention that combines the best of a car with the benefits of an e-bike
Foldable bikes to make your multimodal commute simpler 
3D printing as an impetus for faster e-bikes design innovation
Gamification and XR as motivational tools 
Next-level personal mobility shopping experiences
The report also explores how the future of e-bike design reflects larger mobility trends, for example, electrification, sustainability, digitization and vehicle sharing. 
Star couples a deep understanding of micromobility trends and e-bike features with Design Thinking to help clients create innovative digital products that support holistic customer journeys. Our expertise includes creating HMI solutions, new service models, platform solution architecture, digital companions, driver coaching solutions, fleet management and more. 
Contact us today!
Design groundbreaking mobility solutions. Get in touch with our Automotive & Mobility experts.
Get in touch