Mixed reality (MR) is an opportunity to revolutionize how we view and interact with our world. Its impact on mobility cannot be overstated. Every major automotive manufacturer has its eyes focused on the tech, and the industry will be central in its integration into everyday life. 
Become a mixed reality automotive leader. Watch the webinar now to: 
Demystify the technology and clarify the terminology.
Understand its importance for the next two decades of mobility. 
Unlock key MR takeaways from our expert team of Star designers.
Understand how to build your team and what competencies and tech stack you'll need.
Begin leveraging MR to craft your own user-first, brand-defining solutions.
Why MR is a mobility game-changer
The mobility industry has always been an innovation driver and MR will have wide-sweeping applications across every touchpoint. This includes automotive retail, product design and development, marketing, education and training, and especially mobility experiences. 
The number of MR use cases in mobility is limitless. This includes enhancing safety, education, navigation, entertainment and passenger experience. It's an opportunity to integrate the digital world better into the physical one. 
MR gives mobility companies an extra tool other than the two-dimensional screen to display content creating new channels and methods of communication that create better experiences that boost differentiation and sales. 
At the same time, you cannot decouple MR from other innovations. Looking specifically within the automotive industry, it's easy to see how developments like EVs and autonomous driving will catalyze the rise of MR and be catalyzed by it. At Star, we see this in XR vehicle technologies (the broader category of extended reality tech, including MR) as having the potential to replace all current screens we use and eventually become our primary hardware to consume digital content. 
It will converge with another tech – notably the smart city – to revolutionize how we move and unleash outstanding opportunities for businesses and consumers. 
How to start moving into MR
Global demand for automotive MR mobility solutions will hit $673 billion by 2025, with a CAGR of 175.7%. Now's the right time to start focusing your attention on it. Since the tech is so new and rapidly evolving, one of the first things we recommend is that companies get in touch with us to learn more about it. 
We have a cross-industry MR project portfolio, so we can help mobility companies see its wide impact and draw on inspiration from other sectors. This, combined with our deep automotive expertise, enables us to co-create winning digital solutions that drive meaningful value for you and your customers. 
At the same time, we recommend becoming familiar with the tech. Try some existing products like the Oculus Quest and MS Hololens. This is an excellent way to familiarize yourself with the tech and start understanding its potential for your business.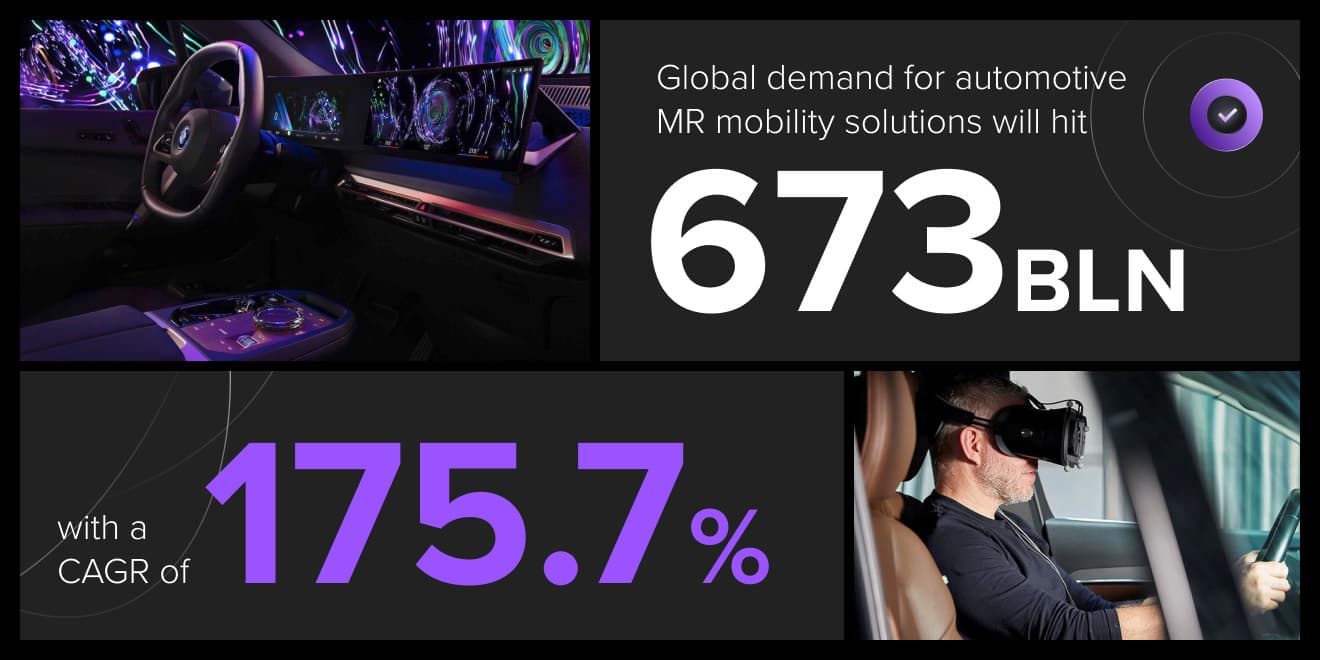 MR and the future of mobility
Just as smartphones evolved very rapidly between 2008 to 2018, so too will MR over the next ten years. With more tech companies and innovation jumping in, we'll see a steep increase in users as devices become more compact, cheaper and more functional. 
Tomorrow's vehicles, not just those with four wheels, but across mobility from e-scooters to trains, will be transformed by mixed reality technology. The time is now to make your move. Watch the webinar and contact our experts to learn more. 
Image source: GQ JAPAN