BNPL (buy now, pay later) usage is skyrocketing. It offers broad appeal to consumers, merchants and providers because of its flexibility, transparency, ease of use and personalization. Simultaneously, BNPL solutions enables companies to leverage and monetize data in new ways to drive more revenue and deliver better service for their customers. 
As these new digital payment products continue to shape market preferences and expectations, FinTech providers should pay close attention to the needs of consumers in the BNPL space. 
Star's FinTech Practice interviewed 400 BNPL users in 8 countries to identify key insights shaping BNPL and the future of payments.
What makes BNPL so attractive to consumers   
BNPL's meteoric growth can be attributed to several factors. First and foremost, there is demand for payment options that provide 0% interest and no late fees. 
Moreover, BNPL doesn't require a credit check or even a credit score. Many people are instantly approved by signing up with just their email. This is a win-win with younger customers who not only tend to be credit averse, and who also may have low credit scores. 
Above all, BNPL offers a personalized, user-centric and seamless payment experience. You can shop from within your favorite BNPL app, see deals customized for you and make a purchase on the spot. Combined with transparency on how much a transaction actually costs (vs. spreading it across several credit card payments), this generates enormous traction for BNPL's steady evolution into a mainstream payment method.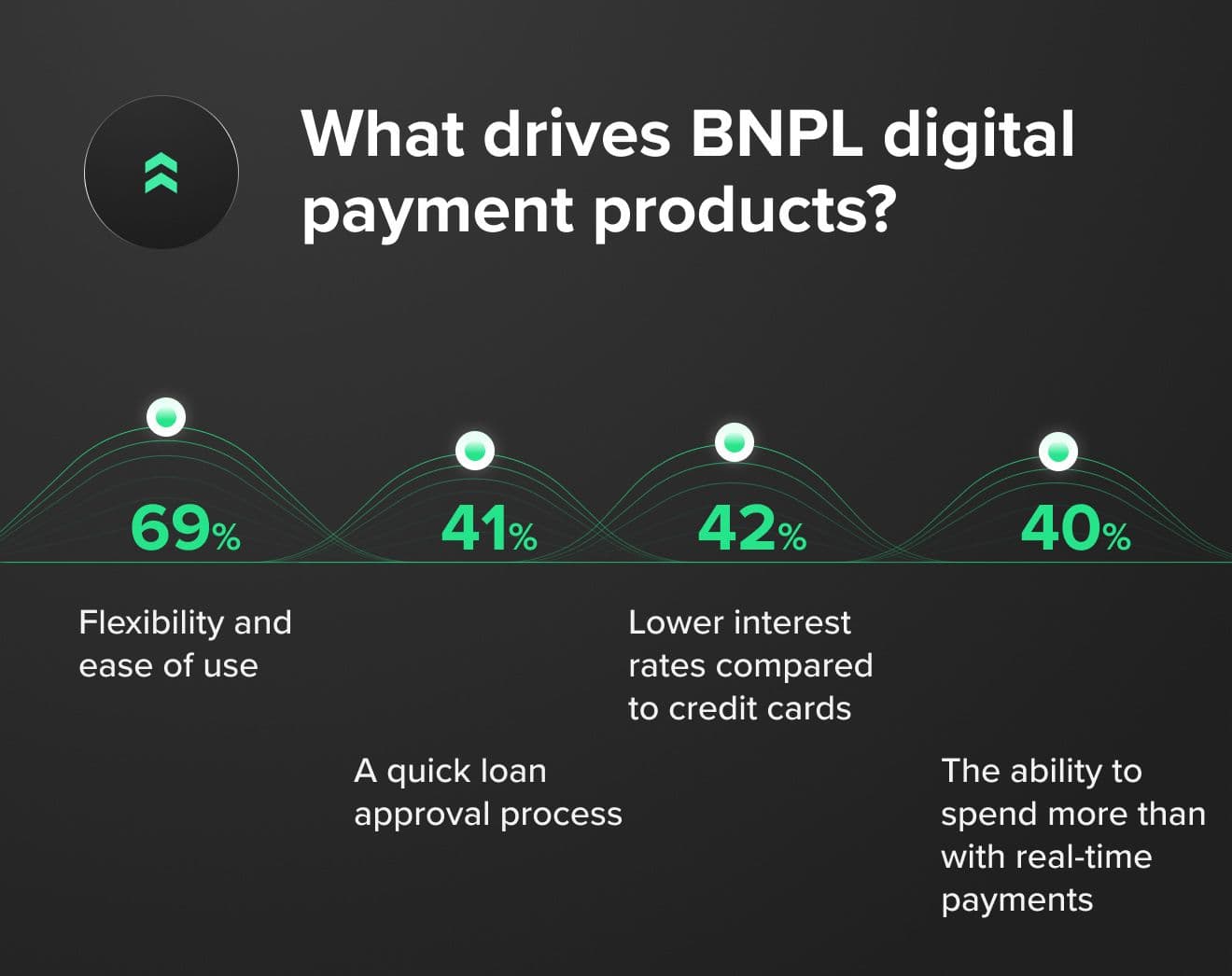 BNPL's major impact on consumer spending behavior
BNPL has had a considerable impact on consumer spending. It's a new financing option that results in people of all ages spending more with BNPL. Retailers have reported a 45% AOV increase due to people of all ages spending more with BNPL.
As more BNPL options proliferate and more merchants adopt BNPL, we expect it to continue driving increased spending, especially in electronics, fashion and other high-margin industries.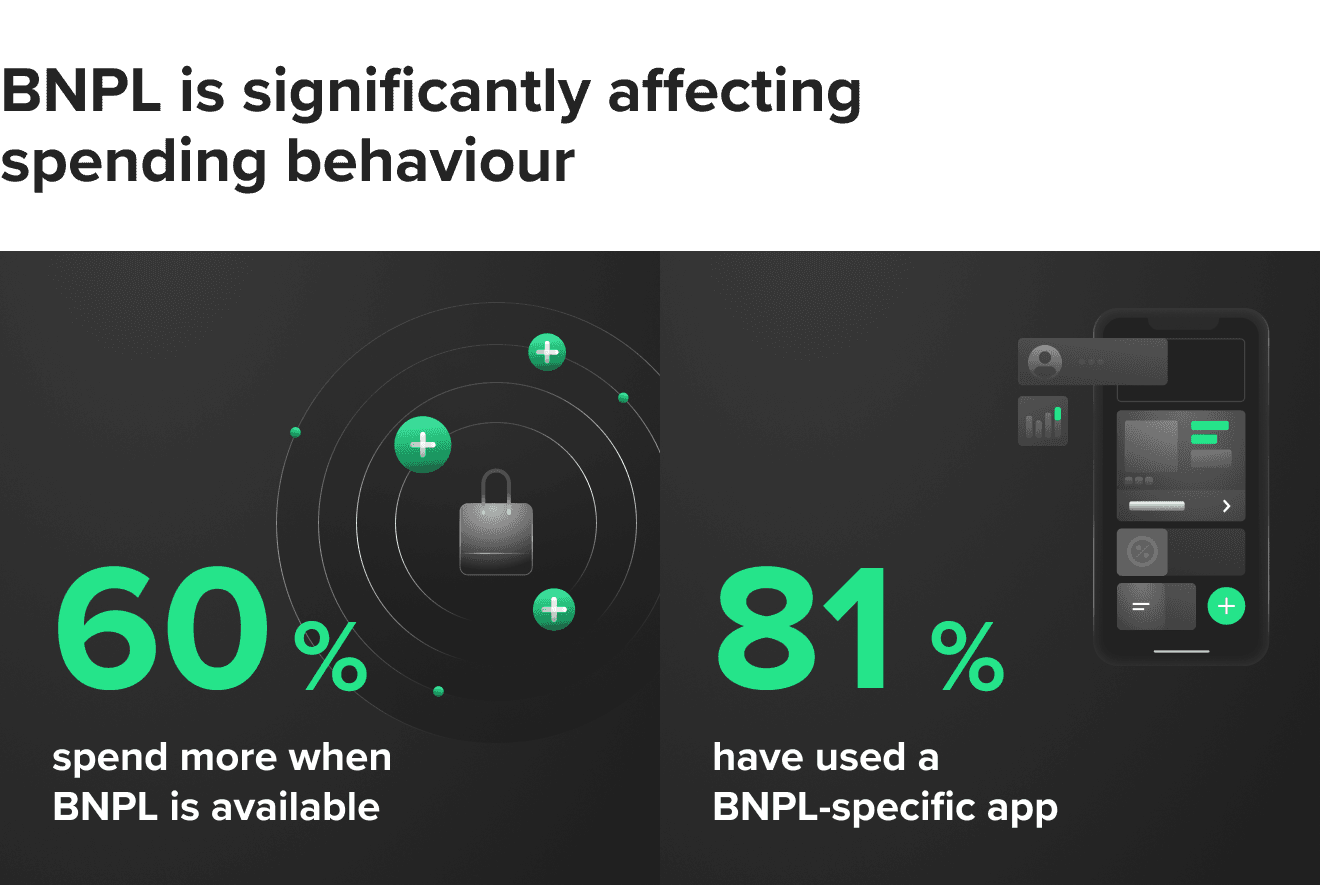 BNPL trends everybody in the sector should be paying attention to
Digital payment solutions, including BNPL, are always changing. This means that getting the latest data from real users is critical to staying relevant in the FinTech payment marketplace. 
By reading the 7 BNPL insights shaping global consumer behavior infographic, you'll learn: 
How often people use BNPL solutions
What drives BNPL purchases
Whether BNPL is more important online or in-store
How BNPL encourages consumer spending 
Which installment payment option performs best
Accelerate BNPL and digital finance innovation with Star's FinTech Practice 
Star is a global end-to-end product development company combining strategy, design and engineering to help its partners accelerate innovation and craft breakthrough FinTech and digital finance products. We co-create and strengthen FinTech ecosystems by merging BNPL, DeFi, embedded finance, IoT and other emerging technologies with a customer experience-focused approach to differentiate your brand and quickly deliver new products to market. 
Read more about our work in this case study about Paidy, Japan's largest BNPL provider. We've been critical to Paidy's latest wave of growth as they've attracted millions of new users, aggregated more merchants and expanded into international markets.
Ideate, build, launch and score astonishing digital finance products. Discover how by getting in touch with our FinTech Practice.