While 'alternative' usually refers to something outside the mainstream — this doesn't hold true in the payments world. Alternative payments, which describe anything that isn't cash or traditional debit/credit card payments, have quickly become a prominent global payment method. This includes all forms of digital payment apps, P2P apps, digital wallets and other disruptive technologies that have largely been fueled by open banking development.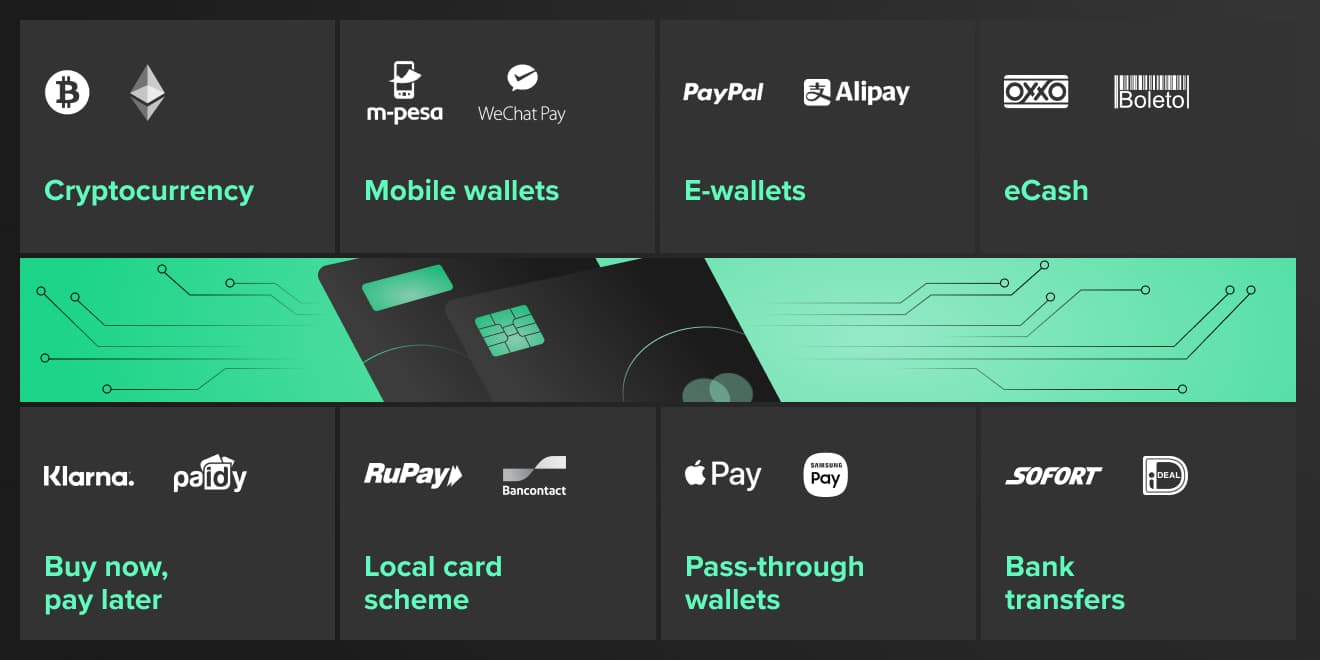 Buy now, pay later, or BNPL, is one of the biggest players in this FinTech services revolution. The original concept started by allowing consumers to purchase a product immediately and pay for it over time in several regular installments, but now BNPL services are starting to set their eyes on developing their own payment gateways and co-marketing opportunities with retailers. As of now, $8 billion to $10 billion in annual revenues have already been diverted away from banks in this ecosystem.
Yet what makes all this possible for BNPL and other digital payment products is embedded finance, which is the offering of financial services (such as lending, or processing of payments) by entities which aren't banks or financial institutions. Embedded lending, which includes BNPL, is one segment that's seen huge growth, in part because of online shopping surges during the pandemic. While currently only a fraction of overall card spending, BNPL looks clearly on track to disrupt the global payment card industry.
But how did BNPL get here? What led to its meteoric rise in the FinTech payments world, and is this growth sustainable?
Alternative payments, which describe anything that isn't cash or traditional debit/credit card payments, have quickly become a prominent global payment method.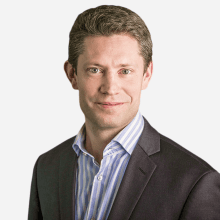 Olivier Bessi
Product Director, FinTech at Star
A look at buy now, pay later worldwide
First and foremost, the BNPL model takes aim at making alternative payments even more transparent and convenient. And consumer demand for the service is everywhere. Sweden-based Klarna, founded in 2005, is one of the oldest and biggest BNPL players and is popular in much of the EU, with 90 million global active users and 2 million daily transactions across 17 markets. Australia-based Afterpay is a big name in its home country and the US market, Paidy in Japan, Zilch in the UK, and new companies keep showing up. This trend is driven by some other key benefits:
Accessibility for shoppers. Starting with the global shutdown from COVID-19, consumers were forced to shop online. This surge in e-commerce led many users to encounter BNPL services for the first time, and the installment method of payments, interest-free, was instantly attractive to younger shoppers and to those against the backdrop of an uncertain job market.
AOV boosts for merchants. Around the same time, many stores had to quickly adjust from in-store to e-commerce sales, and BNPL platforms provided a cost-effective option to create seamless customer experience and stay competitive. While merchant fees are higher with BNPL than traditional card schemes like Visa or Mastercard, merchant AOVs can increase up to 40%. So for many businesses, the trade-off pays off.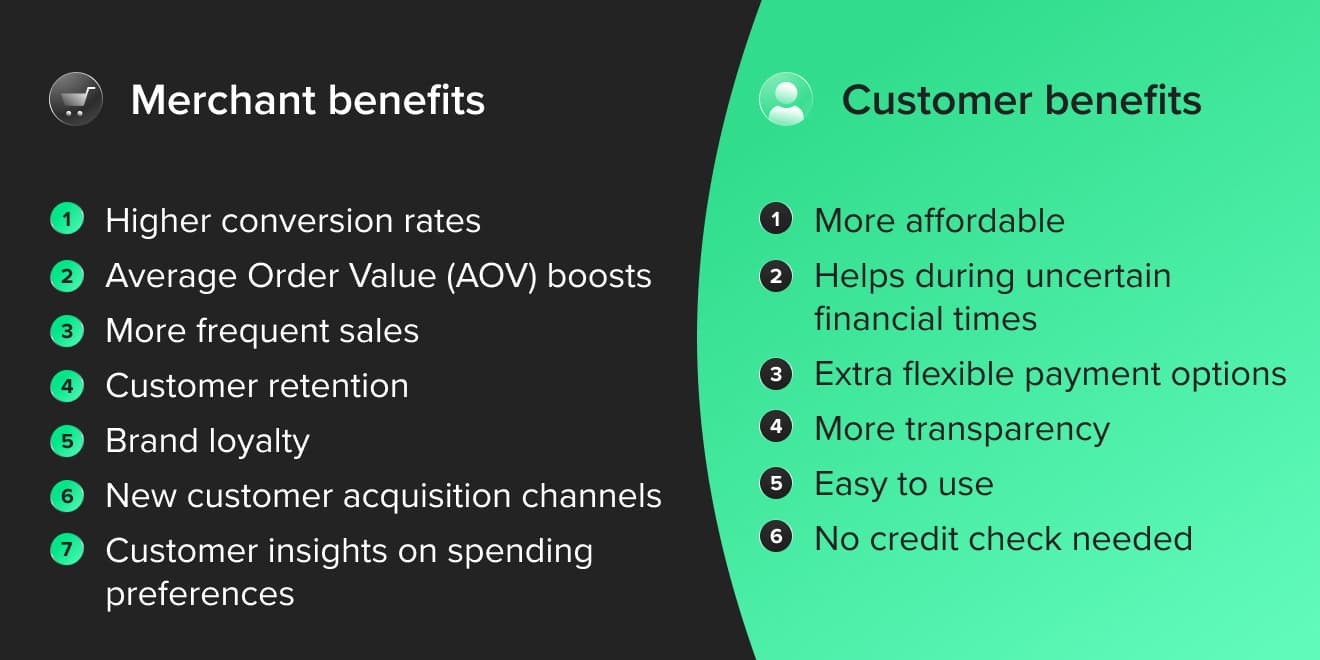 With the pandemic ongoing, many of its effects on consumer shopping habits will persist. This undoubtedly includes BNPL, which saw a 215% growth year-on-year in the first two months of 2021. As more established financial companies want to buy in, now is a critical time to take note and plan ahead to stay relevant with a fast-changing market.
Top BNPL trends to watch
As BNPL has become mainstream, today's firms are laser-focused on expanding their footprint by pushing beyond just fractional payments and getting more creative in their user acquisition models. Four major developments that are poised to further disrupt the payments industry are:
The "top of the funnel" pivot. To be more proactive in attracting consumers, BNPL companies are using their brand to get into frontend marketing instead of just facilitating backend payments. Klarna, for example, is co-marketing with retailers as a way to entice consumers to visit a shop they might not go to otherwise. This includes advertising and highlighting different retailers within the Klarna app as well as giving user-specific shopping suggestions, which redirect consumers to try new products and shops. This in-app experience aims to work like an e-commerce platform, or "super app," which includes shopping, banking products and payment and financing options all in one place. These models are seeing the highest compound annual growth rate (CAGR) at 300-400 percent.
Next-gen credit checking. Another area that's gaining momentum is the need for sophisticated consumer credit checks. While Afterpay says late fees contribute to less than 14% of the company's total income, an increase in consumer defaults within the ecosystem might demand a continued improvement in BNPL firm's algorithms for credit checking abilities. This service could even become a highly specialized and stand-alone module within B2B offerings.
BNPL goes beyond e-commerce. BNPL services seem to have no limits when it comes to transforming payments in new consumer sectors. Travel and ticketing are experiencing a surge in fly now, pay later, while restaurants are seeing a rise in eat now, pay later. One especially interesting area to watch for alternative payment opportunities is in the world of HealthTech. Akshay Garg, CEO of the Indonesia-based BNPL service Kredivo, explains how, "when it comes to expensive medical procedures, many people face the tough choice of creating a huge amount of debt for themselves or forgoing the procedure altogether. Buy now, pay later could lessen the burden of this decision for many by creating a payment schedule that works for each individual." And finally, the emergence of B2B offerings of White Labeled BaaS solutions for BNPL platforms aims to bring further flexibility for both merchants and customers around the globe.
End-to-end payment gateways. To cash in on the opportunities out there for electronic payment processing software like Stripe, Venmo or Square, BNPL companies are increasingly focused on expanding their payment interface. Instead of just the BNPL use case, they now want to cover regular card payments as well, putting them in competition with payment gateways and acquirers. This would include both credit and noncredit options for users to choose for in-app and in-store payments, with an average return on assets for businesses of up to 7-9 percent. For Paidy in Japan, the BNPL service partnered with Visa in order to push for frictionless online and in-store shopping experiences that reach a wider audience – which just recently got acquired by PayPal in its race to claim a top spot in the pandemic-led boom.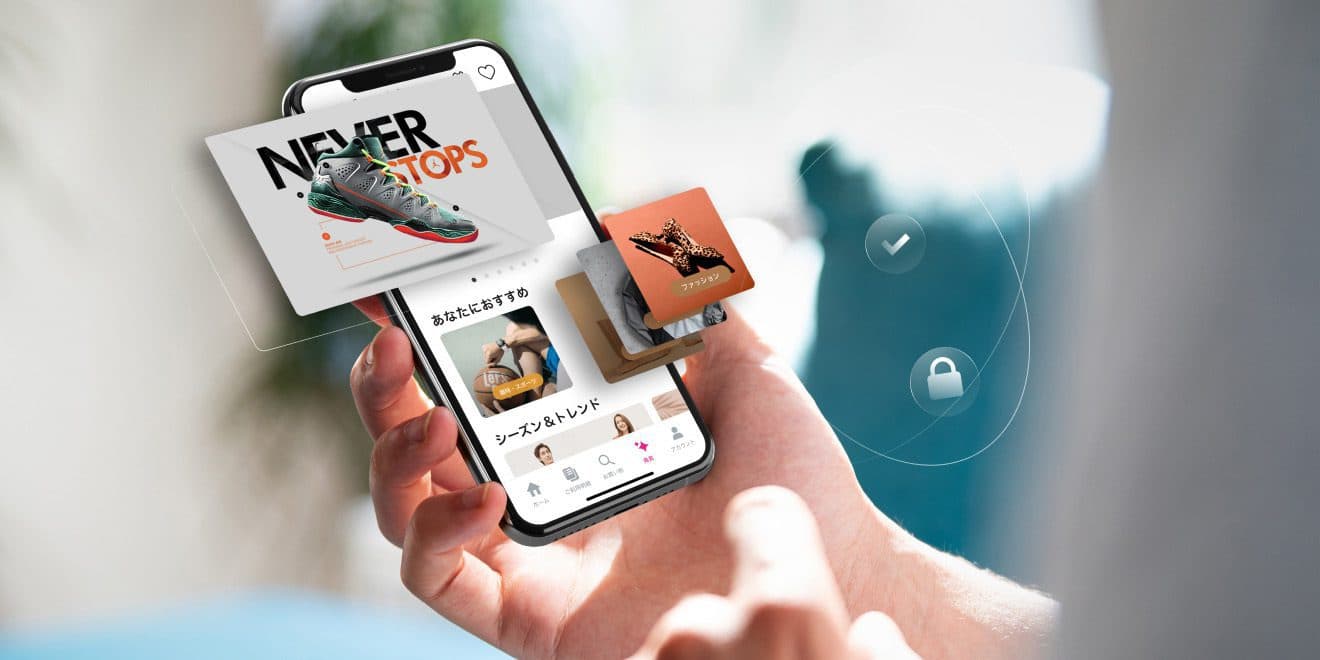 What the future holds for alternative payments
The last case involving Paidy, Visa and PayPal is the perfect illustration of what the future may look like for BNPL and alternative payments at large. Acquisitions and consolidations by finance industry giants are frequent, and they're equally an effort to cash in on a booming business and simultaneously lessen any threat to their current operations.
Partnerships are another way companies are building resilience. On the one hand, Southeast Asia's Grab is collaborating with Citi in a lending API partnership. On the other, Kenya's M-Pesa, which began in 2002, has transformed what's possible with mobile money and the services that can be provided to the unbanked – and offer Open API services to enable third-party partnerships via their G2 platform. On the other end, e-commerce platform contenders like Shopify, which gives merchants in 150 countries affordable access to create, manage and maintain online stores, recently partnered with US-based Affirm, a rising BNPL player, and the list goes on.
What's this all mean? Well, it certainly highlights the critical influence of consumers. The global appetite for increasingly transparent and frictionless payment experiences is what's driving the current race in BNPL and much of the FinTech ecosystem. So, while keeping ahead of the trends is essential, the best way to guarantee this resilience in product development and design is always through a user-centric approach.
It's high time for both traditional players and FinTech startups to start rethinking the lending landscape. As installment payments and point-of-sale financing are soaring to new heights, Star understands the fundamentals needed, from ideation through launch, to guarantee that your next end-to-end product development does the same.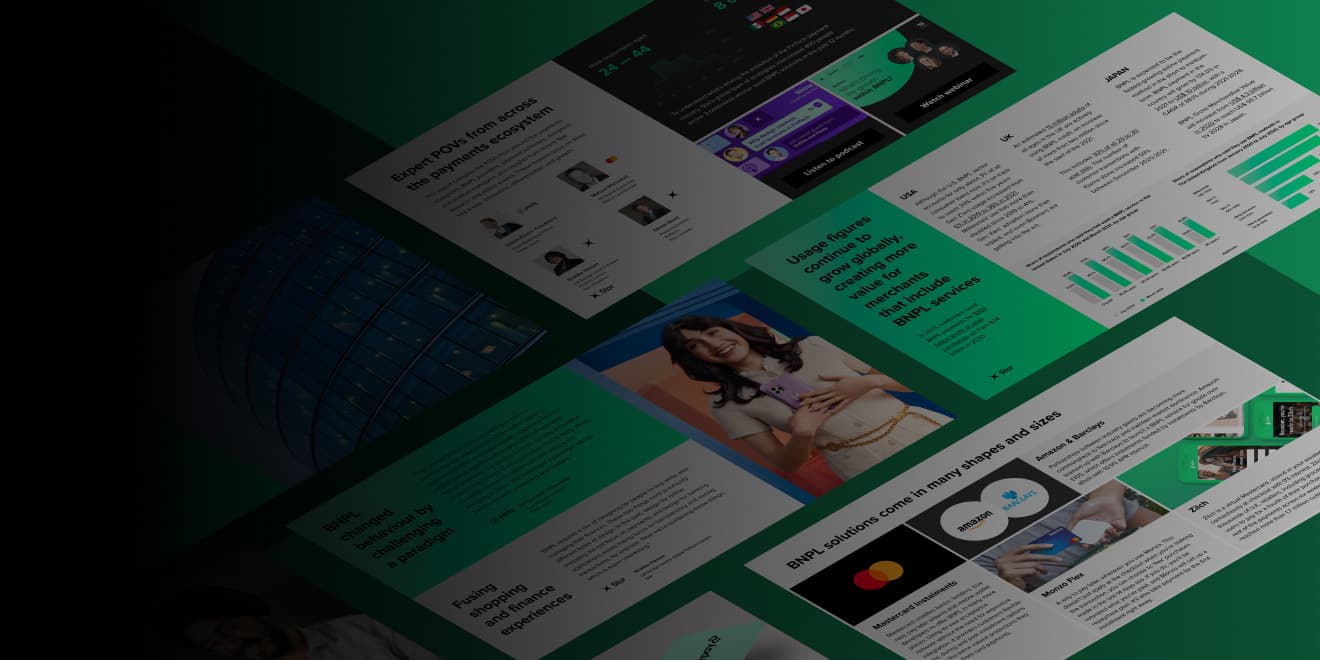 Dive into more BNPL expert insights
from Mastercard, Paidy, and Star.
Download the complete report now.