In 2020, the shift to digital services in finance — and every other sector for that matter — entered lightspeed as a response to COVID-19. Now it's time for financial institutions, processors, buy now, pay later providers, e-commerce businesses and FinTech companies of all stripes to not only keep up the momentum but lead.  
Above all, this starts with creating better customer experiences (CX) to meet consumer demands, facilitate better engagement and encourage enduring loyalty in a crowded playing field. The stakes are high. But companies that do invest are likely to see a huge payout. For every 10 percentage points increase in customer satisfaction, they can increase revenue while reducing churn. 
Customer experience-related gains can derive from numerous sources, including additional product purchases, cross-selling and upselling, subscription services, interest-based financing and much more. 
Realizing the full benefits of CX isn't easy. But your reward is better design, reduced cost and enhanced value as key differentiators for your users. In short, it's something you can't afford not to invest in. So, that's why we'll present the model of our design-driven customer journey mapping process and show how we use it.
Customer Journey Mapping template
Improve payment experiences and position yourself far above your competitors. Start harnessing customer journey mapping.
Download now
Why customer journey mapping is essential in FinTech
Every business has a sales funnel, and they know customers can and do drop off at any given stage. Customer journey mapping (CJM), in short, is about understanding customer experience. It digs deep on the multiple touchpoints within a product or service and helps identify opportunities to improve product quality and increase conversions. 
No matter how excellent, state of the art or affordable your product is (and this is true for all industries), your customers' mindsets, feelings and overall satisfaction through every step of the journey involving your product will directly contribute to your overall success. 
Nonetheless, the FinTech industry does have unique challenges that can make it more difficult to create the ideal customer experience. Regulations like MiFID II require that companies add additional steps, questions and other forms of complexity into their journeys before users can sign up for accounts or new services. 
At Star, however, we see these regulations as an opportunity, not an obstacle. The whole purpose of MiFID and the emergence of FinTech laws worldwide is to protect, educate and provide transparency to the end consumer. Use these regulations as the guidebook that they're intended to be. This will help you deliver a seamless, user-centric and compliant experience, your product will stand out from the competition immediately. 
Understanding what your customers really want and need 
At Star FinTech, our goal is to create a seamless end-to-end customer experience that provides value and serves their needs better than other similar products or services. This starts by thinking holistically and taking a design-driven approach. We begin by researching existing customer profiles and discovering their jobs-to-be-done and pain points they experience throughout the journey to reach their goals. 
Pain points extend beyond usability issues. They can also include time and financial costs, particularly those beyond the expected cost of a service. For example, if a customer wants to use a BNPL service, but it experiences frequent bugs on its mobile checkout processor or transparent information is missing on an installment payment, then they might be forced to use a credit card and pay high-interest fees instead. 
With customer journey optimization, you better understand your customers' challenges and activities through your products. This enables all business stakeholders to align on feature gaps, opportunities and a shared vision to focus on before investing in solution creation.
Overall, the best thing about CJM is that it's a team activity. Through this process, we ultimately end up with a unified vision we can use to convince stakeholders and gain buy-in within the organization. 
Customer journey mapping in action
Customer journey maps are made of standardized elements, which enable us to use a straightforward approach in building one. You start creating them by harnessing the research gathered in earlier stages such as stakeholder interviews, UX research and other key stages. This allows you to begin building your template.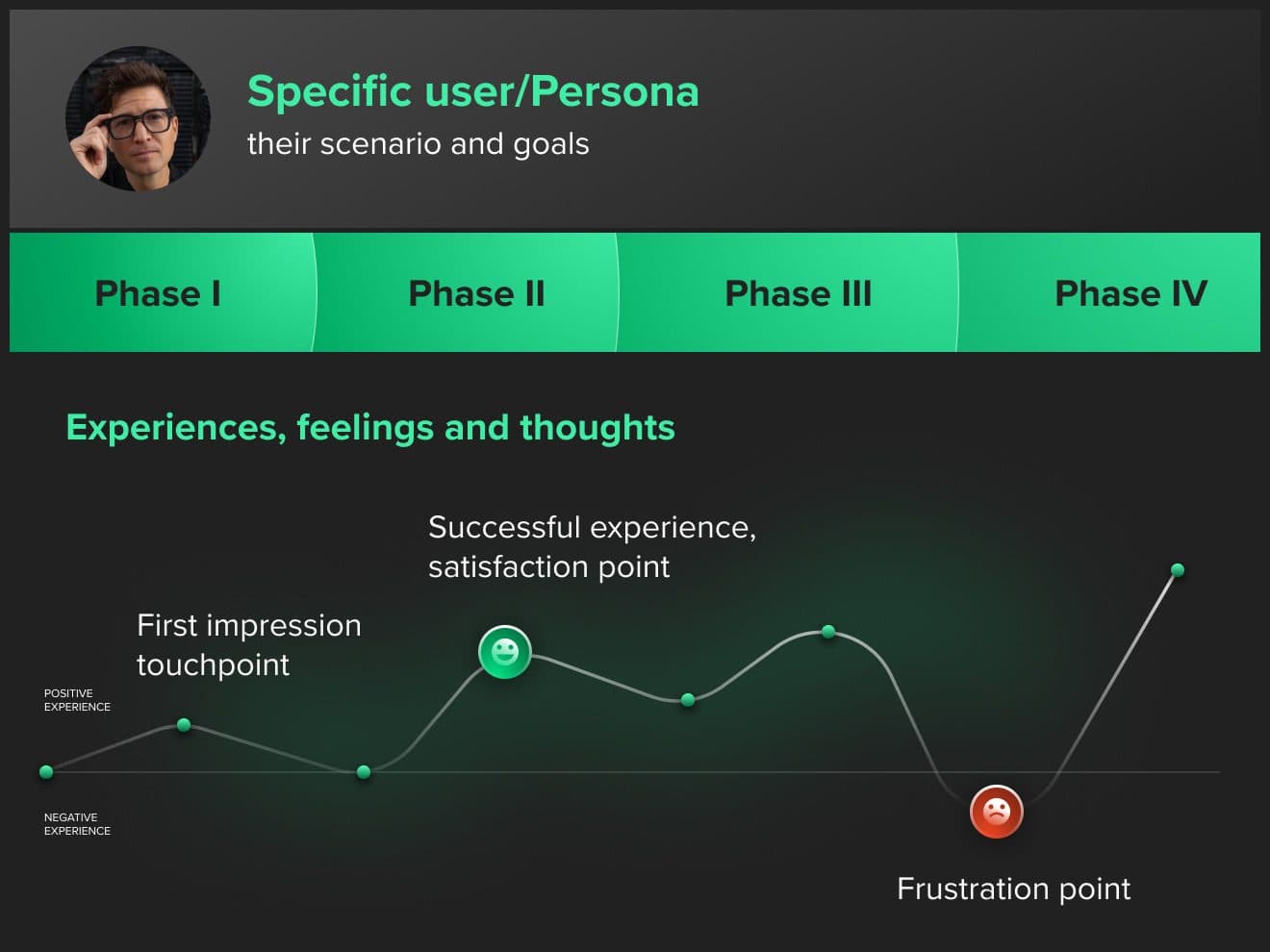 The first step for streamlining payment user flow is to take advantage of what you already know. Start with your existing product ecosystem. Most finance companies have a lot of data they can harness to create an assumption-first approach. This will help you get started on your customer journey hypothesis map.
The next scalable step is interacting with teams who have in-depth and specific knowledge of your customers (e.g. customer service representatives or marketing team). This larger team involvement would help you review your hypothesis map with a more realistic view of your key customer profiles.
Finally, we conduct user interviews and get the complete picture of your journey maps and create personas.
The most important part of the process is then understanding touchpoints, where drop-off occurs and how we can get people to re-engage and finish an experience. 
For FinTech and digital finance experiences, the biggest priority is seamlessness and figuring out what we can do to make things faster, simpler and stress-free for our customers, while still adhering to financial institutional security and regulation standards. 
How to create a customer journey map tailor-made for digital finance 
So far, what we've discussed could apply to virtually any product or service. This is the universality of CJM as part of the 'Empathy' phase of the Design Thinking process.
But since it's especially important in the FinTech ecosystem and for checkout payment optimization, we've tailored the steps accordingly around key regulatory requirements and unique user needs such as increased data privacy and security.
1. Set the objectives of your map
Your customer payment experience should be inclusive, involving stakeholders who bring business goals and knowledge of your product's customers in focus.
Before initiating research, identify the purpose of your map and how you'll use it within your organization. 
The key questions you could brainstorm with your team include:
Which business goals will this journey map support?
Which product challenges or assumptions would you want to learn more about?
Who will be the audience of the customer journey map within your organization, and how will you present the map in such a way that it resonates with them.
These questions will start pointing you in the right direction.
2. Profile and highlight your target customer persona
One of the biggest challenges in FinTech is trust. How you can craft trust-driven and engaging experiences? At Star FinTech, we've found it's useful to create initial personas to ensure every aspect of your customer journey map points back to them.
This is when you begin to gather the key user data you really need. To run an agile and scalable qualitative user research process, apply several UX methods, harness existing datasets, while also working directly with our partner's key customer-facing team members and end customers themselves — because who better can tell about the customers? 
Through user interviews, for example, you'll begin to understand what people are looking for in terms of experience. Creating a journey map for each persona will then help you understand differences or similarities across their journeys and leverage synergies in the most effective way possible.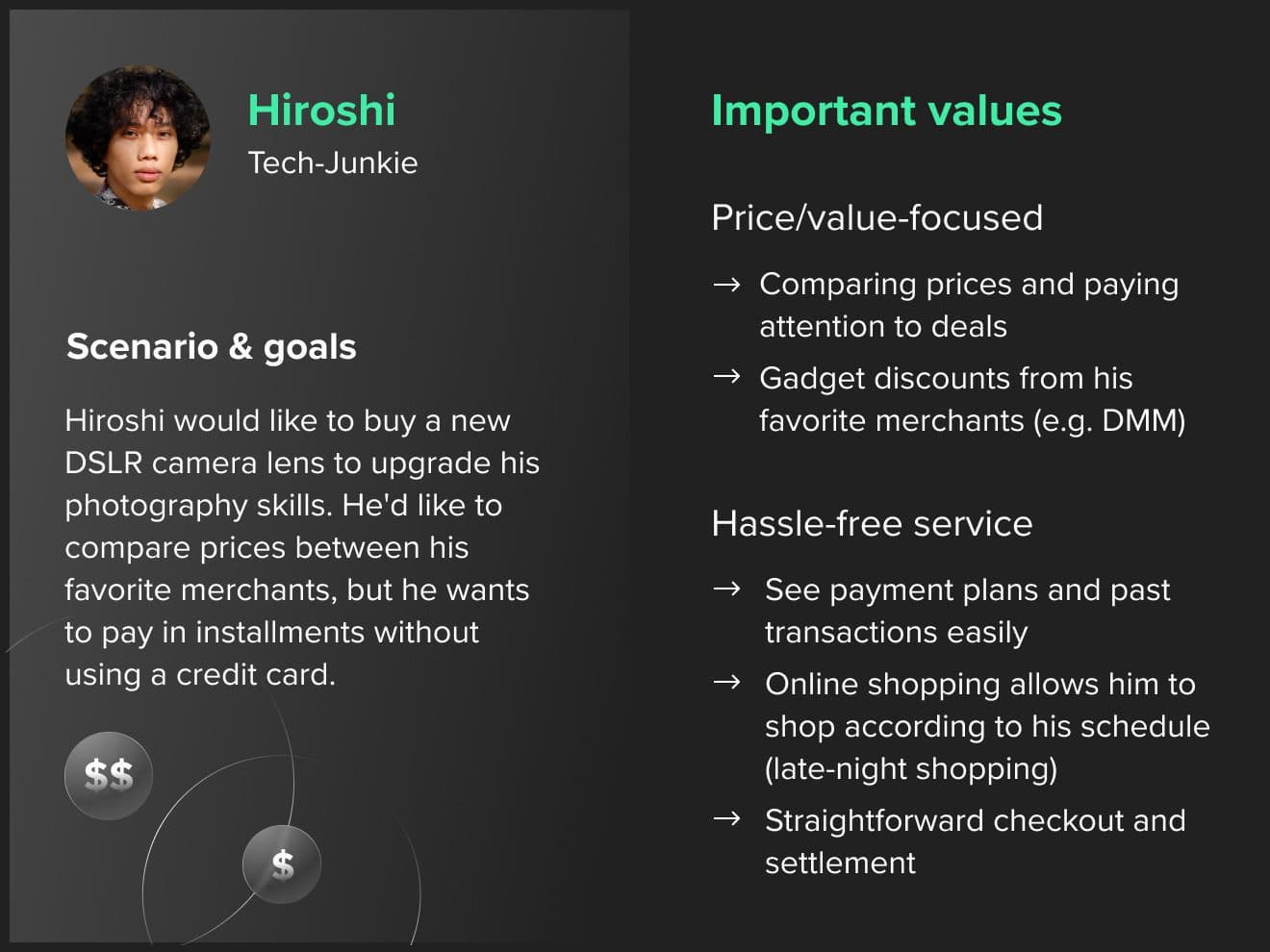 Today's leading buy now, pay later companies like Klarna, Paidy and Afterpay are 100% digital and concentrate on consumers like Hiroshi. Focusing on what wins them over, especially simplicity, ease of use and transparency are thus essential. Always be optimizing your online consumer payment journey. 
3. Locate and list your touchpoints 
Digital brands have numerous touchpoints that can include:
Websites
Mobile apps
Live streaming platforms 
Social channels
Paid ads
Transactional emails and marketing emails
Third-party sites such as news, media or reviews
Traditional media such as TV and newspapers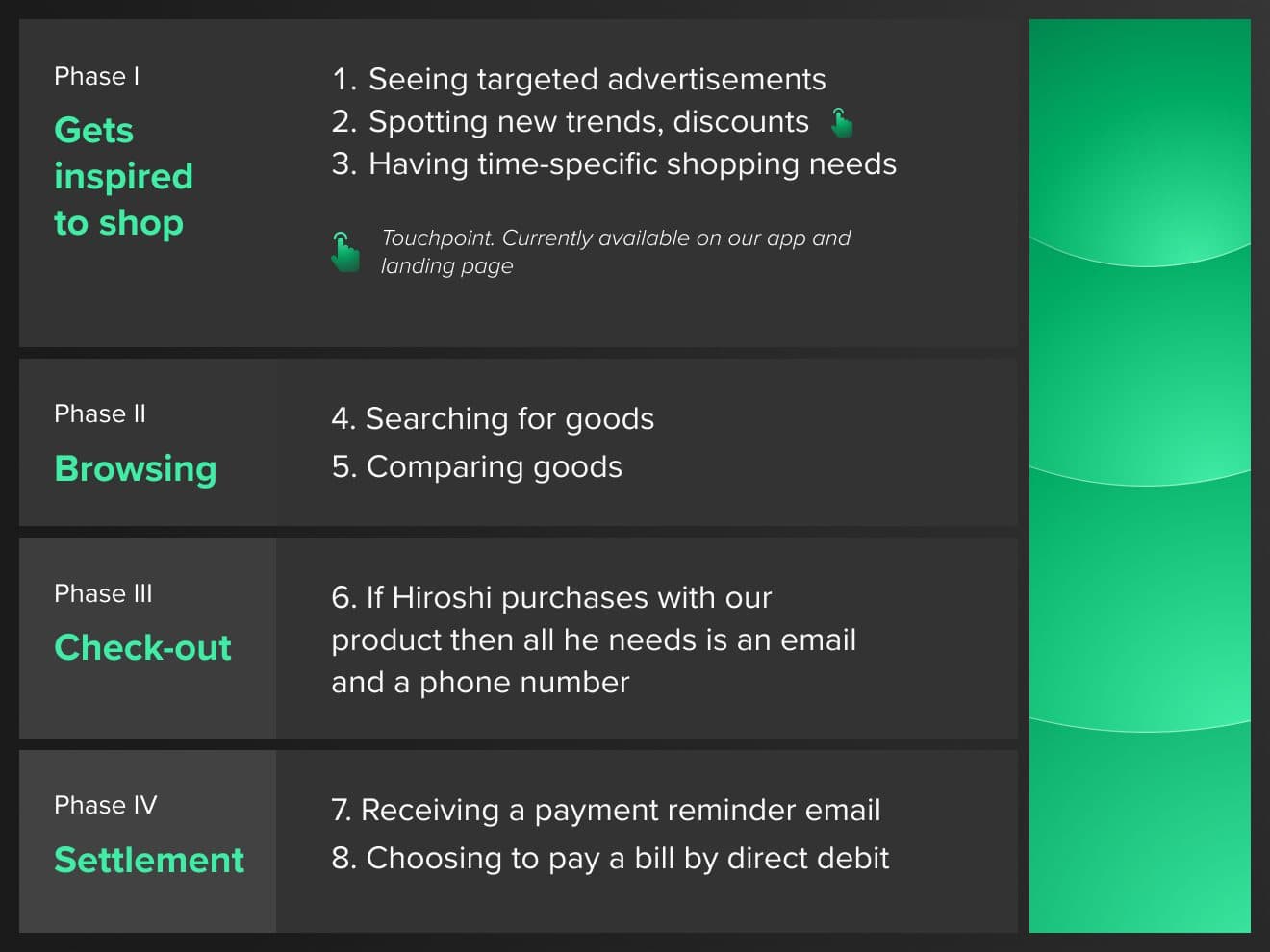 Being able to track activity across all these different touchpoints is critical. It gives you insights into the actions customers are taking. For example, if you see too many touchpoints in your CJM, you may have a serious problem. Overly complicated user journeys can harm your customer satisfaction by making it difficult for them just to make a purchase.
Likewise, if you use too few, customers may be getting lost along the way and be lured by competitors. Worst of all, you may lose existing customers satisfied with your product's ecosystem or miss your opportunity to gain new customers.
Digital finance companies need to pay particular attention to customers' actions or steps throughout their journeys. As much as possible, you want to reduce the number of steps in their journey. You do this by listing all possible touchpoints between the users and your services in a timeline format on a customer journey map. 
With this, you can better envision your multiple touchpoints as interconnected elements, understand your customers' potential problems and challenges and improve your ideas.
4. Identify and erase any obstacles in your way
Consumer pain points kill sales. That's why you need CJM to understand what your users are thinking and feeling. Most importantly, it shows you what's preventing action.  
Referring back to our main subject, BNPL, some consumers still may not be comfortable with it and maintain credit card or cash usage. With CJM you can understand why. The obstacle here is maybe a lack of education or transparency on the direct benefits of buy now, pay later service offerings. Whatever it is, you have a better insight into your consumer.
BNPL providers must work with merchants to provide simple, clear explanations of their services and how using them will help augment their sales.
5. Evaluate results and make changes
After you've created your customer journey map comes the important part. It's time to take the journey for yourself!
This is one of the biggest advantages of CJM. Instead of blindly guessing how your consumers might react, you have data that's tied directly to the user experience based on your own. This is where you can address your customers' pain points and plug gaps accordingly.  
And this is the most important advice: your customer journey map is always a work-in-progress. So review it often to identify further opportunities for product enhancements, understand changes in the landscape or eliminate roadblocks that may have started appearing.
Putting CJM to work for a globally leading buy now, pay later company 
Our client is a leading buy now, pay later provider in the APAC market. They enable consumers to pay at online stores using only their name and email address without a credit card or pre-registration. Each month, the consumer pays for the items purchased in one consolidated bill.
To do so, the company uses proprietary technology to score creditworthiness, underwrite transactions, and guarantee payment to merchants.
This is especially in their local market since many local consumers prefer not to use credit cards for online payments. So, our client's technology helps vendors increase conversion rates, average order values and repeat purchases.
So what's the problem? Rapid growth (which presents its own challenges) and the rise of new market entrants. For this reason, they turned to Star for design support to improve their current email communication and marketing up-sell designs.
Understanding the client's existing solution
When we started working with the client, they already had their ecosystem of products and services centered on an independent checkout flow and a mobile app.
In their checkout flow, end customers (including entirely new customers) could choose our BNPL client as a payment method and simply put in their phone number and email address to go through instant eKYC. With their service, end customers could literally buy the goods now and pay without any additional fee. This quick eKYC was a big perk for their target audience, who are averse to credit card transactions. 
Their second offering is their mobile app. Before working with Star, the client's mobile app offered transparency by showing the users' shopping budget and ease of payment of outstanding bills through direct debit and payment schedules. This was a serious advantage, but we knew we could do more with it.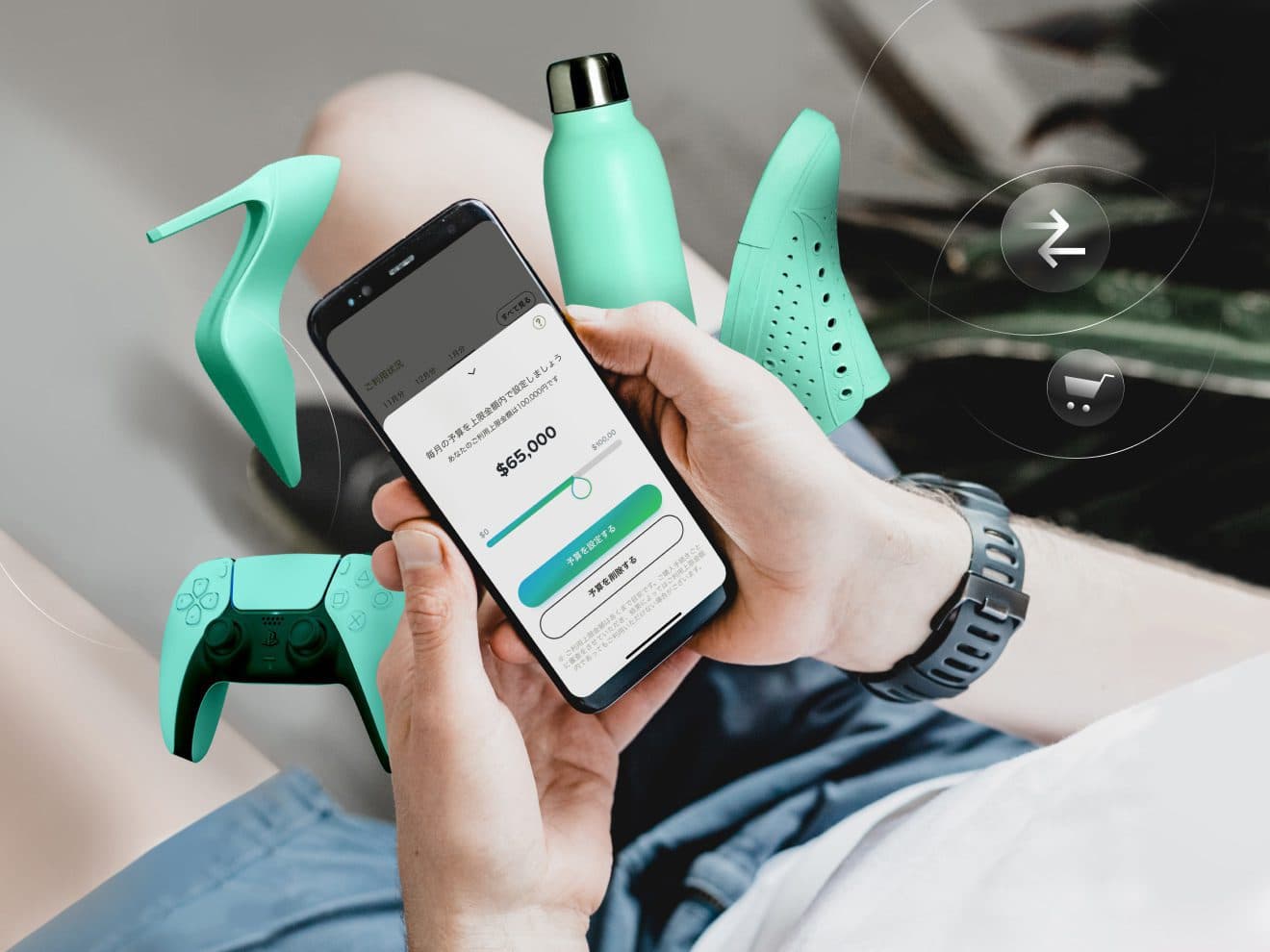 Our approach to customer experience optimization: competitor and future-state journey maps
So far so good. However, while the client had a strong offering, they were facing challenges from new market entrants. So, they approached us to conduct a service gap analysis of their existing products ecosystem and an in-depth study of three (Afterpay, Klarna, Affirm) top competitors in the BNPL arena. 
Our approach to payment UX design focuses on four vital areas: 
1. Competitors analysis 
We provided in-depth research documentation on these competitors and helped analyze brand and feature gaps our client was missing. Here we identified where the competitors are falling short and what areas of opportunities our client could leverage in their respective e-commerce market.
2. Creating journey maps for all three competitors
We detailed the entire consumer journey, including browsing/shopping, purchasing and decision-making, checkout, receiving goods, returning goods and payment and created user journey maps. These maps served as a benchmark to measure their existing product ecosystem against the major competitors. 
3. Modeling a future-state journey map 
We had an ambitious timeline for the project, so it made more sense to align all stakeholders and project team by mapping with as much existing knowledge as possible and then validating it afterward. This is what we call an assumption-first approach. 
To compare with the competitors' journey maps, we decided to create a future-state journey map for our client. Future-state journey maps visualize the improved or best case journey for customers, a journey that doesn't currently exist yet and serves as the product vision. We started with stakeholder interviews and workshops involving cross-functional teams to create proto-personas and hypothesize customer journey maps and checkout payment design.
In the end, our goal with these competitors' analyses and future-state journey mapping was to plan a new and scalable enhanced product experience that would help our client win new customers and stay strong in their markets.
4. Project outcome and looking forward
With their rapid growth and gap analysis of competitions looming in their market, we saw the importance for our client to go beyond BNPL services and cover the entire user journey of a customer's shopping experience. 
We formed a product vision where their mobile app would enable customers to get inspired by seasonal shopping trends and brand-specific discounts. They'd also be able to search for goods from within the app, which previously only featured budgeting and payment capabilities. 
The next step we took was fleshing out the product vision into an MVP and product development plan. Our plan was to launch the first version of a custom shopping inspiration and product search within three months. Within six months, we'd also further expand the experience through smart search and wishlists. 
In short, everything in our MVP was centered on scalable product development. These new features complemented their existing solution and added new value without sacrificing the ease of the consumer journey and their core offering. 
To continue their blistering growth, our client also aimed at expanding their brand and offerings to other Asian countries using our customer-first approach. This will be essential for them to identify and design for the unique elements of these new markets accordingly.
Get essential customer insights with our CJM template 
Are you looking for actionable insights to harness your customer journey mapping? Download our ready-to-use roadmap template to turn insights into practice and apply this UX method to your projects.
Customer journey mapping is just one of the many user-centric tools Star's design-driven FinTech team puts to work to help our clients accelerate their growth. Get more insights into the value a partnership with us will bring your company. Check out our full FinTech offering now.