From 2020-2022, the number of digital wallet users rose from 900 million to 1.48 billion. At Star, we're seeing how more and more companies both in FinTech and across industries are leveraging digital wallet technology to improve customer experience, reach new audiences and deliver value. 
How do you capitalize on this opportunity? Here are 4 product design strategies, key examples from leading companies and best practices that we've determined to have the greatest impact on creating excellent digital wallets. 
1. Easy onboarding: make things simple from the start
68% of European consumers abandoned financial applications during the past year due to challenging onboarding. User-centered design steps into the picture to solve this issue. It helps you gain a deeper understanding of your users and the roadblocks they may face while onboarding.
Your onboarding experience must be frictionless, simple and user-friendly. For example, PayPal's onboarding process comprises just 9 easy steps. Each frame prompts specific actions from the user with clear content flows and navigation, making registration seamless. Elements such as the progress bar, navigation buttons and concise information facilitate quick onboarding. 
Likewise, storytelling tools are essential for user flows and give each screen a clear purpose. To design a seamless onboarding flow, consider UI elements that keep users oriented and engaged, such as progress bars, checklists, pop-up tutorials and easy back and forth navigation. 
Revolut is a great example of how effective these features can be. They guide users before onboarding begins. Before account creation, Revolut displays different actions users can take within their app, educating and setting clear expectations of how they'll benefit from using it by showcasing features users can expect within the app, such as splitting bills, investing and getting rewards. This approach can spark curiosity in users and reassure them they've made the right decision when creating an account.
Apply the same approach to your solution. Prioritize user-centered design and storytelling so that you can cultivate enduring consumer relationships by starting them on the right foot. 
2. Broaden functionality and increase product stickiness
Nowadays, it's no longer enough just to offer digital wallet functionality. Users want more. But how do you anticipate their needs, especially when they might not be sure what those are? 
Venmo is a great example. Their core product is a digital wallet, but they identified a need among their primarily Millennial and Gen Z audience to easily divide restaurant checks and bills. So Venmo created a feature that allows users to easily do that from their feed - their splitting feature makes it easy for people to manage their shared finances.
Not only does this save headaches for their users, but it also encourages more people to adopt their platform. 
CashApp has gone even further in adding functionality. Recognizing that many of their users are underserved by many traditional financial services, they saw a window of opportunity. 
They empower users to take greater control of their finances by including cryptocurrency and stock options directly within the platform. Since then, CashApp has seen its market share and revenue rapidly increase, with more sustainable longer-term growth predicted than Venmo. Apps like CashApp are changing the digital wallet landscape by enabling users to invest and manage finances.
WeChat Pay, for example, analyzed the cultural appeal of its audience and discovered an easy opportunity. They added a personalized aspect for Chinese New Year and other occasions by enabling users to send monetary gifts known as hong baos or red packets. It's still effectively their core service, but they redesigned it for the holidays, encouraging people to use the app no matter the time of year or occasion. This hong bao experience gives it a warm, personalized touch. 
Ultimately, each audience's needs will vary. But by thinking beyond the basics and using design tools like customer journey mapping to uncover behavioral drivers, you'll be able to boost adoption and engagement. 
3. Build and strengthen trust across every interaction
How do you create digital wallets that build and maintain trust? That starts with your UX strategy. 
Strategic design applied across UX writing, user experience, and user interface establishes an essential foundation for trust. 
Building trust through brand consistency has been very effective for Klarna. They carefully crafted their tonality through UX writing, leveraging their color palette, typography and other brand components to create familiar experiences for their users.
Likewise, seeking support should be frictionless. Money stresses people out. Users will remember a platform's ability to resolve issues quickly and rely on it even more with every use, further fueling the growth of trust. 
You must know what moments or actions may trigger help requests and provide on-the-spot assistance. For instance, when users record a PayPal expense, they can find additional information immediately in the transaction details tab. They also offer pre-set support options for frequently encountered problems to accelerate resolution. 
The bottom line is that trust should be fundamental in everything you do, from employing the highest-level security strategies and technologies to creating familiar and reassuring user experiences. 
4. Create experiences that bring users back for more
No matter how exciting a user's first experience with an app was, research shows novelty wears off often within 2-7 days of registration. 
With strategic design tools such as digital loyalty programs, social elements and gamification, you can design exhilarating experiences and maintain long-term user engagement. 
Alipay is a great example. They went beyond a basic digital loyalty program. Recognizing their audience's interest in sustainability, they offered 500M users "green energy points" for making small, environmentally-friendly choices such as declining plastic bags while shopping and recycling. 
The more actions users take, the more their virtual tree grows. Once it reaches maturity, Alipay plants a real tree on the user's behalf. Since the program's inception, over 326 million have been planted across China, and Alipay even won the 2019 UN Global Climate Action Award. 
Venmo has taken another approach. They're focused on fostering a sense of community through social networking elements. As soon as users open the app, they have access to a social media platform where they can easily transfer money to saved contacts and friends. 
Social networking makes the experience of digital wallets more than just about money, but personal interaction. With Venmo, you can attach emojis and text for labeling payments and see the transactions of your friends. Together, features like these help people stay connected and do much more than just transfer money to each other. 
Finally, Chai has fired up digital wallet gamification to create a fun and addictive experience. Chai's ambition is to make the digital wallet journey a thrilling experience. Board games highly influence users' interaction with the platform. "Players" are encouraged to stay active and collect "Thunders" and "Boosts" to move ahead and get awards and special offers. 
Whether you opt for sustainability, social features, gamification or other elements, focus on engaging your existing users and appealing to new ones.
By constantly iterating, testing and refining features, you can keep working toward the winning formula for your app. 
What's next for digital wallets?
As digital wallets become more ingrained in our lives, we foresee continued addition and integration of services onto a single platform or "super app." These enclosed experiences unlock an array of value-add opportunities through easily facilitating numerous tasks all within your solution, boosting convenience and strengthening relationships with your users.  
Digital wallets are a perfect starting point in this journey. Start exploring their benefits and harness the confidence and familiarity users already have in your platform to provide them with a seamless, engaging experience that's useful across all facets of their lives.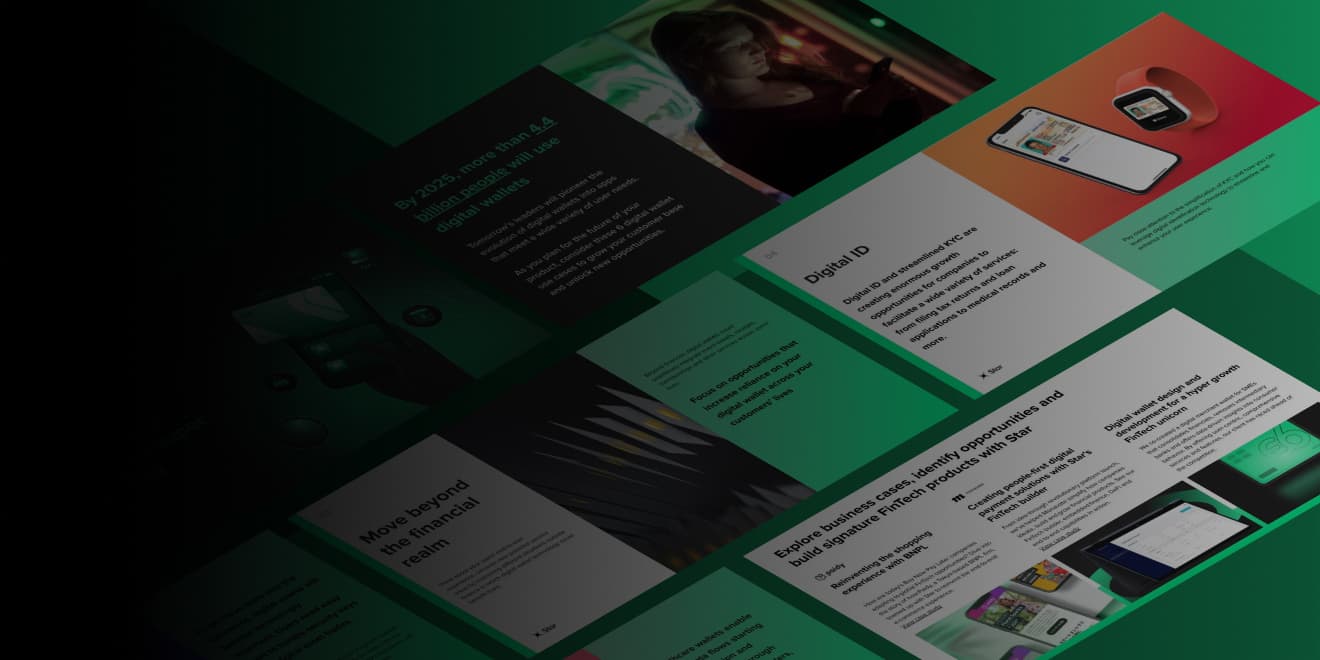 Grow your user loyalty and distinguish yourself from competitors by incorporating these 6 digital wallet product strategies onto your roadmap.
Harness digital wallet technology for your growth with Star
Start building your breakthrough digital wallet. Get in touch with our FinTech experts to discuss your ideas, ambitions and how we blend end-to-end strategy, design and engineering to help you move fast, grow and prosper.