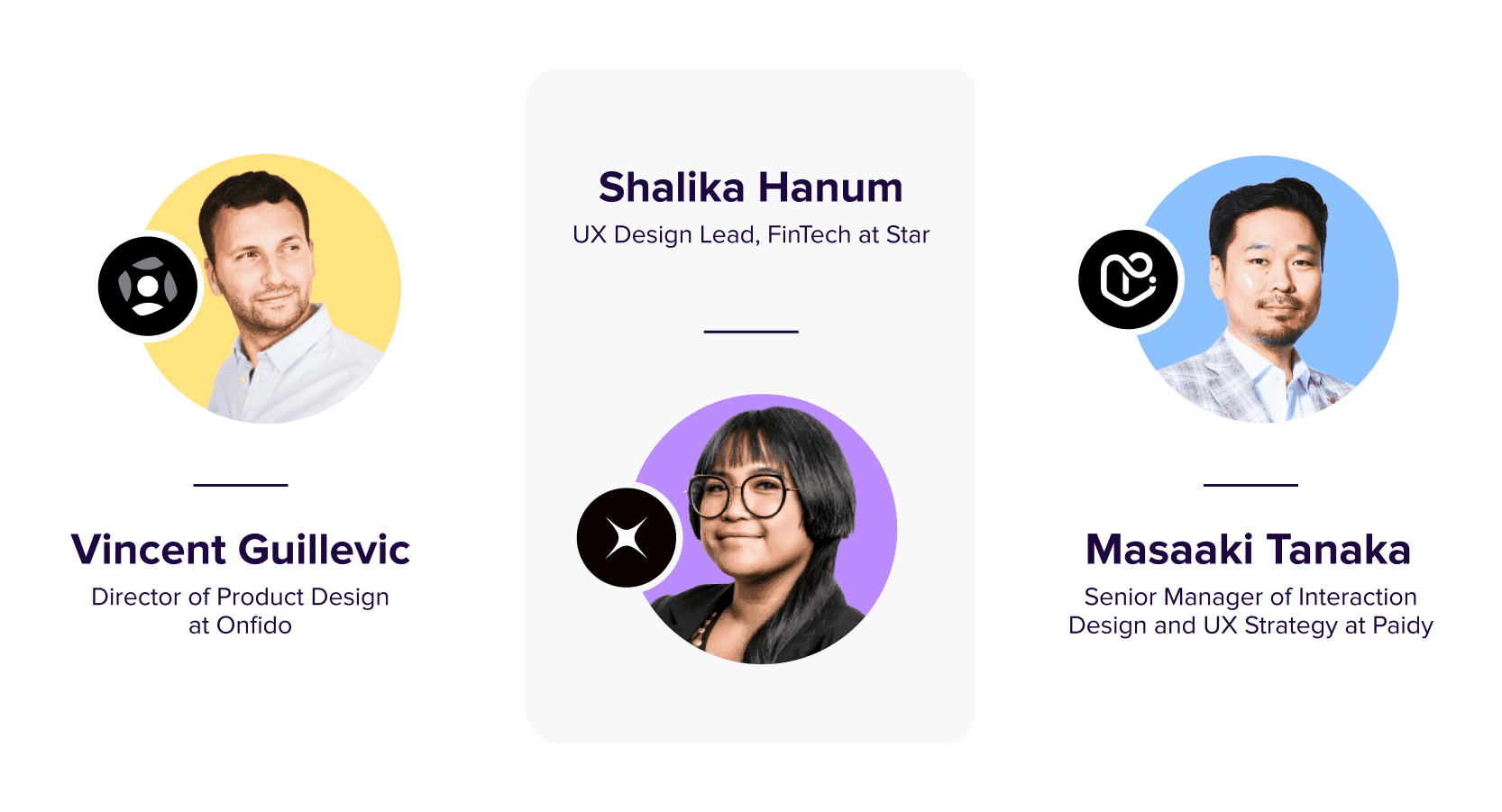 FinTech product design has the unique ability to transform FinTech services into something useful, engaging and even fun. This isn't your parent's finance. FinTech is accessible, convenient and transforming the relationship between providers and their customers. So how do you harness the power of design to strengthen and build enduring loyalty? 
Our host Tom Hunt sits down with Shalika Hanum, UX Design Lead, FinTech at Star, Masaaki Tanaka, Senior Manager of Interaction Design & UX Strategy at Paidy, and Vincent Guillevic, Director of Product Design at Onfido, to answer this question and much more. Get deep FinTech product insights in this edition of Shine: a podcast by Star.
Hear it directly from the experts. Don't forget to press play and listen to the full episode below.
Introductory lessons for building FinTech products
From the start of the conversation, our panelists voiced that every market has unique hurdles and pain points that need to be addressed in order to successfully build trust with users. Transparent communication via UI and UX product design is key. Our FinTech experts highlight three important ways, from their current and previous work, to overcome these challenges:
1. Harness FinTech UX design and start removing friction 
In Japanese, mendokusai translates to "bothersome" or "annoying." At Paidy, a Buy Now Pay Later firm based in Tokyo, the company defines itself by having 'no mendokusai' or frictionless experiences. To do this, Paidy provides a two-tier customer offering for BNPL purchasing: normal level, which only requires an email address and phone number, and premium level, where users provide their credentials like a driver's license or personal identification card. But Masaaki Tanaka explains that, "particularly in the Japanese market, [people] are very protective of their information and rarely share this kind of personal identification" to companies.
Paidy's solution: Provide touchpoints to clearly communicate with users how their information is being used and stored. This incorporates electronic Know Your Customer (eKYC) processes where personal information is only being used at the point of sale. If Paidy doesn't need it, the information is deleted. As a designer, Masaaki emphasizes that "communicating that kind of trust at the right time is super important" for truly frictionless UX.
Subscribe on Apple Podcast   |   Subscribe on Spotify
2. Make finance products relatable and transparent
On the other side of the world, in Germany, user interviews for Evergreen, a robo-advisor and financial planning FinTech, revealed a problem: many Germans didn't understand the process behind traditional investing or financial planning. In the past, Shalika says, "usually you just go to a person like a financial advisor or at a bank, go in there, get asked some questions, get your finances assessed and finally get recommendations on what to buy," and so on. But users told her they "don't know why they're asked these questions" by the bank or advisor. This lack of clarity and transparency was especially interesting to Evergreen and its design team.
Evergreen's solution: Clarify and personalize UI/UX FinTech product design for end-users in order to more closely align with their life and goals. Part of this can be in the language: "instead of saying 'investing,' we call a lot of products now 'financial planning" because a lot of users see investment as putting your money in stocks and then you would lose money." Shalika also explains that another big difference when putting money into a robo-advisor is that they usually have a bigger range of products that you can invest in, while a bank or an advisor will try to sell you things that benefit them more. "That was part of the trust that we want to bridge in the product that we built at Evergreen."
3. Don't forget FinTech product security
For Onfido, an AI-based document ID and facial biometrics verification company, they have to look at trust from the angle of both their identity verification product and how these integrate with their clients. Security is the top priority, and designing key features like encryption that are seamless to use while eliminating fraud can be a challenge. And with highly sensitive data such as biometrics, Vincent stresses that it's "very important to make sure that you don't become a target." Hacks, ransomware, malware and other forms of cybercrime can instantaneously devastate a company's assets and, of course, client and consumer trust. So how does design apply here?
Onfido's solution: "Passive signal first, active signal last" is the basic logic Vincent tries to include for security measures. Passive signal biometrics include facial recognition and voice recognition while active signal biometrics include things like fingerprint and signature recognition technology. So, in terms of design, passive signals are great for onboarding, they get users to commit to your product, and active signals can be asked for later on. Based on machine learning and risk assessments, Onfido's API design can be personalized on a per-user basis. 
For privacy, Onfido avoids becoming a target by flushing data. The main point of the data is to collect and analyze it to build models via machine learning, but deleting it is also part of the process. "Every two weeks we flush everything – that way we ensure that we don't become a target because we don't own that much data," says Vincent. While this isn't possible for everyone, especially banks and FinTechs dealing with accounts, decentralizing user data is a useful tool during every stage of the FinTech product design and engineering process.
Now…what about too much user trust in FinTech?
While this may seem like an unusual question, it's an important point to make. Is it possible to build too much user trust through design in FinTech products? Our panelists have some great insights on this:
Transparency in FinTech products doesn't mean we put everything upfront. Shalika doesn't think there's too much trust, just too much information which can lead users to a mental overload. Designers should "make sure that we provide really important information to the users that's digestible, accessible and easily available whenever wanted." For her, this could take the form of a clear help section or chat functionality.
It's a question of information architecture. As a user, Vincent makes the point that "I'd want to be able to go as deep as I like to understand the concept and what you are doing with my data." That means if the user has any questions, this person should at least have the ability to look for and find answers – and this can be accomplished through well-organized information architecture.
We start to lose trust by building too much trust. Masaaki comes at this from a slightly different angle by saying too much information might lead users to start questioning the product and its functions. If there's too much information, "we start to build this awkwardness with our consumers in that it might sound too easy to be real." For this reason, Masaaki believes striking a balance between the right amount of information at the right time is essential for preventing this imbalance. 
Discover all the latest on trust in FinTech design
This just scratches the surface of what this week's expert panel had to say. They also go in-depth on what building trust looks like in different markets, from Asia to the Americas, and why designers need to be hyper-aware of the user friction-frustration dynamic. 
Explore further with Star's actionable guide to building trust-driven FinTech, in which we take a deeper dive into the four pillars essential for every FinTech product:
Reassurance
Responsibility
Personalization
Seamlessness
These pillars are integral to any successful FinTech or digital finance provider. As Masaaki from Paidy expresses during the conversation, there's truly an ethical responsibility for designers to build trust with their users. Get a strong foundation for your product strategy and download now.