From banking the unbanked to facilitating large-scale access to investment opportunities, FinTech & digital finance unlock accessibility and convenience for consumers and create infinite new business opportunities for providers. 
But all of this vast potential can only be unlocked through a foundation built on trust. People must feel confident moving away from traditional banking solutions and be assured their money, data and privacy will be safe as they navigate these new financial technologies. 
At Star, we believe four pillars establish trust between the users and providers of FinTech services. So whether you're a startup, cross-sector, new entrant or a legacy FS provider, start focusing on them now to overcome trust gaps and create market-winning, user-centric and enduring FinTech solutions.
A rapidly transforming financial ecosystem
There will always be push and pull between consumers and providers in any industry. But companies looking to thrive in digital finance must overcome two particularly challenging hurdles: 
How do you get people to trust you enough to talk about their money? 
Then, how do you get them to trust the technology even to use? 
While the first barrier isn't too surprising, few people realize just how significant it is. The Atlantic recently reported that "people are 'more comfortable' talking with friends about marital discord, mental health, addiction, race, sex, and politics than money." None of these are easy subjects to bring up over dinner casually, and money ranks last out of all of them! 
Concurrently, both providers and consumers are navigating quickly emerging new technologies. Before the rapid rise of FinTech, the modern financial system acted very similarly between your great grandparents', grandparents', and parents' generations. People went to banks, wrote and cashed checks and had relationships with these financial service providers that spanned years.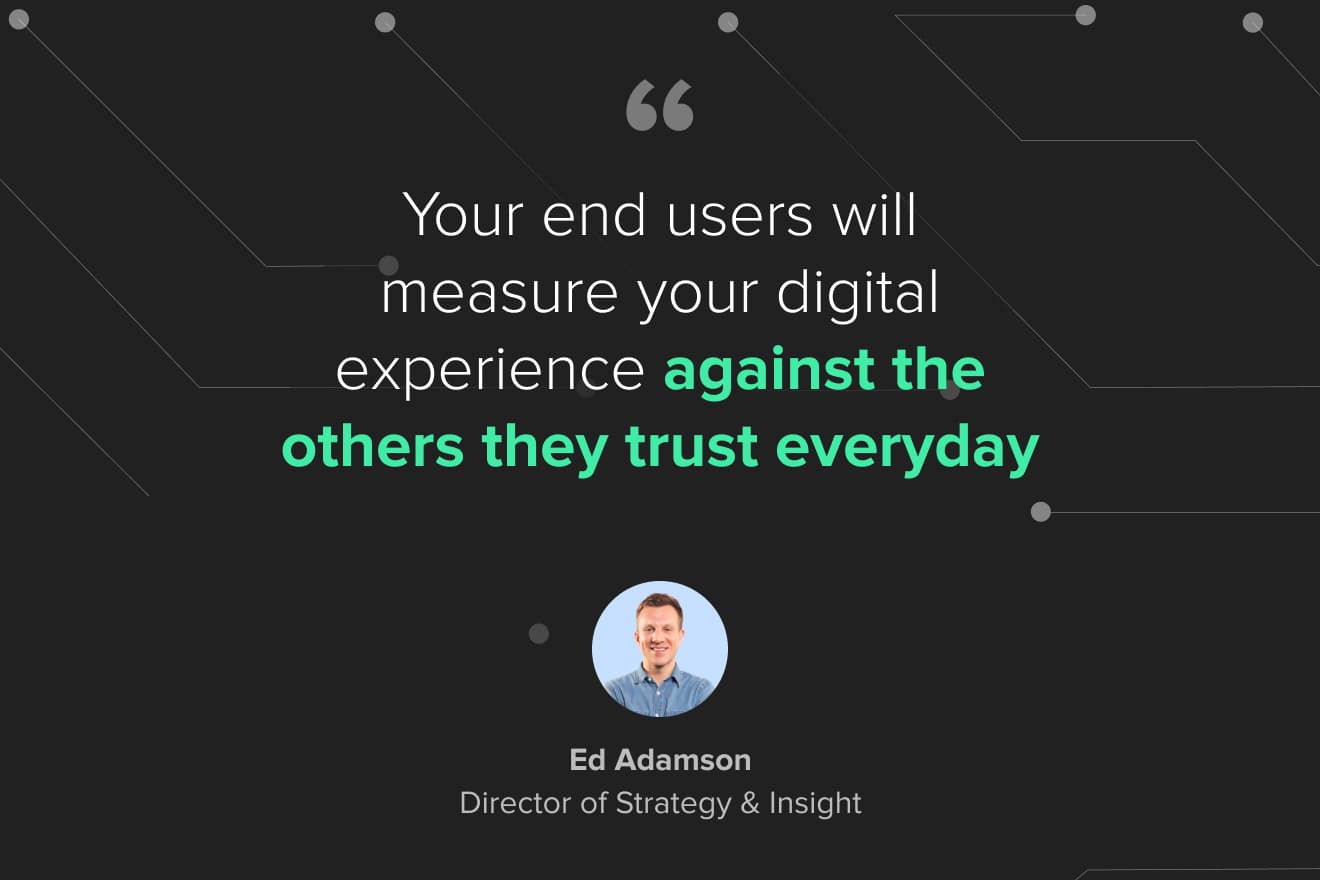 Within ten years, we went from mobile banking (itself a significant transformation) to investment apps like Robinhood, cryptocurrency and innovative financial solutions like Lightning Social Ventures who help those in need receive access to accelerated support. 
All of these FinTech innovations are truly incredible. But people need time to catch up and to understand better what these experiences offer. And, that's not just at the consumer level. Whether it's through B2B engagement or within the finance sector itself, there needs to be a concerted effort to build trust across the financial ecosystem. 
Building user trust in digital finance
People do trust technology in other sectors. Take a look at how digital technologies have transformed the way we shop, socialize, drive and even receive healthcare. Our lives are increasingly tech-driven, so embracing FinTech products naturally makes sense. But with more and more users and emerging demographics that may not be as tech-savvy, knowing your audience is more crucial than ever. 
The same is true at the B2B level as well. Financial service providers themselves need to understand the potential that FinTechs offer and how to leverage them. This takes time and trust! 
But we've already seen countless great examples in the financial ecosystem. Our digital finance team recently sat down with Mastercard and Yapily, who shared some critical advice everybody in the sector can benefit from. Former Yapily CCO Matt Cockayne described how providers could leverage open banking to get customers familiar with data flows and consent journeys to build comfort with a digital finance solution. From here, they can over time, scale their offering and increase the types of services they offer. 
Likewise, Mastercard's Western Europe Head of FinTechs, Amrita Srivastava, emphasized the importance of ensuring users are in control of their data. Again, these are easy and affordable wins that nobody in digital finance should pass even if they have a much more ambitious and grandiose vision that they want to implement down the road.
The four digital finance trust pillars
We've identified the four pillars FinTech and digital finance providers need to focus on as they ideate, implement and scale their products and solutions.
These all center upon taking a user-centric approach. It's important to remember that FinTech users aren't just the end consumer but also internal teams that deliver customer-facing services or provide the ecosystem that drives B2B relationships. Therefore, FinTech and digital finance providers need to ensure their experiences are:
Reassurance
Responsibility
Personalization
Seamlessness
Reassurance is a critical first step. Providers should ensure users feel in control over their data and receive value for it. Simultaneously, they should harness data securely to identify opportunities better and offer services for new and existing customers. 
Responsibility is absolutely essential on all sides. People need to understand how their decisions impact their goals, while providers need to de-risk their client base. 
Personalization is the cornerstone of all successful digital finance products. People want seamless products that fit their unique needs without blowing the complexity fuse. This is a tricky balancing act. On one hand, most providers want to offer a comprehensive range of services. But growing too complex is a sure-fire for people to start abandoning it for simpler alternatives. 
Thus to achieve and grow a loyal consumer base, you need to approach the product holistically and seek inspiration from the cross-sector digital products that people already have love and use daily. You can find inspiration from everywhere in the digital ecosystem. Discover the underlying drivers that encourage people to use these digital services and incorporate them into whatever you build.
Facilitating and growing trust in digital finance
We are in the middle of a truly transformative time in history. As we emerge slowly from a global decade, experience social transformation and peer ahead into an uncertain future that poses a threat to our financial security, we all can benefit from a more concerted effort to build trust in digital finance. 
We can't predict what the future will look like. But if today's leaders create products that are reassuring, responsible, personal and seamless, they will foster the much-needed along with incredible opportunity that we all deserve.
Inspiring trust in digital finance
Download our "Inspiring trust in digital finance" to discover our complete insights, including: 
Detailed analysis of trust gaps in digital Finance 
Leading examples of in and out-sector trust-building digital products 
A toolbox of touchpoints you can start activating now 
Key lessons from personal wealth management solutions we can apply throughout the sector 
Inspiring examples of how you can turn our insights into tangible concepts crafted by Star's digital finance design experts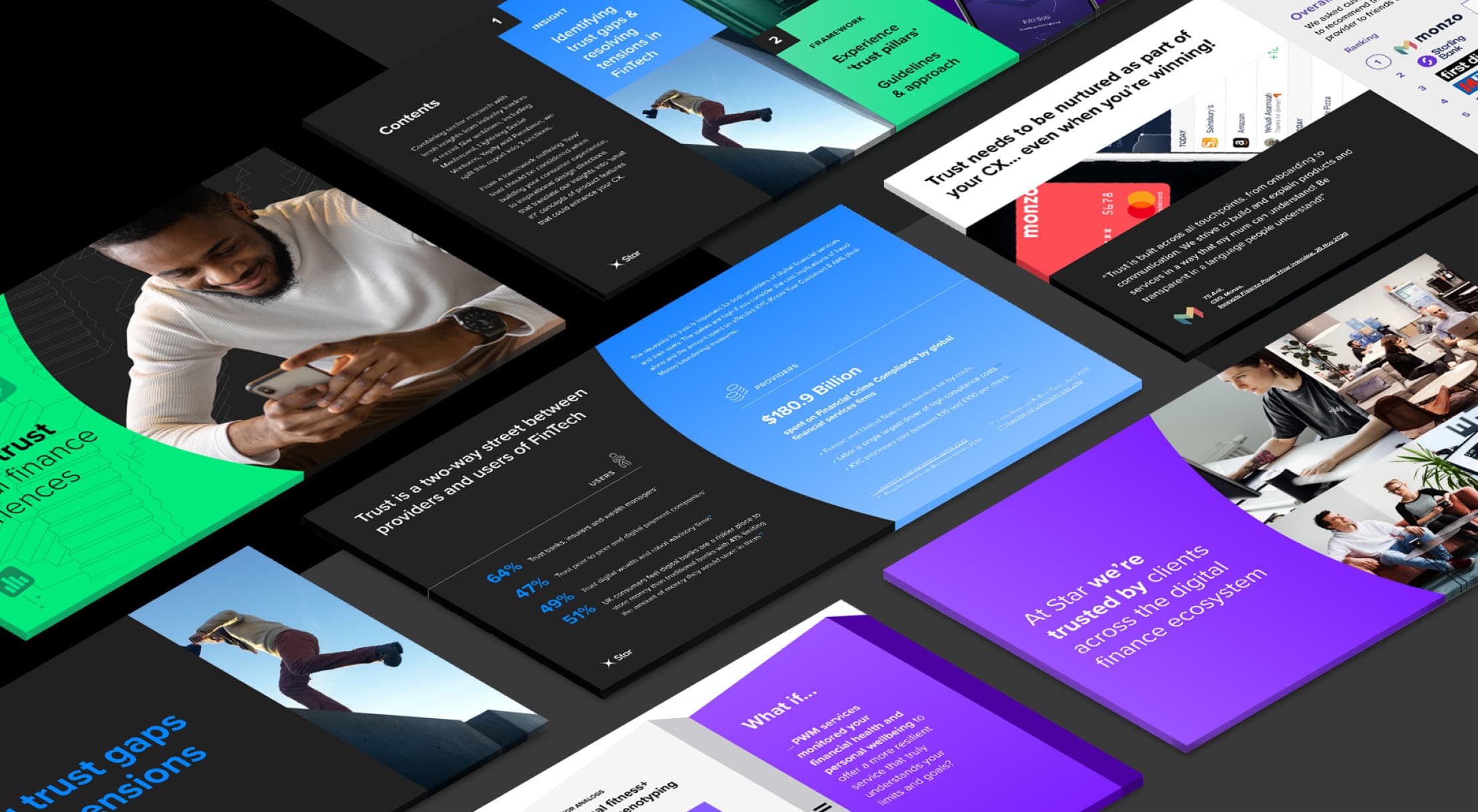 Succeed in FinTech and digital Finance today and tomorrow with Star. We have 12+ years of experience co-creating breakthrough FinTech and cross-industry solutions. See our end-to-end product capabilities in action in this case study. We worked with 1-800Accountant to develop their secure, user-centric platform Clientbooks, built mobile apps, and helped them save $1 million annually by migrating them to their own CRM. 
Embedding trust in user experience by design is what we do best at Star. Get in touch with our FinTech and digital finance experts to learn more.