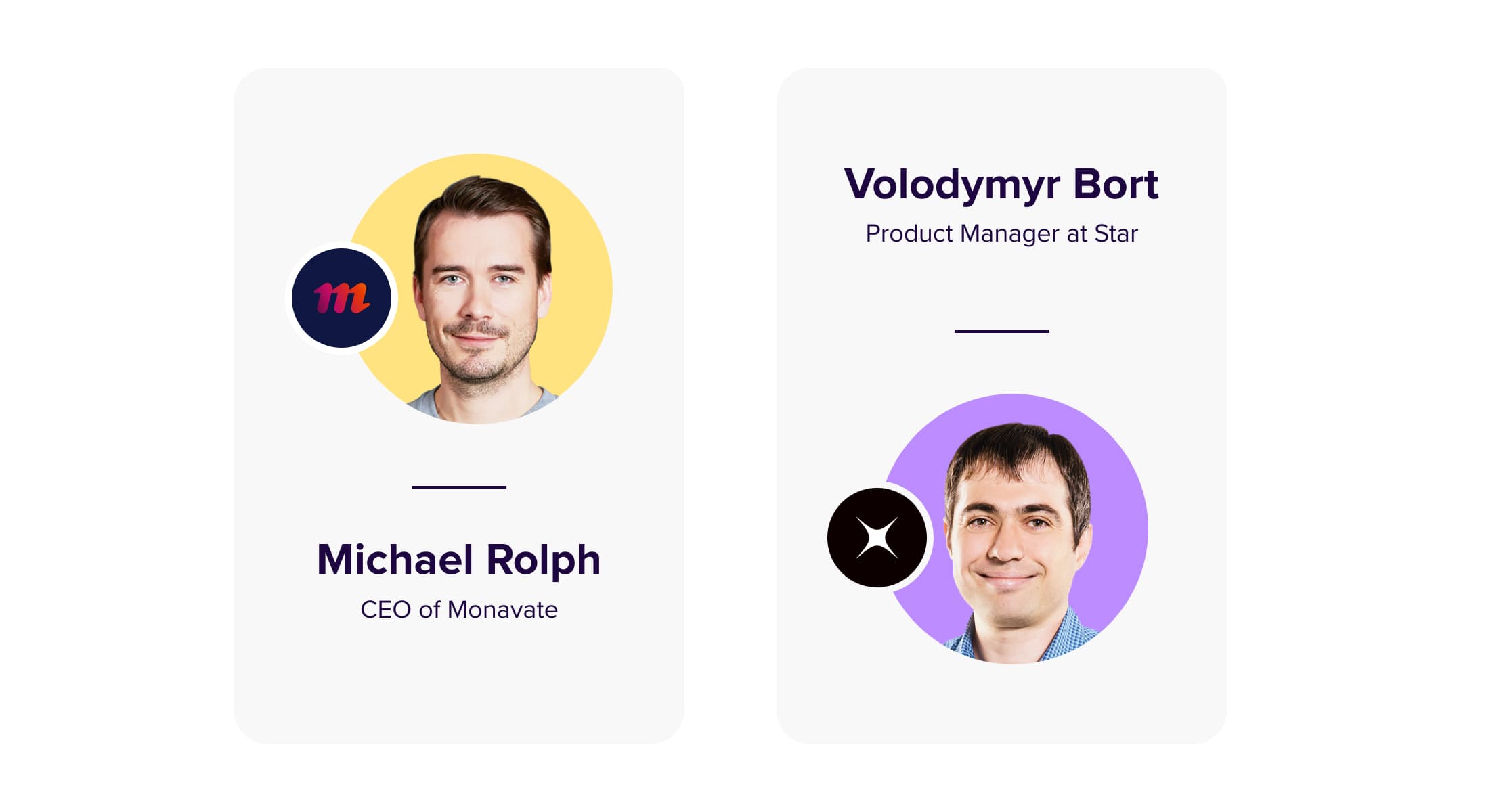 What's the secret of successfully launching FinTech products? That's the driving question of this episode of Shine: a podcast by Star. 
We share two expert perspectives from Monavate and Star. Michael Rolph, CEO of Monavate, discusses his experience as a FinTech founder. Volodymyr Bort, Product Manager at Star, shares Star FinTech's perspective, having helped numerous companies successfully ideate, build, launch and scale digital finance innovation. Together, they give you the complete perspective on the product and market strategy, technical considerations, team setup and scaling. 
This is one conversation not to miss. Regardless of your industry, these are insights that all startups and even established companies can benefit from.
How to launch a FinTech product: startup strategies
The podcast kicks off with an in-depth look into each guests' direct experience. Michael begins by sharing his experience as Chairman and Co-Founder of Yoyo. They fuel customer loyalty through rewards software solutions, including personalized payment experiences. It's integrated into 200,000+ retail lanes across 17,000 stores and 5 million monthly active users. 
But it wasn't always that way. It's now easy to take for granted e-wallets and smartphone-based payment solutions. However, Michael also went a step farther to integrate this functionality with customer recognition at the point of sale and instant rewards. Looking at Yoyo's success today, nobody would doubt this strategy. However, Michael was keenly aware that "when you come up with an idea, you know, there's no one more in love with it than you." 
So instead, he hit the bricks of Imperial College, the testing ground for the solution, pitching over 3,000 people to try out Yoyo. This is one consistent theme that Michael emphasizes. You must have grit and determination, especially in these critical early days. In his words, "It takes extreme focus and unabated belief to get something off the ground." 
At the same time, they were working on the product itself and the marketing strategy. The first version of Yoyo wasn't a polished and smooth FinTech product user experience. They worked with a third party to license software off the shelf, putting together something "very clunky that was in no way, shape or form a polished consumer experience." But they did focus on ensuring integration at the point of sale. This enabled them to create the FinTech product infrastructure and start moving in the right direction. 
Concurrently, to get their first set of users, Yoyo offered a £5 credit to the first 200 signups. This seems logical enough to encourage adoption, but Michael went a step further. He personally got in touch with a few users and asked why they signed up. It became clear that many of them were really interested in the tech and recognized what was happening for the first time on their campus. These were "obvious evangelists" recruited to get their friends on board and spread the word. With this user base and the beginning frames of the product, Michael was able to get the Yoyo plane off the ground. 
Subscribe on Apple Podcast   |   Subscribe on Spotify
Lean, agile and adaptable: new FinTech success
The conversation then shifts to Volodymyr. He discusses his experience from a few years ago helping create "a modern digital bank solution" that gives users the ability to manage fiat and cryptocurrency wallets in one application. It also combined the ease of use of physical cards with the blockchain. 
From it, he "really understood that each startup should use lean principles. From my experience, there is only one correct way to implement your MVP. When you add features, test it with a smaller focus group of users to ensure it is what the market actually wants." 
What was particularly interesting about the solution Volodymyr was working on is that it had a global rollout and they noticed that some markets were ready for it and others weren't. So they decided to shut off certain environments. However, instead of totally ignoring them, they created a feature that allowed users to vote to bring their solution to an unsupported region. With this, they'd know when to enter a market and how many people would be expected in a given country. 
This flexible functionality is one point Volodymyr emphasizes. Turning features and regions on/off and testing them is critical not just in the early days of a solution but for its entire lifespan — no matter how many users you have.  
How do you build remarkable FinTech products?
Every company wants to create something outstanding. But as Michael points out, FinTech product development is not that easy because a "great product can mean different things at different times." For example, an excellent user experience may distinguish you initially, but it might not be why you succeed in the end. 
Instead, it's about scalability, FinTech product management and having the right team members in place. Michael explains that "as a founder, you've got to recognize the skill sets and the characteristics and attitudes of the people around you and how they work as a team. It's not about any individual but how well the entire team works together." 
Volodymyr looks at the question from a different angle. FinTech and other digital products should save people time. What you do to save and prioritize it will help you stand out from the rest. 
How to build a FinTech product that will distinguish your company from the rest
The discussion is just getting going. These two experts share more in the complete podcast episode, including how to launch FinTech products with a truly global impact and the importance of control, transparency, instant gratification and product support. And this is just the beginning. There may even be a little deal-making that harnesses Monavate's card scheme solutions. 
Listen now to the podcast and learn more about our end-to-end collaboration with Monavate in this case study.