The last few years have been anything but stable. Despite that, FinTech products have shown remarkable resilience and growth as both consumers and businesses alike embrace its accessibility, convenience and ease of use. However, with economic uncertainty and rising competition, the road ahead is anything but clear. 
How can companies in FinTech sector continue growing? How can new entrants understand the upcoming challenges and opportunities? Some of today's biggest global brands like Airbnb and Uber were founded in the last recession — as were we. 
To help you not only make the best out of this moment but thrive, we produced this report. It will help you ideate, design, build and launch winning trust-driven and CX-focused digital finance services that enable you to stand above the rest. Dive into what you need to know for your FinTech product development strategy.
What you'll gain from our expert FinTech report
Star's FinTech Practice has 14 years of experience working with leading digital finance companies like Paidy, Monavate and Expensify. In this report, you'll get a preview of how we think, problem solve and help our clients create breakthrough FinTech products. 
You'll discover: 
Industry insights from leaders like Mastercard, Passbase, Yapily and Star 
Deep exploration of how to build trust at the consumer, business, sector and ecosystem level 
Cross-industry CX inspiration to help you create winning user experiences
Key lessons from Personal Wealth Management that you can apply anywhere in digital finance 
Design concepts that illustrate the potential of our framework and approach to FinTech product strategy
Now's the moment when leaders of tomorrow will be born. Chart your course and download our FinTech product design report now. 
What all FinTechs can learn from the world of Personal Wealth Management
Digital finance companies don't need to look far for great examples of FinTech product experiences. In fact, financial service players in the Personal Wealth Management (PWM) space are already leading the charge in harnessing CX, usability and trust to create fintech solutions that have attracted millions of users. 
Here are four key strategies from leaders like Robinhood, Trading 212 and Revolut to start applying now: 
Responsible brokers educate users: FinTech has opened a world of consumer finance opportunities. Educating users about risk and reward is key for enduring trust, engagement and growth. 
Focus on what matters most to people: Know your users and what they want. Many consumers today care about social impact in both the companies they work and invest in.   
Blend automation with unique CX: Automation fuels PWM, but it should feel inclusive, personalized and flexible to give users the best of both worlds — ease of use and control.  
Offer holistic financial wellbeing: Give tools for how your solution integrates into broader financial health and connects to users' long-term goals.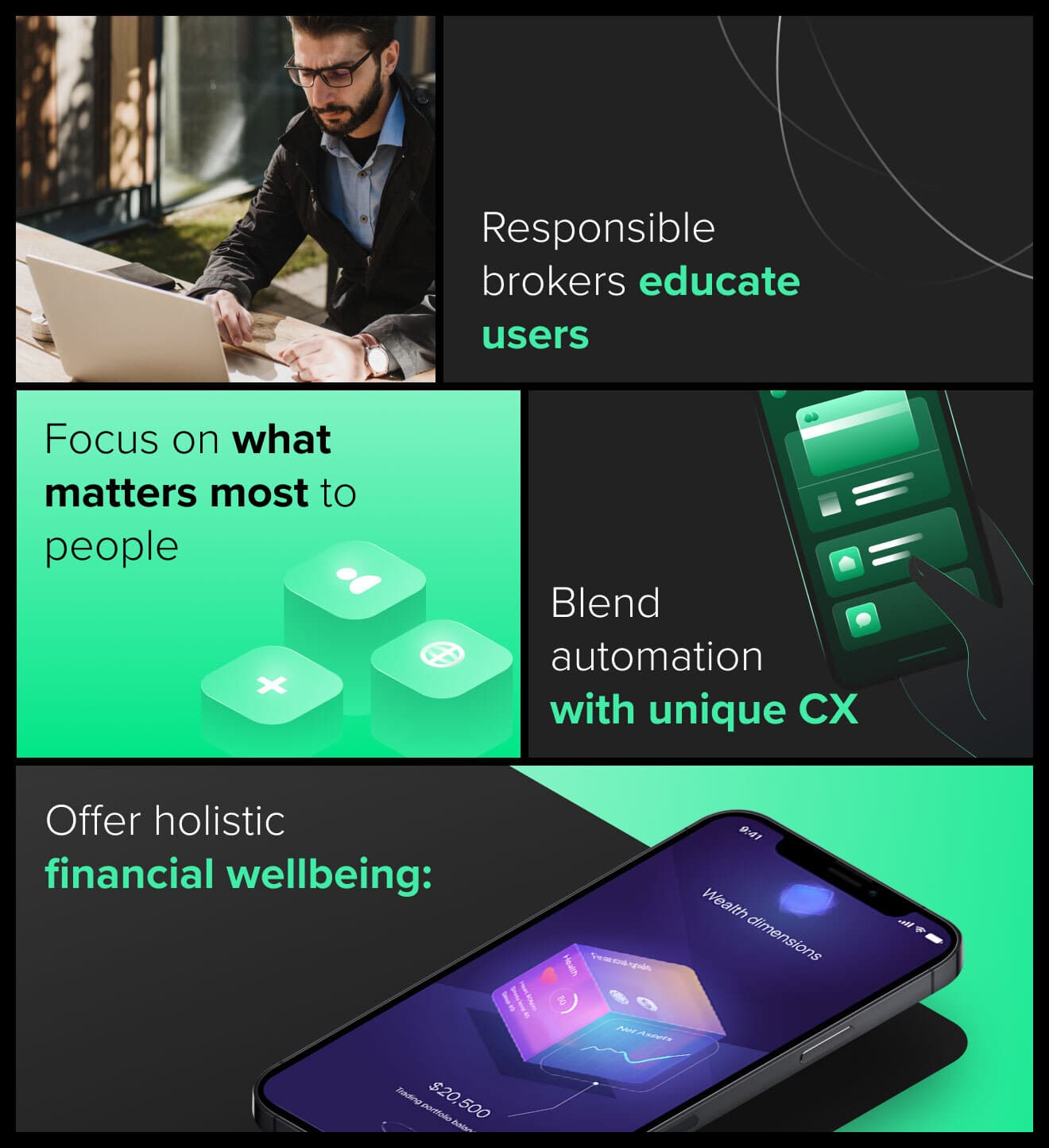 Outside in: key lessons from leading cross-sector digital solutions providers 
We live in a digital world. FinTech companies can unlock numerous ways to get ahead of the competition by borrowing these tricks from other sectors. Here are a few lessons from outside digital finance you should start fueling your product strategy with: 
Digital Fitness: Companies like Apple seamlessly integrate wearables into their ecosystem to connect users with instructors, content, analytics and insights. With everything you build, think about interoperability and integration. 
Digital Therapeutics (DTx): This novel health technology is rapidly gaining traction because of personalization, ease of use and outcomes tracking. FinTech products should likewise empower and create a sense of independence and achievement to bring value and become a part of daily life. 
EdTech: Education is essential as more consumers gain access to financial tools. FinTech players can learn from the convenience and seamlessness of EdTech to access content from anywhere and anytime. 
Mobility: 15 years ago, you likely wouldn't have entered a stranger's car unless it was a taxi. Ride sharing apps have thrived by sharing driver profiles, encouraging driver accreditation and enhancing safety to build user trust. Build trust and security into your platform from Day 1. 
Download our expert report to uncover practical examples of how each of these cross-sector techniques can be tailored to enhance your FinTech product strategy.  
Star's FinTech report
Get industry insights from leaders like Mastercard, Passbase and Yapily. 
Download the report
Find your market-winning strategy with Star FinTech
At Star, we work with startups and enterprises alike to help them define their endgame and achieve it through end-to-end strategy, design and engineering digital finance technology services. Our expertise spans the FinTech and digital finance spectrum, including BNPL, PayTech, e-wallets, card schemes, venture building and much more. 
Preview how we help companies unlock more value through Design Thinking in this article about customer journey mapping. Get insights into understanding your users and how to create a journey map tailor-made for digital finance products. We even include a template you can start using right away. 
Move fast and launch successful FinTech with Star.