All of today's OTT platforms, such as Hulu, HBO Max, Amazon Prime Video and Netflix, bring variety at a hugely competitive price point. Netflix, in particular, boasts around 100 million subscribers globally who share their accounts between multiple users. Yet this popular platform recently took a hit on its stock prices due to a steep decline in its subscription base. Its decision to increase the subscription cost had the company lose 600,000 customers in North America. Additionally, the termination of Netflix services in Russia had cost the platform another 700,000 subscribers.
Retention is ultimately a result of customer satisfaction that comes through holistic product development. When customers feel valued by a product or service, they will become more likely to stay, which is what loyalty is in a nutshell. Customer retention extensively contributes to the sustainable growth of any business; with a retention rate of 5%, a company is able to increase its profits by 25% to 95%. It's important to take into account that today, on average, users take only 10-20 seconds to make decisions online. Moreover, 77-80% of customers have experienced new shopping behaviors through different channels since the pandemic.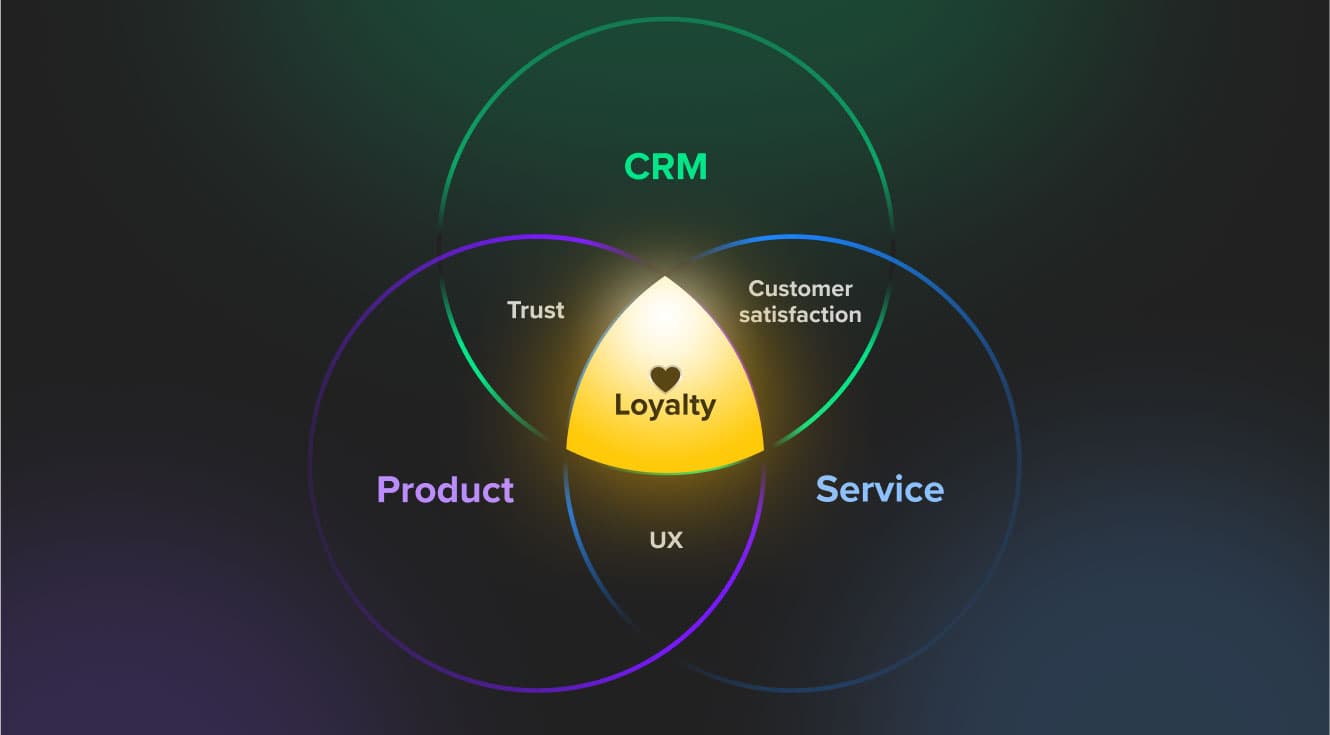 Hence, what are the key factors behind preserving loyalty in the product development process considering today's highly competitive digital landscape? Let's explore them now.
Traditional vs. Digital Loyalty
As more customer-facing businesses go digital, so does the approach of loyalty programs. However, the basic structure of the loyalty programs is still essentially the same, such as:
How brands choose and combine loyalty programs depends on their short- and long-term digital product strategies. Monetization from loyalty programs would traditionally be the result of when the customer makes a transaction. Yet such types of engagement severely limit the opportunity to deliver an emotional high. Today, the versatility of digital interaction and its ability to connect between different touch points allow brands to frequently engage with the customers.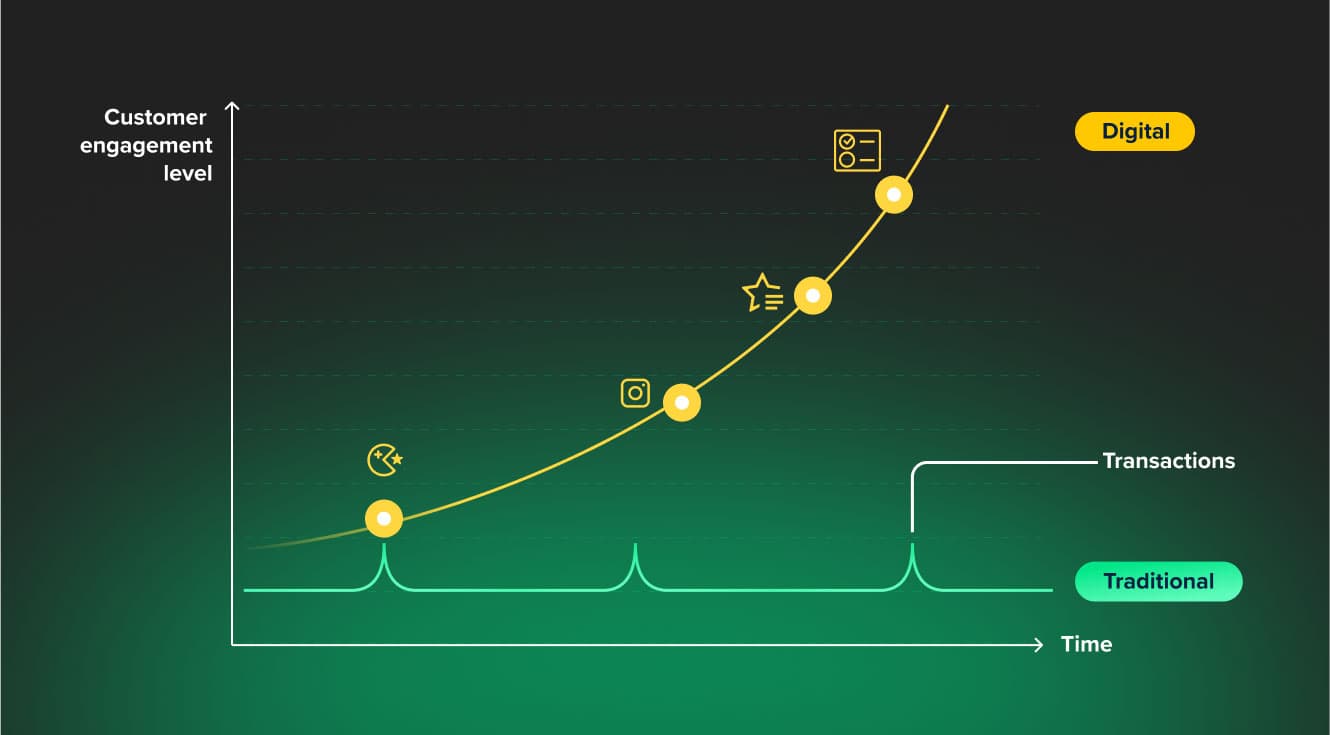 Source: antavo.com
Key digital product strategies that win big on loyalty programs
Now let's take a deeper look at today's digital landscape – and, more importantly, the key opportunities for harnessing long-term customer loyalty. A few of the world's most profitable and enduring brands have put these strategies to practice and yielded overwhelming success.
We'll break down two key opportunities, adaptable to any company's digital strategy, and how they can be incorporated within a time-tested product development framework.
Building a community by gamification
Starbucks, especially in the US, has shown how good they are at integrating multiple touch-point loyalty programs into their digital product development. They've done it by utilizing customer data and AI to create personalized engagement strategies to get their customers hooked. With a combination of point-based and tiered loyalty programs, Starbucks has provided its customers the access to exclusive games and personalized offers. It has leveraged on gamification to make their engagements attractive and entertaining. Gabe Zichermann in his talk at Talks at Google says that gamification brings 'intrinsic reinforcement' that engages users to address challenges and focus on winning, which leads to a sense of achievement and, thus, satisfaction.
Effective personalization and customer-centered user experience
Amazon's expertise in appropriate personalization, usage of omnichannel and efficient service delivery capacity helped them to retain 90% of its customers during the pandemic. While paid loyalty is competitive, Amazon has successfully utilized technology within its product development strategy to personalize customer experience in a way that has worked towards strengthening its customer base. Furthermore, the Prime Day event creates a sense of 'FOMO' (or 'Fear Of Missing Out') among people who are not part of the Amazon community. It has paid attention to keep its user experience on the digital platform and the experience in-between touchpoints extra simple, straightforward and thoroughly customer-centered.
Best practices for the product development process
To design digital products and services at Star, we've created a product development framework that allows us to make better decisions in driving Digital Loyalty among the diverse and tech-savvy users for their respective brands.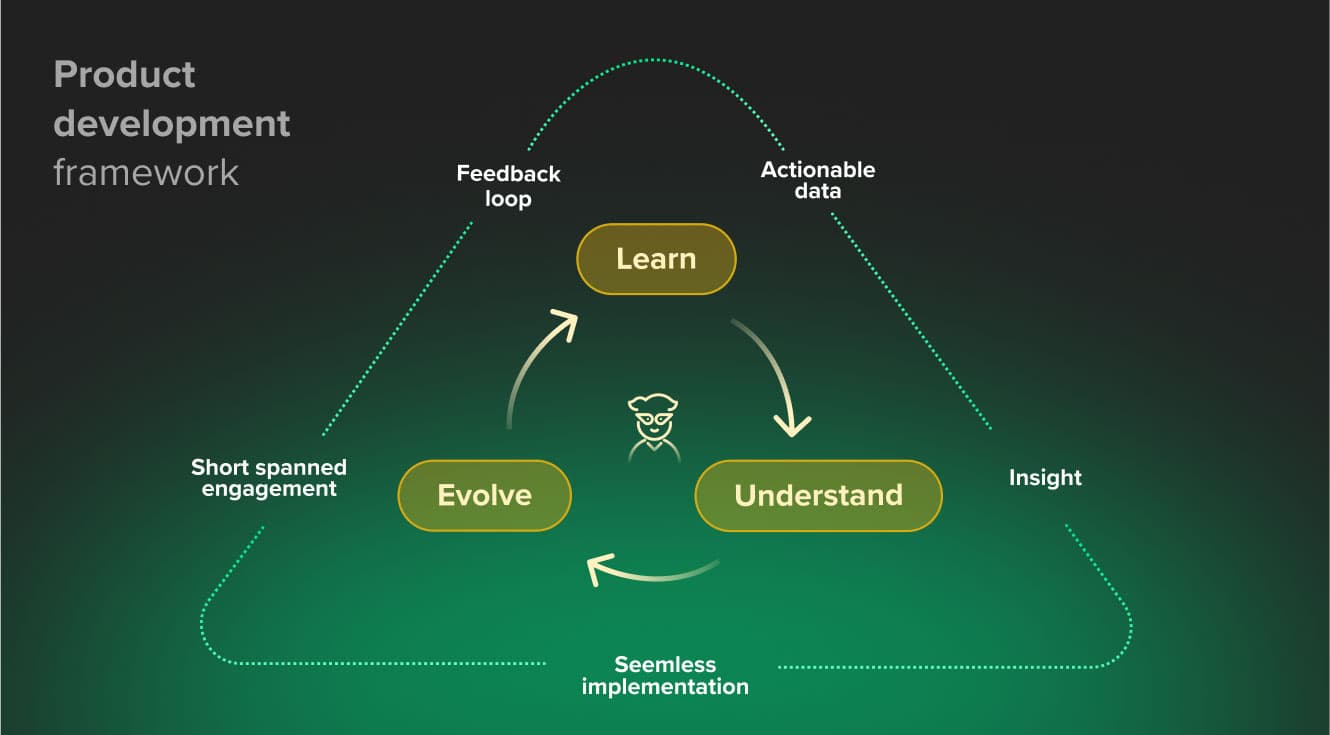 Learn
Get to know your customers: Within any product development strategy, it's good to create feedback loops in the customer journey for the customers to provide their feedback. This system brings engagement and opportunity for product and service development. Furthermore, it motivates the users to gain more trust in the product/service when they see their feedback taken into consideration. This has potential to be further translated into referral opportunities. 
Transform mistakes into opportunities: Making mistakes could also be a leverage point for loyalty if it is seen as an opportunity. For instance, a customer has complained after receiving a damaged product. As a response, the brand not only provides a smoother return but also rewards the customer for their patience. Such a service recovery mindset within digital product development fosters a strong and trustworthy relationship between the two parties, additionally increasing the chances of referral.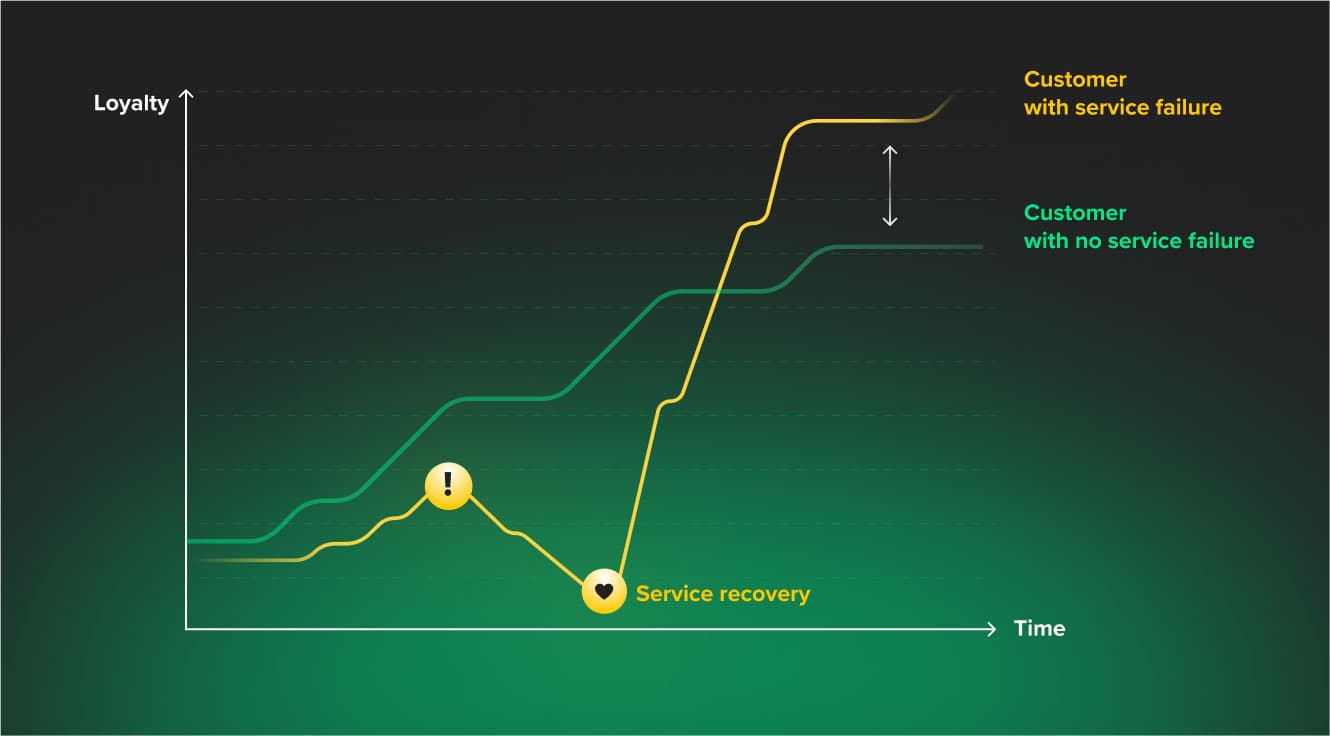 Understand
Data insight implementation: The relationship between the brand and its customers is no different than when two people meet and slowly become friends. Brands often tend to under-utilize their 1st-party data that provides the most effective way to understand their customers, including their unique needs at a deeper level of engagement. Deriving appropriate insights from the available user data and actively planning the implementation of these insights within the brand ecosystem are the most common challenges for brands during their product development process. That means mastering a strategic use of data and focusing on user-centricity are important keys to sustainable customer engagement, hence growth.
Evolve
Make it fun like a game: For any brand, the need of the hour is to be adaptive, agile and creative, considering the rapid growth of e-consumers. The combination of omnichannel and gamification is a powerful digital strategy to shape shorter but seamless and emotionally intelligent experiences, as it's important to not get customers bored with long and repetitive engagement patterns. What works best is frequent short-spanned engagements that keep the users involved and build multiple experiences worth being part of.
Nurture the team and the brand: Emotional intelligence is on the rise. In order to achieve a holistic transformation, equal attention should be given to nurturing the people associated and working with the brand. It's people that make a product evolve into a memorable service, not to mention with the help of technology. An unhappy employee behind the counter can never serve with compassion. Hence, it's also important to be empathetic at an organizational level while also training employees on what it means to be customer-centric in all aspects of their interactions.
In this digital landscape, loyalty is measured by the way customers feel being associated with the brand. Accuracy in personalization highly depends on the way data and insights are dealt with. Empathy is the lens to find the right gaps. As a result, the meticulous ways of research and usage of design methods can significantly help foster Digital Loyalty among users. 
Customers are always loyal to their needs. Therefore, the only way to go is to put individual customers front and center while designing any product-driven services.
Co-creating loyalty in every product development strategy
These days, the best way for a product or service to be truly disruptive is through high customer retention. In the recent 2022 Loyalty Report, 72% of respondents said loyalty programs are part of their relationships with brands and 74% said they're more likely to recommend brands with good loyalty programs. This highlights why it's critical that the product development process for companies, large and small, focuses on Digital Loyalty solutions.
Star's universal framework – learn, understand, evolve – offers the foundation needed for starting or reimagining your products in line with this globally competitive digital ecosystem. Customer expectations of the products and services they use are ever-rising – which is why we make sure a company's purpose closely aligns with its customer values through next-gen digital product strategy. From ideation to product launch, our collaborative team of strategists, designers, developers and engineers thrives on working closely with its partners every step of the way — and evolving together to ensure long-term customer loyalty.