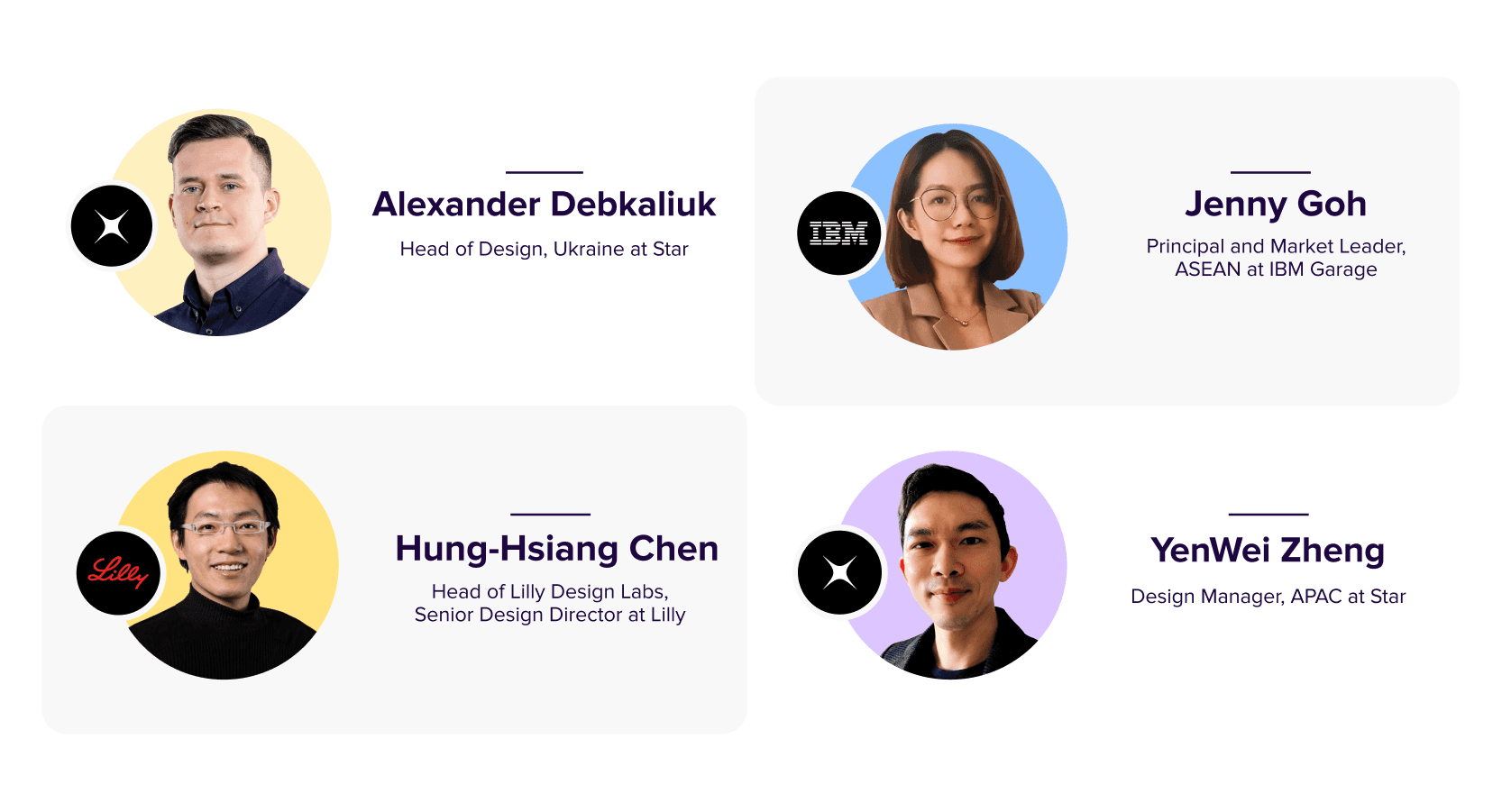 What exactly is enterprise design? Why is design so paramount for companies and end users right now?
These are just some of the intriguing questions that our experts explore in the latest episode of Shine podcast. Tom Wolf, our host, teams up with Alex Debkaliuk, Star Head of Design Ukraine, YenWei Zheng, Star Head of Design APAC, Jenny Goh, Market Leader at IBM Garage ASEAN, and Hung-Hsiang Chen, Senior Design Director at Lilly, to discuss the transformative role of design in their respective industries. Together they look at common obstacles and potential solutions, why shedding the traditional label of enterprise design makes sense, and much more. 
Below are the highlights from what our experts had to say. To dive deeper, make sure to listen to the complete podcast for a comprehensive look at today's enterprise design and its bright future.
The vital link between design technology and design solutions
The podcast begins by discussing why design is so important right now. The participants provide the following important points:
Design links technology and solutions. Hung-Hsiang, who leads Lilly's product design team, points out that understanding the system in which design occurs is essential to get a feel for its crucial role. This system must be scalable yet stay affordable. To meet these goals, designers must create solutions that empower the user. Designers provide the critical link between technology and solutions.
More competition drives the need for better design. Alex, the Head of Design in Ukraine, explains that design is always important but seems even more so now with more competition in the market. So, everything "has to have a good design to have that competitive edge." 
Designers are catalysts for business innovation. YenWei, Star Design Manager in the APAC region, points out that the use of technology in everyday life has increased design as it now is a crucial part of the decision-making process. Rather than simply supporting requirements, design now facilitates business innovation.
Subscribe on Apple Podcast   |   Subscribe on Spotify
Rather than using the term enterprise design, design at scale makes more sense
While enterprise software can focus on software design, it can have a broader definition. Jenny, who leads a team of designers and technical specialists at IBM, explains that this definition might traditionally have been true but, recently, enterprise design is "starting to close the gaps with consumer product design." Thinking about the users' needs is imperative, and that might require redesigning the experience to do so.
Alex adds that he would prefer to focus on defining what it is to design at scale rather than using the term enterprise design. That means that enterprise software refers to products at scale that have a big impact, such as controlling major infrastructure solutions. 
As Hung-Hsiang explains, enterprise design is about solving the problem for the person using the product. Quality design also involves creating a consistent product, meaning that everyone can use it in the same way, and it is scalable. This approach can save companies money and improve their efficiency. 
Good design considers many more people than only the end user
The dialogue then moves to the number of people who a product impacts. Hung-Hsiang explains that the design must encompass more than only the user; it must consider the rest of the value chain. Good design must also achieve balance with the product owner and stakeholders during the process and consider how to design to scale.
YenWei adds that designers must also follow the regulations of the particular company, and there are differences between these organizations. That means that design at scale must take into account their own company guidelines and the other companies and individuals they're serving too.
Enterprise design provides an emotional experience
Enterprise is not traditionally seen as having a lot of emotion. But enterprise design has an opportunity to change that. As Alex points out, the enterprise can tell a story "so that people can connect on an emotional level." 
Designers can achieve this effect by mapping out a concept of an improved experience for the end-user and combining it with a prototype live video and compelling statistics. Communicating that vision as a designer is as important as good design work and craftsmanship, says Alex.
The need for organizations to prioritize the designer's role
The conversation then moves to common obstacles in the enterprise design process. Having several stakeholders in the process can complicate the design process as everyone has different success metrics, shares Hung-Hsiang, based on his experience in healthcare. The priority then becomes difficult to understand as a designer because each one is important, from pleasing stakeholders to providing a quality end user experience, scalability and meeting regulation policies. 
Jenny adds that enterprise software can become outdated with time, but the team might continue to hold onto it because it is mandated within the organization to do so. If a designer comes in with a more user-friendly user interface, the team may feel threatened because maintaining the software is part of their job. That is a challenge Jenny says she sees often in enterprises.
She also stresses the importance of leaders within organizations emphasizing design to help improve the process for designers. Alex adds that the design team itself plays a role in facilitating change and empowering people. It's not about designers replacing decision-makers but instead connecting and empowering others.
Adding to that point, Hung-Hsiang says that generally companies often still underestimate the power of design or how to use the design. Alex agrees that many businesses still have a lot to learn about what design involves. He likens design expertise to a Swiss army knife with many tools within it to change an organization. When growing a design team, it is important to use all of these tools and empower people to make an impact.
Empathy is part of calculating ROI in enterprise design
Jenny replies that this is a tough question to answer as there are many ways to measure the return on investment (ROI) or success rate of good enterprise design. When measuring the efficiencies of what businesses do, there are two objectives: either making money or reducing costs. So, ROI then refers to how to make money and reduce costs, such as working faster in the design process.
For Hung-Hsiang, efficiency is a good start for measuring ROI, but it is a dangerous slippery slope. There will always be something faster and a cheaper solution. Value generation is also something to consider. Also, it is hard to measure team performance because the design is not pure technology or science. A big part of a designer's job is empathy and the human element, but measuring concepts like trust and beauty may not be possible.
As YenWei then says, empathy can lead to many new things. While there are many processes to follow as a designer, you can look beyond to bring new meanings and create new rules for the enterprise and the users.
Enterprise design increases communication and eases the workload in the healthcare industry
When asked how enterprise design significantly impacts society, YenWei gives geographic information systems as an example. These systems offer more than only navigation. The geographical data is also important for urban planners, traffic controllers, new startups, and more. 
In the healthcare industry, Hung-Hsiang provides the example of the electronic medical record system that replaced the traditional paper-based system and allows for ease of communication between doctors to reduce the workload and minimize risks of unnecessary misdiagnoses. 
Get the full insights on enterprise design
This is only a portion of what the experts shared about enterprise design. Find more about ROI, the impact of COVID-19, and redefining enterprise design by watching the entire podcast. The conversation includes the point that design involves much more than achieving a certain look and whether personalization or standardization is more important in enterprise design.
Play the podcast now to hear it all for yourself. While you do, check out this article on the future of enterprise design and its transformative user-centric approach. Get the most from enterprise design in your chosen industry, from HealthTech to Automotive & Mobility and FinTech.