In the US alone, the number of people who have tried buy now, pay later (BNPL) has grown 300% annually since 2018. By 2025, BNPL's global transaction volume is expected to reach $680 billion as customers continue flocking to it. 
There's a lot for consumers to love about it. Compared to credit cards which can charge upwards of 30% interest, BNPL can offer an interest-free alternative. The best part? You don't need a good credit score or even experience a credit pull to take advantage of BNPL yourself. 
Of course, it's not all roses. As with any other payment mechanism, the BNPL model has its challenges. On the merchant side, BNPL transaction fees can range between 2-8% plus a flat fee compared to 2-3% for cards. 
There's a lot of complexity surrounding BNPL. That's why we gathered four FinTech leaders from Star, Innovate Finance, Paidy and Visa to discuss what's driving the growth of BNPL, its long-term impact on the credit market, the future of payments and more.
Watch the expert discussion and check out a few of the key highlights.
Why is BNPL so attractive to consumers right now?
Our experts dove into what's driving consumers to flock to BNPL solutions. Anastasia describes how there's nothing new about installment payments, but e-commerce has transformed their appeal and availability, especially as an alternative to credit. 
It's all about the timeliness of the offer. Consumers are given a choice between immediately paying for something or easily splitting it into installments, creating flexibility. There's also clarity about the actual cost of using BNPL for the consumer. 0% interest is a tantalizing enough prospect to any buyer, but even late fees are clearly spelled out. Compare this with credit cards. They not only charge interest and late fees, but it's also difficult for somebody to understand how much they'll end up paying over several credit cycles. BNPL's transparency alone is a win. 
Szilvia points out something especially interesting, "In many countries, you can get a low interest loan to make large purchases on things like cars and houses. However, a mid-ticket item such as a laptop would have a high-interest rate if paid via a credit card."
BNPL's detractors may criticize how easy it is to spend (and sometimes excessively). However, this ability to provide access to many key items people need, from computers to home appliances, is truly revolutionary for consumers who would have otherwise struggled to afford them.
The advantages of BNPL services for retailers
Olivier points out how BNPL improves conversion rate and average order value by 85%. As he explains, "This is its original value add and that's why it's especially valuable to industries that have fairly high gross margins and high cost of customer acquisition such as fashion and electronics." 
Although BNPL transactions are higher than credit and debit cards, this is the reason they've become "table stakes for merchants in Europe," as Anastasia describes. They offer high approval rates, very little friction and quick check-out experiences.
In our report, we compile user research, in-depth insights from Mastercard, Paidy, Star and product strategy to help companies craft bold, end-game driven FinTech solutions.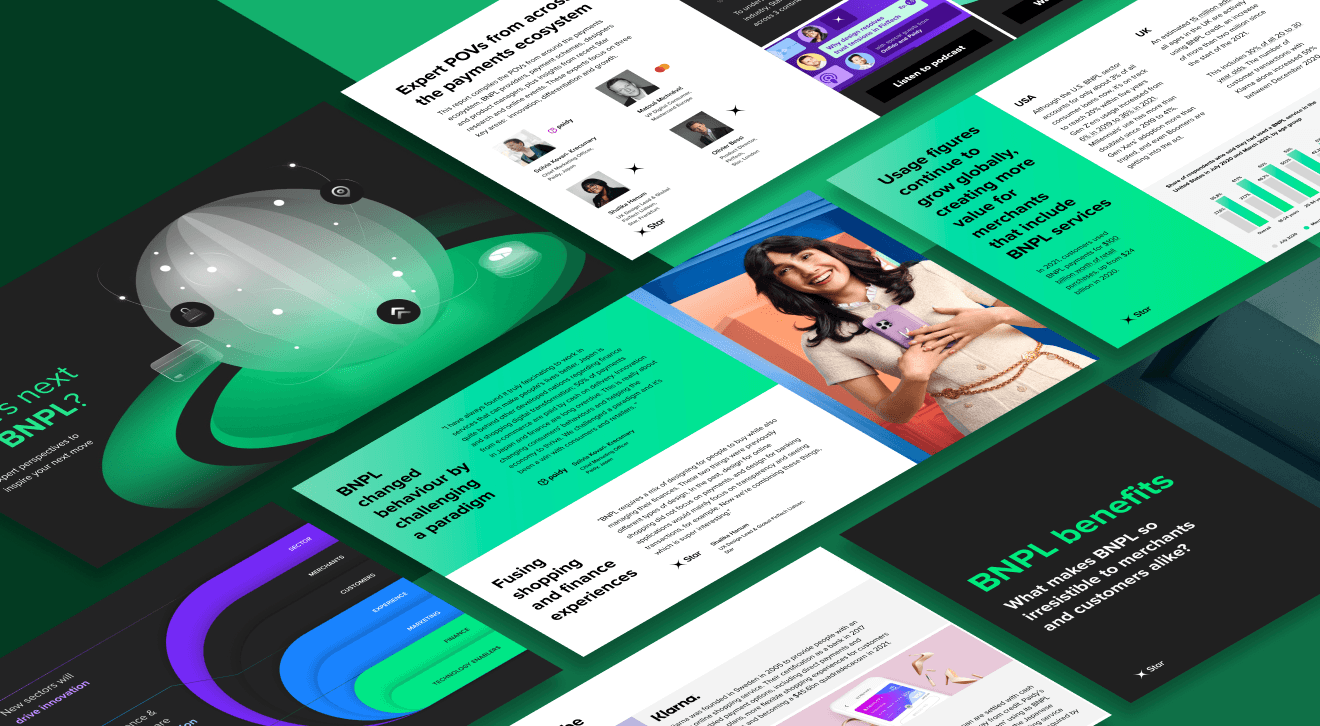 What approaches are BNPL providers taking to capture greater market share and drive further revenue growth?
While there is still an immense opportunity for BNPL providers to continue growing, our panelists note they will need to diversify their offerings to improve profitability. Anastasia explains this may even include "shifting away from 0% installment points or implementing a fixed transaction fee charge."
Olivier highlights the importance of BNPL providers focusing on "top of the funnel" activities and outlines a few different growth opportunities:  
Attracting new customers to merchants
Driving traffic and interest both to websites and brick & mortars by featuring certain merchants on BNPL apps or shopping portals
Highlighting seasonal selections and creating curated experiences 
You might be thinking that it sounds like BNPL providers are going to need to take on Facebook or Instagram to truly grow at the top of the funnel. But Silvia explains, "Instead, they can focus on their own niche and take advantage of the engagement opportunities within their ecosystem." You don't need to rival one of the world's top social media platforms. BNPL providers have already invested in their own consumer and merchant user acquisition costs anyway. Now it's just finding new ways to provide value to them. 
With Paidy, we co-created a BNPL-driven digital shopping experience. Learn how cultural adaptation, speed to market and FinTech innovation were key to success.
Watch the complete webinar now
BNPL is just one of the many emerging technologies transforming finance. From Big Data and analytics to blockchain and IoT services, Star FinTech can help you ideate, design, build and launch groundbreaking ideas that leverage the latest technologies and deliver unrivaled user experiences.