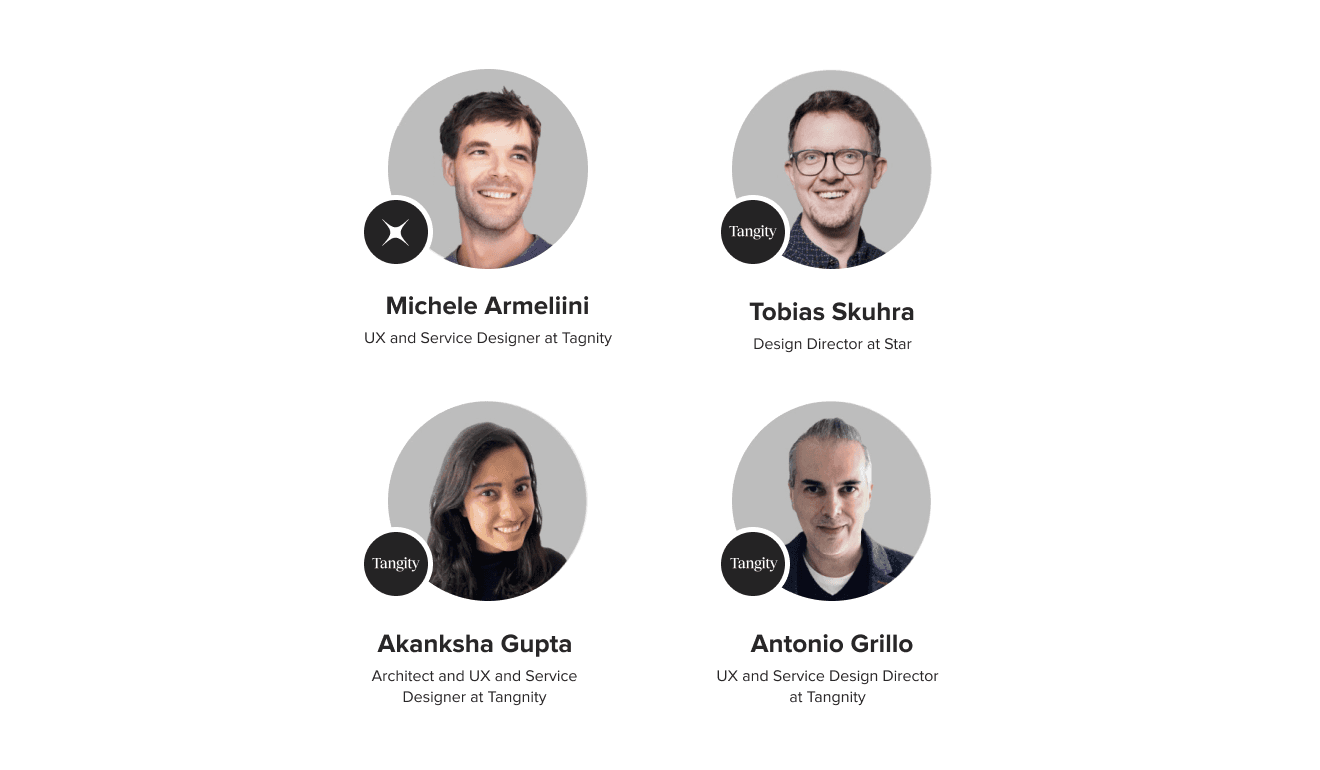 The early days of the pandemic were hectic, confusing and certainly not ideal conditions for the start of the first collaboration between Star and Tangity — a global network of design studios and part of the NTT DATA Design Network. 
But we had a client waiting for us to deliver an innovative mobility solution that would create a safer, more intuitive driving experience. So Star and Tangity rolled up their sleeves and did what we do best - design something that could transform the world we live in. With our combined resources, clients have access to an even broader range of experience and knowledge by working with a team of companies. 
In addition, Star and Tangity complement each other in their capabilities, regional presence, and partner networks. For our clients, this means getting from idea to solution even faster, more reliably, and more efficiently.
While the project details are still confidential, the teams recently met up virtually to shed light on core change drivers fueling the evolution of the automotive and mobility industry, including: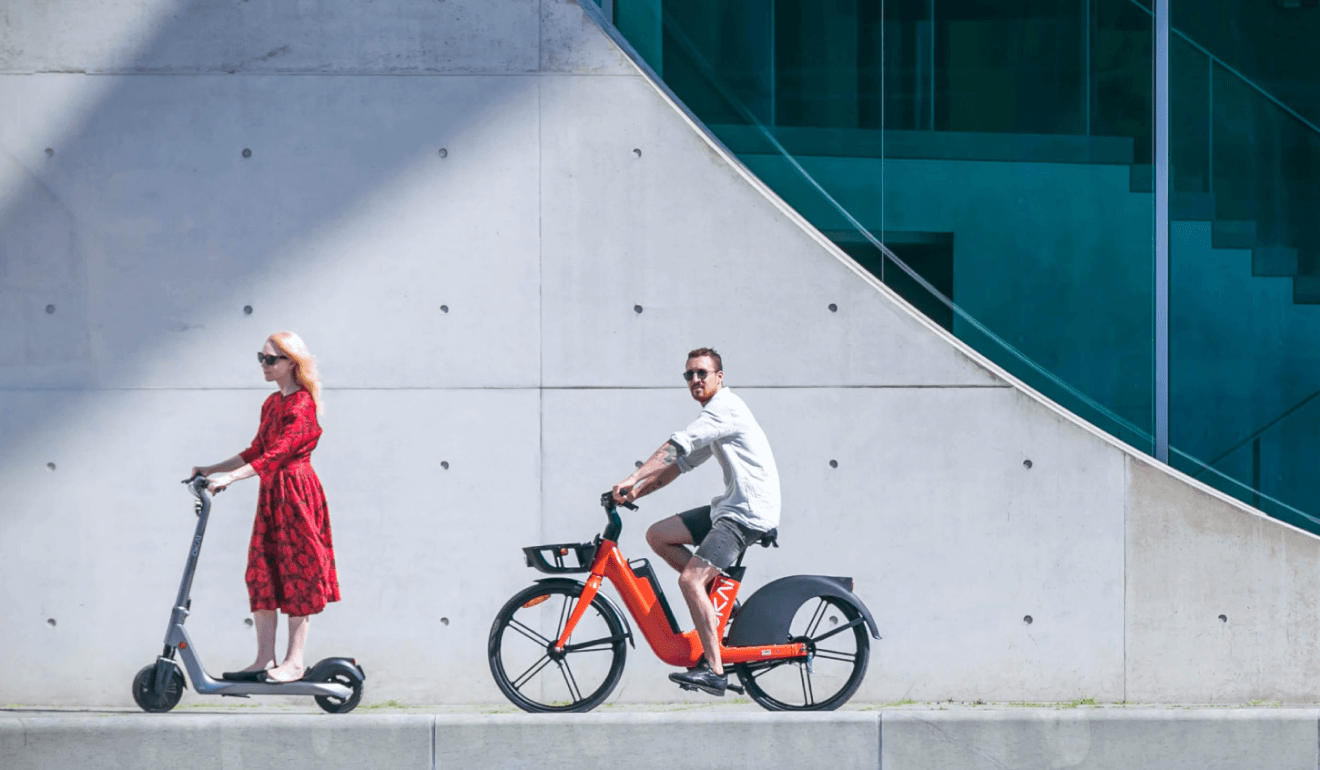 The experience comes first 
The mobility industry is rapidly transforming. Autonomous vehicles, EVs, shared mobility and many more developments are eroding traditional ideas over ownership, and even whether people actually can call themselves "drivers" for much longer.
For the first time, OEMs (original equipment manufacturers) are really paying attention to what's happening inside the vehicle. It's no longer just about the responsiveness of the steering wheel or how fast you can go. We are now seeing more space for other experiences inside vehicles as assistive technologies making driving less of a focus.
These changes are significantly transforming the industry. Michele described the "contradiction that's been happening in automotive design for years. Companies invested so much in mechanical interaction that they didn't evolve enough the way the machine communicates with the driver." 
In short, OEMS were mainly mechanical engineering companies with software only playing a minor role. With digital transformation so fully transforming the landscape, we're seeing this flipped on its head. Now, OEMs are embracing tech companies as partners because they can better deliver what today's consumers want - digitally enabled, holistic automotive experiences. 
Robots, cameras, AR, and more — discover next-gen trends and use cases in automotive HMI in China that will shape the future of driving.
Creating frictionless HMIs 
Mobility doesn't just mean cars. It refers to a range of different vehicle types each with its own unique requirements. 
For example, a two-wheeled experience is totally different from a car. On two wheels, things like weather, other vehicles, sounds and higher risk levels all decrease the amount of attention these motorists can pay to features. Whereas cars can offer much more complexity, two-wheelers cannot without risking the safety of the rider. 
This is where considering cognitive load truly becomes a matter of life and death. Regardless of whether we are talking about two or four wheels, designing great HMI requires removing friction wherever possible to ensure safety (among other benefits). It's about shaping the language between the rider and the vehicle by designing new methods of interactions that aren't just intuitive but take advantage of senses other than sight. 
Above all, HMI interactions must be seamless and complement the experience. It cannot be a bunch of beeps, bloops and flashing lights that people cannot understand. People should be able to enter the vehicle - or jump on it in some cases - and grasp what's in front of them. Great design enables this.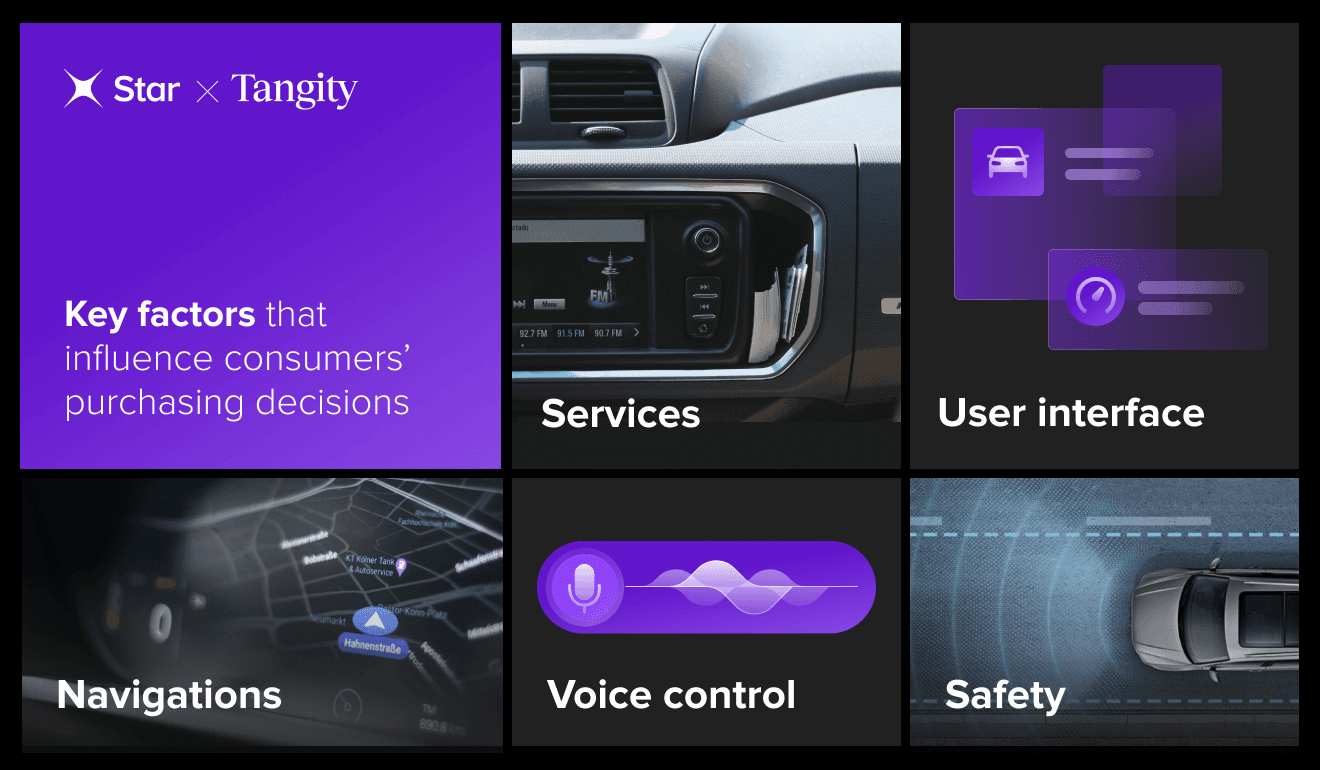 Key mobility insights from the Star-Tangity collaboration
Design is like jazz music. You can meet other people from very different places and start freestyling to create something meaningful.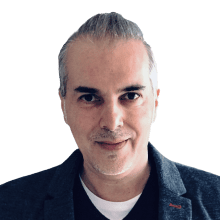 Antonio Grillo
UX and Service Design Director at Tangity
Based on our research and analysis, we discovered key factors that influence how consumers currently make purchasing decisions. Here is a selection of the insights we found: 
Looking into services, we found significant interest in peer-to-peer platforms, ride sharing and experience tracking. Likewise, a combination of physical touchpoints like test drives with digital engagements such as online brochures and a strong social media presence was found to be the best approach for motivating prospective buyers.
Safety is a top priority for all drivers. It's vital to be aware of what is going on around you, Proximity sensors, alerts, vibrations and other forms of feedback are all useful tools for increasing safety. 
For navigation, we uncovered important information that's equally applicable to all driving experiences. First and foremost, minimalism and simplicity are central. People want to be able to easily find their way and use any navigation system. Simultaneously, most people feel more comfortable staying within their smartphone ecosystem and preferred apps. 
Voice control is a rapidly emerging area but still needs to be enriched for most users. Visual cues won't go away, but they'll be augmented with voice functionality. 
Finally, in terms of UI (user interface), there's no one-size-fits-all solution. Intuitiveness is key, but so is adaptability to specific user needs. For some users, hands-free interactions like voice and sound signals are preferred, while others prefer simple screen gestures. Still, others prefer getting haptic feedback for confirmation of an action. Then some would be open to all three: haptic, visual and audio. Adaptability and flexibility here are thus essential. 
Looking into the future
The Star-Tangity collaboration was ultimately about building a solution that was still relevant even if there were no physical HMI. You can imagine something like it slipping right onto a bicycle, being part of a larger automotive experience or even integrating into a futuristic mode of transport like the Hyperloop. This is the future of the HMI and OEMs need to start pivoting toward it now. How can they leverage an HMI in an ecosystem impacted both by shared mobility and autonomous driving? 
One thing everybody agreed upon was the scaling role of voice and virtual assistants in the automotive experience. Voice-enabled virtual assistants are part and parcel of this future. They've already found their way into so many aspects of our lives, including our vehicles. However, there is one question we can't quite answer at this time. Will people have one virtual assistant that they use throughout their lives, or will they have specialized ones for different situations (i.e., in the car, at the store, online, etc.)? 
It's still too early to tell, and this is definitely where competition will heat up as OEMs increasingly become service providers and fuel their businesses with data as much as they do with vehicle sales. 
Mobility is evolving rapidly. It's hard to know exactly where the road ahead will take us. But, you can get off to a strong start by fueling your strategy with a strong collaboration between design leaders like Tangity and Star. 
Achieving excellence in mobility with Star 
Star creates stunning in-car experiences harnessing cutting-edge technology and an in-depth understanding of the customer journey across four dedicated Automotive & Mobility service lines:  HMI and infotainment, rapid innovation, applications and platforms.
See our capabilities in action in this recent case study about  SAIC OMT for MG Motors. We harnessed design insights to create a brand-new HMI experience that's already available in the market. Dig into this case study and see more about what Star can do to help achieve your Automotive & Mobility goals.