From idea to MVP: architecting software foundations for disruptive SaMD products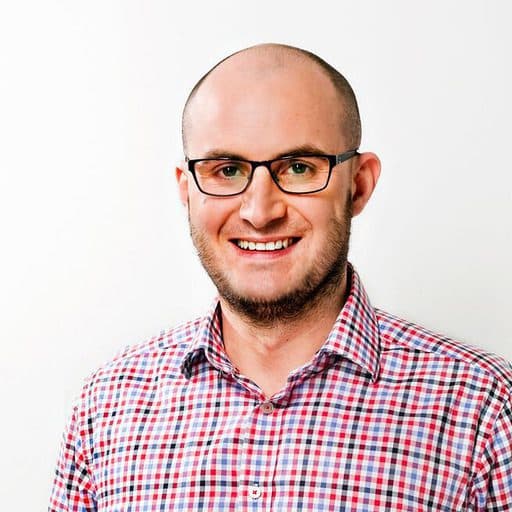 by Przemyslaw Palemba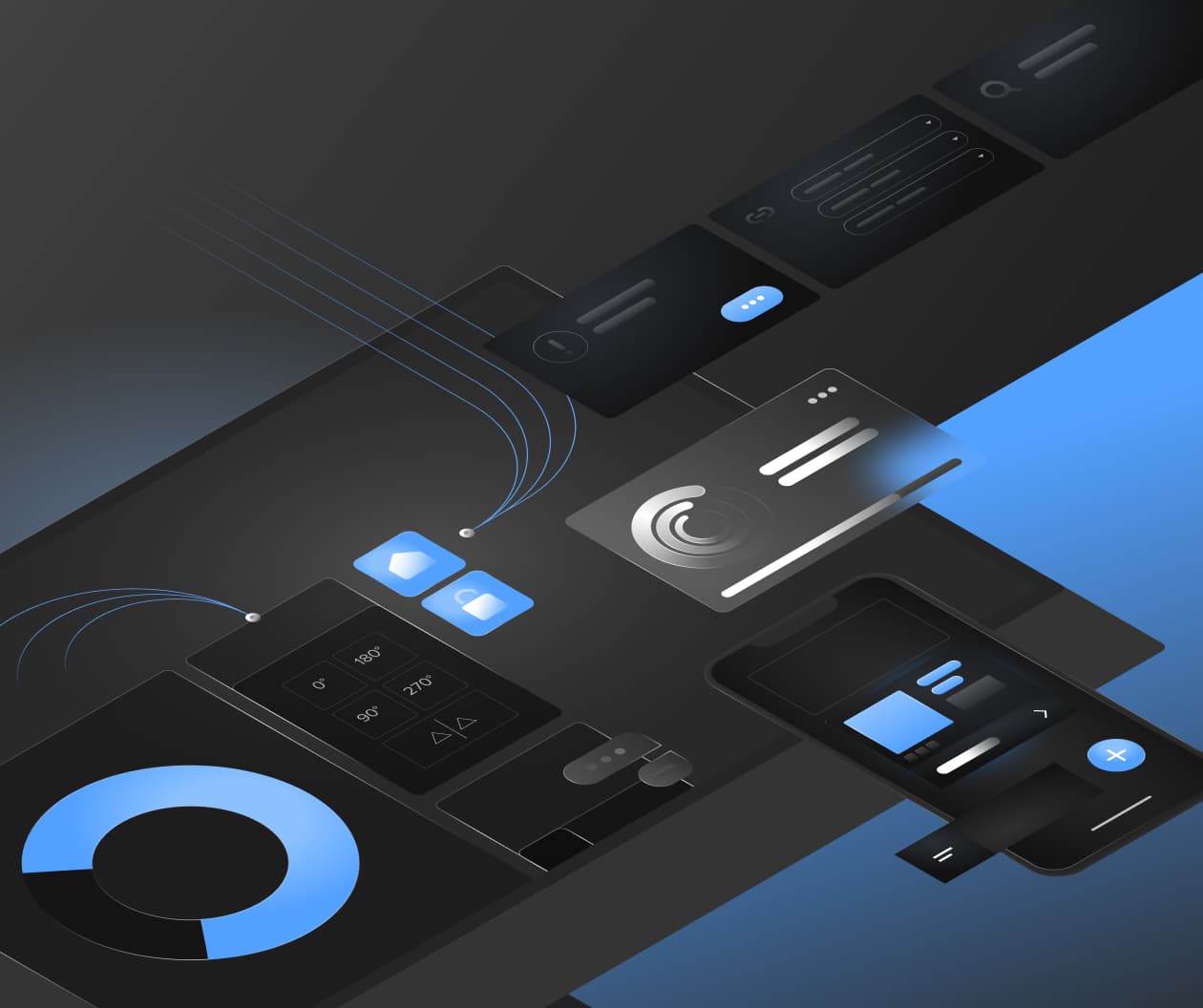 Emerging trends and technologies are pushing forward a new era in healthcare. MedTech and Life Sciences companies are evolving beyond the physical. Biopharmaceuticals are increasingly being augmented with digital therapeutics. Connected medical devices and SaMD (software as a medical device) are virtually universal. And wherever you look in the landscape, you'll find digital health technologies transforming care delivery, workflows and so much more. 
At Star, we ideate, design, build and scale flexible, powerful and compliant MedTech and digital healthcare software across a vast array of use cases. We create digital products that improve lives and are a pleasure to use. Our co-creation meets the evolving needs of companies from startups to legacy enterprises looking to embrace the software transition model.
In our recent collaboration with a disruptive startup, we co-created an AI platform that connects caregivers and their patients. It allows caregivers to track multiple patients at once and be aware of alerts and changes in health status. In addition, this platform has a wide array of different uses for helping companies develop their own connected healthcare technology. Essentially, it helps companies press the accelerator for medical device development by creating an intuitive and integration-ready platform.
In this article, we'll walk you through what it's like to co-create SaMD and other forms of digital healthcare technology with Star's HealthTech Practice through the lens of a recent collaboration with a dynamic medical software startup.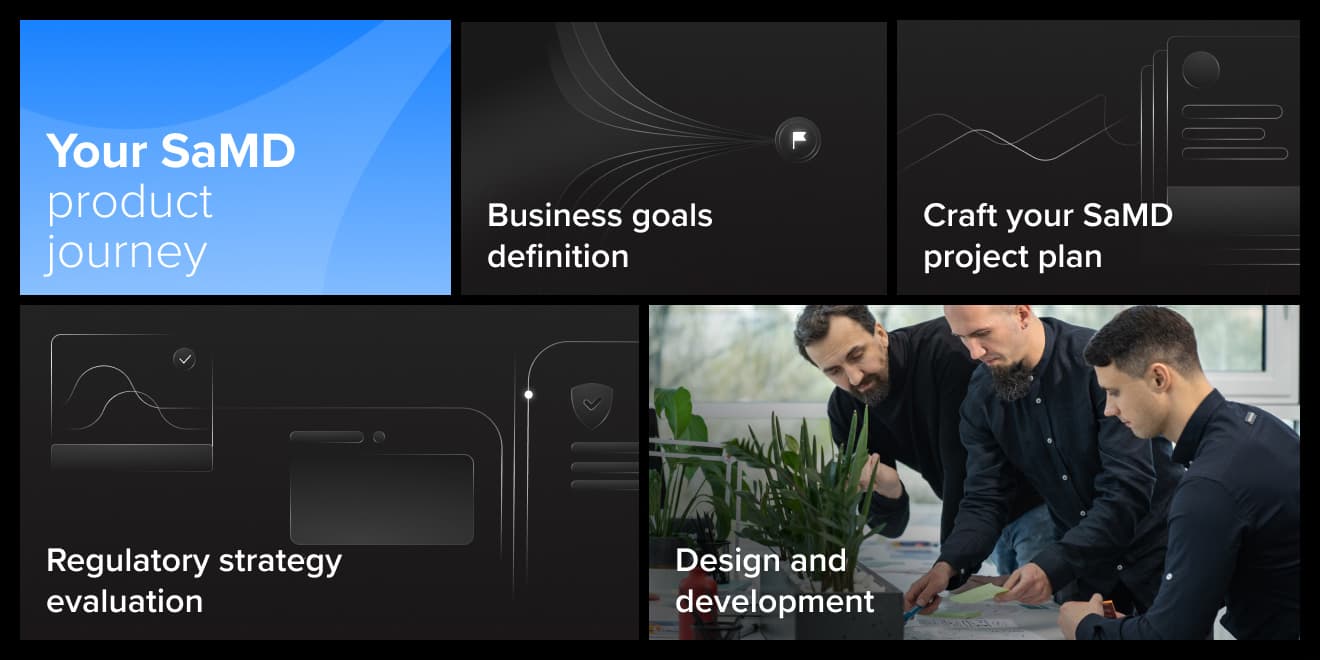 1. Understanding business goals
The goal of the project was to build a web-based platform available in SaaS B2B business models. The platform would allow medical device manufacturers to build software deployable components. The process of building such components would strictly comply with medical device regulations and standards. 
The concept of the platform targeted larger organizations working simultaneously on various apps as digital devices for medical application. The outcome of using it would not only include access to particular software components but also associated documentation—proving that they were compliantly built. Subsequently, such components could be later incorporated into more complex Internet of Medical Things products that would then take responsibility for specific data processing functions. 
For Star HealthTech, this was an excellent opportunity to co-create while also handling a majority of the responsibilities for the client. In this case, they controlled the product vision. But as a versatile technology partner, we handled the majority of the solution creation. Alignment and communication always remained central. Along the way, we hosted weekly check-ins with them for status updates and to ensure stakeholder satisfaction.
2.  Crafting the project plan
This is an incredibly exciting phase because it's when projects really kick off. We put our design skills to work, first collecting all necessary design inputs. This included the intended use statement, product requirements, regulatory strategy and usability study outcomes. 
Based on the conducted analysis, our project manager prepared a software development plan, a technology stack for the solution and initial architecture while also assembling the project backlog. This formed the foundation for what the engineering teams would need for efficient software development. 
Listen to the podcast
Changes in patient data access laws are creating new opportunities for medical device development. Dive in this episode of Shine: a podcast by Star.
Listen now
It's important to note that, as with many of our projects, our client didn't want to create an in-house engineering unit at this stage as they were focused on business and product development. So we delivered a full, self-managed project team with all necessary roles filled.
Product manager:  lead project execution, manage scope, performance, schedule and compliance 
Business analyst: turned the product vision into specifications for the software team 
Software engineers: implemented the solution, defined the final technology stack, design and architecture
UI/UX designers: worked on UX and detailed UI design focused on IEC 62366 ISO standards
DevOps: configured development tools and environments for solution delivery, also documented solution configuration, deployment and maintenance 
QA engineers: defined and executed verification activities and our Test Strategy 

On their side, they provided a product owner, risk manager and regulatory expert who worked with our team around planning, demo meetings, project feedback and milestone review. We took care of the rest to facilitate effective project delivery.
The result was an effective collaboration that allowed us to quickly iterate and develop the builder platform.
3. Evaluating regulatory strategy
The client didn't intend to put the product on the market as a regulated medical device. However, they did want to develop the platform according to medical device standards such as ISO 13485, IEC 62304, ISO 14971 and IEC 62366, reinforcing their commitment to efficacy and patient safety.
Medical device regulations require medical software to be developed under a certified quality management system (QMS). So, we used Star's IEC 62304-compliant Software Development Life Cycle (SDLC) to expedite the process. For our team, this was a highly efficient process because of our significant experience in compliant medical device development. 
Ultimately, we not only delivered a working platform but also project documentation and other records vital for the result. Consequently, pre-development, design and development phases were all accomplished in compliance with regulatory requirements while being on time and on budget.
4. Developing medical software as a service platform
The MVP version of the system enabled the client to deliver the first version of the solution to the market. From here, they received feedback from the end users, pursued business opportunities, and planned the next versions of the product, enriching it with more sophisticated features. So far, it's been the success they were aiming for. 
For the Star HealthTech Practice, this was another excellent experience working on cloud-based software as a medical device platform. Our engineers:
Worked on dynamic scaling of system resources, medical software as a service model,
Created a user interface dedicated for medical device product teams,
Developed architecture patterns for the Internet of Medical Things, containerization and virtualization,
Prepared the MVP for clinical evaluation and many interesting facets of software as a medical device development.
Closing thoughts from Star's HealthTech Practice
Software innovation is driving the future of healthcare, and the fuel is data. As more device manufacturers, pharmaceutical companies, payers and others embrace digital solutions, it becomes ever more important to work with the right development partner. 
Our HealthTech Practice combines strategy, design and engineering and regulatory consulting into a seamless workflow streamlining development and accelerating your time to market. Launch astonishing MedTech and digital healthcare products, exceed business goals, deliver exceptional value to the end user and help your company prosper with Star.
Let's get in touch!
Set your sights sky high. Discover what Star's HealthTech will help you accomplish.
Contact us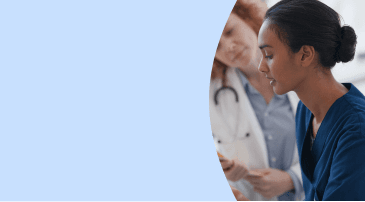 Learn about our HealthTech Practice
Plan, design and build groundbreaking SaMD and digital healthcare solutions with Star.
Learn more