Arthritis, joint pain and other circulatory system issues don't just cause pain but limit mobility. This impacts everything from mental health to the simple ability to get to and from work. Imagine creating a HealthTech product that could help millions of people live better lives and define your brand as a HealthTech leader.  
More than 350 million people worldwide have arthritis. And that's just one of many conditions that can limit mobility, cause pain and generally lead to a lower quality of life. 
Helping people with arthritis and mobility issues live a better life is the mission of one of our clients, a leading global rehabilitation service that produces an electrical muscle stimulation device to boost circulation.  
They've sold more than two million units across 13 countries worldwide, including the EU, the USA and Australia, since launching in 2005. By stimulating the circulatory system, their devices help with conditions such as:
Diabetes 
Lower leg pain 
Chronic obstructive pulmonary disease
Osteoarthritis
High blood pressure
Swollen feet 
Peripheral arterial disease 
Chronic venous insufficiency 
It's also an excellent solution for those who might not have a diagnosed medical condition but experience a general discomfort in their legs and feet. They already had a great product on their hands. We helped them make it shine by focusing on the right medical device product development strategies.
Get a look into how we help companies create products that achieve their endgame,  transform lives and win them loyal, lifelong customers. This is one of the projects many of Star's HealthTech Practice members are most proud of – so much so that they've gone out and bought the product for either themselves or their loved ones.

Learn key insights needed to build a better medtech products and SaMD solutions.
A great product: so why wasn't it thriving in the market?
Our client already had a great product on their hands. In fact, it was on the market when they started a partnership with Star. Even before we were involved, its benefits included: 
Reduced leg pain, cramps and swelling 
Increased circulation 
Increased flexibility
Improved muscle strength
By all accounts, they had a winner. So why weren't they getting the traction they wanted? Why were people even returning the effective muscle stimulation device after only a couple of days?
The issue was one that every healthcare business, whether they are in pharma, medical devices, SaMD (software as a medical device) or any other segment, faces. Overnight miracles – especially for chronic conditions – don't happen. It can take weeks or even months to see health gains. So the question is then: how do you keep people engaged and using a product until they start seeing those results?
The Star HealthTech approach
The client reached out to Star to help with their digital strategy – a vital consideration for everybody in the medical device market. Unless you're making a tongue depressor or scalpel (and even these could include a SaMD component nowadays), you should expect your device to be connected and a part of the larger digital health ecosystem. 
Our client was looking for a company that would co-create, develop and support CE marking of the software as a medical device (SaMD) component to complement their existing hardware. Essentially, we were responsible for the digital life of their physical product. 
And this plays a major role in product success – whether you're talking about patient adherence or achieving regulatory approval. We transformed the SaMD portion of the product to achieve Class IIa status by harnessing our Quality Management System, years of expertise and strength in developing AWS cloud-based solutions. 
We needed to create a secure, flexible, compliant and maintainable product that could last over the 10 years+ of predicted SaMD product life span. Moreover, the client had global ambitions, which is why you can now find their product on the shelves in the US, Canada, the UK and other countries. 
Our co-created solution 
At Star, we always walk alongside our clients to help discover their true needs. They had the hardware in place. We complemented it by co-creating their SaMD services along with enterprise software, delivering the following advantages compared to the earlier version of the product: 
Patient control of the stimulation device improving patient user experience (UX)
Personalized therapy to end-users based on their individual targets and therapy outcomes
Increased engagement through gamification and other techniques thereby increasing adherence and improved therapy results 
Enhanced end-user adherence to assigned therapies resulting in improved health and wellbeing
Context-specific content, personalized assistance and direct support, helping the patient to use the device better
Supplementary health services at home and system analytics data for health institutions
Sent usage data to the medical device backend system, enabling our client to better maintain and identify future device improvements based on usage patterns
In short, we used our digital tool kit to create a solution that would keep people engaged and motivated to use the product even before they physically achieved the results they wanted. This was more than just building in a few milestones, but began by deeply understanding what drives patients to stick with the device.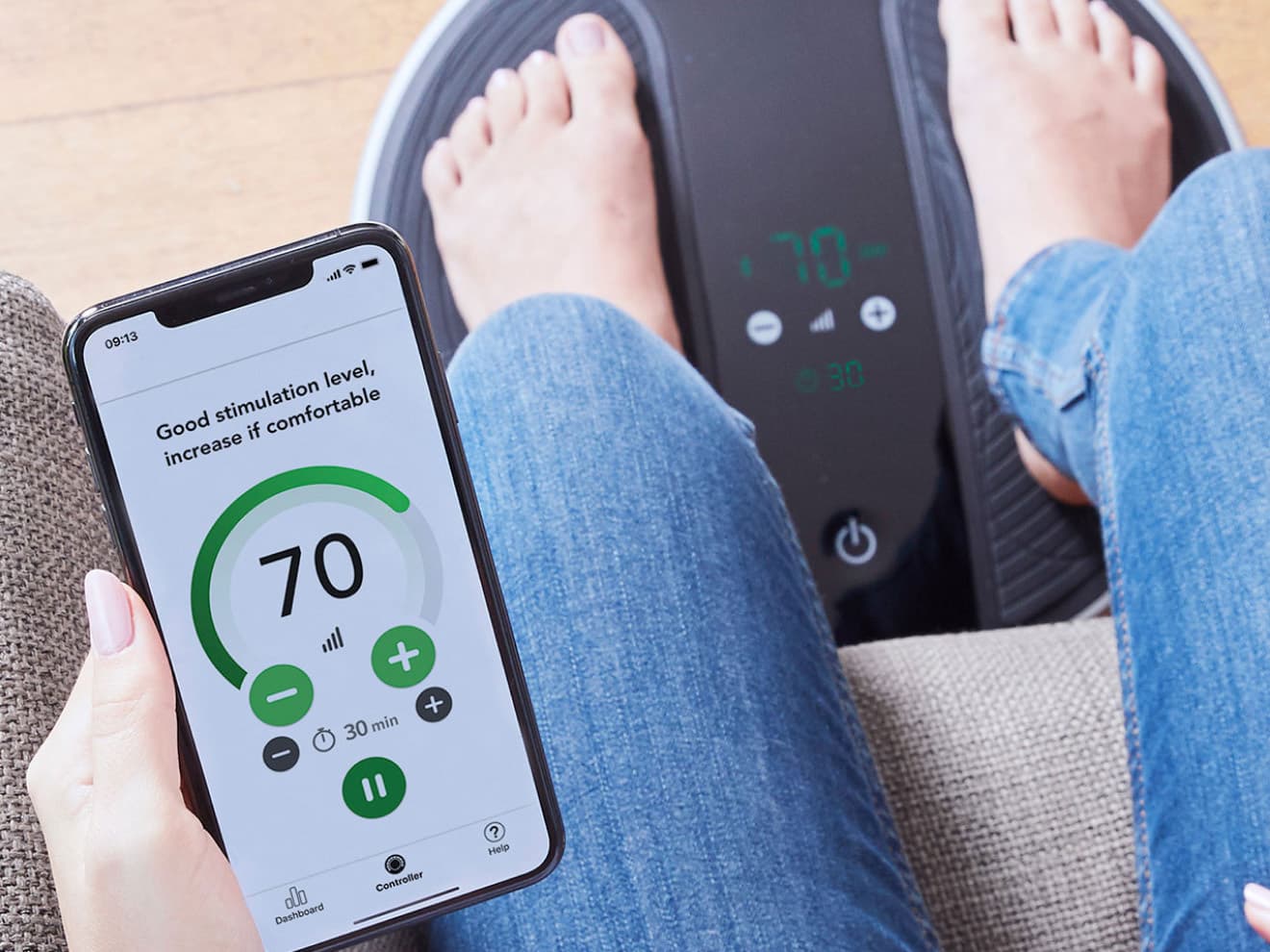 Technical considerations 
Developing our client's SaMD solution required designing an appropriate architecture and technology stack. Since they were targeting the global market, we had to be ready for multi-site deployments across varying regulatory regimes. 
To architect an effective IoMT solution, we leveraged Amazon Web Services (AWS) to assure horizontal and vertical scaling, making our solution service easily expandable from the infrastructure perspective. It moreover allowed maintaining control in terms of monitoring, identification of software units, simplicity of integration and a split into the verification/testing activities.
We took a similar approach to the technology stack and corresponding mobile apps. Our main goal was to ensure cost-effective software maintenance over its 10+ year lifespan. As a result, all of the business analysis outcomes were well documented in our ins2outs system (ISO organization management) in the form of user stories, mockups, detailed designs, requirements and other business analysis outcomes. This helped us meet all IEC 62304 requirements. Most importantly, this meant creating a manageable system vision that sustains throughout the lifetime of a product.

A triple threat to limited mobility
Ultimately, we developed three medical device products within the scope of the Internet of Medical Things centered around iOS, Android and Cloud products. This included interface design, cloud storage and regulatory information needed for market compliance. 
We also created an intuitive step counter to easily track how mobile they were based on device data. From the user perspective, visually seeing these gains has been key for long-term adherence, especially if they have yet to experience significant health benefits from using our client's product. Our solution keeps users engaged to realize the advantages of improved circulation, mobility and reduced osteoarthritis. 
To this day, our Service Provision team installs, validates and keeps the product in production environments operational. We also provide Level Two technical support taking responsibility for service provisioning for AWS infrastructure technical maintenance. 
Our client took a major step forward in executing a strong digital strategy that boosted their sales and brand. In effect, we transitioned them from unconnected physical devices to a connected health service leader. This has armed them with an essential tool every healthcare business company today can leverage – data. Data from earlier iterations of the product has helped evolve them over time through a deeper understanding of users and device usage patterns.
Developing world-class IoMT breakthroughs with Star
These are the types of win-wins we deliver at Star HealthTech. We help our clients navigate complex technologies and regulations to create products that transform lives through strong, lasting partnerships. That's why we are working with today's leading pharmaceutical, DTx, IoMT, MedTech and Med Device companies and develop user-centric products that harness technology to deliver better outcomes for all. 
Image source: jbhifi