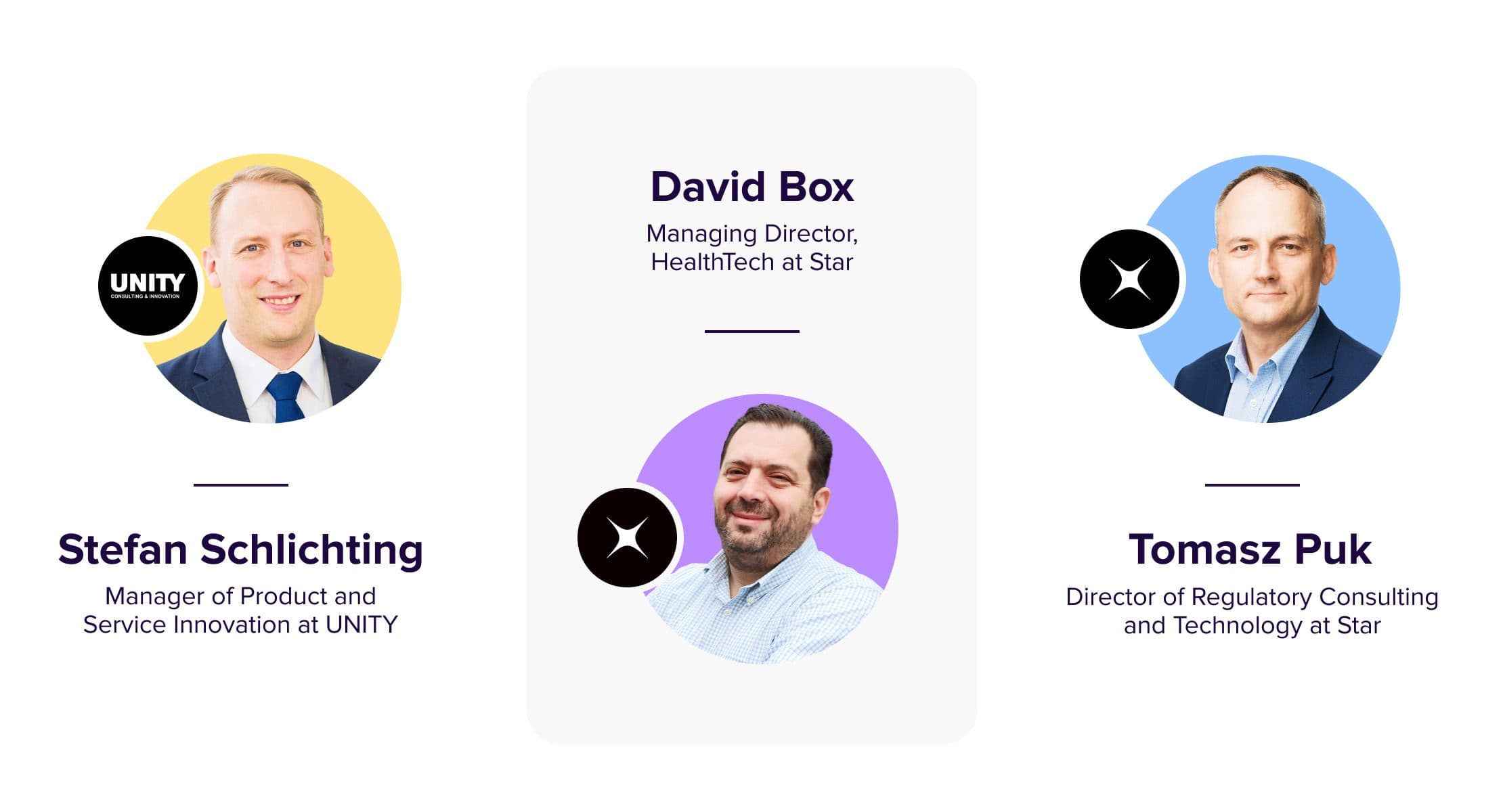 Dig into what MedTech-focused companies need to know about medical device regulations, key technologies and the best approach to bringing a product to market in this episode of Shine: a podcast by Star.  
MedTech is evolving quickly. Transformational technologies such as artificial intelligence, voice assistants, cloud storage and augmented reality are increasingly extending the capabilities of providers and healthcare businesses to deliver value-based care, improve patient outcomes and optimize workflows. 
To realize the full potential of these technologies and navigate the regulatory environment, MedTech companies need new business models and approaches. That's why we gathered three industry leaders who've successfully brought countless MedTech products to market. They share their insights on the strategies that MedTech-focused companies need to embrace to be successful now and in the future.
The challenges of medical device development
The discussion kicked off with a look into major challenges MedTech product builders currently face. First and foremost, they must consider EU Medical Device Regulation (MDR) and FDA software as medical device guidelines at every stage of development. Moreover, they must simultaneously be able to: 
Engineer mission-critical software: Tomasz shares how these products are highly technical both in their own design and as part of larger systems that must communicate with edge devices and end-users, present data in various ways while maintaining compliance and, of course, deliver on the intended medical purpose. 
Achieve diagnostic goals and interoperability: Stefan describes the multidimensional objectives companies need to hit, including "quickly bringing compliant products into the market that achieve diagnostic and treatment goals while being interoperable with medical devices currently in the landscape." 
Develop modular MedTech: David highlights the opportunity medical software development creates for modular product creation. But it's critical to know the boundaries between medical and non-medical device components to be able to "make changes more readily without having to resubmit the entire system." 
Create new business models around these products: Many established device manufacturers never had to think about how their products would function in the digital health era. Tomasz emphasizes "it's time to build business models which are fit for purpose around connected MedTech and serve both end-users and organizations." 
Put the user front and center: With all of these milestones to hit, it can be easy to forget about who ultimately will use the product. As David explains "At the end of the day, you also can't lose sight of the user. Adding complexity into workflows can risk a product's success. Seamlessness and engagement must be baked in from the beginning of medical product design."
Subscribe on Apple Podcast   |   Subscribe on Spotify
Pushing healthcare into new frontiers
The shifting focus in MedTech from hardware to software presents numerous opportunities for both startups and established companies to deliver products that leverage new technologies and embrace new care models. 
Companies must be prepared to innovate and think boldly throughout the patient journey and see where they can provide value to providers and other ecosystem stakeholders. 
Our global healthcare system is under immense strain. David explores, in particular, the critical need to start building an infrastructure to support our aging population. "We must bring healthcare into the home. The result is not only better and even preventative care, but also the ability to reserve resources for those in dire situations." 
David goes on to note as we look into the future of healthcare, we need to create the foundation for systems and technologies that work with each other "as opposed to working in disparate silos. This will ensure they actually get adopted, used, monitored and continue to be involved."
Achieving this will be no simple feat. First, we need legislative changes around reimbursement practices for physicians so these tools are adopted from a business perspective. Fortunately, we're seeing a silver lining in that the pandemic has accelerated the adoption of these technologies. Now, the regulations need to keep pace. 
The emergence of standardization
Though MedTech companies still face this uphill battle unwinding technical and regulatory challenges, Stefan notes the substantial progress that has been made in recent years. This starts with the "technical foundations that have been created such as the broader adoption of FHIR as a standard." 
Tomasz picks up on the advantages of standardization, noting that "newcomer manufacturers, in particular, should understand that by connecting these systems, we will create patient benefit in the end."
Leveraging new MDR regulations as an advantage
New MDR regulations rocked the MedTech world earlier this year. They include changes to device classification, device scope, stronger Notified Body oversight of manufacturers, the requirement of UDI device marking, increased post-market surveillance activities and more. 
Looking at in-vitro medical devices, the impact cannot be overstated. Tomasz explains before the change, "about 75% of in-vitro medical devices could be self-certified. Now it's down to around 25%" which means manufacturers will have to bring their product to notified bodies for CE Marking in the EU. 
These MedTech products must now be developed under quality management systems and be audited once again by an independent body. While this puts short-term pressure on medical device manufacturers, this is quite a positive change because it should help push the industry towards making higher-quality products.  
Crafting the best strategy for MedTech development
MedTech development is complex. Companies need a partner to help them navigate both the regulatory challenges and the full end-to-end product lifecycle. 
This podcast episode was the first since our acquisition of Pro4People. It was an opportunity for Managing Director of HealthTech David Box and Tomasz Puk, Director of Regulatory Consulting and Technology (and formerly CEO of Pro4People) at Star to discuss our extended HealthTech offering. 
We've increased our ability and skill to deliver even more value for our clients and further upstream by providing regulatory consulting and stronger domain expertise to the table. This extends all the way through medical device design and development, enhanced post-market surveillance and beyond.  
Dive further into what you need to know about developing user-centric, compliant medical devices. Listen to the complete podcast, and while you're at it, explore more about the Star HealthTech Practice's capabilities now.