What will the future of healthcare look like? Star and Magic Leap recently joined forces to answer this question and many more, providing core insights healthcare businesses can leverage now to start leading ecosystem evolution. 
Together, they envision a digital health-fueled care model that pushes activity away from hospitals and into the community, especially the home. Simultaneously,  as care delivery becomes increasingly decentralized, the coordination of it will become less fragmented. The result will be a more effective approach designed to meet the quadruple aim: better health outcomes, lower cost of care and improved patient and staff experience.
Digital health-enabled innovation is accelerating new models of care. Watch the webinar and download the report to get insights into what you need to know.
You will discover: 
Key trends and change drivers fueling the emergence of new digital health technologies 
What a coordinated care model will look like and its types of care functions
A look into how coordinated care will impact the lives of three key stakeholders: a patient, a specialist and a community nurse 
How to start delivering on these technologies that are already shaping healthcare
HealthTech industry change drivers
The past year has shown the urgent need to create robust, resilient and sustainable health systems in the long term. 
We must start solving the systemic challenges plaguing healthcare, starting with meeting the needs of our aging population. Today, 8.5 percent of people worldwide (617 million) are aged 65 and over. By 2050, this will jump to 17 percent of the world's population (1.6 billion). 
The healthcare system can hardly manage now, let alone when this population doubles. Combined with projected labor shortages, many people will not be able to access the care they need as they age. 
Simultaneously, healthcare continues to grow more expensive, projected to reach $8.8 trillion by the end of the year. This is a global problem that's putting downward pressure on economies and creating numerous social and political issues. 
These challenges are also key opportunities for innovation. We've learned from COVID-19 how effective healthcare systems can be when they harness data-driven insights and increase the use of digital health tools.  
The path forward will be illuminated by integrating these tools into a comprehensive, integrated and coordinated care approach. 
Why it's time to focus on care coordination
When doctors, nurses, caseworkers, specialists and other HCPs collaborate, outcomes improve. This is the foundation of care coordination which has long been hailed as a more efficient and accessible approach to boosting outcomes and patient satisfaction.
Care coordination is an integral component for the success of the value-based care revolution: 
Key Insights:
Fueled by interoperable data in a secure healthcare ecosystem, care coordination will become more centralized and a focal point for streamlining and improving patient treatment.
As care delivery becomes increasingly decentralized, care coordination will grow more important until it becomes the backbone of healthcare. 
We base these assumptions on the continued decentralization of healthcare. Over time, most healthcare activities (especially those currently in hospitals and other clinical environments) will be pushed further into the community and especially the home. 
What would a care coordination center look like?
Star and Magic Leap described how care coordination centers would operate from one of a series of operations centers or "control towers." Here senior-level decision-makers and specialists will physically and virtually gather to coordinate and execute care delivery across communities. 
Thus, the future hospital is better conceptualized as a network, not a building — a network of specialized, targeted points of care dispersed across the community and designed to meet the varying healthcare needs within a community more effectively.
Powered by data connectivity and digital health technologies, centralized specialists and other healthcare professionals will coordinate nurses and primary care physicians and will be responsible for organizing care across every level, including: 
Care management for chronic diseases: Predicting optimal patient pathways and advising where to receive treatment while facilitating access to patient data, current treatments and other valuable data in one centralized location (i.e., their PHR) to benefit patients, primary care, specialists and other stakeholders. 
Centralized data and insights: Data from the EHR (electronic health record) will be augmented with RPM (remote patient monitoring), DTx (digital therapeutics), and PHR (personal health record) data from multiple sources. Smart software will then aggregate, analyze and highlight content across these different sources to provide relevant, timely and meaningful insights to users. 
Population health management: With analytics and outcomes monitoring, population health management becomes more effective. Specialists will analyze data from wearables and other connected tech to forecast infectious illness, track community-wide health issues, including chronic conditions to put together appropriate interventions. 
Capacity management: The center will provide clinicians with an overview of current and forecasted facility capacity, allowing them to coordinate patient flows and allocate resources efficiently. 
Asset tracking and maintenance: Besides monitoring health data from PHRs and EHRs (personal health records and electronic health records), care coordination centers will perform critical back-office functions and track and distribute medical devices and supplies across the spectrum of care delivery.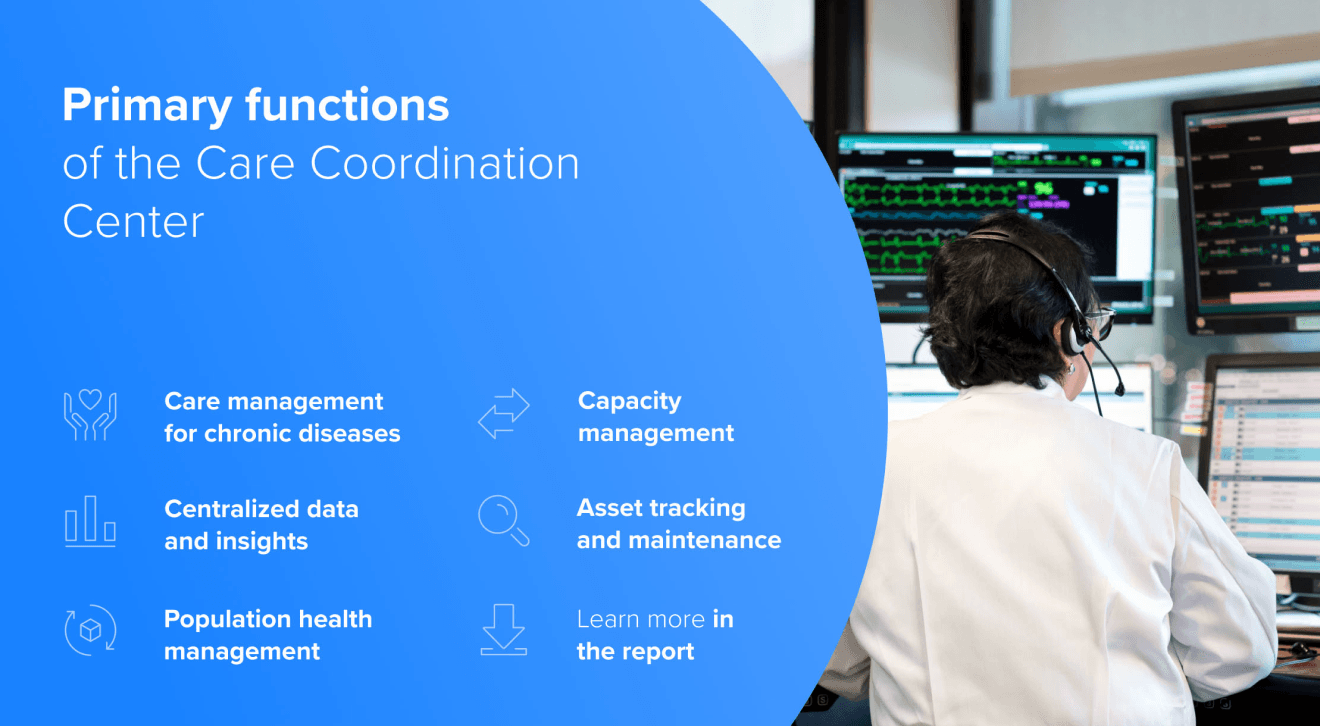 Facilitating greater data access
Care coordination implies that the coordinator has the information they need to coordinate that care. Traditionally, data sharing has not been a strong suit of the healthcare industry. Times are changing and healthcare data is starting to move beyond traditional silos. This is a vital transformation because the hospital of the future will need to leverage much more information than they can currently access. 
Traditional EHRs exist to support physician's recording their notes and to identify and document billing codes. They were never designed to share data. Even sharing patient information from one department to the next is not always easy. To address that, we've created broad networks and HIE's (Health Information Exchanges) to facilitate sharing information, but these models rely on patients remaining inside the network.
Now, with new data access rules, patients will have largely unfettered access to their medical records and will begin adopting health wallets. They will connect to all the different institutions where they receive care and create a digital copy of their medical history. This medical history will be much larger and more comprehensive than any one institution can hope to maintain, especially as we consider patients who move to different parts of the country, or possibly even other countries altogether.  
Thus, the future hospital will need more than just access to local patient data. They will need access points to connect their medical records to the hospital and enable their sharing while being supported with digital tools to surface relevant information and conditions to them.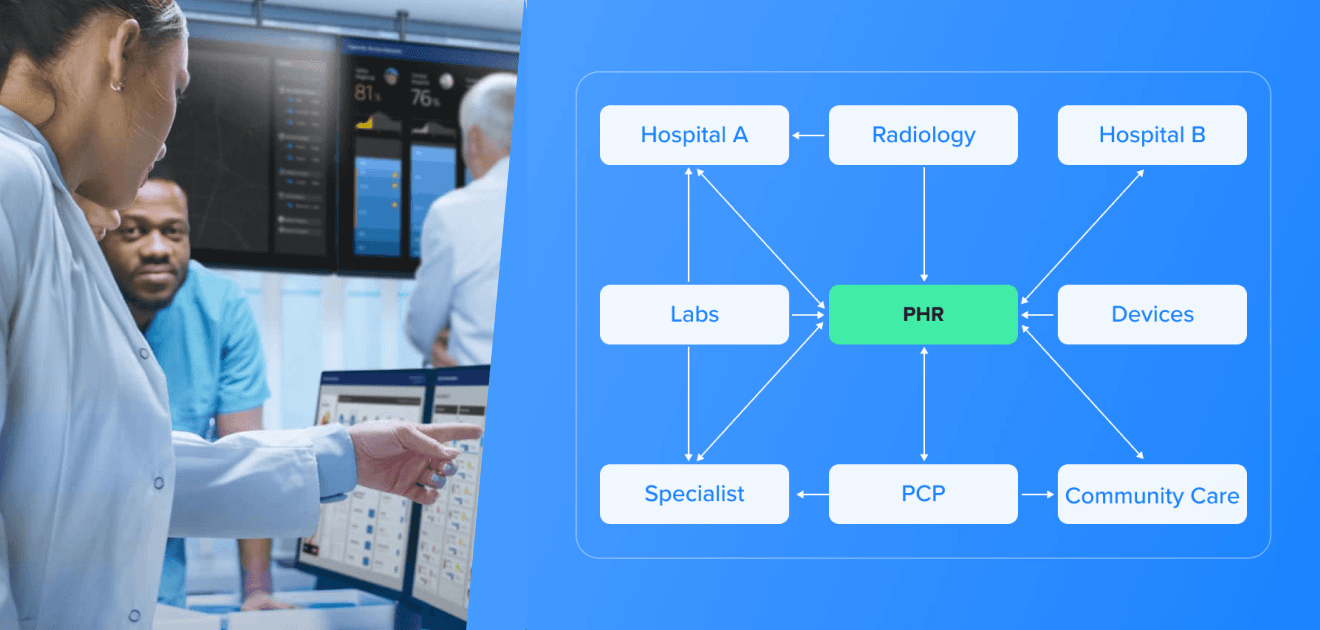 A market ready for greater integration
Fuelled by a wave of digital health investment, we are currently witnessing an array of proliferation of digital health startups. They offer unique and personalized solutions via telehealth tools, digital biomarkers, voice assistants, digital triage tools, digital therapeutics and others. 
Before the pandemic, 2019 saw 359 US digital health startups raise $7.4 billion from over 600 investors. It was nearly a record-breaking year. In 2020, not only were more deals closed, but digital healthcare companies raised more on each deal, raising a total of $14.1 billion. 
However, the market currently looks disconnected. These technologies are being deployed in isolation of one another. As Payers and providers actively look at where and how to invest in the digital health space, there is a clear opportunity to take the lead on bringing these startups together, harnessing their respective capabilities to more effectively integrate and deliver fully optimized workflows for HCP's and care pathways for patients. 
Fast-tracking the future of the care
When developing successful products in the healthcare space that work now, but are flexible to future requirements, here are some key principles that we follow at Star: 
Be clear about what your end game or ultimate goal is. How does this help the patient, provider, improve efficiency, etc.?  
Then understand the data that's required to make that a reality.
How are you going to get that data? Where does it need to connect, what other sources will be available?
Not just connectivity, how is it going to be interpreted and also shared so that it's truly interoperable.
And perhaps most importantly, designing the solution to meet your users' needs - all your users. Usability is essential for adoption.
Across the healthcare industry, there are already multiple forms of ongoing business synergies. Major stakeholders are working collectively to build new products and services. 
Looking ahead, no matter what part of it you are building, it will never become a reality if you do not understand how your product fits into the bigger picture. 
To do so, healthcare organizations must look at whatever they're building through the lens of fostering data sharing as outlined in this model. Not only will this help the industry as a whole to meet the Quadruple Aim, But it will also lead to more efficient and scalable solutions, which is good business for everyone.