It's easy to get the impression that digital transformation in healthcare is over. Nearly 90% of all hospitals in the US, for example, have implemented ambulatory or inpatient electronic health records (EHRs). But this is the beginning of the journey, not the end. With the 21st Century Cares Act in effect, it's more important than ever for healthcare businesses to embrace new data-driven opportunities. 
Legal changes, plus the proliferation of IoT-connected devices and other data-generating tools, have created immense amounts of valuable data. Now the question in front of Med Tech, Pharma and other players is: "How do we drive value out of that data?"  
That's not an easy question to answer. While data may be the new gold, access to it has significant implications, especially for compliance, privacy, security and even your core product offering. For some, this will require harnessing entirely new strategic approaches and partnerships, while others may pivot or create entirely new business models. Meanwhile, companies that have never been data custodians in the past now have an even bigger knowledge gap to cross. 
Improve agility, efficiency and impact with these four strategies for seizing data-driven HealthTech opportunities. 
1. C-suites are prioritizing interoperability
Healthcare is in the midst of an IoT revolution. Connectivity is no longer an added perk and will soon become an expected feature of any medical device. That's why 38% of healthcare CIOs are prioritizing EMR optimization as their top area of planned capital investment over the next 3 years.
There are immense benefits, especially for companies, to better understand these devices' capabilities and embrace healthcare data interoperability. You can begin unlocking their potential by answering these questions: 
What potential value lies in the data we collect? 
How do we connect health solutions to larger data streams generated by med devices? 
How do we harness AI in healthcare solutions to further scale our efforts? 
Where is there potential for increased revenue, improved sales and support and new business models? 
Likewise, what complications around compliance and security arise from this connectivity? 
2. Tackle the unstructured data challenge
From the system level, one of the largest digital transformations in the healthcare industry challenges that remain is what to do with unstructured data. 47% of healthcare organizations have identified managing unstructured data as the most significant obstacle to improving interoperability in healthcare. 
Unstructured data creates additional issues such as: 
Identification or relevant vs. irrelevant information
Insufficient data mobility 
Challenging integration into existing infrastructure
Safeguarding potential data at risk 
Its continuous growth complicates data management
Processing unstructured data to surface relevant information improves efficiency, ensuring better implementation of treatment continuity along with numerous opportunities to leverage data in new ways to create better HealthTech solutions.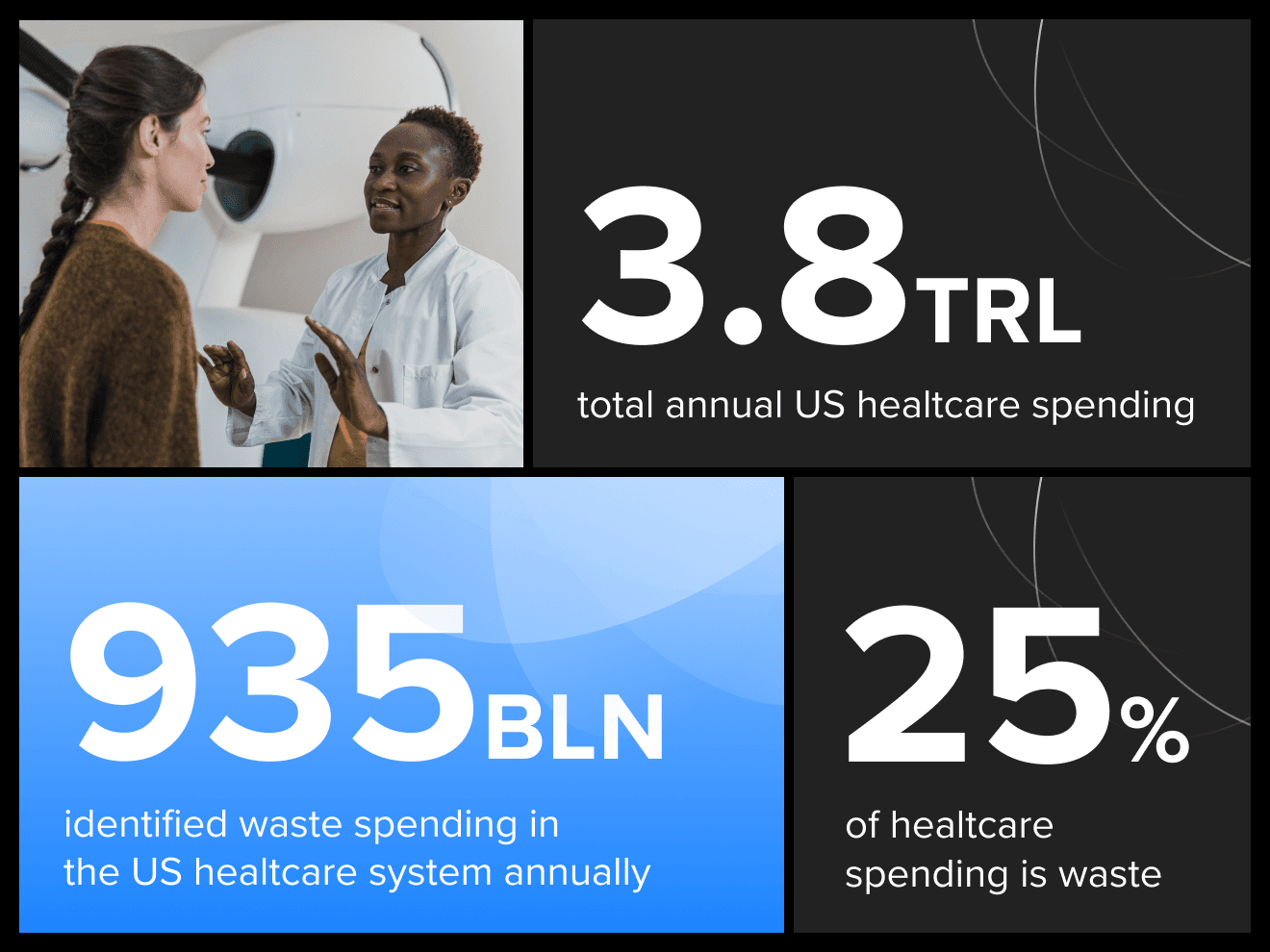 3. Capture healthcare innovation moments
Healthcare companies need to think data-first. This leads directly to a highly impactful and rapidly emerging area where businesses can deliver innovative solutions: data custodianship. 
Legacy device manufacturers now have access to the data their product generates for the first time. While immensely beneficial, this creates complications that may have never been encountered before, such as: 
They might not have consent to or the ability to access data after the device is sold.
HIPAA and other forms of regulatory compliance 
Ever-growing healthcare cybersecurity threats endanger their device/data 
4. Partner with HealthTech industry specialists
The bottom line is that digital transformation in healthcare is complex and full of risk and reward. Whether an established, multinational healthcare corporation or a bold start-up, teaming with industry specialists is the best way to navigate the evolving ecosystem. 
By doing so, companies can stick to their core expertise while still reaping the digitally-enabled landscape rewards. For example, they can co-create a product and then shift the ongoing responsibility for its management onto their specialist partner. 
This can be especially beneficial for companies that have never navigated regulatory compliance in the past or without medical software experience. Further, these relationships are especially useful for firms wanting to harness data directly or indirectly in an anonymized format. 
These are the types of partnerships we offer here at Star. We work across the digital healthcare industry to help businesses create meaningful innovation in healthcare. In addition to engineering expertise, we layer on strategy and product definition capabilities to ensure our partners have what they need to thrive in the market. 
The platforms we manage across industries handle hundreds of terabytes of data and millions of transactions per minute. We know how to think big and execute. We also couple our capabilities with deep healthcare expertise to help our partners identify opportunities and continue their growth.
Finally, we offer flexibility. Developing an idea into a game-changing HealthTech product isn't always a massive project. At Star, we're innovation-driven. As companies of all sizes and histories begin stepping their toes in these turbulent waters, we offer the mindshare and expertise to navigate projects of all sizes. Learn about our HealthTech Practice and how we can support you at every stage of your innovation journey. 
Snapshot into how we work: creating data-powered healthcare experiences for ZEISS
Our ongoing collaboration with ZEISS is just one example of how we help HealthTech companies embrace new data-driven healthcare innovation solutions. As a legacy device manufacturer, ZEISS, despite its brand's strength, needed to overcome several short and long-term challenges in the digital healthcare ecosystem. 
We worked with key stakeholders, including in-store technicians, remote optometrists, regulators and Star's quality assurance team to craft the user-centric VISU 360 vision care platform. With it, ZEISS could embrace servitization to create new revenue opportunities beyond their hardware. Optometrists can manage their schedule better — both reducing idle time while booking more appointments — and retailers have been able to reduce overhead. Most importantly, patients have gotten better service and no longer have to delay vital appointments or look elsewhere.