When we use the word "technology," certain images come to mind. You probably think about smartphones, computers and maybe innovations like electric cars or wearables like the Apple Watch or Fitbit. 
These devices are all amazing. But what's more revolutionary and impactful has been the rapid evolution of healthcare technology solutions over the past two decades. 
It's no coincidence that these breakthroughs are closely related to the phone in your pocket right now. Digital health has been able to scale so rapidly because of its ubiquity. The smartphone itself can directly serve a health purpose and be a platform for hosting specialized health apps. 
But that's just the tip of the iceberg when it comes to MedTech. Using the healthcare Triple Aim as a framework for human-centered health innovation, we're going to explore a selection of different ways medical technologies lower costs, raise the standard of care, improve population health and, most importantly, save lives.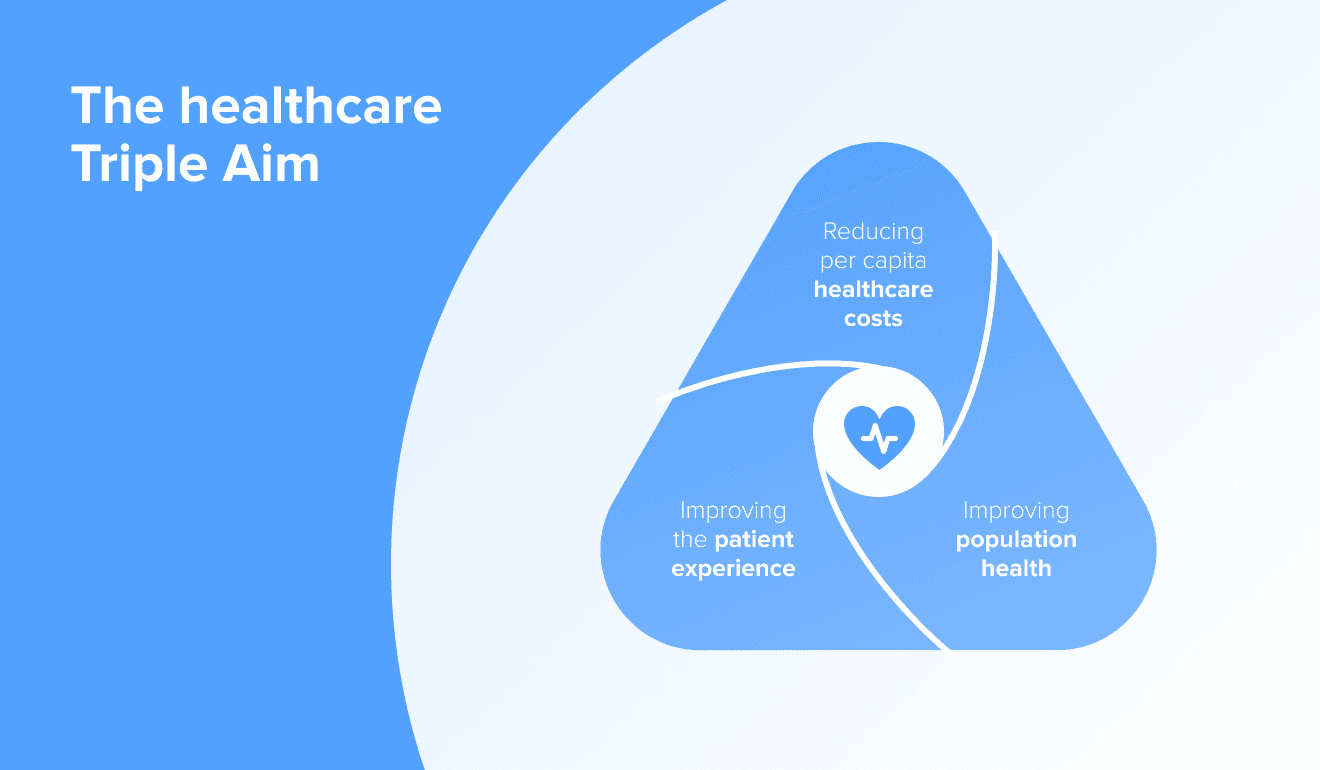 The healthcare Triple Aim
The Institute for Healthcare Improvement (IHI) created the Triple Aim as a framework to help healthcare systems improve performance. It focuses on three main areas: 
Improving the patient experience
Reducing per capita healthcare costs 
Improving overall population health 
While it's a system-level approach, many providers, payers and MedTech companies have likewise embraced it as a tool for moving toward the value-based care model. 
Above all, it's worth noting the timeliness of digital health. While many of these platforms and devices have been around for years now, their ability to step up to the challenge of a global pandemic and achieve great victories in all three of these areas is just one of many reasons why investment into the sector has simultaneously skyrocketed. 
Improving the patient experience
The first thing medical technology does is restore patients' status as consumers by empowering them with choice. In the past, most people were geographically limited to the caregivers in their immediate surroundings. 
Thanks to telehealth, geographic restrictions are a thing of the past. Now people in remote locations can access high-quality healthcare without traveling hundreds or even thousands of miles. 
Few areas have been more promising than mental and neurological health. These topics have long been stigmatized, with people afraid to disclose even to their own families mental health conditions or cognitive decline.
Healthcare technology solutions in these areas have vastly improved the patient experience in five key ways: 
Creating more visibility about mental health
Connecting patients with not just more providers but also modalities  
Providing more affordable access to care 
Fostering convenience through remote consultation and app-based exercises 
Empowering users to take the first step 
It can't be overstated how impactful digital health tools have been here. For somebody struggling with mental health issues, just opening about having them is challenging enough. Leveraging technology, however, can empower these individuals to take that vital first step to seek help. 
At Star, we are proud of our ongoing partnership with Constant Therapy. Constant Therapy is an award-winning speech, language and cognitive exercise app for people recovering from strokes, traumatic brain injury or other neurological conditions. 
We helped Constant Therapy transition from a startup to a large-sized company by creating a unified mobile platform that's ready to scale alongside them. Our complete service package forms the foundation for Constant Therapy's current and future growth and has helped them reach 400,000+ downloads, 37,000+ clinician users and 140 million completed exercises. 
Reducing per capita healthcare costs
Annual healthcare spending in the US now exceeds $11,000 per capita. That's almost double the cost of other wealthy, industrialized countries that also offer universal healthcare.
But the real cost occurs when factoring in those who either delay or entirely avoid treatment because they cannot afford healthcare. Nearly 25% of Americans are skipping healthcare because of the cost. 
From whatever angle you look at it, this hurts. People are dying earlier, rates of self-medication and drug abuse are increasing, and quality of life is declining. And the economic damage from it is staggering.  
Untreated mental illness, chronic health conditions, preventable diseases, and missed early treatment overall create an estimated $1.7 trillion in annual indirect and direct system costs.  
Information technology-powered tools lower costs in many ways. Whether it's through more affordable telehealth compared to clinics to chronic disease management instead of emergency room visits or many other ways, they are driving down costs. 
Taking a service design-based approach, we worked with ZEISS to tackle this very problem. If patients needed an eye exam and the optometrist was busy, they had two options — to wait or go elsewhere. We co-created VISU360 to allow optometrists to conduct examinations remotely. 
This win-win has not only allowed optometrists to see more patients but for patients to conveniently and affordably get care when they need it. And the timing could not have been any more fortunate as it's been essential for providing safe and remote diagnostics and treatment during the pandemic.

Improving overall population health
What a year it has been for population health. But while a vaccine rollout is underway worldwide, forecasting an eventual end to the pandemic, not enough light has been shed on chronic conditions and addiction.
Despite all the technological advances over the past decades, population health has declined in the US. Last year also saw the highest number of overdose deaths ever recorded in 12 months. 
This may be where MedTech has the most potential in so many different vital ways. Lowering costs is an essential step in the right direction, and so too is chronic disease management and overall healthcare. 
In the past, the healthcare paradigm was defined by people having to seek treatment. Now healthcare can come directly to people in their homes or wherever they are—thanks to smartphones along with MedTech like remote patient monitoring and sensors. 
There's a much better opportunity also to reach non-patients before they even have the first change in health status. Imagine a system that can warn users about a surge in flu-like symptoms in your community. 
That's exactly what Kinsa does as an early warning system to detect and respond to contagious illnesses. Last year, they famously predicted the outbreak of COVID in the US three weeks earlier, giving healthcare professionals the critically needed time to prepare. 
We see population health as essential at Star. We worked with OneConcern to build the COVID Calculator to address similar needs, except this time, the decision was when and if it were safe to return to work. The COVID Calculator uses data science to model conditions and gives business leaders the tools they need to make that vital decision.
Embracing healthcare technology solutions
We've barely scratched the surface of how technology can save a patient's life. From here, we can discuss breakthroughs in biotechnology, AI-powered augmented workflow and diagnostic tools like Siemens Healthineers AI-Rad, pharmaceuticals and other emerging trends. 
The bottom line is the future of healthcare is digital, and it's this technology that's able to connect patients and providers better, drive adherence and holistically improve medicine. 
At Star, we believe in a digitally-enabled health future. We partner across the healthcare ecosystem to deliver value-based, user-centric healthtech innovation that transforms people's lives. Get in touch with us now to see what our expert teams of strategists, designers and engineers can do for you.