Auto Shanghai 2023 showcased 1,200 models and 1,400 vehicles, including 93 global debuts, 64 concepts and 271 new energy vehicles.
This year marked a major shift, with China displaying its new ambitions for the automotive industry. For China, it's no longer just about price, but quality, brand value and beating global brands from Tesla to Audi and Mercedes-Benz at their own game.

What do you need to know about the latest automotive technologies, market shifts and changing consumer preferences to outcompete fast-rising digital startups across markets and win? Download our Auto Shanghai 2023 flash recap to find out. 
Consumers have lost interest in gasoline cars. That is the biggest challenge for foreign brands to compete in China. They are going to have shown their best EV products.

John Zeng
Director, China Forecasting at LMC Automotive
All ears at Auto Shanghai 
During all the vehicle debuts and buzz at the event, the leading automakers were talking. We share our distilled insights and start delivering what your customers really want: 
Explore new autonomous driving technologies from Xpeng Motors, Valeo and Baidu 
Understand digitalization, smart assistants and innovations from BMW Group's MINI, Hyundai and Unity. 
Now it's all about increasing the speed of the car's infotainment system and improving the user experience. You can only do that in China for China. You can no longer develop that in Europe and bring it here. It doesn't work.

Thomas Schäfer
CEO of the Volkswagen Passenger Cars Brand

Stay ahead in the global automotive and mobility market by meeting customer expectations for advanced in-car digital experiences. Unpack the latest trends in brand and touchpoint innovation, 3D and novel HMI technologies, BEVs, AVs and more in our flash recap.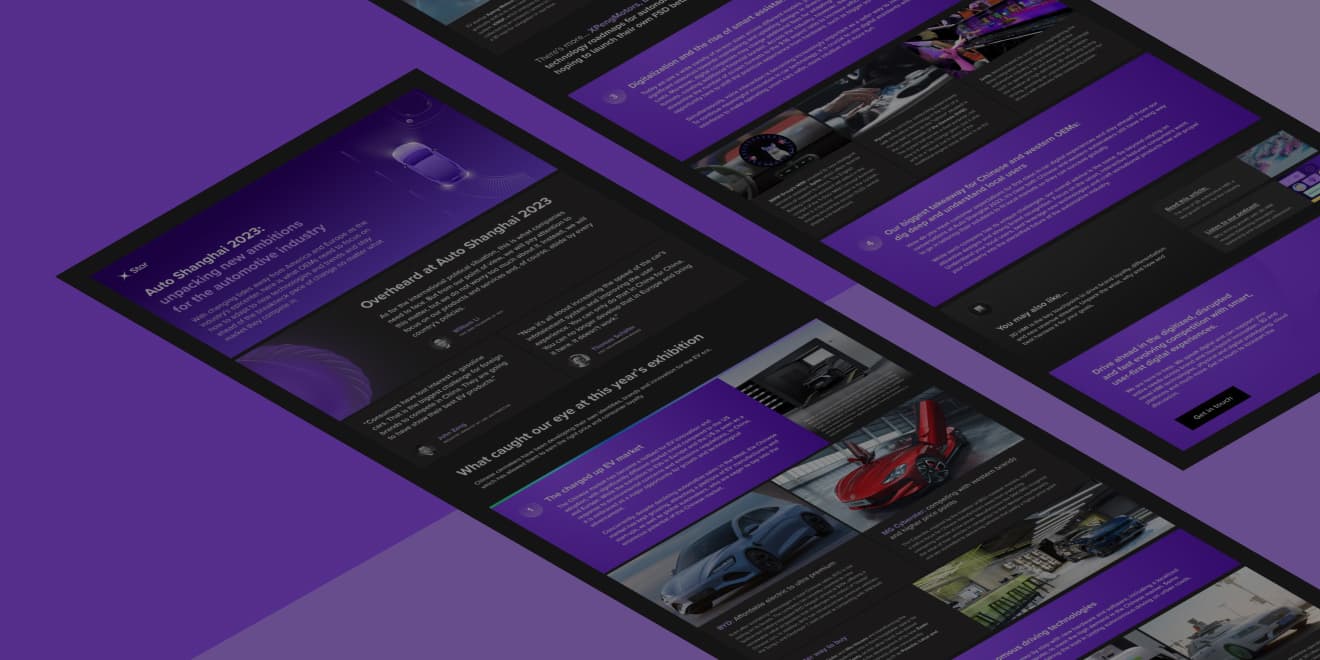 Download our flash recap to learn about the EV revolution, autonomous driving technologies, and more.