In 2002, the film Minority Report gave audiences a deep look into the future. Aside from the core moral dilemma of the plot, most people were fascinated by its technology. We saw autonomous cars, personalized advertisements and 3D computer interfaces with which users could seamlessly interact. Surprisingly, while set in 2054, many of these works of Sci-Fi imagination have already become a reality. And among the most exciting for automotive and mobility manufacturers and consumers has been the fast rise of 3D HMI.
Why? Electrification has upended traditional brand differentiators and so will autonomous vehicles. With driving experiences becoming increasingly similar, the HMI becomes even more important for delivering valuable and unique customer experiences. Enter 3D. Rapid increases in computing power, matched with a growing array of graphics programming tool sets tuned for automotive use ranging that enable OEMs to leverage 3D to create more engaging, accessible and intuitive interactions for drivers.
Over the next few years, 3D automotive HMI will be a key growth lever for automotive manufacturers. Explore the technology, how it's powering a better user journey, use cases from leading brands and how to find the right 3D engine for your needs.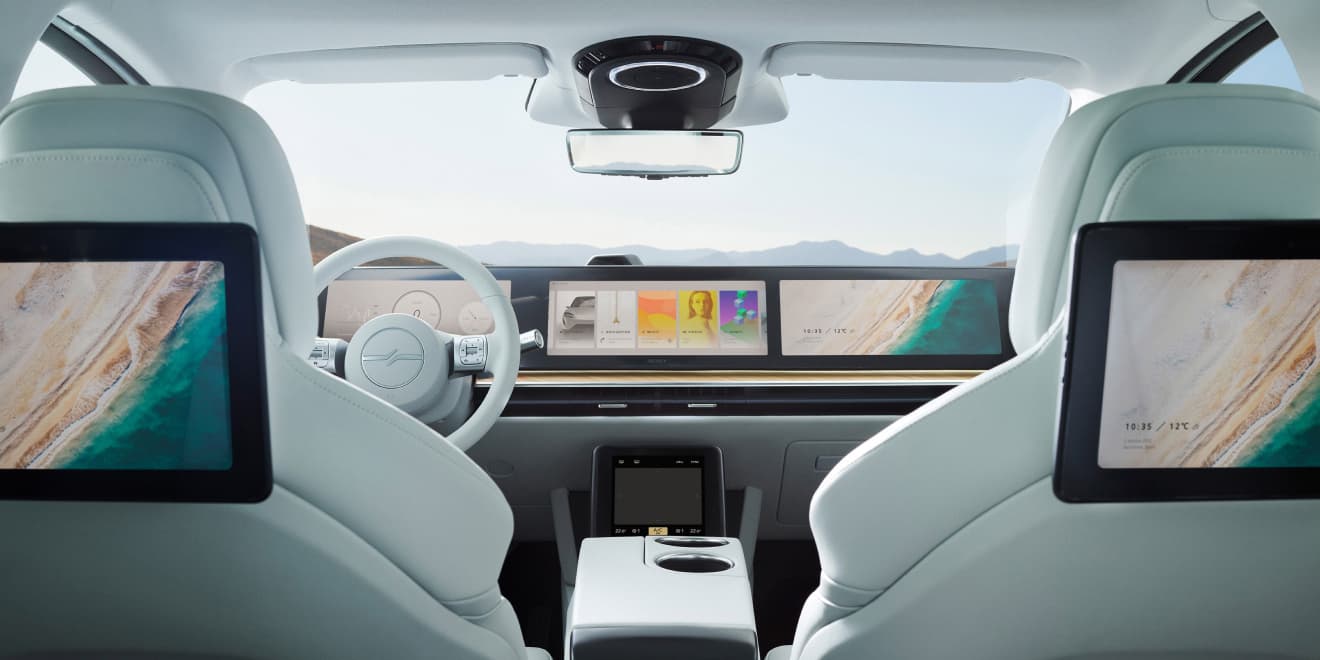 Honing in on the right approach to 3D HMI
3D HMI has the potential to provide more thrilling driving interactions. But OEMs need to avoid introducing unnecessary features that add no value to the experience. These features could distract the driver and may on a technical level consume excessive resources – resulting in higher costs. As such, before kick-starting any new feature initiative, it is essential you identify the right use cases for your users. 
First, designers and developers must prioritize the user experience above all else. They need to understand the user's needs and desires and determine how 3D HMI can be used to create a more personalized, engaging and seamless experience that justifies the use of this technology. 
Focus on user pain points and identify how automotive interfaces – or another technology solution – can address them. For example, 3D HMI could enhance safety by displaying critical information in a more intuitive and easy-to-understand way, helping the driver make safer decisions. In addition, 3D HMI could be used to create more immersive entertainment, allowing passengers to enjoy movies, games or other content. 
To differentiate your brand from the competition, focus your designers and developers on creating a unique and compelling user experience that is not currently available, or provide features that are not available in the market, such as gesture-based interfaces, personalized content or predictive maintenance. 
Finally, design for your brand through consistent visual language and style. The key to 3D HMI success is creating a user experience that is both meaningful, delightful and a seamless expression of your brand. 
3D HMI shifts into high gear
OEMs have begun harnessing 3D HMI graphics in novel ways to enhance vehicle interactions. Start crafting your approach with these benchmark examples. 
How to find the right 3D engine for your needs
Before committing to a specific 3D engine, you need to consider where you are in the product development lifecycle, the power of your hardware and what you value for your user and development experiences. While we won't get into too many specifics as your mileage may vary, use these guidelines to help you select the appropriate 3D engineering solutions when considering among QT, Kanzi, Unity and Unreal Engine. 
QT: Cross-platform application framework that can be used to create 2D and 3D user interfaces. It includes numerous tools and APIs for developing custom interfaces, such as support for OpenGL ES and integration with various hardware platforms.
Kanzi: HMI tool designed specifically for 2D/3D automotive applications and developing custom interfaces including real-time rendering, advanced animations and streamlined workflows. 
Unity: Widely-used game engine that can create 3D interfaces, including automotive and features support for real-time rendering, physics simulation and advanced scripting. 
Unreal Engine: Another prevalent game engine that has become very popular for automotive interfaces. It provides a range of features for developing custom interfaces, such as support for real-time rendering, advanced physics simulation and visual scripting. 

Where you're at in the product development cycle:
Hardware Specs: if your hardware has already been spec'd and a significant re-architecture effort to shift into a software-defined vehicle is not in scope as it applies to your HMI, then you're probably limited in what you can do. You're better off with QT or Kanzi as they have been developed with embedded electronics in mind. Unity and Unreal Engine have much more overhead and less efficiency when it comes to resources and processing needs – although Unity does offer more flexibility for lower-performance systems support.
The type of user experience or user impact you desire:
If your hardware hasn't been spec'd yet (welcome, time traveler), or it is already defined as high-end and you already know you are looking for the smoothest and best photoreal/physics experience possible, then Unreal Engine may be ideal for you. It is currently the best 3D engine on the market regarding detail. Unity comes in a close second. Both also make a good marketing play as they are current standouts in this industry, setting a defining standard from the gaming community.
Development readiness for automotive:
Unity and Unreal Engine development environments and communities aren't as automotive-mature as the traditional incumbents, QT and Kanzi. 
Kanzi is dedicated to automotive HMI; QT has a strong focus on automotive HMI but has considerably wider coverage. Both Kanzi and QT offer 3D capabilities in their own form and present quite well.
Developer Community:
QT/Kanzi: If you already have this development expertise in-house, you are in a good position to continue this path and enhance your HMI with additional 3D capabilities such as appropriate 3D models, animations and computer graphic support. QT has a more diverse community than Kanzi since Kanzi is focused primarily on embedded automotive applications. 
Unity/Unreal Engine: These are fresher skill sets that are seemingly in demand and not as prevalent within traditional automotive HMI development houses. But, there is an excellent and large broader gaming development community to tap into.
Automotive-grade tool sets:
Unity and Unreal Engine are in earlier support stages for automotive-specific hardware and applications, which may make them a non-ideal fit for your project if you're on a strict time frame.
QT and Kanzi: Well-established tool-set within the industry. Many OEMs have been using these solutions for several years with great success and with lower-performance automotive-grade hardware. Both offer a dynamic HMI import requiring minimal effort to see basic results. Nonetheless, this still requires work under the hood to enable your specific desired experience functionality.
Remember, there currently is no perfect solution for 3D within safety-critical automotive applications/content. As such, it should remain secondary to more important information, such as telemetry via the cluster and error/warning messages. 
Finally, the latest Unity rendering pipeline closely rivals Unreal for graphic realism; both engines create and maintain complex visual applications more easily than QT. Interestingly, QT was used for games, too, until pushed aside by Unreal, Unity and custom studio engines. It's likely that with the increased computing power of vehicle hardware, this could happen in the HMI market too. 
Dive deeper into pros and cons of 3D engines
Pros
1. Photorealistic UI (lighting, reflections, smoke effects) 
2. Access to a great developer community
3. C++ development expertise is a common need in Automotive 
4. C++ provides more flexibility for optimization 
5. Possibility to implement objects interaction physics
6. A lot of build tools for 3D graphics
7. 3D-centric: Originated as a 3D gaming development tool set
Cons
1. C++ developer expertise in high demand
2. High-end graphic details require more time, effort and expertise
3. Can require higher-end hardware and more development support
Start your 3D development journey with Star  
3D HMI is no longer bleeding edge. Leading automotive brands have already deployed the technology to streamline navigation, increase trust, improved comfort and convenience and enhanced personalization. Moreover, with electrification commoditizing the driving experience, 3D graphics and powerful tools for differentiation and innovation among OEMs and other sector players. 
It's time to start exploring and deploying the right use of 3D for your customers. At Star, we've been working with today's top companies to do exactly that. We'll help you bring to life visionary HMI concepts, transforming radical ideas into tangible, revenue-driving innovations. Learn more by getting in touch with our Automotive & Mobility Practice.