People are increasingly comfortable making purchases via their connected devices. The car is no exception. Automotive manufacturers are rolling out solutions that enable customers to pay for gas, parking, food and more, right from their car dashboard.
By 2025, in-car payments could reach $86 billion, up from $543 million in 2020, according to Juniper Research. Other studies predict even higher gains. Ptolemus' assessment finds that connected vehicle payments will top $500 billion by 2030. But if the connected car payment industry is to reach its potential, car manufacturers will have to overcome a number of hurdles, including finding the right financial ecosystem partners and pinpointing use cases that truly enhance the customer experience – beyond the obvious, like paying for tolls and gas. They will also need to work together to create intuitive payment solutions that attract merchants and drive customer adoption and establish their unique value by designing personalized, relevant solutions that foster brand loyalty. 
Ready to learn more about the in-car payments landscape?
Request complimentary access to Star's research report for a breakdown of OEMs' progress in the space.
Request the report
Understanding the factors driving in-car payments' explosive growth
The most common use cases for in-vehicle payment systems are fuel, tolls and parking. In fact, Shell jump-started in-car payments' growth when it launched a mobile payment service in the UK. According to Juniper Research, fuel and electric vehicle charging will account for 77% of payments by value in 2025. Parking services are interesting because in addition to helping drivers find parking spots more quickly, they also reduce operational costs for parking companies and improve traffic management and eliminate pollution since cars aren't driving around looking for spots. 
Other use cases are growing, too. Coffee, groceries and quick service food will account for $11.5 billion in purchases by 2025, up from just $12 million in 2020. In-car payments are on the rise for a few reasons. Customers are increasingly comfortable with cashless transactions, especially when they are convenient and easy-to-use, and COVID-19 accelerated the adoption of frictionless payment methods, such as Apple Pay, Google Pay, Venmo, and QR code-based solutions.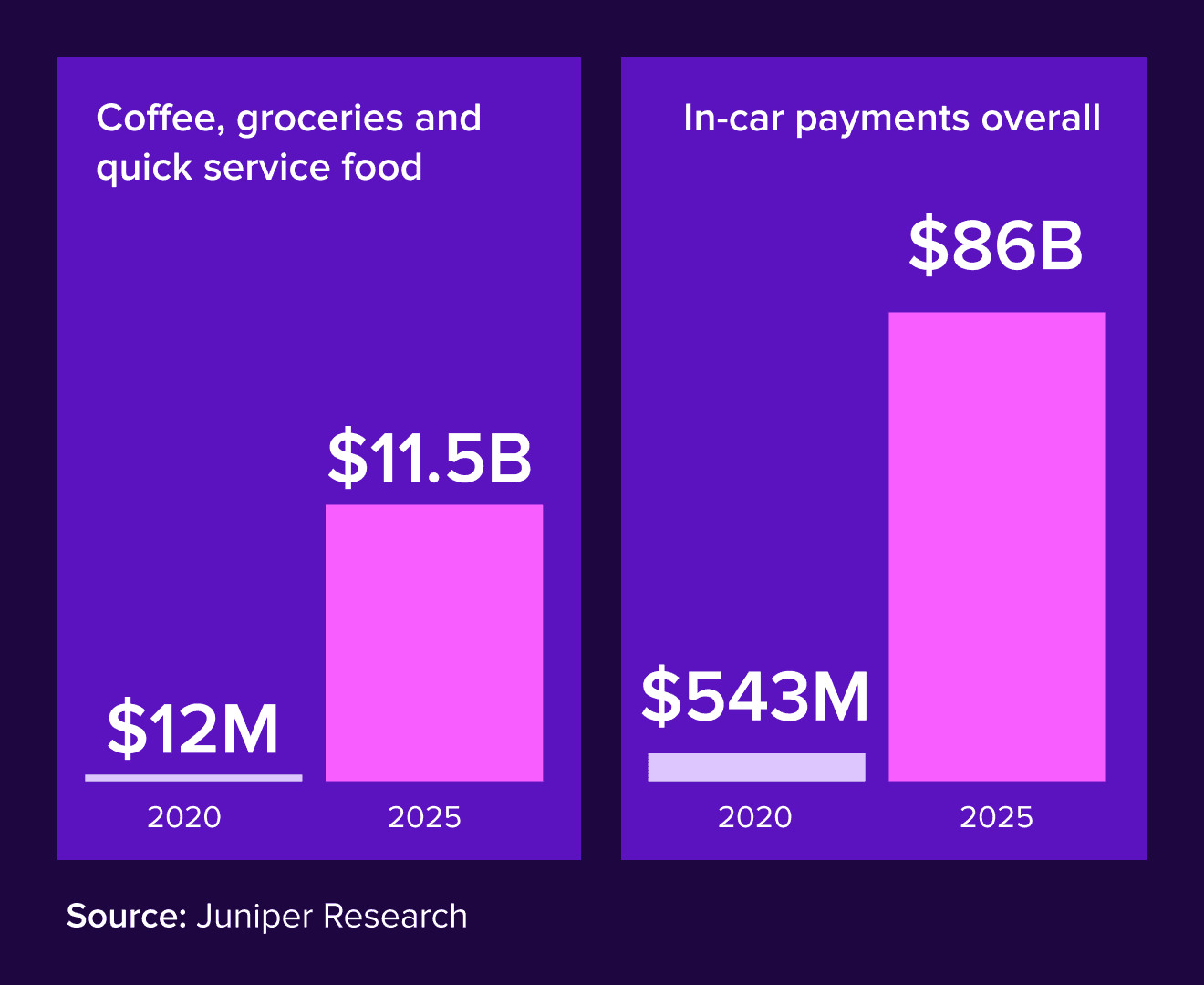 The rise of connected vehicles is another key factor. Between 2018 and 2022, more than 125 million passenger cars with embedded connectivity will ship worldwide, according to Counterpoint Research. In major European markets, including Germany, France and the UK, connected vehicle penetration is increasing rapidly. Advancements in natural language processing AI and the advent of in-vehicle voice assistants will also contribute to in-car payments' explosive growth.
But perhaps the biggest catalyst for the industry's bright future is strategic partnerships. In the North American market, the two largest payment providers, Visa and Mastercard, are actively collaborating with automotive companies to design and deploy in-car payment systems. For example, in 2016, Mastercard, General Motors (GM) and IBM worked together to integrate a connected commerce tool into GM's data-driven operating system, OnStar Go. In 2019, Hyundai partnered with Xevo, a connected-car technology leader, in the US and Europe to build a telematics platform that includes a digital payment feature.

In-car payments are one of the latest innovations that are set to change the way we refuel, pay for parking or toll charges and perhaps even the way we shop for groceries. In-car wallets and payment systems could be adopted by using Open Banking, enabling customers to pay directly from their bank, reducing any friction or security risks in their payment journey. This would alleviate the reliance on third party payment networks through streamlining the transaction fees and overall offering a more seamless customer experience.
Christian Ball, Head of Partnerships at Yapily
Hurdles include merchant buy-in, safety and security, and customer experience
Xevo's Connected Car Report finds that 71% of drivers think it would be useful if their vehicle's infotainment system allowed them to order food or coffee for pickup, and 69% say it would be useful to be able to pay for fuel. So, customers are eager for in-car payment tools, but OEMs must solve a few challenges first. For starters, they need buy-in from merchants. Convincing merchants of the connected car payment opportunity and facilitating seamless integration into the payment ecosystem could prove difficult in some regions.
OEMs must also overcome technical, strategic and business hurdles. What solutions should they deploy? Whom should they partner with? And how can they monetize in-car payment systems? While customers in some regions may be willing to pay for this capability, other user bases will not. OEMs may need to tailor monetization strategies based on the market. Furthermore, manufacturers must be mindful of safety, security and data privacy. Solutions must be simple and safe to use while driving, or require the driver to stop before using the application. OEMs must also integrate tools for protecting user's personal data from myriad threats, including malware and data breaches. This is a new area for most automotive brands, so they would be wise to seek guidance from payment security partners.
Perhaps the biggest challenge of all will be creating a truly customer-centric experience. According to a TSYS study, 75% of all commuters would shop more if the ability to shop and pay were integrated into their cars. In-car payments won't take off if the interfaces aren't simple to use. Brands should strive to create a single sign-on experience across merchants, enabling users to sign-in just once to make payments with any number of vendors. This will pose a design and UX challenge for most OEMs.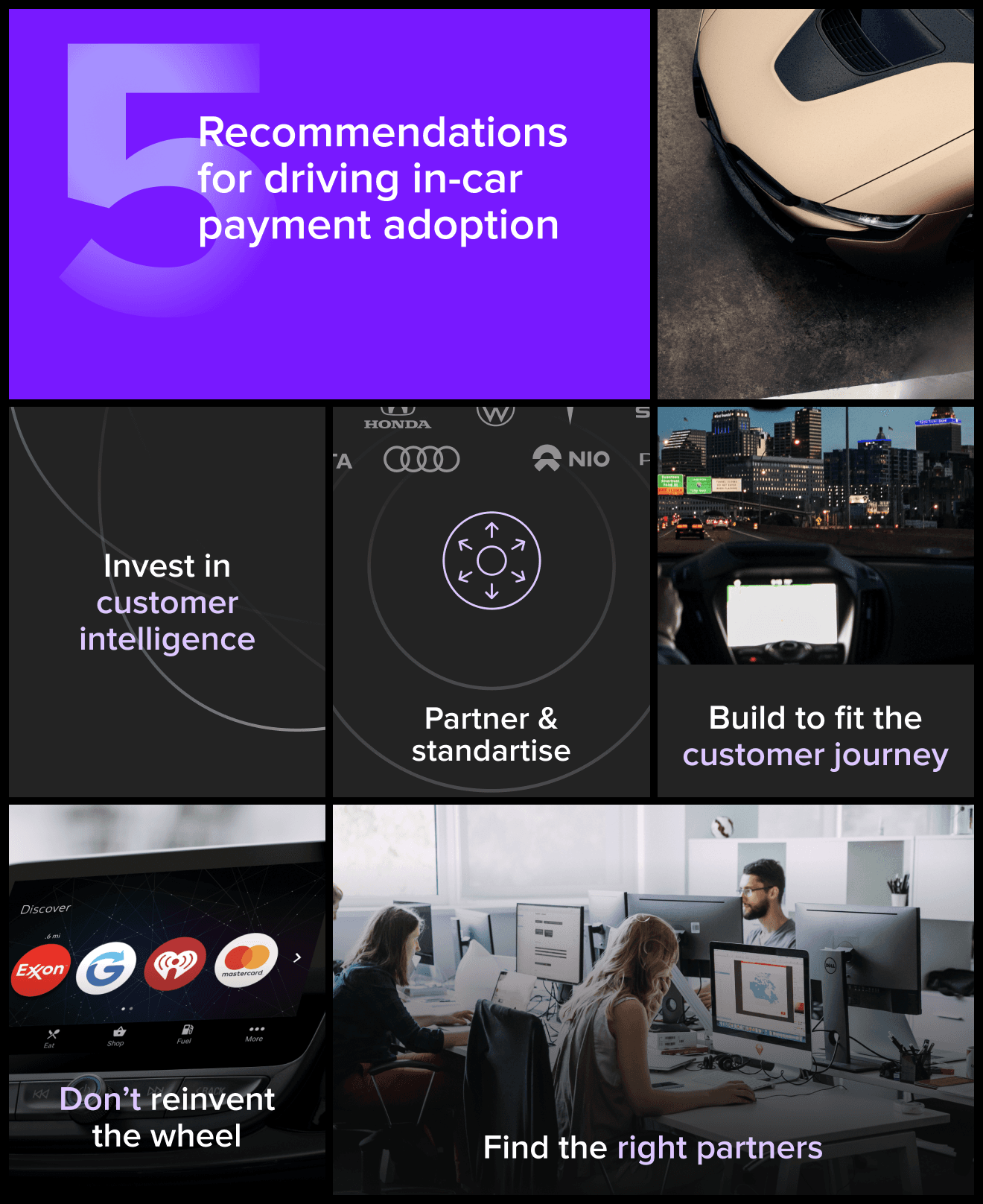 Recommendations for driving in-car payment adoption
Soon enough, in-car payments will become table stakes – a feature customers expect to see in their vehicle, and one that may even influence their purchasing decision. Automotive brands need to do the groundwork now to support future demand and to establish themselves as category innovators. A number of OEMs already offer connected car payment solutions, including Honda, GM, Hyundai, Chevrolet, Daimler, Jaguar and Tesla. Whether new to the space or looking to improve and scale their solutions, OEMs should consider the following best practices:
It feels like every fintech company wants in on the in-car payment space. These businesses need to define the unique value they can offer manufacturers. When choosing fintech and design and UX partners, OEMs should look for companies with experience in the in-car payment space and that integrate with their existing solutions and workflows. 
By leveraging existing technology rather than reinventing the wheel, OEMs can decrease time to market, improve the product, and perhaps increase adoption. Android Auto and CarPlay are two popular platforms that integrate with Google Pay and Apple Pay and can be incorporated into connected car payment experiences.
Build to fit the customer journey
The payment solution should be designed to serve customers' needs. By solving existing challenges, OEMs will increase adoption and convenience. So what do commuters want? For starters, convenience, personalization and relevance. Enabling customers to buy gas is nice, but it is not going to set an OEM apart. Automotive brands should consider more creative use cases, such as enabling drivers to automatically schedule and pay for car maintenance and dealership costs from their cars. Better yet, they can build predictive maintenance systems that use real-time data to provide updates that circumvent hardware and software glitches and generate additional maintenance revenue for OEMs and their dealer networks.  
Invest in customer intelligence
Auto brands should use the data generated by in-car payments to understand drivers' behaviors and preferences. They must also establish processes for sharing this information across teams so the data can be used to improve products, services, marketing and more.
Partnering is key to overcoming technical challenges quickly. While this may sound counterintuitive, manufacturers should be sharing best practices, learning from one another, and working towards standardization. If OEMs can deliver a consistent digital payment experience across brands and vehicles, it will increase adoption and decrease confusion. It will also make it easier to onboard new merchants. 
Think about it: a speedometer is a speedometer. Drivers instantly understand its function, no matter what car they are in. The same should be true for in-car payment systems. By standardizing key elements of the in-car payments ecosystem, OEMs will be free to focus on the customer experience – which is key to winning market share and brand loyalty now, and in the future.
In conclusion
Not only do in-vehicle payments open up new revenue streams for OEMs, merchants and payment facilitators, it also improves the customer experience. Connected commerce adds value by making purchases faster and more convenient. These systems can even surprise and delight customers by using data and AI technology to suggest relevant goods and services, anticipate drivers' needs, and shed light on desires they didn't even know they had.