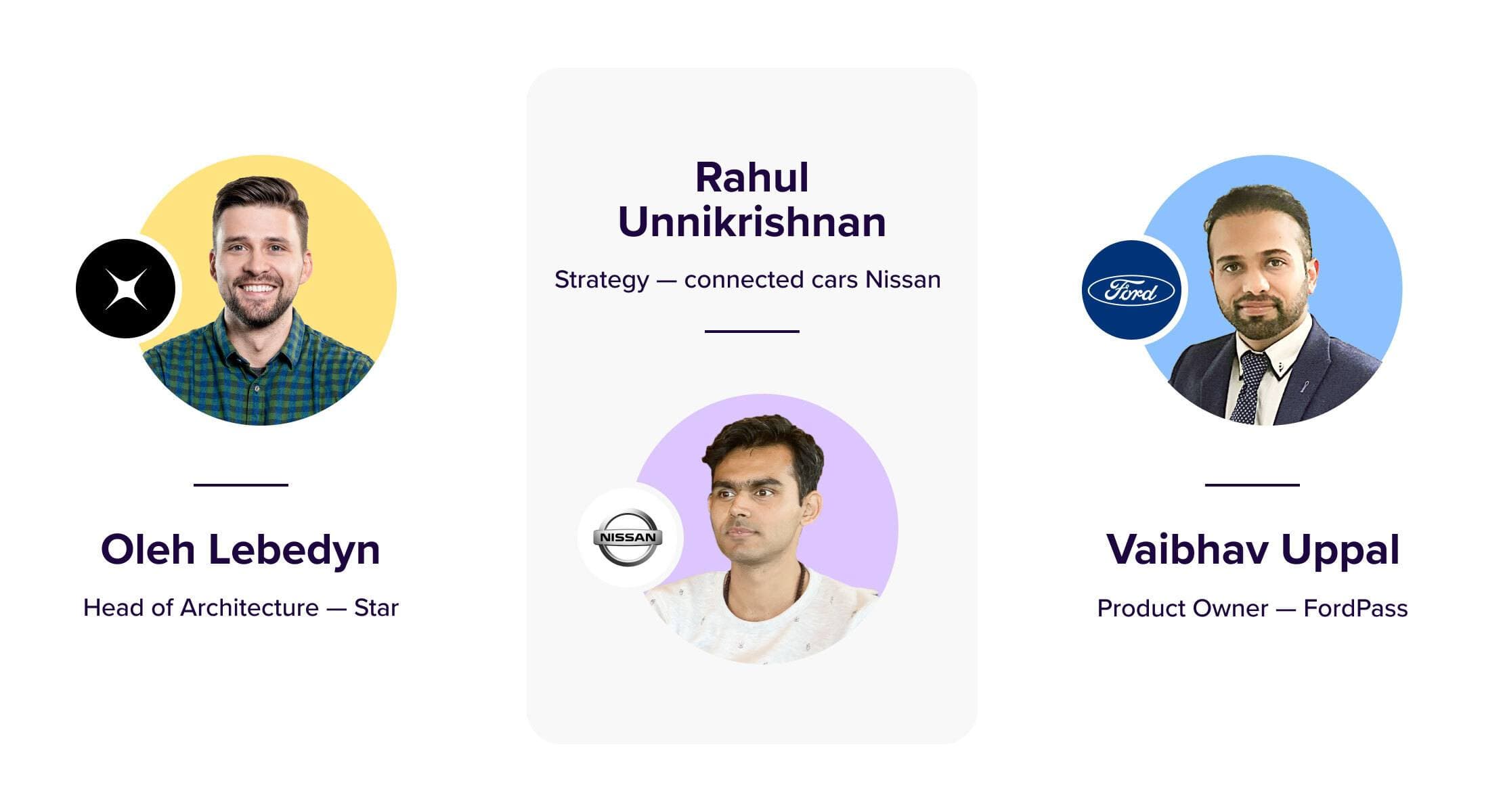 In the race toward smartphone and vehicle integration, companion apps are becoming increasingly important to both consumers and OEMs. For consumers, companion apps improve the driving experience and extend additional conveniences throughout multiple aspects of daily life. For OEMs, companion apps facilitate a deeper customer relationship through seamless, smartphone-driven app experiences. 
Through this symbiotic relationship, these apps are "becoming a valuable medium for brand discovery and loyalty as well as a channel for value-added digital services created by OEMs and their partners," noted Oleg Lebedyn, Head of Architecture, Automotive & Mobility at Star. 
Through this symbiotic relationship, these apps are becoming a valuable medium for brand discovery and loyalty as well as a channel for value-added digital services created by OEMs and their partners.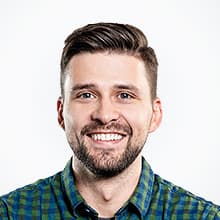 Oleg Lebedyn
Head of Architecture at Star
Below are a few of the insights about companion apps and a successful automotive app development process discussed during the podcast:
Data foundation: Oleg Lebedyn described data as an integral component in companion app development, "Data and users are the new gold and automotive OEMs should use it the best way possible." Data not only informs the development of new features but how tools like AI and machine learning can be integrated into the development process.
New team structures. Automotive companies are known for a certain rigidity in product development. To overcome these traditional barriers to innovation, Ford created a separate wing for its companion app, Ford Mobility. Vaibhav Uppal of Ford noted, this enables OEMs "to focus on moving quickly…[and] give the nimbleness, flexibility, and autonomy to the group of people" necessary to adapt and innovate in real-time.
App delivery cycles: Ford initiated a biweekly app delivery cycle in which they both release new features and incrementally make improvements to the app itself based on user data and feedback. This cycle has not only resulted in better user experiences but has helped Ford to stand out in the highly competitive companion app market.
Creating new niches: Companion apps can capture unrealized consumer needs. Rahul Unnikrishnan of Nissan explained the design process of their companion app as relying on a balance between feature introduction and consumer research "a lot of times it's hard for the customer to actually see what they want but when you offer it in some form and the see the use case, it becomes a key need."
Subscribe on Apple Podcast   |   Subscribe on Spotify
The future of companion apps 
Companion apps will play an even greater role in the upcoming years. Mobile experience and the relationship between consumers and OEM will be front and center as manufacturers roll out these innovations: 
Enhanced personalization through data collection. Applications will become even more personalized as OEMs continue curating user-data and adopting AI and machine learning tools to enhance vehicle safety and functionality. 
Holistic brand experiences. Concurrently, OEMs will expand their companion apps to evolve their focus beyond driving and into a complete brand, purchasing, and ownership experience. Across all markets, a rich feature set will deliver new capabilities to surprise and delight customers in both familiar and unexpected ways. 
Voice and AI integration. For consumers, the most apparent shift in the next few years will be the integration of voice, voice-activated assistants, and the rise of autonomous technologies (hence a shifting emphasis on users instead of drivers). Similar to how consumers can make requests to their smartphones now, they'll be able to do the same with their vehicles except with more real-world functionality beyond driving and into a range of different conveniences. 
Ultimately OEMs will push vehicles to become an anchor of a wide range of daily activities centered on companion apps as the primary point of contact to position them as not supplemental, but an integral part of the automotive experience.
Ready to learn more?
We've only scratched the surface of how these leaders in mobile connectivity are deploying companion apps and redefining the relationship between OEMs and consumers.
Listen to the podcast to hear more insights about Ford and Nissan's companion apps, their development process, and how they're creating the automotive experience of tomorrow.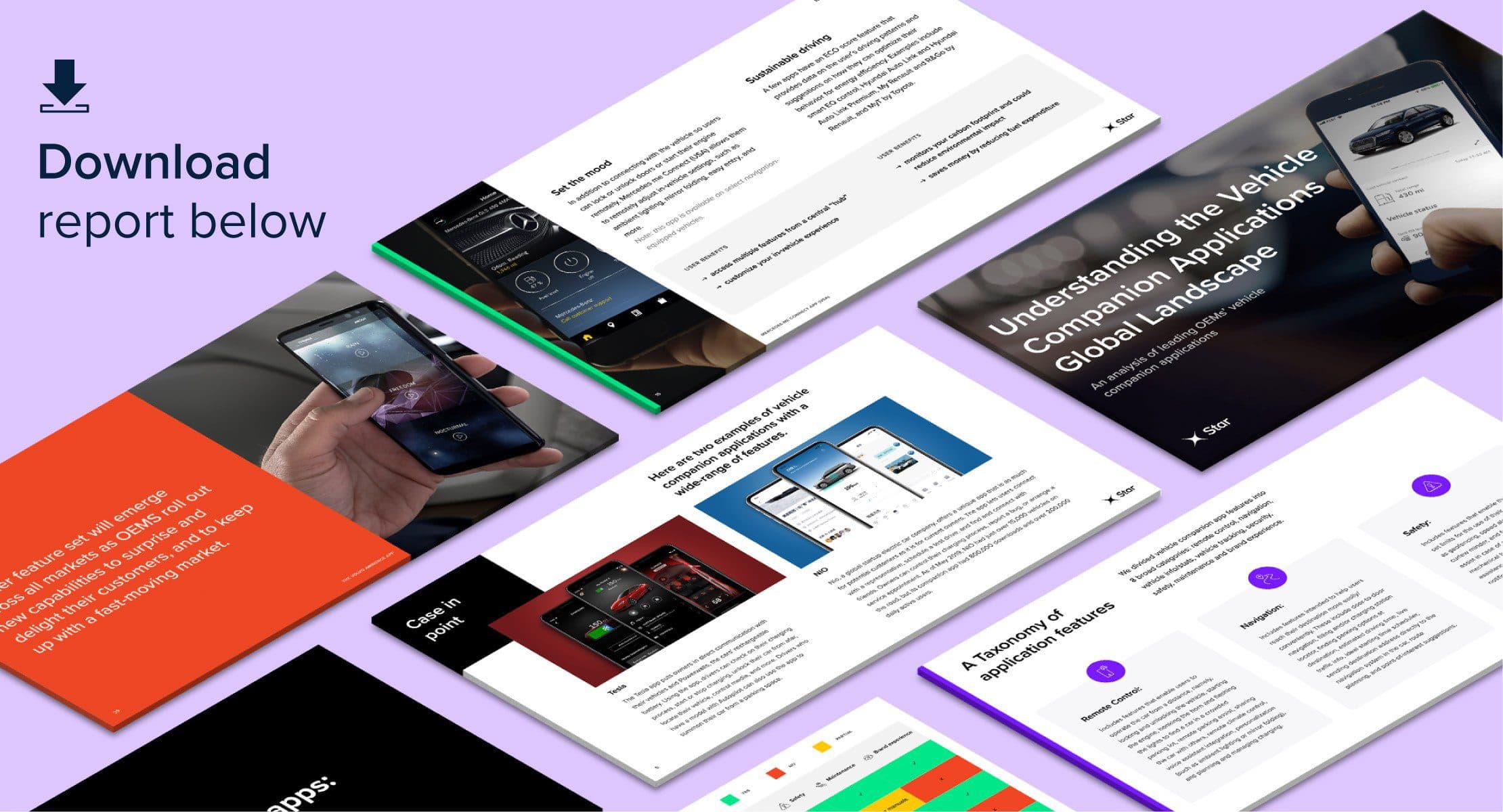 Explore in detail how twenty of the world's top automotive OEMs are integrating new ideas and solutions into their vehicles.