What would you do if you knew about the internet right before it was about to take off? Maybe you'd invent social media, content streaming or become an eCommerce giant like Amazon. 
While you can't turn back the clock, an equally valuable possibility is in front of all of us – the metaverse. 
More than half of business leaders say it will be the next incarnation of the internet. We foresee the metaverse as a convergence of technologies including 5G, edge computing, AR/VR and ambient computing that will increasingly blur the lines between the digital and physical worlds.    
It is a vast opportunity to strengthen your brand, engage consumers in entirely new ways, streamline operations, enhance collaboration, envision and execute your next great idea. 
We take a global view of the metaverse, the technology and behavioral changes fueling its growth and industry-agnostic recommendations for how businesses can start putting into use to support a wide variety of goals.
The metaverse is here. Get ready to leap in. 
Defining features of the metaverse
The metaverse is the programmable world. We will live in customizable and controllable environments that can change faster and more radically than ever imagined. 
Compared to the internet and the virtual spaces we already have, it has several distinct features that reflect why every business should be thinking about the metaverse and the opportunities it offers. 
Based on our analysis, these are the core principles of the metaverse:
Persistent, synchronous and live: The metaverse exists consistently for everyone and continues indefinitely, just like the internet. 
Accessible for everyone: Anyone can access it from anywhere – while also providing each user with a personal sense of "presence".
Device agnostic: People can access the metaverse from different forms of hardware, including VR/AR devices, mobile and wearables.
A fully functioning economy: Individuals and businesses create, own, invest, sell and be rewarded and recognized for their labor in the metaverse.
Interoperable: Users can seamlessly jump between virtual worlds and bring elements from one world to another.
A creator-driven ecosystem: The metaverse is heavily creator-driven and will be populated with content and experiences made or enhanced by a wide range of contributors.
As the metaverse expands, now is the right time to research, experiment, move on quickly from failures to leverage insights and strengthen early successes.
The technologies behind the metaverse
The technologies behind the metaverse are not new. Many of them have reached mass adoption during the past few years. In the metaverse, they will weave together to create end-to-end user experiences synced to our digital and physical lives. 
Just as the internet and social media took time to reach their zenith, so will the metaverse. Harnessing the formative technologies behind it, however, creates tangible opportunities for both the present and future. 
A few key examples of metaverse technology include: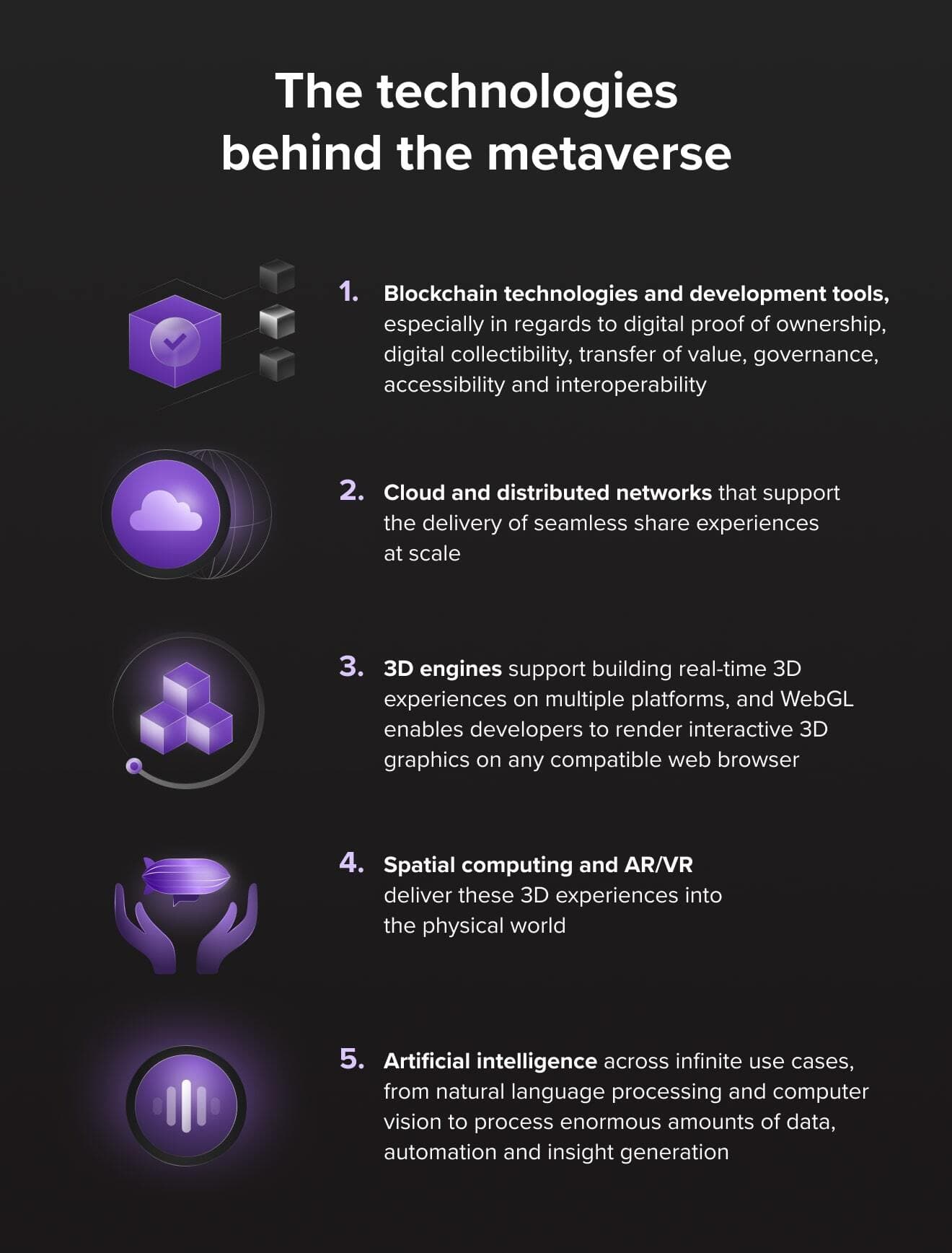 Notice anything in particular? These are technologies – especially cloud and artificial intelligence – many businesses have already as a priority. The metaverse puts their importance into sharper focus. 
Timing is everything
By 2026, 25% of people will spend at least one hour per day in the metaverse working, shopping, learning, socializing or enjoying entertainment. 
The seeds of this behavioral shift and the rise of virtual lives have already been planted. 
1. People want new ways to connect
The metaverse taps into the basic human need to socialize, creating collaborative experiences consumers desire. Immersive gaming platforms have already previewed what the full-fledged metaverse will look like and how spaces will continue to evolve. Tens of millions of people have attended Fortnite concerts, while many more have enjoyed shopping and other digital activities.
2. Consumers are demanding immersive shopping
Many retailers have already incorporated augmented reality into their shopping experiences. Soon, we'll see virtual malls and digital storefronts that blend convenience, immersion, flexibility and connectivity. 
3. Hybrid work is here to stay
New ways of working have created a need for more collaborative and social remote work environments. Immersive enterprise tools for learning and collaboration have proven effective for creating the best of both worlds between at-home and in-person work. 
4. Improving sustainability and productivity
Digital twins are helping companies test the performance of their products while saving financial resources and reducing consumption. 
Companies like Anheuser-Busch (AB) InBev use metaverse applications to improve operations. They created a complete digital model of their breweries and supply chain that syncs up in real-time with the physical environment, allowing brewmasters to adjust processes, test and conduct quality control. 
Key opportunity areas for companies to be part of the metaverse economy
Metaverse spending is predicted to reach $5 trillion by 2030, and industry giants have already made big strides in this area. Microsoft acquired ActivisionBlizzard for a staggering $69 billion. Facebook rebranded to Meta, and Google, Apple, Amazon, Qualcomm, Valve, Epic, HTC, SAP and Disney have all begun investing in metaverse research and development. 
But this metaverse isn't just for billion-dollar companies. Every business should focus on identifying and leveraging opportunities. Most importantly, it's essential not to dismiss it as a fad.
The metaverse is an integral component of the experience-driven economy. 72% of millennials and the overwhelming majority of Gen Z prefer to spend money on experiences over material things. 
At Star, we see experiences as an essential focus point for all businesses. It's important to highlight this doesn't just mean virtual events and places but extends across digital and physical products. For example, instead of the car dealership model, imagine researching, customizing and even test driving your next vehicle – all from the convenience of your home. Suddenly, purchasing a car transforms from something stressful into an enjoyable and positive brand interaction. 
Advertising and brand recognition
As people spend more time in the metaverse, there is immense potential for sponsorship and placement. It's a powerful tool for engagement and recognition. 
You can sell to customers who could never travel to a physical store or even create virtual goods for customer subsets who cannot afford physical ones. The metaverse creates new avenues for all companies to shift away from physical storefronts and locations, enabling businesses to become truly global brands.
Hardware, software and metaverse development services
The technology and infrastructure behind the metaverse are equally promising. As more consumers and businesses move into the programmable world, more hardware and software will be needed to support these billions of people.
Likewise, just as many companies seek guidance from social media management, they also need support in the metaverse.
Improved education, training and collaboration
The metaverse supports enhanced collaboration. Companies are already using augmented reality technology for complex training and fieldwork. 
Enterprise can use it for virtual training, enhanced collaboration, and community building across globally distributed workforces.
The previously unimagined
We are at the inception of what the metaverse can offer. The more companies research and experiment as metaverse maturation occurs, the more they'll uncover additional ways to harness it to drive new growth.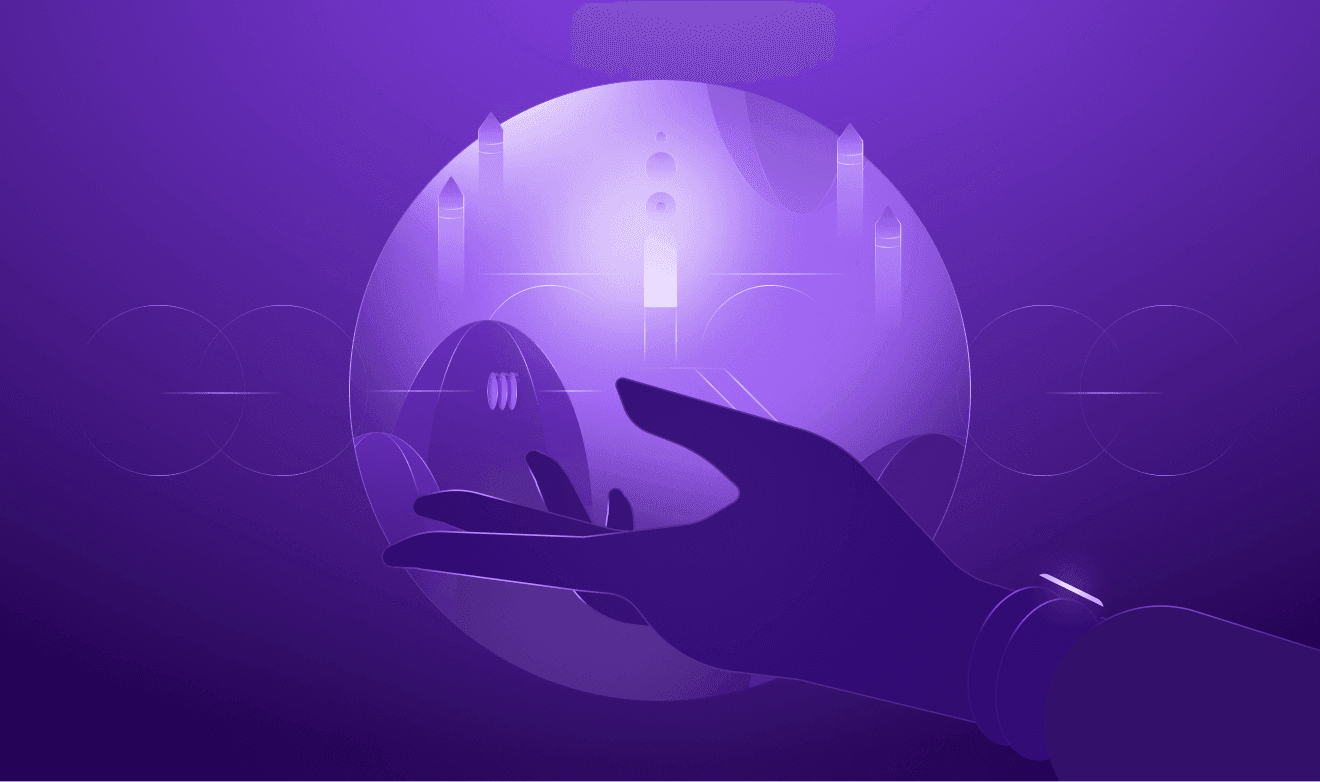 The metaverse unlocked: what to do now
We are on the edge of momentous change. Success in this new decade requires more than simply adopting new technologies.
A bold vision and an endgame-focused approach are at the heart of building and establishing a thriving business in this new world. Technology is a means. Here is what you can start doing now:
Define your metaverse goals: determine how you will establish your metaverse presence, create demand from existing and new customers, forge community and develop new revenue streams. 
Stay true to your core while being open to new areas: you don't need to reinvent the wheel. Start by extending current activities while keeping an eye on new products and zones of engagement. From here, incorporate the metaverse as part of your strategy and operations model. 
Consider your role in the metaverse: we've explored many metaverse use cases. Do you want to create experiences? Be a metaverse service provider? Support the metaverse infrastructure? Ideate and test the right fit for you. 
Begin building and rebuilding: shifting into the metaverse requires rebuilding your platform to be interoperable through APIs and microservices.
Form new partnerships and secure talent: in addition to increasing in-house know-how, partnerships will help strengthen your technical foundation, discover new opportunities and make it easier to create cross-platform experiences. Begin sourcing the talent who will help you achieve your goals and support the technology backbone for your ambitions.
Test, refine, adapt: after user research, launch activities on trial audiences. Monitor these results and refine your long-term approach focused on monetization options. 
Dive into the metaverse. Stay tuned for our upcoming articles in The Metaverse Unlocked series. We'll preview specific use cases and focus on how they will impact key industries across healthcare, finance and mobility.