Remote patient monitoring (RPM) is fueling the shift to in-home care. While the pandemic may have catalyzed its growth, its enduring success lies in its efficacy in helping promote healthcare access and counter rising healthcare costs. This is especially meaningful as we consider the needs of our rapidly aging population. 
Taking a look into the future of healthcare and emerging technologies like Software as a Medical Device (SaMD), digital therapeutics (DTx) and the Internet of Medical Things (IoMT), you'll find a core commonality among all of them. The integration of remote patient monitoring functionality. 
Above all, its impact can be felt in the management of chronic conditions. Globally, 1 in 3 adults suffers from multiple chronic conditions. Understand how RPM is key for improving adherence and outcomes, helping to deliver improved outcomes for everyone.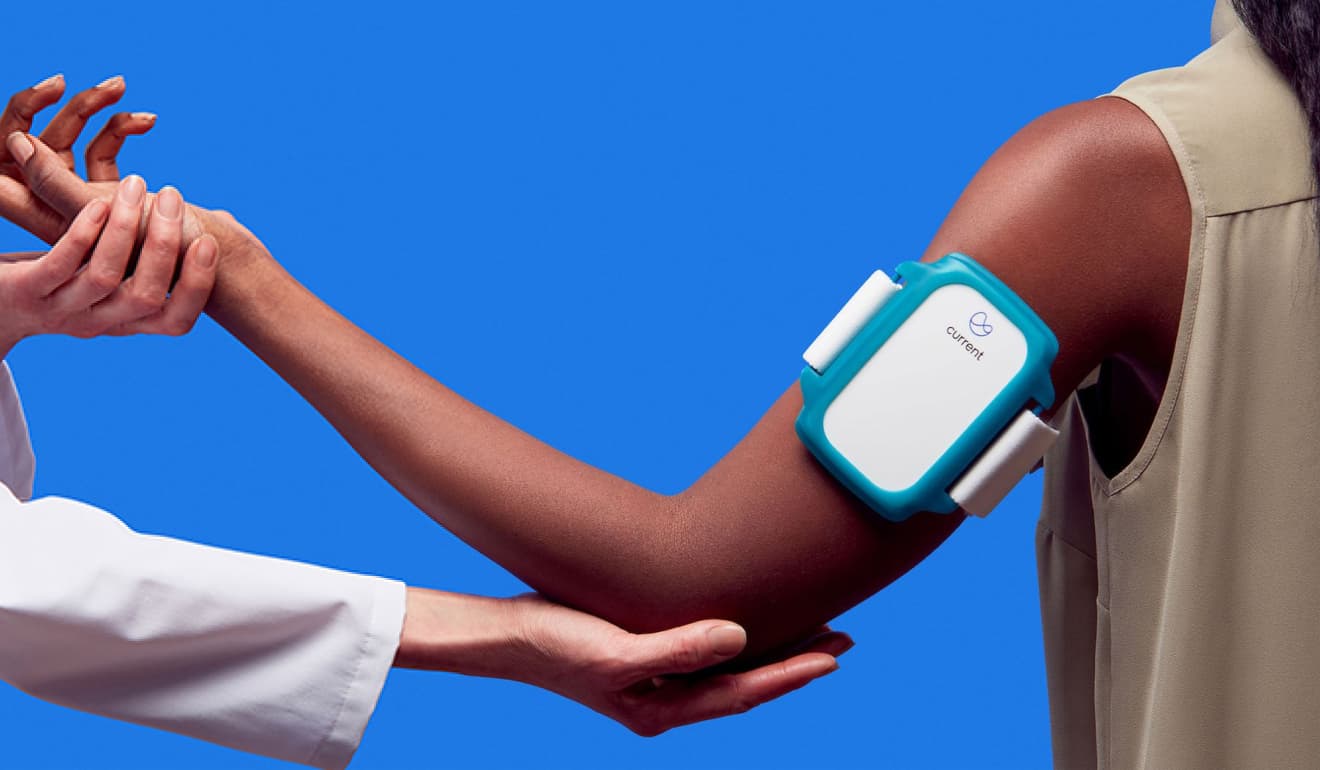 The benefits of remote patient monitoring
The impact of remote patient monitoring sweeps across healthcare. It's critical as we transition into the next stage of telemedicine. Telehealth alone is unable to provide the level of care many patients need. 
Patients and providers need to track conditions closely to monitor changes. Suppose a patient becomes disengaged with their health and begins missing appointments, check-ins, not taking medication or engaging in unhealthy behaviors. In that case, their condition could deteriorate to require an emergency room visit. 
Remote patient monitoring gives healthcare professionals a more holistic view of patient health and better insights. Real-time tracking has made it possible to watch blood glucose levels, blood pressure and other vital signs. And new platforms are making it easier for clinicians to receive synthesized insights and notifications to prevent data fatigue. 
Some of the additional benefits of RPM include: 
Reduction of unnecessary visits to the ER: Waiting rooms are overcrowded with non-urgent patients waiting for consultation. By setting up medical call centers, hospitals can remotely triage patients and advise them on the best course of action, thus reducing the strain on hospitals.
Physical therapy instruction and guidance: Various physical therapy treatments can be conducted synchronously and asynchronously, including chronic pain management, cancer rehabilitation, and the strengthening of balance and other physical acts. 
Postoperative care: Numerous research studies have shown that excellent clinical outcomes and high patient satisfaction can be achieved by conducting postoperative care remotely.
Support aging-in-place: 10,000 people turn 65 every day in the US. Leveraging RPM to provide non-urgent care to the elderly facilitates aging in place, allowing people to maintain their independence and live in their homes longer.
Increased patient autonomy and satisfaction: RPM helps patients better self-manage their care by empowering them with the right tools and insights into their health. It also gives providers another engagement tool to keep patients motivated.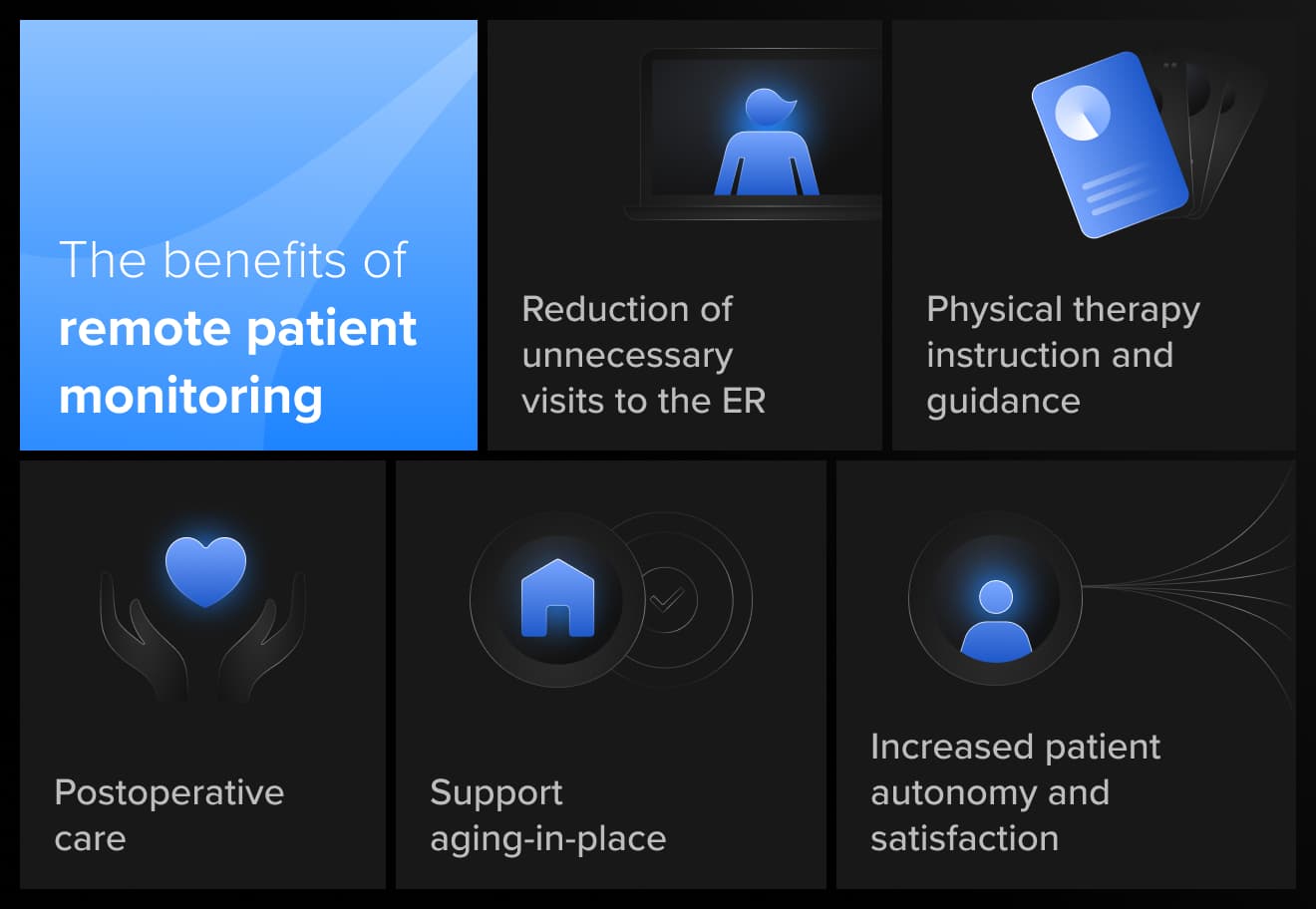 Remote monitoring technology trends and statistics
Putting an exact statistic on the remarkable growth of RPM is challenging because RPM has increasingly become part of a large suite of essential features for medical devices. 
Remote patient monitoring systems, on their own, such as home healthcare monitoring devices like the OMRON Blood Pressure Monitor, are growing at a 23% CAGR and will reach a market size of $85 billion by 2027. However, RPM technology is being incorporated into a vast array of SaMD, MedTech and digital healthcare industries, which will reach $671B by the same year. 
In terms of market segmentation, here are key areas to pay attention to: 
Component: cardiac monitoring devices, chronic condition monitoring devices, blood glucose monitors, fetal and neonatal devices. 
Application: chronic condition management, cardiology, mental and behavioral health, endocrinology, wellness 
End user: in-home care, patients, hospitals, specialty clinics, long-term care, 
Geography: global with particularly strong growth in North America, Europe and APAC. 
Reimbursement and the future of remote patient monitoring solutions
Remote patient monitoring tools like these are helping fuel the transition toward value-based care and align incentives for patients, providers and payers. 
In the US, the Centers for Medicare & Medicaid Services (CMS) have begun facilitating this by shifting focus to outpatient monitoring and disease management. During the pandemic, this included payment parity for telehealth and in-person services. They continue to introduce new codes to support RPM, DTx and other telemedicine services. 
It's still early days, however, RPM solutions are winning more public and private payer support, but it's far from guaranteed. In terms of product strategy, companies need business models that will help them build partnerships for their enduring success. This is especially true as more care moves into the home. 
To accelerate growth, RPM providers, technology companies, and investors should: 
Identify and craft business cases that size the market potential, evaluate the business landscape and evolve as the market does 
Establish contracts with payers to ensure they are reimbursed in a viable way for their business
Build relationships with other service providers such as care management, social support, government agencies, or other providers.
Create evidence-build clinical models to deploy with patients that demonstrate efficacy and impact.
Develop analytics that can measure this evidence and inform product evolution.
Leverage partnership opportunities with HealthTech-focused technology companies to design, build and source the capabilities and assets necessary for all stages of product development.
Implement novel ideas that solve stakeholder needs, attract investor interest and differentiate your brand. 
Breakout remote patient monitoring innovation with Star HealthTech 
Remote patient monitoring is one of many fast-emerging MedTech and digital healthcare technologies. Star's HealthTech Practice helps companies identify the right technologies and approaches, drive user engagement and design and build superior solutions. 
Get a preview of how we'll support your product journey in this article that explores AI, IoMT development and in-home care. We share insights on how we helped a leading European telehealth provider reduce hospitalizations by 80% by creating an infinitely expandable platform that evolves and adds new healthcare technologies.