Mental health is closer to each of us than we might think because it's this largely invisible illness that people tend to hide. But the conversation is starting to shift. The past year has brought enormous strain on individuals, businesses and, of course, healthcare systems, but it's finally opened our dialogue about mental health in new ways. 
Along with it, we have seen mental health technologies that haven't just helped us cope with pandemic-related stressors but have also extended care accessibility to millions of people whom the healthcare system has traditionally neglected. These tech breakthroughs are truly flipping the script in the way individuals, providers, healthcare systems and businesses handle mental health. 
At Star, we believe in a digital health-fueled future and its limitless potential to improve mental health. Based on our industry expertise, we believe three solutions, in particular, will drive accessibility, improve outcomes, and lower costs: telehealth, AI and digital therapeutics. 
Now's the moment for healthcare ecosystem players along with companies in all sectors, schools and other institutions to start leveraging these new technologies to transform people's lives, generate business value and do their part in creating a healthier, more resilient society.
Where we are now: trends and change drivers
Mental health has been a sustained and growing challenge for decades. But it can be easy to underestimate both the scale of the problem and the nearly infinite opportunities that even starting to solve it creates. 
Here are just a few statistics from our research worth considering:
970M people globally currently have a mental disorder, but 60% of them do not receive care or go undiagnosed. 
One in three survivors of COVID suffers from a neurological or mental health condition, including anxiety, mood and substance use disorders.
8.4M adults in the US have both mental and substance use disorders. 
By 2030, mental illness will cost the global economy $16 trillion annually.
The pandemic has not affected everybody equally. Job loss, housing instability, food insecurity and other risk factors for poor mental health outcomes have disproportionately hit minority communities.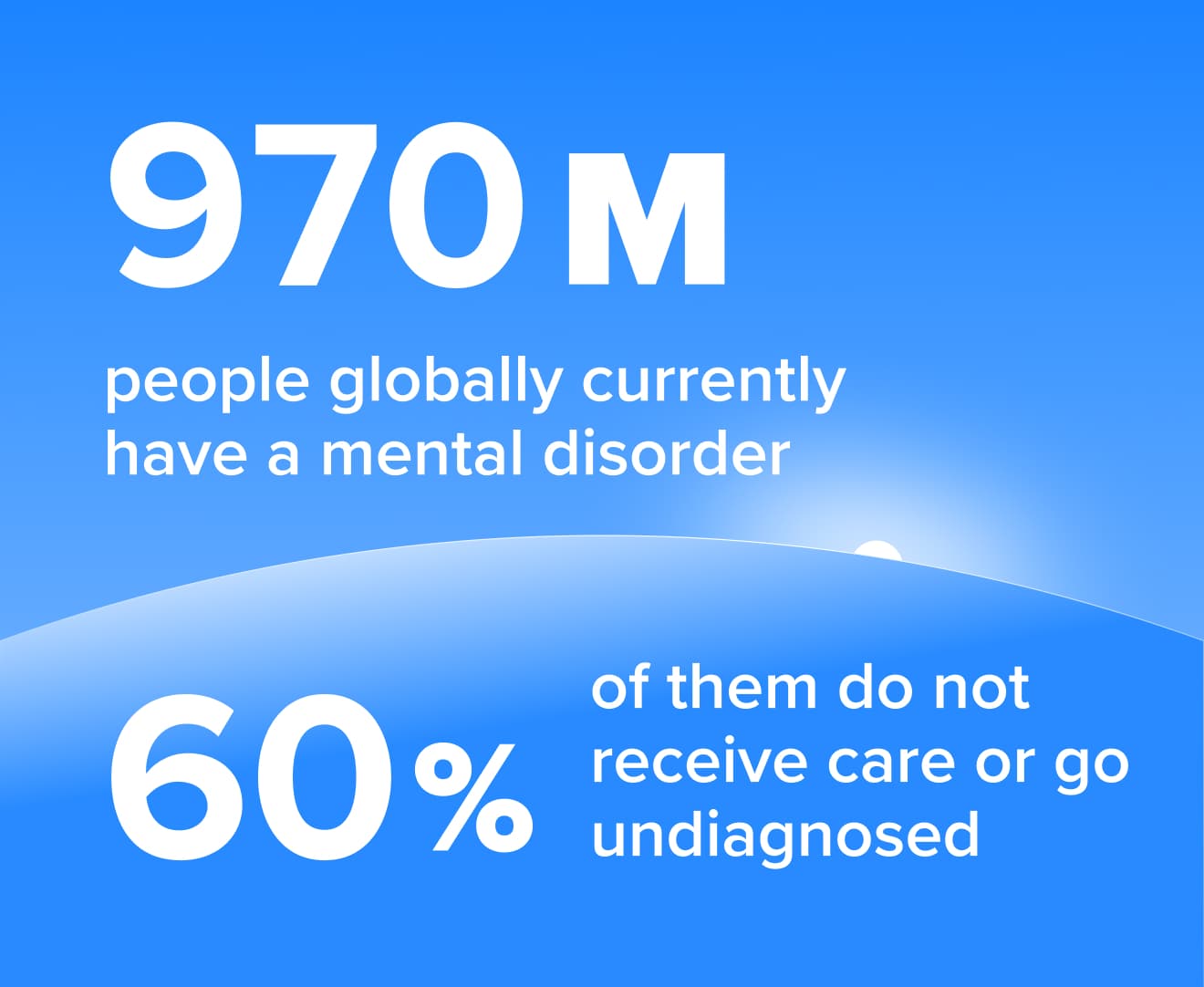 BUT 
Most mental illnesses are manageable, if not treatable. 
For every dollar invested in improving the care of people with mental health issues, there is a return of $4 for the economy.
VC investment in mental health more than doubled between 2019 to 2020 from $599M to $1.4B in 2020. 
Mental health is one of the fastest-growing sectors in the global digital health industry, valued at $118B. 
Because of COVID-19, the FDA has temporarily waived several regulatory requirements for mental health DTx including 510(k) premarket notification. 
We are in a rare moment in which market need, technology and the overall healthcare industry are seismically shifting. With the greater and greater push toward value-based care, these factors will create the perfect storm for continued growth over the next 5-10 years, especially as more and more payers get on board with digital mental health solutions. 
Why prevention matters most
Prevention is important in all aspects of healthcare, but especially in mental health. We are still learning how mental health issues develop in terms of genetic predisposition and variability. However, we do know environmental factors both in a global sense like the COVID-19 pandemic and one's local environment play a significant role in shaping mental health. 
When an individuals' mental health is good, it benefits not only her personal life but her family, neighbors, coworkers and everybody she comes into contact with. Similarly, when mental health has deteriorated, the strain is hugely impactful and creates an avalanche of side effects from higher rates of substance abuse to reduced productivity that create a downward pull across a community.  
That's why healthcare companies need to start paying closer attention to social determinants of health (SDOH) which have an outsized impact of up to 80% on an individual's health status. These are the social influences on a person's mental health such as their employment status, housing, education and neighborhood/built environment. No discussion of mental health is complete without them. 
To be able to create effective prevention-based strategies, decision-makers must both consider how they shape mental health and how they can either be a trigger or a part of the solution. By doing so while focusing on prevention in a variety of forms, we can create a large net to prevent people from becoming sick and if they do, mitigate the severity and length of illness as much as possible.
What successful prevention looks like in action
Before we discuss the solutions driving a renaissance in mental health care, we want to share one example of the real, tangible benefit of preventive care.
Even relatively small initiatives are improving outcomes and reducing the cost of healthcare in big ways. For example, from 2015-2019, the National Council for Mental Wellbeing in partnership with Northwell Health, Netsmart Technologies and the New York State Office of Mental Health, successfully operated The Care Transitions Network (CTN). 
The CTN was made possible by a $29.4M Transforming Clinical Practice Initiative (TCPI) grant from the Centers for Medicaid and Medicare. It supported 275 behavioral practices and empowered providers with the tools to improve outcomes, reduce hospitalizations and demonstrate value through implementing best practices and improving engagement — with a particular focus on care coordination and care continuity. 
By the end of 2019, 75% of the practices had achieved sustained improvement on targeted clinical measures and generated $204M in cost savings, and this is far from the only example of value-based care in action. 
These are the types of ecosystem-wide wins preventive care creates. For payers, they can prevent costly acute outbreaks. Businesses can improve productivity and morale. Healthcare companies can connect with broader groups of users and offer them services both in mental health and possibly in additional areas. In short, we always knew logically that preventive care was a good idea, but we're finally seeing just how game-changing it can be.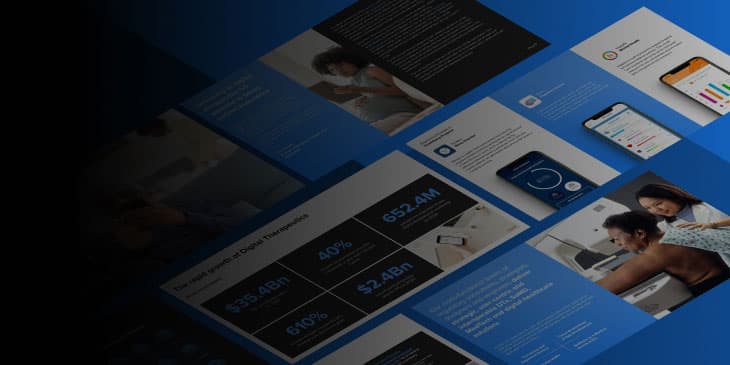 Learn what it takes to create a successful DTx product and patient experience.
The solutions driving behavioral health ecosystem
While digital mental health encompasses many new technologies, we've seen a particular impact around these solutions that support preventive care.
Telehealth
Clinician-based virtual care has done more than just replace traditional in-person visits. It's opened accessibility to mental health services in entirely new ways. For many people living with a mental health condition, the first step of seeking help is often the hardest. But, the ability to receive support through one's smartphone greatly lowers barriers to accessing care.  
Telehealth is the means by which artificial intelligence, digital therapeutics and other emerging health technologies reach their intended audiences. Just a few of its advantages for improving behavioral health include: 
Convenience: with healthcare mobile apps and other solutions, treatment can happen anytime, anywhere. This is especially important for those who cannot attend in-person appointments because of work or school or suffer from conditions that make these types of visits challenging for them. 
Anonymity: we live in a society that unfortunately stigmatizes mental illness. While this is slowly starting to change, telehealth enables people to seek treatment without involving others. 
Lowered costs: telehealth visits on average cost significantly less than in-person visits. This is doubly true now that telehealth visits are reimbursable and will likely remain that way. 
It's important to emphasize these aren't just patient advantages. Everybody in the ecosystem benefits from telehealth. Whether it's providers being able to see more patients or the ability for healthcare businesses to leverage de-identified data into their product strategies, it's a win.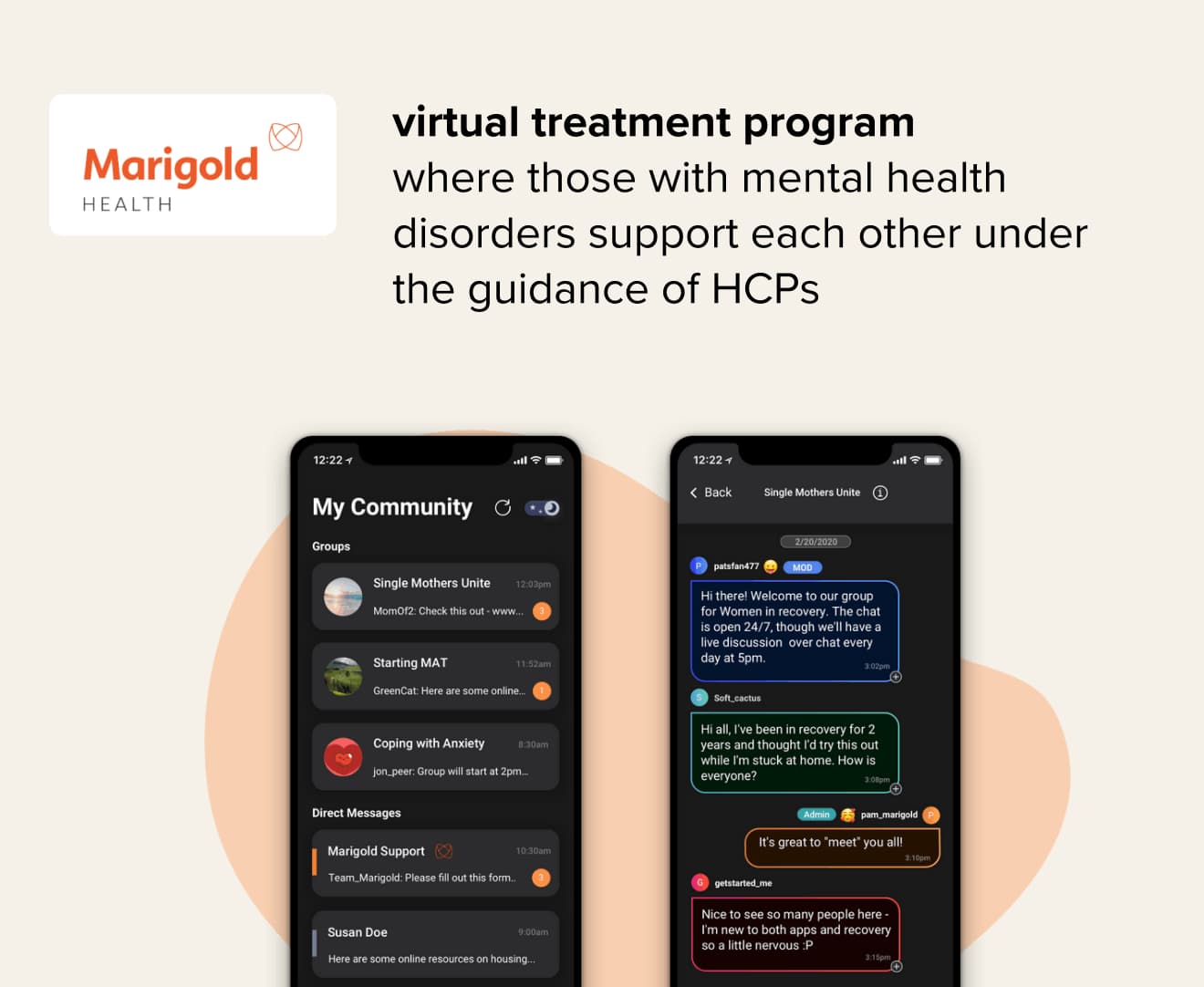 Artificial intelligence
While telehealth lowers critical bars to seeking and receiving treatment, AI tools reduce them further. Scientists have known for a while now that people tend to be more honest and direct with robots/AI than they are with other humans. That's just one of the many advantages artificial intelligence brings to fostering improved mental health. 
One of AI's greatest strengths is detecting "weak signals," early indicators of emerging issues that may become significant in the future. These are often tied to social determinants of health such as socioeconomic status or the community one lives in. With AI, we can understand a person's mental state in a non-invasive way creating impact at two levels. 
The first is using AI at the population level. AI can crunch the numbers to help decision-makers understand risk factors in subgroups to give them the information they need for more effective community-wide interventions. Further, a community doesn't just refer to one's neighborhood. It could be a company's employees, a network of industry professionals or any other grouping. Regardless, it gives leaders enough information on where to target larger efforts to boost mental health. 
In addition, AI can be used successfully on an individual level. Through indicated interventions (targeting those already with conditions or those engaged in high-risk activities) and case identification, AI can focus on people who may be at greater risk for developing behavioral issues. By picking up on weak signals, AI tools can empower either these individuals or decision-makers to take proactive measures before mental health deteriorates. 
This leads to one of the most exciting applications of AI and mental health software: digital phenotyping. Digital phenotyping uses data generated passively by personal electronic devices, particularly smartphones, to measure human function. 
Mindstrong, for example, provides smart, preventative care based on how you type, text and generally interact with your phone. All of this is happening behind the scenes, making these detections completely non-intrusive. The results are frictionless solutions that require little if not zero effort on behalf of the users while giving healthcare professionals the insights they need to recommend the best course of action. 
With these types of evidence-based mental health apps and other tools, we can not only reduce the truly staggering numbers of people with mental illness but improve the mental health and lives of those who may not ever have received a diagnosis. In fact, they are incredibly useful even for people who we would consider mentally healthy because they can pick up subtle signs and recommend stress management and other strategies before symptoms become acute.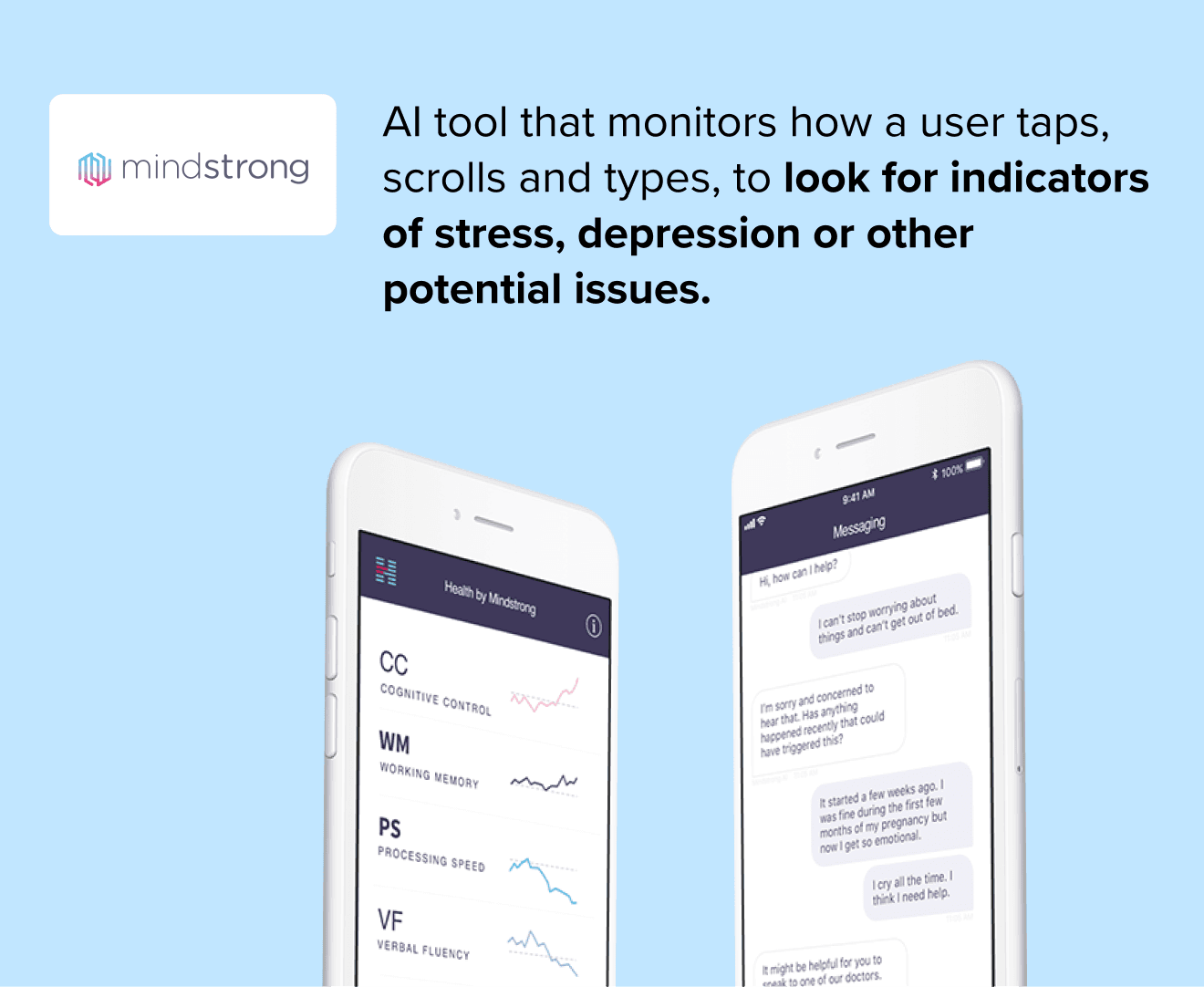 DTx
Digital therapeutics (DTx) are the delivery of therapeutic interventions directly to patients using evidence-based, clinically evaluated software to treat, manage and prevent a broad spectrum of behavioral, mental and physical diseases and disorders. DTx combine everything we love about digital health: improved outcomes, increased scale, lowered costs and enormously convenience and accessibility. 
DTx has found a home in therapeutics where behavior change is paramount. It has been successful in applications that focus on numerous behavior modification solutions including weight loss, smoking cessation, ADHD and mental health. 
There's no better example than reSET, the first prescription digital therapeutic (PDT) to receive FDA authorization. Pear Therapeutics created it to provide cognitive-behavioral therapy to support those with Substance Use Disorder. In addition to ensuring people better adhere to their treatment plans and prevent the risk of relapse, it's saving money — $2,150 per patient.  
This is why we are seeing such a proliferation of digital therapeutics in mental health. There's so much room for innovation and collaboration especially for those that can start maneuvering regulatory hurdles to secure both payer and provider support at a broad level. 
Learn more about DTx in this ultimate guide.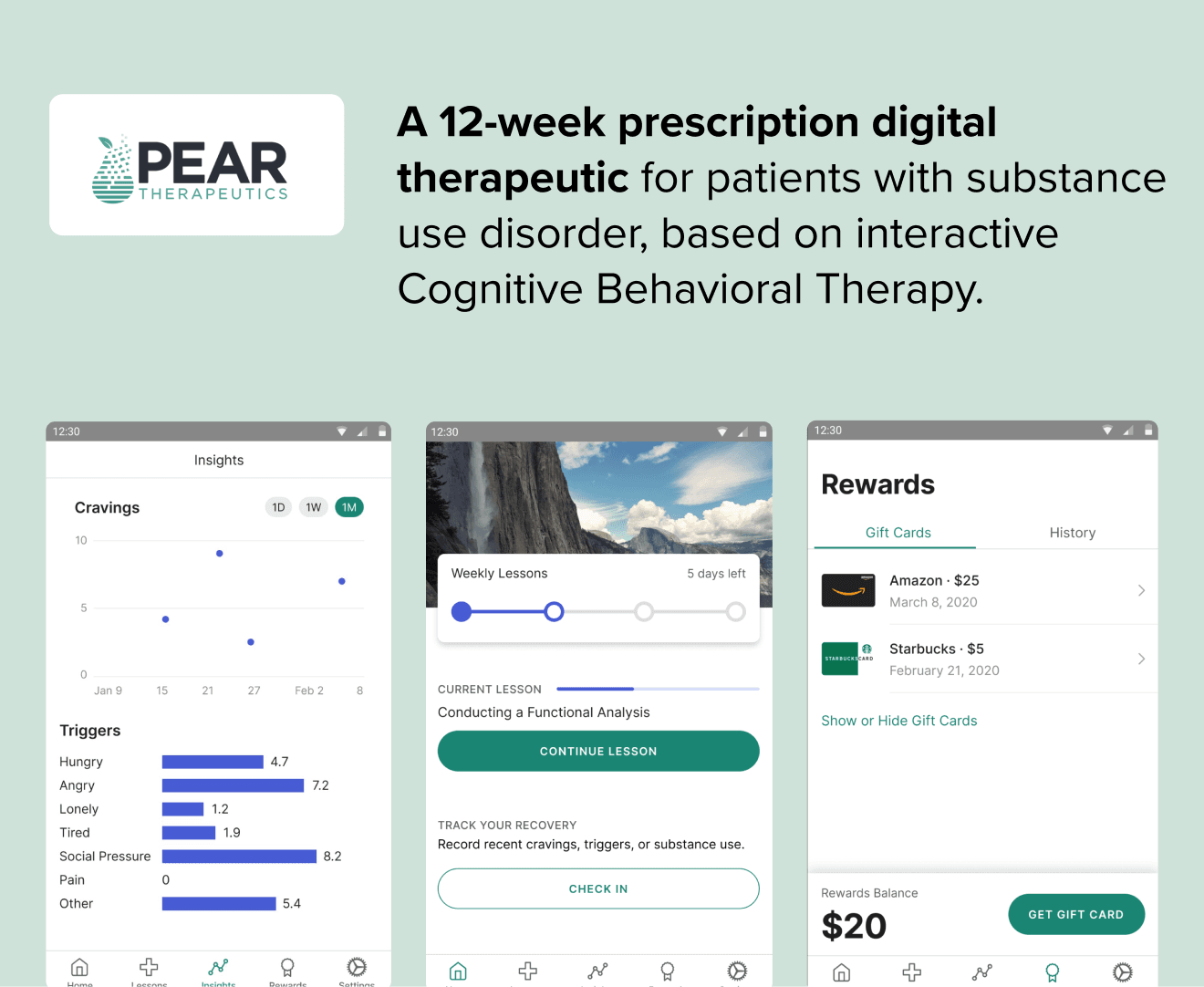 Digital health strategy insights for creating better mental health solutions
The pandemic has shone a spotlight on the value and importance of digital healthcare. In few areas has this been more true than in behavioral health. With this strong foundation now laid, it's time to start building on the care accessibility gains we've seen this past year. 
As decision-makers start embracing digital mental health, we have four essential actions based on our successful development and deployment of telehealth, AI, DTx and other digital health solutions that every company should take: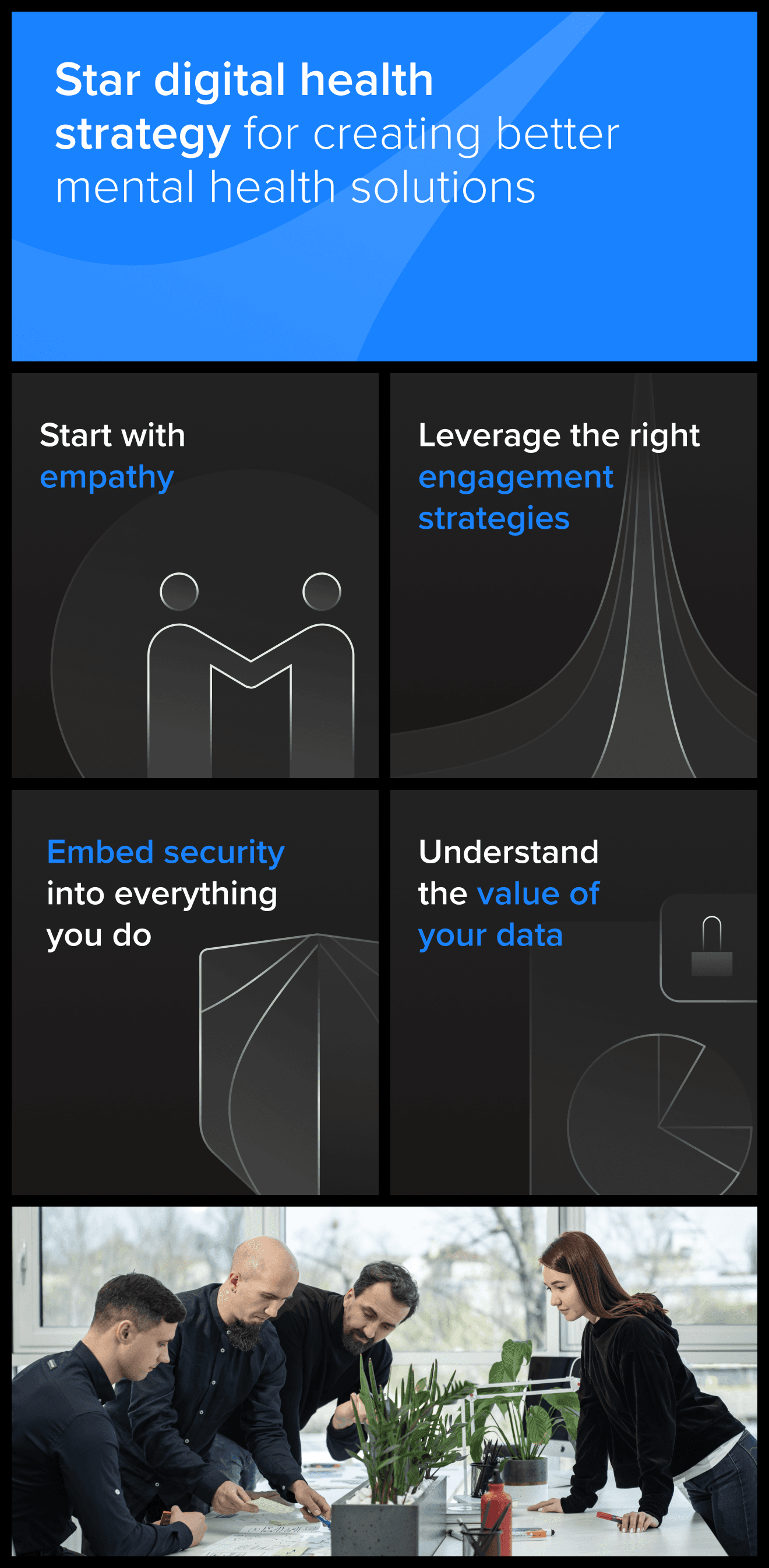 1. Start with empathy and a deep understanding of your users
Empathy must be at the forefront of anything you create. We're talking about both in the sense of having a real concern about your users and also deeply understanding them. This is why empathy in design is one of our core principles here at Star. 
Take the time to get to know your audience. What are their needs? What are their challenges? What will engage them in the long term? 
Start by applying design thinking principles so you can discover what really makes them tick. Then create something that first and foremost is usable and intuitive. Whether you're designing for a patient, provider, or anybody else, what you build must fit seamlessly into people's lives. It shouldn't add but remove complexity and friction. 
Take a cue from products like the Babylon Monitor. Babylon makes it easy to track your mood and understand your state of mind while seamlessly syncing health data from your phone and apps users have everything in one place. The result is a solution that doesn't just provide valuable insight into one's mental health, but an intuitive and delightful user experience that people enjoy using daily. This approach ensures the success of whatever you create in the long term. 
2. Embed security into everything you do
Healthcare organizations are particularly vulnerable to cyber-attack. Between the treasure trove of data they have access to, their vast size and often inadequate security measures, it's almost surprising that ransomware attacks only cost $21B last year and not much more. 
The entire healthcare industry needs to work toward greater security. This is even more critical when you're discussing mental health solutions. People need to be reassured that their data will be kept safe because of how sensitive it is. While bodily health issues are sensitive enough, if the details of somebody's interaction with an AI chatbot for example were leaked, it could seriously endanger their career, social relationships and even their physical safety. 
So rather than view security as a challenge, we believe healthcare companies need to focus on security as a fundamental pillar from Day 1. Just as providers should take a holistic approach to care so too must solutions developers do for security. Where will data be stored? What kind of safeguards do you have in place? How do you educate users about securing their devices? 
These are just a few of the questions you need to consider. By integrating them into your strategy from the start, you'll not only greatly reduce the risk of a cyber-attack, you'll also create a sturdy trust pillar for a long and successful relationship with your users. 
3. Leverage the right engagement strategies for your users
Empathy and engagement go hand-in-hand. The success of mental health digital technologies is dependent on people's willingness to use them. Companies have already demonstrated that just because a product is focused on mental health it can't also be fun. 
Happify is one of the best-known examples. Happify's success isn't just because it's built around a clinically validated approach and peer-backed journal reviews. These are vitally important but Happify has crucially translated all of these powerful tools for managing mental health into digestible and fun games, exercises and lessons that everybody can understand and enjoy. 
Another great tool is the Humanoo Coaching Platform which centers on gamification of employee engagement to prevent mental health issues from occurring or growing. The results are higher activation rates and continued user engagement by up to 860%.
But service providers must go beyond gamification and create a balanced offering. It must be used in conjunction with other strategies and tools such as friendly conversational user interfaces and educational materials. Woebot is one of the best examples. It's a personal AI chatbot coach who chats with you and offers insights and skills to help you grow into your best self. 
There are hundreds of expert crafted tools to learn about yourself and improve your mood whenever you need them. Currently, Woebot sends 4.7 million messages a week to users in over 135 countries across the globe and here's the best part for patients — it's currently available for free as the company builds its clinical arm so it can be prescribed and reimbursed as a therapeutic. 
So start with empathy and discover what drives your audience. From here, you'll understand what exactly will drive engagement in your users for the long term. 
4. Understand the true value of your data
Data is the driving force of all digital health opportunities. How you learn from and leverage the data you collect will empower you to deliver better care outcomes, form the right partnerships and even create new revenue streams. 
Data is also key for preventive care especially considering social determinants of health. It enables you to monitor user health conditions to provide treatment and prevent the deterioration of health. 
Likewise, when you gather enough of it, you can create larger programs that can better engage your users (and reach new ones at the same time), creating a virtuous cycle to propel and sustain your growth in the long term.
Crafting outcome-driven digital health innovation
While the 2020s may have presented some significant challenges thus far, we have seen digital health technologies deliver wins for patients, providers, payers, pharma and both healthcare and cross-sector businesses of all types. 
Whether you're in healthcare or not, tomorrow's leaders will be those that leverage digital tools - and more importantly, the data they create — to develop solutions and business models that embrace preventative care and generate holistic value for all stakeholders. 
Explore what digital health innovation can do for you. From DTx to SaMD, voice and virtual assistants, Star not only has the technology but the strategy and design expertise to help you create award-winning digital health innovation. 
See our digital health experts in action. Check out this case study on our collaboration with Constant Therapy to scale their life-changing brain therapy to reach 400,000+ mobile downloads and 37,000+ clinician users.